A Detailed Guide to the Dollar Tree Return Policy
Shopping at Dollar Tree is an amazing experience until it gets ruined by the realization that you bought damaged products. If you wonder what to do, this guide offers thorough information about how the Dollar Tree return policy works so you can make the best out of the situation.
Check out these guides to other retailers' return policies:
Can I Return My Faulty Items to Dollar Tree?
The general terms of the Dollar Tree return policy are:
Returns and refunds—Dollar Tree considers all in-store sales final, which means you can't replace your products or get a refund
Exchanges—You can exchange your products for others of the same value if you bring the receipt and the unopened item. If you discover that a product is faulty only after opening the package, Dollar Tree will let you pick an article with the same price. In that case, you should still keep the original packaging because of the barcode
Time limit—The company has no specified time limit for returns and exchanges. As long as you have the receipt, you're good to go
Unlike its sister company—Family Dollar—Dollar Tree doesn't offer many options if you end up with a damaged or faulty product. To put things into perspective, Family Dollar gives its customers 30 days to return such items.
Dollar Tree Return Policy Regarding Online Purchases
Dollar Tree doesn't offer a more merciful return policy for online orders. If you received a faulty item, you should contact customer support. You can do that by dialing 1-877-530-TREE (8733).
Customer support will offer to replace your product or give you store credit to use in the future, but you can kiss your money goodbye as they still won't refund your item or the shipping fees.
Dollar Tree Return Policy—Seasonal Merchandise
If you bought seasonal merchandise at Dollar Tree, unfortunately, you are stuck with it. The company will not allow you to return or exchange the products.
Can I Redeem Dollar Tree Coupons or Gift Cards for Cash?
You can't redeem Dollar Tree coupons or gift cards for cash. You also won't get cash back even if, for example, the price of an item is $0.5 and the value of your coupon is $0.6.
Dollar Tree doesn't offer gift card cash back except where the law requires the company to do so, which is unfortunate because you can't reload Dollar Tree gift cards after you spend the entire balance.
DoNotPay Can Help You Return Your Products to a Plethora of Companies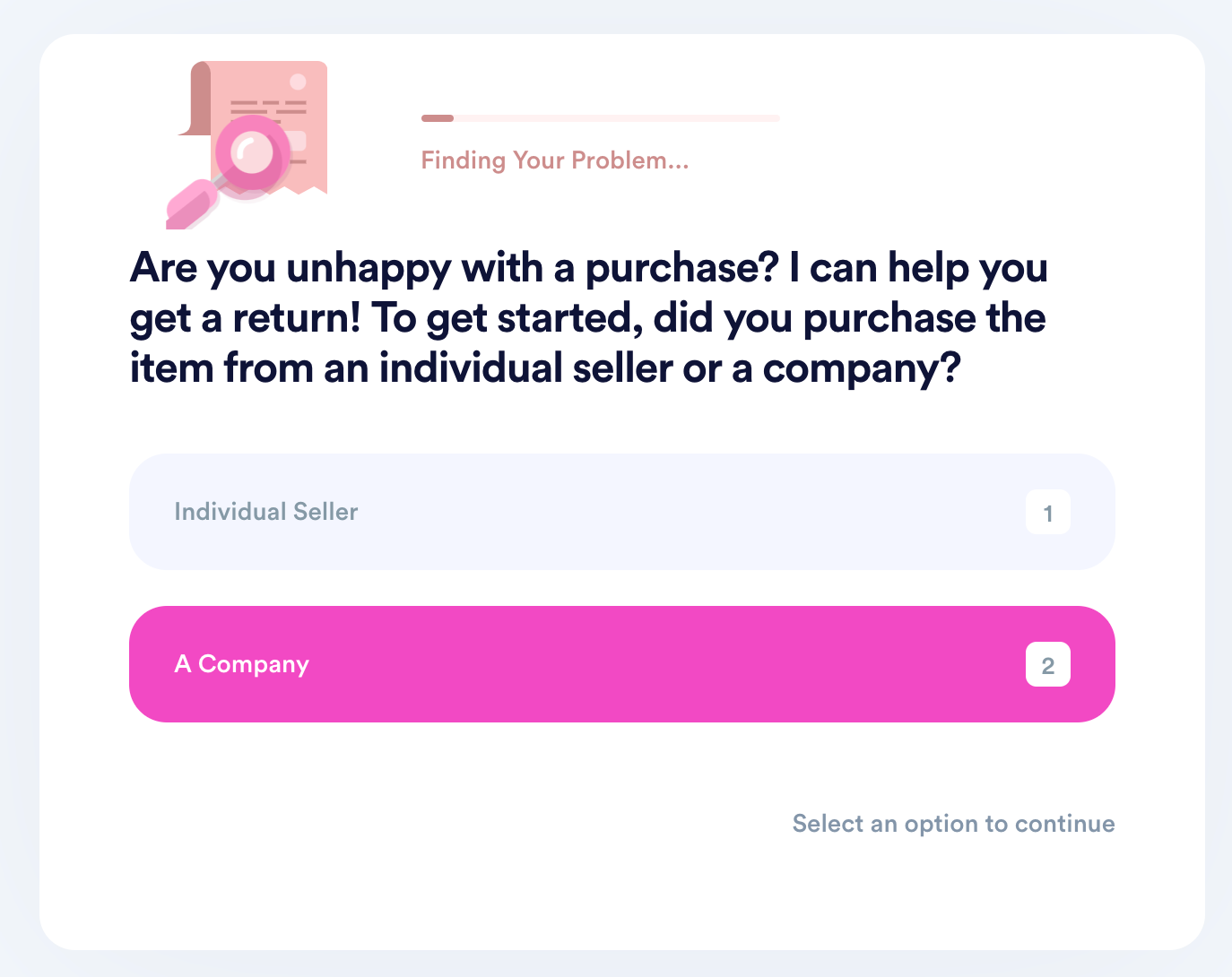 If you buy a faulty item from a company, DoNotPay can help you return it in no time. Follow these steps to initiate a return request in a flash:
Click on the Item Return Request product
Provide all the necessary information about the products you want to return and why you're doing so
Submit your return request
We will use the information you entered to generate a custom return request letter and mail it directly to the company you bought the products from. The letter will also include a deadline by which the company should finish processing your return. You don't have to worry about shipping fees because DoNotPay offers a free return shipping label for every return you make using our product.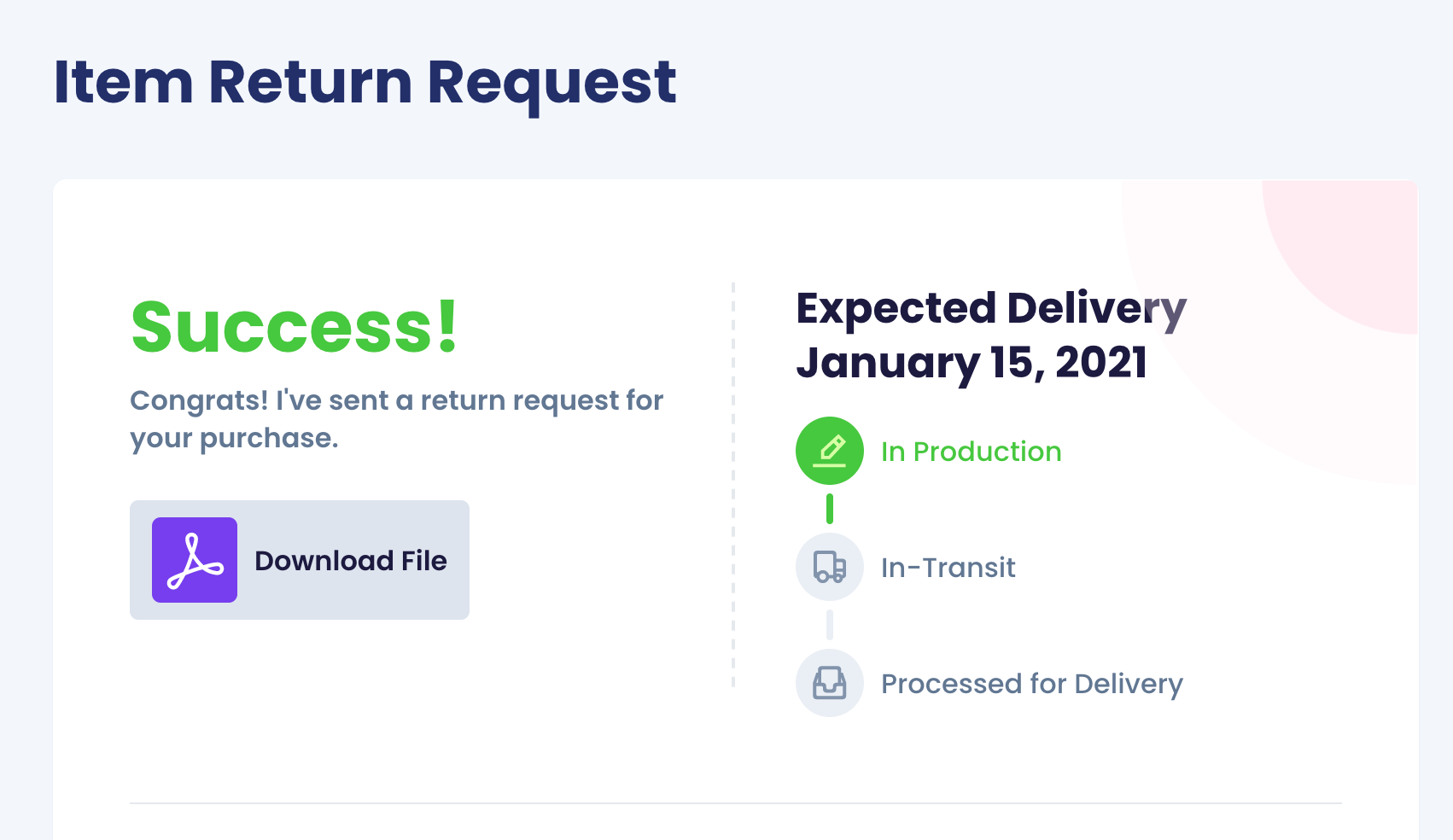 Unlike Dollar Tree, there are plenty of companies that have more customer-friendly return policies, such as:
Get Your Money Back in a Flash Using DoNotPay
DoNotPay has a nifty feature that can help you demand a refund for your damaged items with no fuss. To get your money back in an instant, in your preferred web browser and follow these steps:
Locate the File a Chargeback feature and click on it
Click on the Get Protected button
Provide all required details to our chatbot regarding the refund you're demanding
Click on Sign and Submit
Is Dollar Tree Being Difficult? Take It to Small Claims Court With DoNotPay's Help
Is Dollar Tree violating consumer protection laws? Being recognized by the American Bar Association, DoNotPay is the best option if you need assistance in your fight for justice. If you decide to take Dollar Tree to small claims court, here is what we can help you with:
Writing a demand letter to Dollar Tree
Filing a complaint
Gathering all of the necessary paperwork
Filling out all required court forms
Creating a convincing script for you to use in court
Don't Tolerate Corporate Attitudes—Request What's Rightfully Yours
DoNotPay is known for being the champion of customer advocacy because we help our users claim what's rightfully theirs, and we don't tolerate big corporations taking people's hard-earned money.
No matter if you want to request a refund, insurance, extended warranty, or compensation from airlines, our AI-powered lawyer will fight for your right.
If you feel like you're overpaying certain subscription services, we can help you cancel them. Also, if you want to test a subscription before you start paying money for it, don't connect your credit card to the free trial page! You can sign up for free trials using our virtual credit card. That way, companies won't be able to charge you auto-renewal fees because the card has no funds.
Wait! DoNotPay Can Help You in Many Other Ways
DoNotPay has many different areas of expertise—helping you return your faulty items is only one of them.
Check out how our app can assist you in: