DMV Practice Tests That'll Help You Pass
Departments of motor vehicles (DMVs) are government agencies that operate on a state level. It's dedicated to regulating vehicle registration and driver licensing. 
If you're interested in obtaining a driver's license, you've probably heard of driving tests. DoNotPay is here to explain everything about the DMV practice tests and help you pass your written driving exam stress-free.
DMV Driving Tests Explained
American states have different rules and regulations regarding the driving test. Most of them require you to obtain a learner's permit if you're a first-time driver. The permit allows you to practice your driving with a licensed friend or family member to prepare for the road exam. The learner's permit has some limitations, and most of the restrictions are the same for every state:
Future drivers can't drive alone

The licensed supervisor needs to be in the passenger seat

No other passengers can be in the car

Prospective drivers need to practice a certain amount of time, determined by the state

The learners to take Driver's Ed classes in some states
The age required for taking the learner's license test depends on the rules of the state you live in:
Should I Prepare for My Written Driving Test?
Preparing for your written driver's test can help you a lot if you want to pass the exam on your first try. Road safety should be another motivation to prepare for the test in the best possible way.
DMV tests are difficult because they need to determine if someone's ready to be on the road, which is a great responsibility. Taking some time to practice will help you feel more prepared and less nervous on the day of the exam. 
How To Prepare for the DMV Written Driving Test
You have a few options to choose from when preparing for your DMV written test. You can:
Read your state's

official DMV Manual

Practice by taking online tests

Rely on DoNotPay 
What Are DMV Practice Tests?
A DMV practice test is a collection of questions drawn from a certain state's driving handbook. Some of them even gather questions from previous exams. DMV practice tests aren't that different from the real deal, so you'll be able to learn a lot quickly.
Many people love to use the question and answer method to learn, which is why practice tests are so popular. You receive immediate feedback while learning the correct answer and increasing your chances of passing the real exam.
Where Can I Take a Permit Practice Test?
You can find a lot of websites dedicated to providing DMV practice tests. While most of them offer some free tests, the best features come with the paid premium account. If you don't sign up for the premium version, you can't be sure you're getting the best preparation for your driving exam. 
Some of the most popular DMV practice test platforms are:
Don't forget to select the state where you want to take the test to get the right questions. 
Take Your DMV Practice Test the Best Way Possible—With DoNotPay
DoNotPay takes great pride in our Government Test Prep service that allows you to practice for various exams. We can help you prepare for your DMV test in no time. Our feature is user-friendly, and it allows you to redo incorrect questions or retake the entire test if you're unhappy with the score. 
To practice for your DMV test with DoNotPay, follow these steps:
Log in to your account in a

web browser

Enter the keyword in the

Search

section—

U.S. Driving Test

in this case

Pick the test you wish to practice for

Choose how many questions you'd like to get—10, 20, or 30

Answer all of the questions and retake the tests as much as you want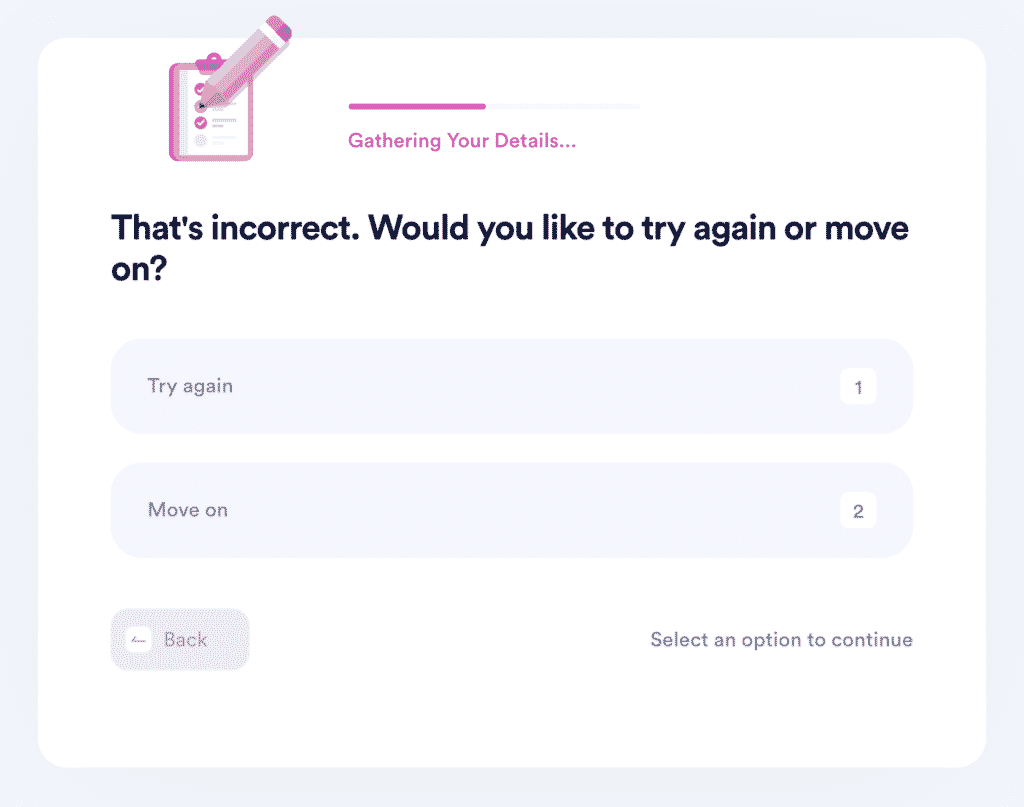 DMV commercial and non-commercial tests aren't the only exam preparations we can cover. DoNotPay can even help you prepare for an Armed Service Vocational Aptitude Battery (ASVAB) test so that you can get the best test score. We will also be there for you when you want to practice for the following exams:
Learn How To Schedule the Real DMV Written Driving Tests
Once you feel confident in your knowledge, you can schedule the real DMV test. The choices you have for making an appointment will depend on the state where you're taking the test. Most DMV offices allow you to schedule a test in three ways:
In person

On their website

Over the phone
Regardless of the option you choose, you'll probably waste too much time on something that can be done in under five minutes. 
Schedule Your DMV Test Quickly With DoNotPay
DoNotPay's awesome feature allows you to set up an appointment with the DMV in a few clicks for any reason, including:
License renewal

Vehicle registration

Written and road exam

Vehicle titles

Address change

Driver's record request
To make an appointment for your DMV test hassle-free, follow these easy steps:
Access your DoNotPay account in a

web browser

Choose to set up the

Written and Road Test

appointment

Pick your preferred date and time
Leave No Problem Unsolved Thanks to DoNotPay
Got your driver's license, but you're having issues with parking tickets? You don't need to worry since DoNotPay has a solution for you. We will help you appeal your ticket in any city in the U.S., including New York, Los Angeles, and New Jersey. 
DoNotPay is also the best choice if you're dealing with other complex issues. To see the full list of services we offer, sign in to your account in a web browser, and we will assist you with:
Disputing traffic tickets

Fighting speeding tickets