The Easiest Way To Pass the Colorado Driving Test
Obtaining a driver's license is a huge responsibility. It implies that you can safely and confidently operate a vehicle according to the state's laws. Driving tests assess your familiarity with road rules and represent a necessary step to becoming a certified driver. 
Studying for the Colorado driver's exam doesn't have to be tedious. In addition to cramming from a manual, taking practice tests can be beneficial to your learning process. DoNotPay is here to explain why DMV practice tests are significant and how to choose the most reliable ones.
What Does the Colorado DMV Driving Test Look Like?
The Colorado DMV test consists of the written part and the road test. To become qualified for the road test, you have to pass the written part first. 
The written driver's exam has 25 questions, all of which are based on the Colorado DMV Handbook. The written test covers topics such as:
Road signs

Driving rules

Safety regulations

Legal requirements
The road test is performed in the presence of a certified driver's instructor and includes basic maneuvers like:
Signaling

Observing

Adjusting speed 

Turning left and right 

Stopping at intersections

Passing through intersections

Changing lanes and merging in traffic
If you pass the exam, your driver's instructor will inform you straight away and tell you where to go to get your temporary license. You will receive your actual license within the next 30 days.
Is the Colorado State Driving Test Difficult To Pass?
The Colorado driving exam may not be as difficult to pass as some other states' DMV tests, but that doesn't mean you don't need to study. When it comes to the written part, you have to answer 20 out of 25 questions correctly to qualify for a permit. An 80% test score is not something you can achieve without some serious studying.
The biggest mistake applicants can make is to look for an easy way out. Statistics show that the majority of failing grades happen due to insufficient preparation. If you add test-related anxiety into the mix, you are on a sure path to repeating the examination process all over again.
You can avoid unnecessary expenses and save yourself from repeated trips to the DMV by applying some certified studying tactics. We are here to explain what constitutes successful preparation for a written DMV test.
How To Prepare for the Colorado Written Driving Test
Before you start preparing for the Colorado written DMV exam, you should familiarize yourself with all available methods and materials. 
Here are the most reliable approaches to preparing for a DMV written test in Colorado:
Method of Preparing
Description

Studying from the Driver's Manual

Manual has all the necessary information

You can download it on your computer and access it whenever you have the time

Downloading an app

Apps, such as the

Colorado DMV Permit Test

, are a welcome addition to your learning strategy 

They contain study information and test questions you can use to prepare further

You can download them from the Google Play Store and use them when convenient

Hiring a tutor

A tutor can dedicate all their time to you

They often give you tips on how to pass the test

Tutors tailor lessons according to your needs

Taking practice tests

Practice tests will help you improve your knowledge 

They reduce test-related anxiety

You can access them online or via DoNotPay
The most beneficial and economical method is a combination of studying from the Driver's Manual and taking practice tests. Follow our lead to discover what makes practice tests a necessary learning technique and which tests are the most trustworthy.
Why Is Taking a Colorado DMV Practice Test So Important?
If you want to ensure success on your DMV exam, you should consider practice tests crucial to your learning process. They provide noteworthy benefits to every prospective driver by:
Reducing stress—

The more practice tests you take, the more confident you will be in your knowledge. Practice tests can help you pinpoint segments of the manual that you are still having trouble comprehending so that you can dedicate your time to mastering them 

Helping you get familiar with the real exam structure—

While manuals are an unavoidable source of information, practice tests will help you put all those information into context. They mimic the form of the real exam, which helps you recognize and answer similar questions much faster than you normally would

Improving retention—

Practice tests extract information from the manual, which helps you remember them. Taking them repeatedly further improves information retention

Reducing the element of surprise—

Practice tests provide many possible combinations of the same questions. Taking them numerous times makes you better prepared for the real deal 
How Can You Access Colorado DMV Permit Practice Test on Your Own?
Typing in the words Colorado Driving Practice test in your search engine will provide a wide range of results. Assessing which one to choose will take a bit of your time, but there are some tips and tricks that can help you narrow down the list.
Trustworthy practice tests usually are:
Visible on the first page of Google

Professional-looking

Updated for the current year

Void of false promises
Practice tests that you should avoid are easily recognizable if you know what to look for. The telltale signs include:
Promises of questions from the real test

Encouragement to stop using the manual

Appearance that reveals amateur work
Even with all these criteria in mind, going for one of the online practice tests is risky. Your best bet is to select an option known for providing top service. 
How To Access a Colorado Driver's License Practice Test by Using DoNotPay
If you are not comfortable taking chances with one of the random online tests, go with DoNotPay. Our app will help you get prepared enough to schedule a DMV appointment in no time. You can begin with a small number of questions and increase it when you start feeling more confident. 
Accessing DMV tests via our app is easy. All you need to do is:
Navigate to DoNotPay in your

web browser

Type in the name of the test you would like to access 

Specify if the test should have 10, 20, or 30 questions

Complete the test question by question 
Our app allows you to correct your mistakes as you go or retake the whole test after you finish.
You can count on us if you need to prepare for other government tests, such as CDL, Postal, Notary, HAZMAT, or the U.S. citizenship test.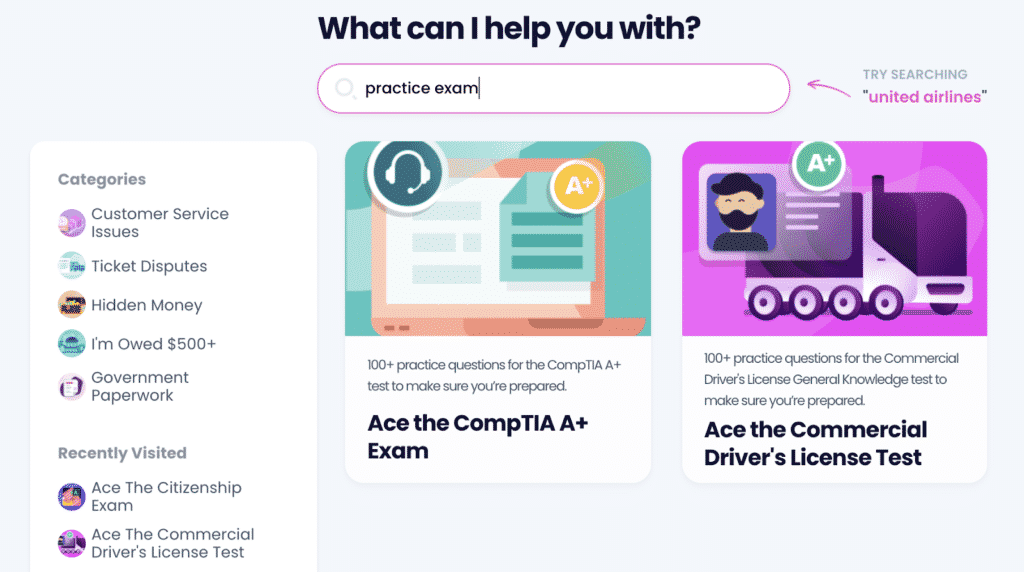 What Other Tedious Tasks Can DoNotPay Ease?
DoNotPay can assist you in acing some of the most challenging and demanding tests, such as CCAT, ASVAB, and CompTIA A+. You can use our help to understand your ASVAB test scores.
Take advantage of our quality service to tackle all kinds of administrative issues. Access DoNotPay from your web browser and find out how we can facilitate:
Contesting speeding citations 

Fighting traffic tickets