The Best Way To Pass the
Oklahoma Driving Test
Preparing for a driver's license test is a serious undertaking. Lack of commitment causes people to fail multiple times and prolong getting a license much more than necessary. While some of the test questions need common sense, most require knowledge you can gain by studying.
Taking practice tests is a valid method of preparing for the real DMV test. People who take DMV practice tests have a much higher chance of passing the first time. DoNotPay will explain what the significance of practice tests is and how to access the best one.
What Are the Conditions of Passing the
Oklahoma DMV Driving Test
?
The DMV written test in Oklahoma consists of 50 multiple-choice questions. To pass the exam, you need to answer 40 questions correctly. Test score lower than 80% prevents you from taking the skills test. If you fail the knowledge test, you have to wait at least one business day to retake it. 
A driver with a restricted class D driver's license can take the road test not more than three times within 30 days of obtaining the restricted license. Each attempt has to be separated by at least one day. If you fail more than three times, you will have to wait the next 30 days to pass before your next attempt. 
You can schedule an appointment by accessing the official Oklahoma DPS website.
What Does the
Oklahoma Written Driving Tes
t Look Like?
Oklahoma DMV Handbook serves as the primary resource for the questions on the DMV test, which consists of two sections. The first part covers the road rules and involves the following topics:
Driving laws, like pedestrian, implied-consent, and liability-insurance laws

Sanctions for violating driving laws

Types of maneuvers, such as turning, signaling, or parking

Differences between highway and city driving

Procedures to be administered in case of accidents
The second section of the test deals with different types of road signs, more specifically, items like:
Four basic sign uses

Differences between road signs 

Variations in the meaning of the signs based on their color and shape 

Uses and restrictions of pavement markings on highways and streets
Passing the Oklahoma written test is not hard, as long as you prepare. Studying from the Oklahoma DMV Manual and using practice tests are more than enough to ensure you a passing score. DoNotPay can help you find out how practice tests can improve your knowledge and which test is the most suitable.
What Are
Oklahoma DMV Practice Tests,
and How Can They Help?
DMV practice tests are a handy tool that everyone should include in their studying process. While there is no going around the manual for facts, practice tests are crucial to the learning process in many ways. They ensure great results by:
Providing a context for the knowledge acquired from the manual

Familiarizing prospective applicants with the form and type of questions that will appear on the actual exam

Helping you establish which topics of the manual you have mastered and which you need to improve

Separating information and simulating revision, which enhances retention

Reducing anxiety related to taking tests
Accessing DMV practice tests is not complicated. The key is to find the most reliable practice test and take it as many times as you need to feel confident in your knowledge. 
DoNotPay Offers the Best
Oklahoma Driver's License Practice Test
DoNotPay is a reliable source of numerous practice tests, such as ASVAB, CCAT, and CompTIA A+. We offer easy access to top-notch DMV practice tests and let you retake them as many times as you wish. You only need to:
Open DoNotPay in your

web browser

Access the practice test by entering the words

Oklahoma driving test

in the search field

Choose between 10, 20, or 30 questions 

Start the test
Our app indicates whether or not you have made a mistake in the test so that you can correct it straight away. If you prefer finishing the test first, you can check your answers after that and try going for a better result on the second try. We guarantee you will feel confident and ready to schedule your DMV appointment in no time!
If you want to know what what ASVAB test scores mean or how to pass a written driving test, you will find our knowledge base invaluable!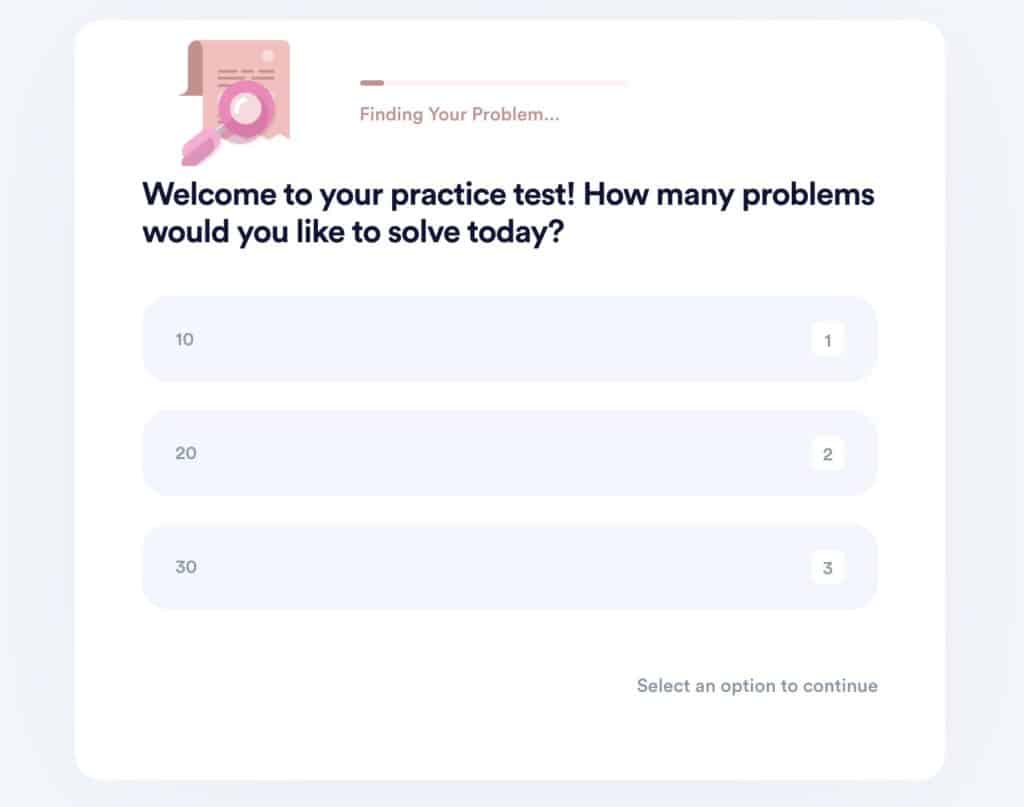 How To Find an
Oklahoma Driver's Permit Practice Test
by Yourself
Oklahoma DMV practice tests are available on the internet, and you can access them without trouble. Typing in the required keyword in the search engine will lead you to an array of options, all of which claim to provide the key to passing the DMV test. 
Before you commit to one of them, you should do some investigating and eliminate sketchy websites. How can you recognize which practice tests are unreliable? There are certain clues that might help you decide.
Promises of Questions From the Real Test
While most practice tests offer similar questions, there is a slim chance that you will find them on the real test.
100% Free Access
Always check whether this is true. In most cases, the website will offer limited access to material for free and full access only after you pay for a more advanced plan.
A Promise That You Won't Have To Use the Manual 
Any website that tries to convince you not to study for the test is considered sketchy at best. While practice tests are an essential learning component, they are not enough to pass the real exam.
The Quality of the Website
If you are set on taking one of the online practice tests, you should go for the most professional-looking one. If a website looks like an amateur made it, it is probably not the most reliable source of information.
Before you try your luck with one of the online tests, check out this overview of the pros and cons:
Online Practice Tests
Pros
Cons

They are easily accessible

You have a number of different options

They are often unreliable

It can be difficult to discern which one to choose

They offer false promises
How Else Can DoNotPay Assist You?
DoNotPay is here to help you pass some of the most popular government tests, such as the CDL, HAZMAT, notary, and U.S. citizenship test. Taking the postal exam will be a breeze with our assistance! 
Our platform offers much more to the citizens of Oklahoma. You can cancel the Central Security Group and Protect My Car policies without any trouble. If you want to find out whether unsolicited emails are illegal in Oklahoma and how to block them, use our app as a source of information. 
Discover what else we can do for you! Open DoNotPay in your web browser, and let us assist you with:
Fighting speeding citations

Overturning traffic tickets