DoNotPay Knows Where To Find the Best
Oregon DMV Practice Test
The key to passing any written driving test, including a CDL or HazMat test, is to prepare. Many people falsely believe that only the basic knowledge of traffic laws, rules, and regulations will be enough. 
Obtaining your DMV license implies scheduling a DMV appointment, paying a fee, and waiting in lines, so it is not fun having to do it more than once. Not taking the studying process seriously can cause you to fail the written exam and repeat the grueling process.
You can avoid stress and additional expenses by applying some effective learning techniques. Follow our lead to discover how to ace your DMV test on the first try!
Getting Your Driver's License in Oregon
To obtain your driver's license in Oregon, you must go through a complicated process. Some steps are obligatory, and others are there to improve your chances of getting a license. Take a look at what the entire process looks like in this step-by-step guide:
What Can You Expect on Your
Oregon Driving Test
?
The Oregon DMV test has two parts—the knowledge test and the road exam. The knowledge test consists of 35 multiple-choice questions based on the information from the Oregon Driver's Manual. To pass the written exam, you must answer 28 questions correctly. If you fail your knowledge test, you will be able to retake it after 24 hours. Applicants who fail more than three times need to wait 28 days to retake the test. 
Achieving a minimum 80% score on your knowledge exam qualifies you for taking the road test. The driving examiner will test your driving skills and knowledge of traffic rules and highway signs and signals. You will have to demonstrate how to successfully:
Turn

Park

Signal

Back up

Change lanes

Control speed

Control the vehicle

Demonstrate general ability to drive
If you fail the road test, you must wait until the next appointment is available.
Passing the Oregon DMV test is not hard as long as you study. Combining the Driver's Manual and practice tests is the method that guarantees success. Find out why practice tests are beneficial and how to access the most reliable material. 
How Can
Oregon Permit Practice Tests
Help You Prepare for the Real Deal?
Passing the Oregon DMV test requires more than memorizing information from the Manual. While the Manual provides an invaluable source of knowledge, DMV practice tests put isolated information into context and help you retain them long after you finish studying. Cramming from the Manual can soon become tiresome, so adding a bit of variety in the form of practice tests can come a long way. 
Check out why the Manual and practice tests should become a part of your learning routine in the table below:
Benefits of Studying From the Manual
Benefits of Taking Practice Tests

It is the most comprehensive learning source

It contains information relevant to the state you live in

You can't find information from the Manual in any other source

They mimic the structure and form of the real exam

Practice test provide various question combinations

They stimulate revision, which improves retention

Practice tests help reduce test-related anxiety 

You become aware of the areas from the Manual that you need to study more
DoNotPay Provides the Best
Oregon DMV Permit Practice Test
DMV practice tests are available online, but not all of them are reliable. Except for some red flags that include promises of the real exam questions, it is impossible to discern which website to trust. You can skip the headache and turn to your trusted advisor—DoNotPay!
All you have to do is access DoNotPay from your web browser and follow these instructions:
Type in

DMV Test

in the search bar

Choose the practice test length

Start the test
The benefits of using our app are numerous. We can make practicing for your DMV test both practical and useful by allowing you to:
Answer questions one by one

Retake the test multiple times

Access the test from any device

Adjust the number of questions according to your preference

Retry questions straight away or after finishing the entire test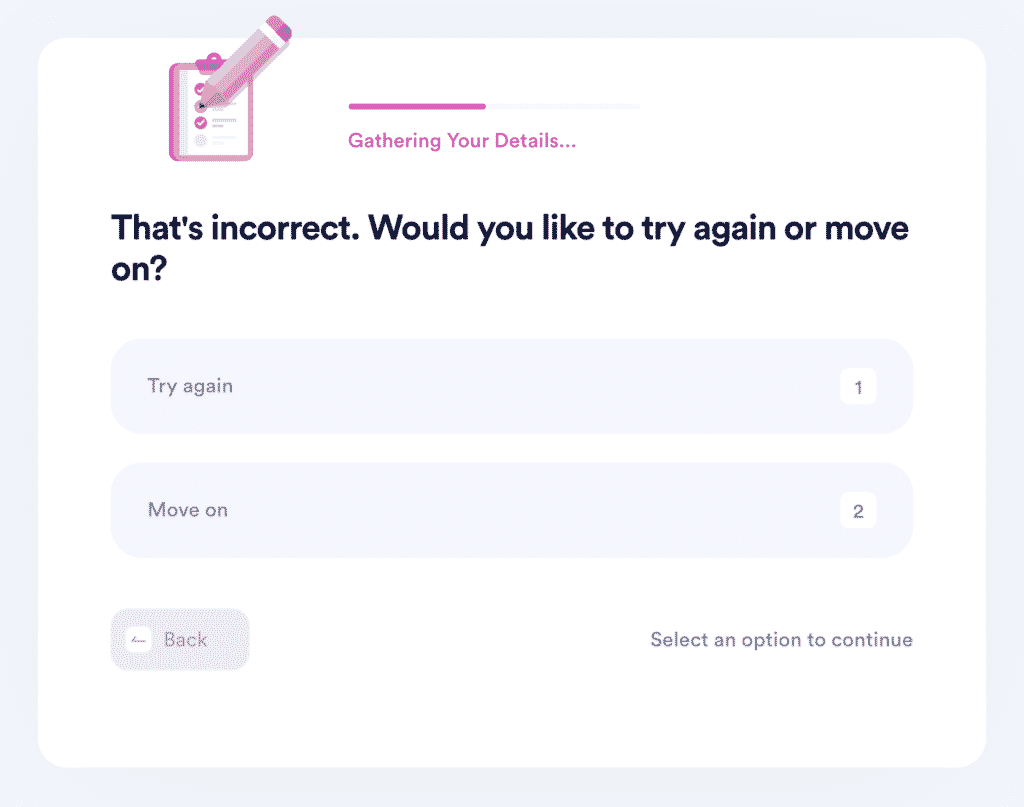 Use DoNotPay's Expertise in Other Government Tests 
With our help, no government test, no matter how demanding, is out of reach. You can use our resources to practice for CCAT, Notary, Postal, ASVAB, CompTIA A+, and the U.S. citizenship tests. 
We can do more than provide practice material for government tests. DoNotPay offers assistance for all aspects of the preparation process. By accessing DoNotPay in a web browser, you can find out what should be on your driving test checklist. 
If you are set to take the ASVAB test, use our information to understand what the ASVAB test scores mean. With our help, no government test will ever be out of your reach!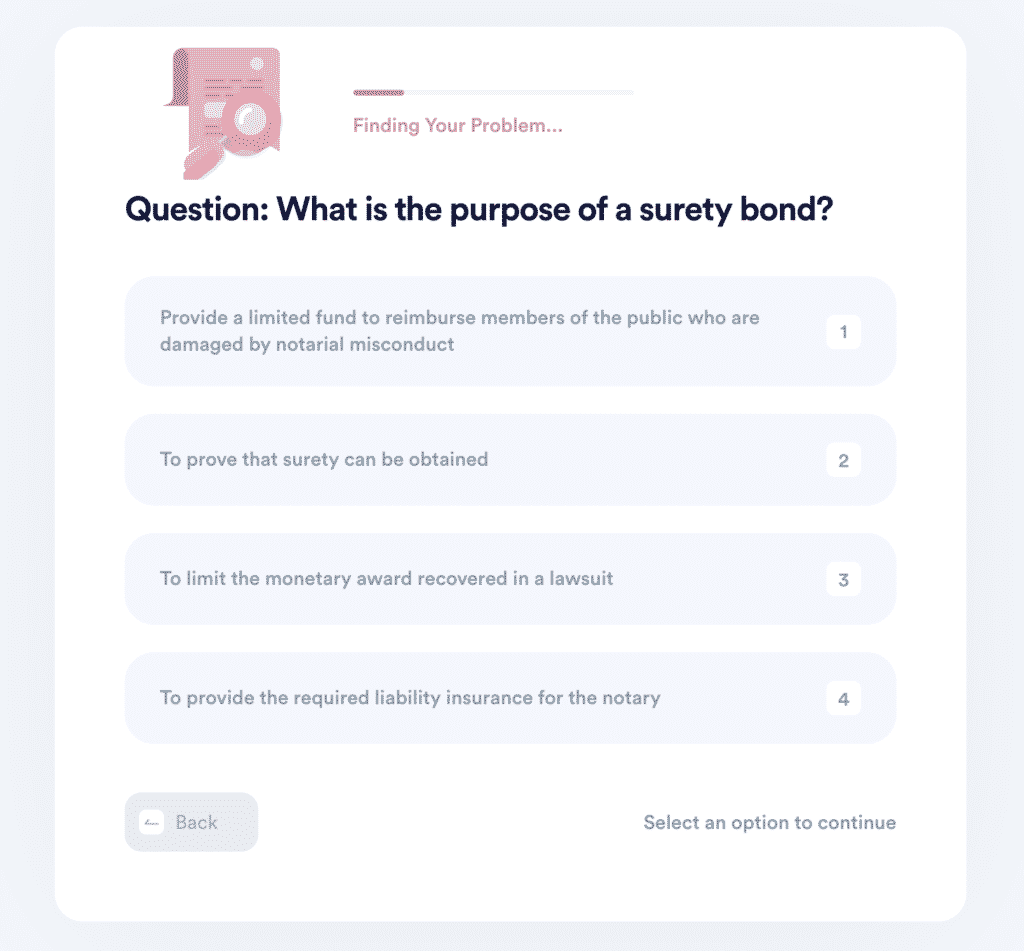 Forget About Bureaucracy With DoNotPay
There's no end to what our robot lawyer can help you do. From asking for bill extensions and reducing property taxes to connecting with an inmate in a federal prison and contesting parking citations, DoNotPay can handle it all and cut through the red tape.
Need to pass a government test? Use our practice tests database to nail it. Looking to file an insurance claim? You've come to the right place. College applications drained your accounts? Request college fee waivers with our assistance.
The DoNotPay app is so versatile that it can easily locate any unclaimed funds under your name or any clinical trials that you're eligible to participate in. We can also schedule DMV appointments and take care of your small claims court documents.
Check Out What Else DoNotPay Has in Store
DoNotPay never stops upping the game. You can explore some of our latest features and see how you can access public records, receive free online fax, submit a warranty claim, or get compensation if you were a victim of a crime.
Alternatively, check out some of our most popular products that aim to reclaim your funds—from getting airline flight compensation and submitting refund and chargeback claims to canceling your unused subscriptions and getting class action cash from email, text, and robocall scammers.