KY Practice Permit Test
That Will Help You Pass the Real Exam Easily
DMV permit tests can be a piece of cake if you know how to prepare for them properly. These tests are state-specific, but the general idea is the same—proving you know the rules of safe and correct driving. DoNotPay has the best practice permit test in Kentucky that can ensure you get good scores easily! 
What Is the
KY Driving Test
and What You Should Know About It
States across the country have specific written driving tests that people need to pass to obtain a driver's license. The one in Kentucky consists of 40 questions, and you need to answer 32 of them correctly to pass.
If a participant cannot read English well enough to take the written exam, they may have the option to take an oral exam instead. 
Individuals younger than 18 need their parents' consent to take the test, and everyone else has to provide identification proof and KY residency. If you don't pass the written test, you can retake it the next day.
Why You Should Prepare for the
Kentucky State Driving Test
The sooner you pass your written test, the sooner you can get behind the wheel. To do so, you will need to prepare properly. When you know you have done everything in your power to get ready for the Kentucky written knowledge test, you will go to your test completely calm.
Calm nerves work in your favor, ensuring you get the best results possible!
You may think that this test is not that difficult, but statistics will prove you wrong—as much as 44% of people fail the test when they take it for the first time!
There is also a $10 fee you need to pay to take the test. This means each time you fail, you will need to set aside the same amount of money, and no one wants to waste 50 or more dollars.
How Can You Prepare for the
Kentucky Driving Test
the Best Way?
As with any knowledge test you ever took, you will need to study, repeat, and check your knowledge. Those three steps should ensure you become a driver in Kentucky as soon as possible.
The smartest starting point are study guides. This is the place where you can find everything and anything about the Kentucky driving test. It can be a bit overwhelming trying to remember rules and regulations written on hundreds of pages. Make sure you read through this guide a couple of times and highlight the parts you find important. That should be enough for a start.
The next step would be to find someone who could help you test your knowledge to a point.
This can be an experienced driver you know or a tutor. The first option is not quite reliable since they are not professionals and can't precisely tell you what kind of questions you may expect to see on your test. The second option—tutors—is expensive. It would be an unnecessary additional cost, and we will tell you why. You can use practice tests!
Practice tests are the key to checking the knowledge you have acquired so far. They are also a perfect simulation of the questions you can expect to see once you take the real test. Another thing that makes practice tests so great is that you can take them as many times as you like until you perfect your driving knowledge.
You should be wary of the ones you use because free versions available online are not that reliable. If you want to play it safe and become completely prepared, you should turn to DoNotPay!
How To Take the
Kentucky Permit Practice Test
With DoNotPay
Use DoNotPay to practice for your Kentucky permit test and be satisfied with your scores. We have an endless database of questions that will ensure you sit the test out completely prepared. You can even choose between retrying incorrect questions immediately or retaking the test once you've seen the results. 
Follow these five simple steps:
Access DoNotPay from your

web browser

Type in the name of the test

Select the test you want to prepare for

Decide whether you want to take 10, 20, or 30 question tests

Start completing your test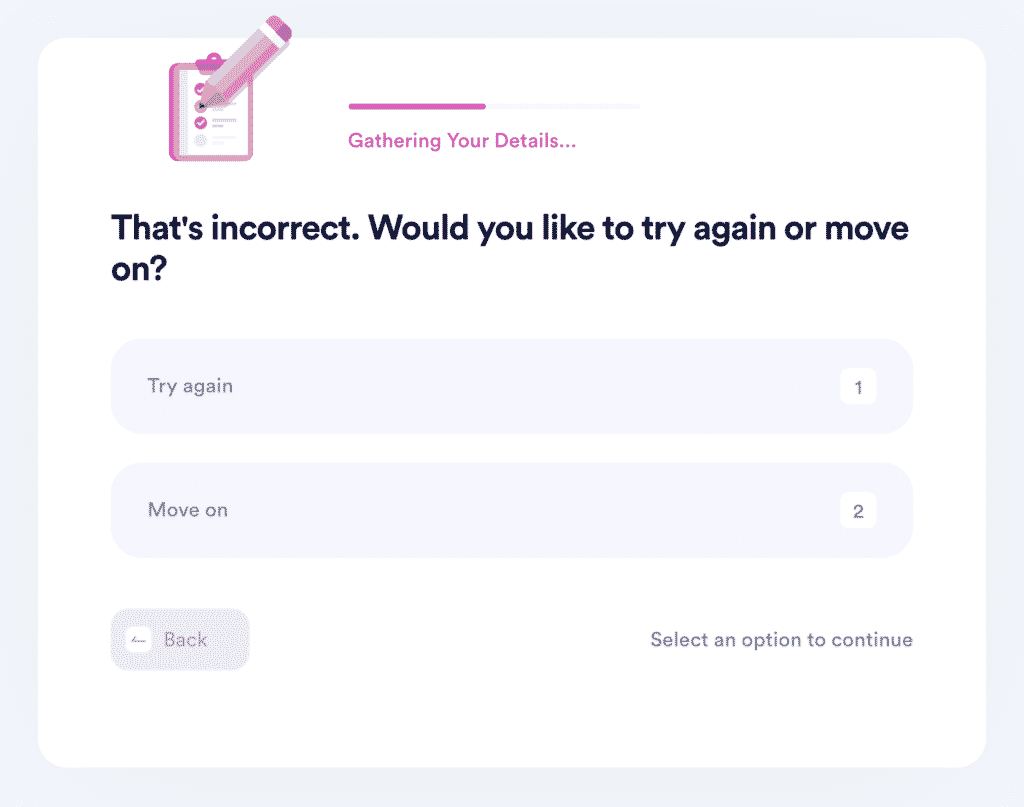 All Government-Issued Tests DoNotPay Can Help You Prepare for
You can count on DoNotPay's help for other tests as well. Our extensive database will help you see the type of questions you can expect on the real test, and you'll pass without trouble.
Practice with DoNotPay for:
Your virtual assistant can also inform you how to check the ASVAB test scores.
How To Schedule a
Kentucky Driving Test
Kentucky residents and anyone else who wishes to take their driving test in this state may do so online or over the phone. The important thing is to know the county you are taking the test in and see the options available. These are the steps you'll need to follow for both options:
Schedule a DMV Appointment
Online
Via Phone

Visit the

Kentucky State Police

website

Locate the county of your interest

Click on the provided link if the online scheduling is available

Choose the time that fits your schedule

Enter your personal info, including your name, email, and phone number

Submit

Go to the Kentucky State Police website

Find the county you want to take the test in

Call the provided phone number

Explain why you are calling

Set the time and date according to your preference
You can see other special instructions for the county of your choice next to the name, and you will need to follow them to make a successful driving test appointment. Before scheduling your test, you should make sure you have everything necessary on your driving test checklist.
DoNotPay Is Here To Help You Fight Bureaucracy
In case you live in the Bluegrass State, you can use DoNotPay to tackle other administrative issues in addition to driving-related ones. 
Maybe you have the right on some abandoned assets in Kentucky, and you don't even know it. Our app can help you check if you are a potential millionaire in a few clicks. DoNotPay can also assist you in finding and sending inmate packages to your loved ones in KY.
If you want to check out other tasks we can simplify for you, open DoNotPay in a web browser and let us help you with:
Disputing speeding tickets

Fighting traffic tickets