Everything You Need To Know About the
CDL Test
If you're interested in operating a commercial motor vehicle (CMV), you need to obtain a commercial driver's license (CDL). Every American state has different rules regarding driving tests, but the basic regulations are usually the same.
DoNotPay can help you ace your CDL writing test and bring you one step closer to getting a driver's license.
Commercial Driver's License Test
Explained
In most American states, you need to be 21 to take a CDL driving test. There are three vehicle classifications you can take the test for:
Vehicle Classifications
Description

Class A

Combination vehicles weighing at least 26,001 pounds with towed vehicle(s) weighing more than 10,000 pounds

Class B

Heavy straight vehicles weighing at least 26,001 pounds with towed vehicle(s) that can't exceed 10,000 pounds

Class C

Small single vehicles and combination of vehicles that are not included in classes A and B

Vehicles dedicated to the transportation of 16 or more passengers or hazardous materials
Taking a written DMV CDL test should be the first item on your driving test checklist. You need to pass it to get a commercial learner's permit (CLP). The written tests in most states consist of three segments:
Endorsement tests

Air brakes test
A Guide to Endorsement Tests
There are several types of endorsement tests. You should pass the ones required for the commercial motor vehicle you want to operate:
H endorsement—vehicles that contain hazardous materials

N endorsement—tank vehicles that transport liquids and gasses

P endorsement—vehicles for 16 or more people

S endorsement—school busses (a P endorsement is also obligatory)

T endorsement—double or triple trailers

X endorsement—tank vehicles and vehicles transporting hazardous materials 
Drivers with certain restrictions can't operate some types of commercial motor vehicles. While every state has different laws, there are seven basic restriction codes—E, L, M, N, O, V, and Z. Some states might have additional codes. You should check the restrictions of the state in which you want to drive.
E Restriction
Drivers who perform a skill test with an automatic transmission will be issued an E restriction. They won't be able to operate a vehicle with a manual transmission.
L Restriction
An L restriction disallows the operation of commercial vehicles with air brakes. You'll get an L restriction in your license if you don't:
Pass the air brakes test

Take the skills test on a vehicle with an air brake system

Check the air brakes work properly

Identify the components of the air brakes system
M Restriction
Drivers who have a CDL for Class A vehicles but get their P and S endorsements in a Class B vehicle will get an M restriction. Chauffeurs with an M restriction can drive only a school bus or Class B or C passenger vehicles.
N Restriction
If you have an N restriction on your CDL, you can operate a school bus and Class C passenger vehicles. Chauffeurs with a Class B license will get an N restriction if they pass the P and S endorsement tests in Class C vehicles.
O Restriction
Chauffeurs with an O restriction can't operate a Class A vehicle that has a fifth-wheel connection. If you take the test in a Class A commercial vehicle without a fifth-wheel connection or with a pintle hook, you'll get an O restriction.
V Restriction
Drivers with vision, seizure, diabetic, and hearing impairments will get a V restriction in their CDL. That's why a medical exam is obligatory when obtaining a commercial driver's license.
Z Restriction
A Z restriction indicates that a chauffeur can't operate a commercial motor vehicle with full air brakes.
Reasons To Prepare for the
CDL Written Test
Commercial driving test fees can be pricey, especially if you take the test multiple times. CDL tests are usually challenging, and that's why many people fail. Passing your written commercial driving license test on the first try is possible if you're well-prepared for the exam. 
Preparing for your CDL test will also help you feel more confident, which will make the exam less stressful. The sooner you obtain a learner's permit, the sooner you'll be allowed to take the road test and apply for commercial driving jobs. 
Written CDL tests are important for road safety, which is crucial when transporting hazardous materials or large groups of passengers.
How Can You Prepare for Your
Commercial Driving Test
?
Prospective CMV drivers can prepare for the test by:
Reading the state's official manual—Every state has a different manual. You can head over to your local DMV and ask for a print version or find a PDF handbook on the

Driving Tests website

Signing up for a CDL training program—Your local DMV should organize classes that can help you prepare for the test. These programs are usually expensive, which is why not many people sign up

Taking a few practice tests—

Practice tests are the best way to prepare for any government exam, including CDL
Where To Find
CDL Practice Tests 
If you're looking for a simple way to prepare for CDL tests, answering a few sample questions is the best option. Taking a CDL prep test is a highly effective method of studying. Commercial driving license practice tests are almost the same as the real deal, which will help you get used to the process. 
Numerous online platforms allow you to take driving practice tests when preparing for your DMV exam:
Once you feel ready to take the test, you can schedule an appointment with your local DMV.
Learn How To Take the
CDL Practice Test
the Easy Way—With DoNotPay
DoNotPay offers the best solution for taking CDL practice tests. Besides helping you pass your driving test on the first try, we provide other government prep tests that you can take. You can prepare for the Armed Services Vocational Aptitude Battery (ASVAB) exam and get an excellent score. 
Check out other government tests you can ace thanks to DoNotPay's service:
If you'd like to try out our service, access your DoNotPay account from a web browser and do the following:
Enter the

Commercial Driver's Licence

keyword in the

Search

field

Choose the test you want to prepare for

Pick the number of questions 

Take the test slowly and memorize as much as possible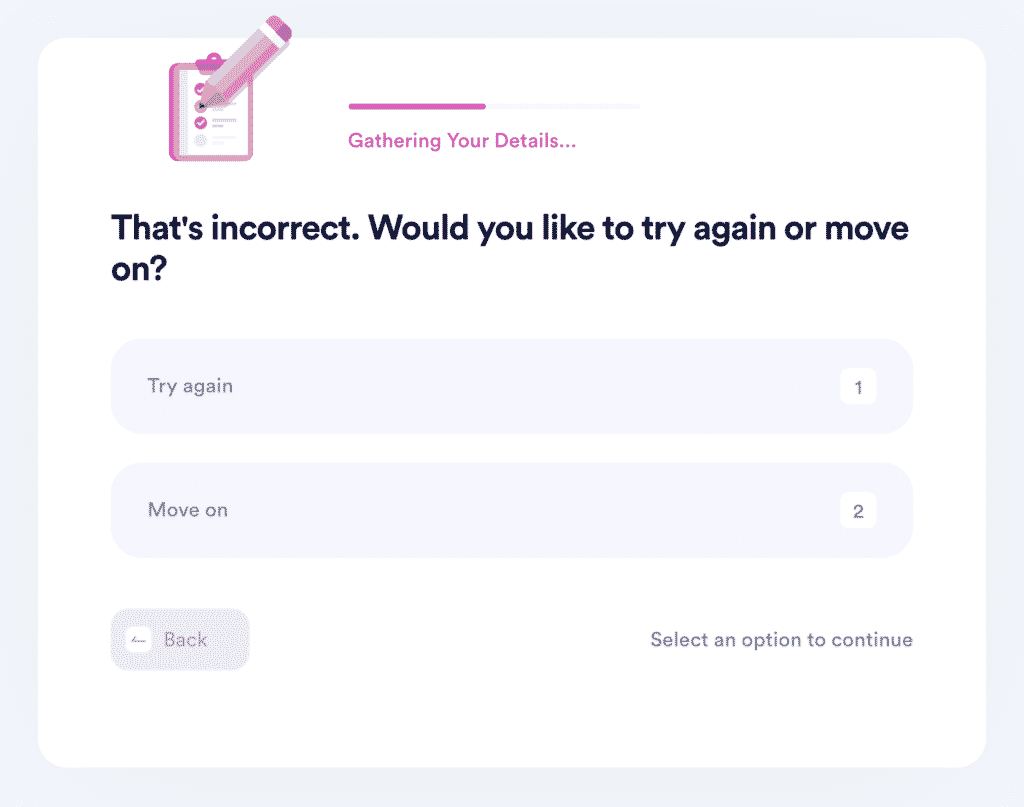 You'll get immediate feedback as soon as you answer a question. If your response was incorrect, you can redo the question on the spot or decide to retake the entire test after seeing your score. 
With our assistance, you can take a practice CDL test for any state, such as Ohio, Texas, Illinois, and Florida.
DoNotPay Offers a Helping Hand for Any Administrative Problem
Whether you want to practice for a CDL test in California, Virginia, or Indiana, DoNotPay should be your choice. We can help you schedule a DMV appointment in any American state, including Arizona, Nevada, and North Carolina.
To try out all of our features and solve any problem hassle-free, sign in to your account in a web browser, and we will assist you in:
Appealing speeding tickets

Contesting traffic tickets