The Easiest Way To Set Up a DMV Driving Test Appointment
Passing a written driving exam can be challenging if you don't prepare well enough. Everyone's driving test checklist includes scheduling a DMV test, but you should avoid setting up an appointment until you feel comfortable enough with your knowledge.
DoNotPay can help you take DMV practice tests, prepare for your driver's license exam, and schedule your driving test in less than two minutes.
What Are DMV Driving Tests?
Obtaining a driver's license is impossible without passing a driving test. Every non-commercial DMV driving test consists of two parts:
Written exam

—designed to test an individual's knowledge of traffic rules and road safety

Practical (road) exam

—serves to test a person's driving skills under normal road conditions
You can't take the road test until obtaining a learner's permit. To get the permit, you need to pass a written DMV test.
In most states—including Utah, Texas, and Oregon—you need to be at least 15 to be eligible to take the test. In states like Kansas and Iowa, you can obtain a learner's permit even if you're a 14-year-old. If you want to take the road test, you have to be 16 years old.
How To Prepare for a Written DMV Test
Every state in the U.S. has different driving rules and regulations. You can head over to your local DMV and ask for their official manual.
If you don't feel like going to the DMV, you can find a PDF version of the handbook on the Driving Tests website. You might also find the PDF of the manual on the official website of your local DMV.
Once you read the rules, your next step should be taking some practice tests. You can find various preparation tests on the following platforms:
Another option is to sign up for preparation courses, but those can be pretty expensive, and they're always organized in groups.
Key Aspects of the DMV Practice Tests
As opposed to prep classes, taking practice tests allows you to prepare for the exam at your own pace. It also gives you a good chance to get familiar with the real exam structure because the sample tests are almost identical to the real deal.
Questions are drawn from the DMV manual and previous exams. If you're lucky enough, some questions on the exam will be the same as those on practice tests. Most prep tests will give you immediate feedback for each question so that you can memorize the correct answer.
One of the drawbacks of the above-mentioned platforms is that most of them are not completely free. While the basic features are available to everyone, users need to pay if they want access to premium content.
The simplest way to prepare for DMV tests and any government exam effortlessly is with DoNotPay.
DoNotPay Can Assist You in Preparing for the DMV Driving Test
DoNotPay offers an easy yet effective way to take a DMV practice test in any state, including Nebraska, Arizona, and South Carolina. Thanks to our app, you can prepare for your driving exam in no time and pass the written test on the first try.
Open our platform in a and follow these steps:
Search for the

DMV practice test

Pick the test you want to practice

Choose the length of the prep test—10, 20, or 30 questions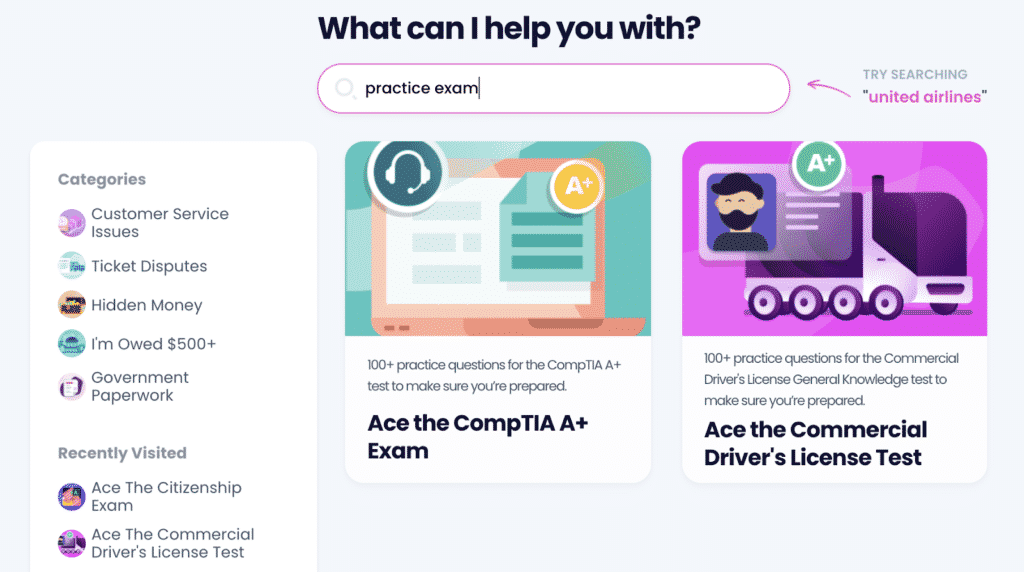 You will take the test question by question and get immediate feedback for every answer. If your response is incorrect, you'll have the opportunity to redo the incorrect question if you wish to do so. You can also retake the whole test if you're not happy with the score.
DoNotPay takes pride in its extensive database that collects the sample questions for any government test. With our assistance, you can even prepare for the Armed Services Vocational Aptitude Battery (ASVAB) test and get the highest scores.
Check out all government tests you can prepare for thanks to our platform:
Does the DMV Take Walk-Ins for the Driving Test?
Wondering if you could walk into a DMV office and take the test on the spot? The answer isn't simple because each DMV office has its own rules. While a small number of them accept walk-ins, scheduling an appointment in advance is always the best option. You won't have to wait in long lines and worry about not being allowed to take the test.
How To Schedule My Driving License Test Appointment
If you'd like to schedule a written DMV exam or driving road test appointment, you can do it in a few ways:
| | |
| --- | --- |
| Can You Schedule a DMV Appointment With | Yes/No |
| DoNotPay | Yes |
| Over the Phone | Yes |
| Email | No |
| Website | Depends on the state |
| In Person | Depends on the state |
All DMV offices allow you to make an appointment over the phone, while some offer an option of scheduling online. You can also go to your local DMV and schedule your test in person if the state you live in allows it.
The best solution is to visit your state's DMV website and check the available scheduling options.
If you want to call the DMV, you'll probably have to waste hours waiting for a customer care rep to pick up the phone. Online bookings are super practical, but most DMV offices have poor quality websites that are seldom user-friendly.
DoNotPay Makes Your DMV Driving Test Appointments Easy To Schedule
While wasting time in long lines at the DMV is never fun, not everyone is tech-savvy enough to navigate confusing websites. If contacting customer support specialists is a challenge, you'll appreciate DoNotPay's handy feature.
By using DoNotPay's options, you can set up an appointment with the DMV in a few clicks, regardless of the service you need. To schedule an appointment for a driving test in Michigan, Arizona, or any other state in the U.S. fast, do the following:
Access DoNotPay's platform from any

Pick the DMV service you want to schedule:

Driver's records request

License renewal and application

Vehicle titles

Written or road test

Address change

Vehicle registration renewal

Select the time and date of the test
Annoying Administrative Struggles Stay in the Past Thanks to DoNotPay
Besides helping you practice for Nevada, Colorado, and Oklahoma driving tests, DoNotPay can help you solve many other issues. We can assist you in renewing your driver's license in Florida and New York and fighting parking tickets in any city in the U.S.
To deal with any complex problem hassle-free, sign in to your DoNotPay account using a and count on our help with: