Understanding the Essentials of
Missouri Driving Test
Statistics say that the state of Missouri has the biggest failure rate (61%) when it comes to driving tests. This fact may discourage the ones who are thinking about taking a DMV test, 
but getting a driver's license doesn't have to be so difficult.
If you find the right approach to studying and put a little bit of effort into it, you can pass your driving test easily. Our goal is to explain how DoNotPay's practice tests can help you ace your written exam. 
Our app can help you sweep through many other certification exams, such as:
What Is the Missouri Driving Test?
Missouri driving test is an exam all candidates who want to operate any motor vehicle on the territory of this state need to pass. It's a mandatory step for getting the following licenses:
Whichever document you apply for, you need to pass four tests to get the license:
Written knowledge test

—It serves for checking the driving theory knowledge. Candidates study from specific manuals, covering topics like safe driving, road signs, and traffic rules and signals 

Vision examination

—It includes acuity and peripheral vision test.

Road sign test

—It's a simple test that checks candidates' traffic sign knowledge. If applicants fail it, they can't go on with the driving skills test

Road or driving skills test

—A road test represents a practical part of the driving test. Candidates need to show that they can operate a vehicle safely and comply with road rules
Missouri Driving Test Requirements
Each part of the test comes with specific requirements all candidates need to meet to pass the exam. The table shows a summary of the criteria for all four stages of the Missouri driving test:
Driving Test Stage
Criteria

Documentation

Valid ID

Social Security number

Proof of Missouri residency

Lawful status verification—a U.S. passport,

U.S. Certificate of Citizenship

, U.S. birth certificate from a vital record agency, and similar documents

Written Test

20 of 25 correct answers needed for passing the test

Vision Examination

Minimum acuity needs to be 20/40

Minimum peripheral vision needs to be 85 degrees in one eye and 55 degrees in both eyes 

Road Sign Test

20 of 25 correct answers needed for passing the test

Driving Skills Test

Functional doors

Valid license plates

Functional seat belts

Well-equipped vehicle

High level of safety and cleanliness

Valid proof of financial responsibility

Good working order of horn and brakes
How Can You Schedule the
Missouri Driving Permit Test
?
After passing your written test, you need to schedule a DMV driving test appointment with the Missouri State Highway Patrol (MSHP). You can do it via phone by following the instructions below:
Dial

(573) 751-1887

Inform the agent that you want to set a driving test appointment 

Consider the available dates and choose the one that suits you best 
Ways To Prepare for Your
Missouri Permit Test
Being well-prepared for a driving test means being confident in your skills and knowledge. You will achieve the best results by using the learning methods that suit you best. Some of the available studying options are:
Are There Any Platforms Offering
Missouri Driver's Permit Practice Test
Collections?
Practice tests are the most efficient learning asset for many reasons. They evaluate your existing knowledge, improve weak spots while you practice, and look similar to real written driving tests. 
Missouri driving test examples are available on numerous websites and portals, including:
Google search is usually the best way to find practice tests on your own, but it can be a time-consuming task. Some tests may not be updated for the current year or thorough enough, which diminishes their effectiveness. 
To avoid combing through Google search results and wasting precious time, we suggest using DoNotPay for getting more than 100 ready-made practice quizzes in a few taps. 
Find the Best Collection of
Missouri Permit Practice Tests
on DoNotPay
If you want to have all relevant learning resources in one place, DoNotPay is the perfect choice for you. 
Our app has the most extensive practice test collection, which means you won't have to look for any other test prep platform. The examples we provide will help you achieve amazing results on your permit test and start driving in no time!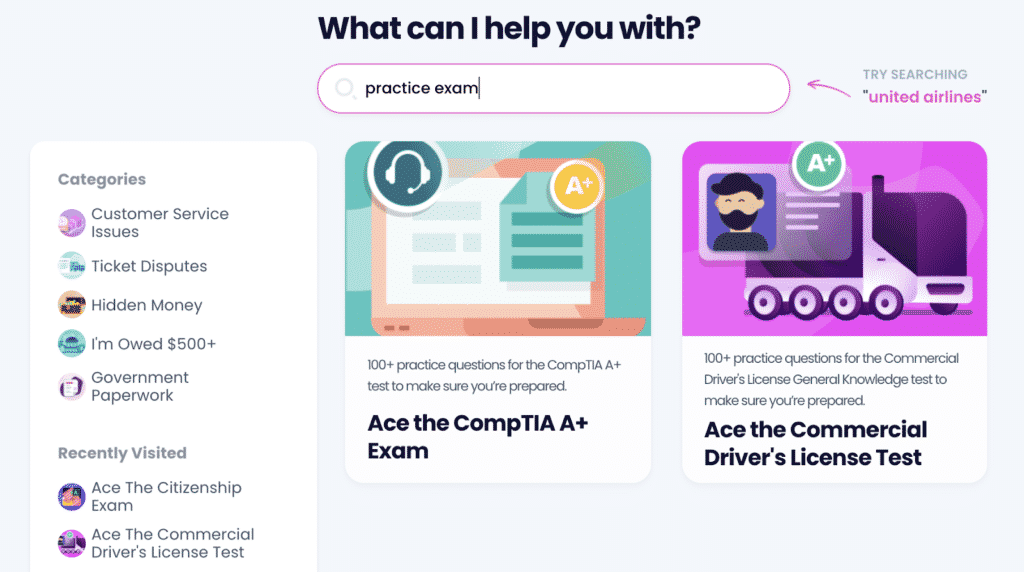 Here are the steps you should follow to access DoNotPay's practice test base:
Visit DoNotPay in your preferred

web browser

Search for the desired type of test by typing keywords—

Missouri driving test

Pick one of the available quizzes and set the number of questions per test

Start answering the questions
If you make any mistakes, you can choose whether you want to correct them right away or after completing the whole test. DoNotPay allows you to retake tests multiple times—the more you run through them, the more solid your knowledge will become.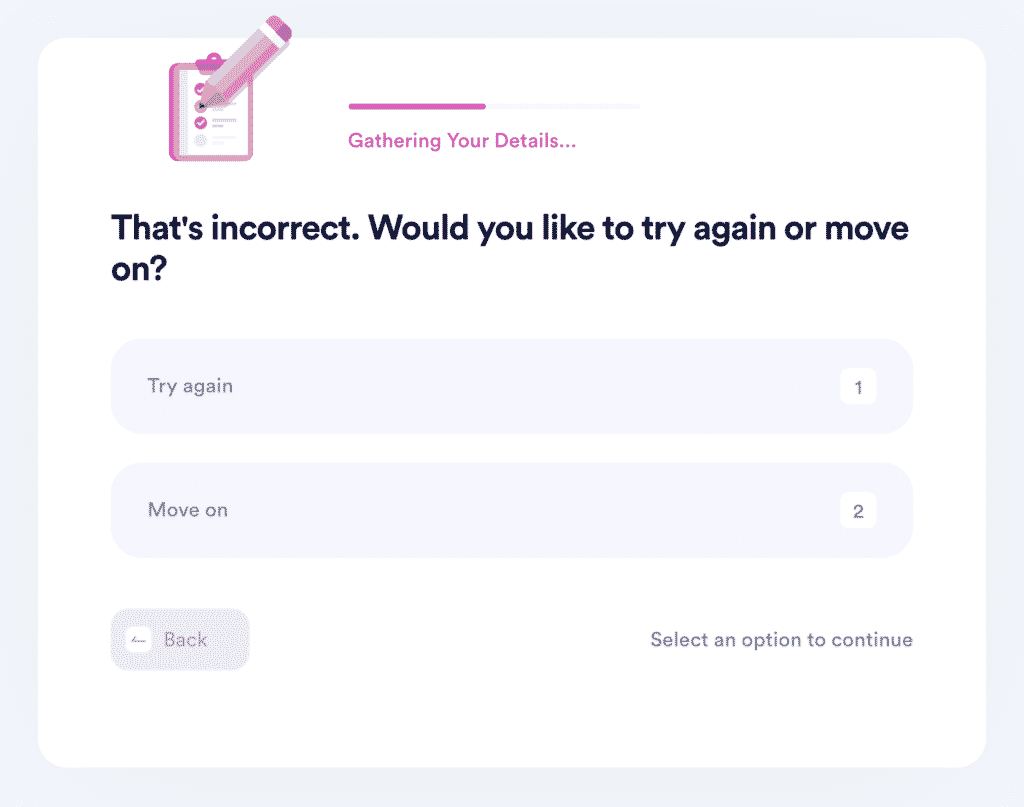 Welcome Bureaucracy-Free Solutions With DoNotPay
DoNotPay supports everyone who needs help with their driving tests, including people from Texas, Kansas, Georgia, Oklahoma, New Jersey, or West Virginia. We offer you the best way to find out more about other types of exams or understand ASVAB scores.
Say goodbye to bureaucracy—our platform lets you solve administrative issues with zero paperwork. Learn how to appeal parking tickets in any city in the USA, including Denver, Yonkers, Pittsburgh, Milwaukee, Los Angeles, and New York City.
We have prepared handy tips for all Missouri residents. With us, you can pass the Missouri notary test easily, find clinical trials anywhere in this state, or retrieve any unclaimed money from the Missouri government.
Access our platform from your preferred web browser for more great features DoNotPay offers, and find out more about: