Everything You Need To Know About the
ASVAB Practice Test
The Armed Services Vocational Aptitude Battery (ASVAB) is an aptitude test created by the Department of Defense.
While you can't fail the ASVAB test, obtaining a good score is important for the military role you'll be assigned. DoNotPay can help you prepare for the ASVAB, driving, or any other government test fast and easy so that you can pass them on the first try. 
What Is the ASVAB Test?
The purpose of the ASVAB test is to measure an individual's strengths and potential for military training success. There are two versions of the test:
The enlistment ASVAB test

ASVAB Career Exploration Program (CEP)
Both versions have ten subtests that examine your aptitude in four domains:
Domains
Subtests

Math

Verbal

Science/Technical

General Science

Auto Information

Shop Information

Mechanical Comprehension

Spatial
The Enlistment ASVAB Test
The Department of Defense created the enlistment test for recruiting purposes. You can take the test at a Military Entrance Processing Station (MEPS) or a satellite location—Military Entrance Test (MET) site. This version of the test adapts to the ability level of every candidate.
If you choose to take the computer version of the test (CAT-ASVAB), you'll answer the questions at your own pace. The paper-and-pencil version requires you to wait until the time is up for each subtest, even if you finish it early. The duration of each subtest varies, but the entire examination can be around three hours long.
| | | |
| --- | --- | --- |
| Subtest | Number of Questions | Time Limit in Minutes |
| Assembling Objects | 25 | 15 |
| Mechanical Comprehension | 25 | 19 |
| Auto & Shop Information | 25 | 11 |
| Electronics Information | 20 | 9 |
| Mathematics Knowledge | 25 | 24 |
| Paragraph Comprehension | 15 | 13 |
| Word Knowledge | 35 | 11 |
| Arithmetic Reasoning | 30 | 36 |
| General Science | 25 | 11 |
If you're not happy with your score, you can repeat the enlistment ASVAB test after one month. 
ASVAB Career Exploration Program (CEP)
The ASVAB CEP test is designed for students and young individuals as a career exploration method. This version of the test is available in high schools, community colleges, job corps centers, and correctional facilities. Even if you take the ASVAB CEP test, you don't have any commitment to military service. 
You can take the test on a computer or by using paper and pencil. Your result will be sent to your school so that you can discuss it with your guidance counselor. 
Can I Prepare for the
ASVAB Test?
Preparing for any exam is always a good option, even if the ASVAB isn't a pass-fail test. Well-prepared examinees are less nervous and more confident. While there isn't any official manual for the ASVAB test, good academic knowledge of math, English, and science can help a lot. Technical courses are also useful for the subtests in the Science/Technical domain.
An important part of your ASVAB test preparation is to get a good night's sleep the night before the exam. Since the subtests are quick and challenging, you'll need to be 100% focused if you want to get the best score possible. 
What's the Minimum Required ASVAB Score?
The most important ASVAB score is the Armed Forces Qualification Test (AFQT). It combines the Standard Scores from four subtests:
Word Knowledge

Math Knowledge

Arithmetic Reasoning

Paragraph Comprehension 
If you'd like to enlist in the U.S. Army, you have to reach the minimum standard for the AFQT score and your education level. Every branch of the military has a different minimum standard score:
High school graduates have slim chances of joining the U.S. Military—college students usually have an advantage.
How To Prepare for the
ASVAB Exam
The best way to prepare for the ASVAB exam is to do a few practice tests. You can find the questions from previous years and give yourself a time limit to experience the real test atmosphere. 
You can also skim through your school notes from the relevant courses to memorize as much as possible. 
What Are
ASVAB Practice Tests
and Where To Take Them
ASVAB practice exams allow you to test your knowledge and see which areas you need to improve. You can find the sample tests on the official ASVAB or Today's Military website.
If you're still in high school, your guidance counselor might be able to provide a few practice tests.
How To
Practice for ASVAB Tests
With DoNotPay
DoNotPay is the best way to prepare for the ASVAB or other government tests. Our service is simple to use. Thanks to DoNotPay's handy features, you'll have access to a variety of practice tests in one place. If you'd like to prepare for your ASVAB test with us, follow these steps:
Open the DoNotPay platform in a

web browser

Search for the test by entering a keyword, such as

ASVAB practice test

Pick the test you want to prepare for and select the number of questions—10, 20, or 30

Concentrate and take the test question by question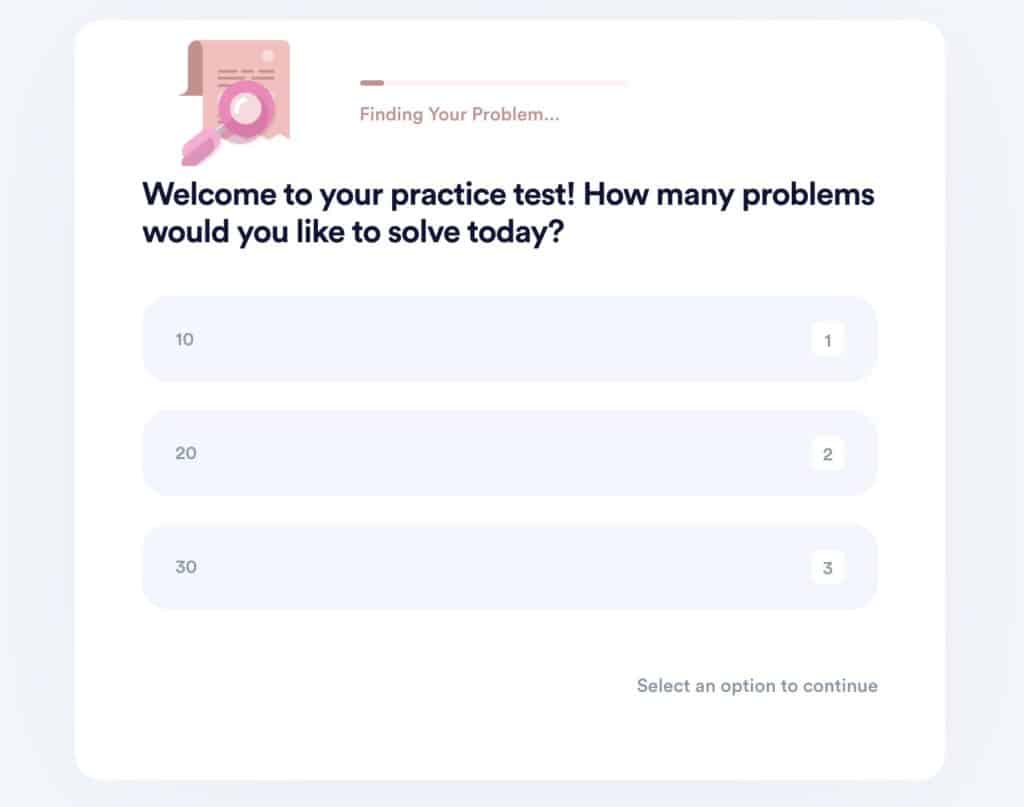 If your response to a question is incorrect, you can choose to:
Besides helping you prepare for the ASVAB test, DoNotPay can provide sample questions for the DMV test so that you can pass it hassle-free. We can even help you schedule your DMV driving test appointment in under two minutes. If you rely on DoNotPay's service, you can prepare for the following government tests:
Feeling Ready To Take the Test? Learn How To Schedule
ASVAB Testing 
If you're a student who wants to take the ASVAB CEP test, you can visit your guidance counselor. You'll be able to do the test right away or schedule an appointment that works better for you. 
Individuals interested in the enlistment test should contact the closest military recruiter to schedule it. Here's how you can locate the nearest recruiter:
Visit

Today's Military

Select the

Service Branches

option in the

Ways To Serve

tab

Choose the branch you want to enlist for

Click on the

Find a Recruiter

button
Solving Any Issue Is a Breeze With DoNotPay
Military service is a great honor for many people. DoNotPay has numerous useful services that can help veterans pay bills or claim abandoned assets fast and easy. If you join the military as a student, we can help you get a service-based college fee waiver when applying to most universities in the U.S., including:
With DoNotPay's help, you can deal with any issue stress-free. Log in to your account in a web browser, and we will assist you in: