How To Access the Most Reliable Permit Practice Test PA Has in Store
Obtaining a driver's license represents an important milestone in anyone's life. It is a result of months of studying and developing your safe-driving skills. If you prepare for the test adequately, you have nothing to fear. Most people fail due to panic caused by insufficient preparation.
DoNotPay will explain what the driving exam encompasses and where to find the most reliable DMV practice tests.
What Does the PA Driving Test Consist Of?
The PA driving test has two parts—a knowledge exam and a road test. The knowledge exam has 18 multiple-choice questions. You have to answer 15 questions correctly to pass. The complete study material is available in the PA Driver's Manual.
The test is provided in both audio and written format and assesses your knowledge of traffic signs, Pennsylvania driving laws, and safe-driving practices. If you fail the knowledge test, you can retake it as early as the next business day.
Passing the written test will make you eligible to demonstrate your skills behind the wheel. The road test examiner will first inspect your vehicle to make sure that:
Seat belts are clean and ready for use

Registration card, current insurance, emission sticker, and state inspection sticker are valid

Horn, lights, brakes, mirrors, doors, seats, tires, turn signals, and windshield wipers meet the safety standards
Before the road test, you may need to demonstrate how you operate the vehicle controls and handle parallel parking. During the road test, your examiner will take a close look at how you:
Obey stop signs, warning signs, and traffic lights

Control your vehicle on the open road

Communicate with other drivers
If you pass the road test, you will receive your driver's license at the Penndot Driver's License Center.
How To Practice for Your Pennsylvania Driving Test
The first step towards obtaining your driver's license is nailing the knowledge test. Taking the Pennsylvania written exam doesn't have to be stressful. The key is to start preparing in time, gain an insight into exam requirements, and apply the most comprehensive learning technique. Take a look at the table below to find out what constitutes a successful preparation process:
| | |
| --- | --- |
| Preparation Step | It Is Important Because |
| Studying from the Manual | The information that you will find in the Manual is invaluable. You should read the Manual thoroughly, then create a study document or highlight the most important segments |
| Taking practice tests | They mimic the form of the real exam and provide a context for information from the Manual. Retaking them will facilitate your retention and reduce test-related anxiety |
| Visiting the Manual again | Practice tests are good for pinpointing the segments that you need to study more. If you go back to the Manual after taking them, you can concentrate on weaker areas and master them |
Where Can I Find PA Driving Practice Tests?
PA driving practice tests are available online. If you type in the required keyword in your search engine, you will witness an array of different practice tests. Having such a numerous selection can seem handy at first, but you mustn't neglect the risks. Take a look at the characteristics that suggest which websites to avoid:
The promise of real exam questions

An appearance that reveals amateur work

Suggestion to skip the Manual or studying altogether

Request to pay a fee to access the full practice material
There is no foolproof way of establishing which online test is reliable. If you are still having a hard time deciding, you should consider the most reliable option—DoNotPay.
Take the DoNotPay's PA Permit Practice Test
The DoNotPay app is the most convenient way of preparing for your PA driving test. We offer questions similar to those on the real DMV test and cover the complete material from the Manual. Our feature lets you choose the test length so that you can practice at your speed.
Here's how to access our practice tests:
Navigate to DoNotPay from a

web browser

Enter the name of the test

Select the practice test length

—10, 20, or 30 questions

Start practicing
We suggest you retake the test numerous times. Being familiar with as many question variations as possible will improve your chances of passing the exam. 
DoNotPay offers you to correct the wrong answer on the spot. If you prefer to retake the test after you finish, feel free to do so.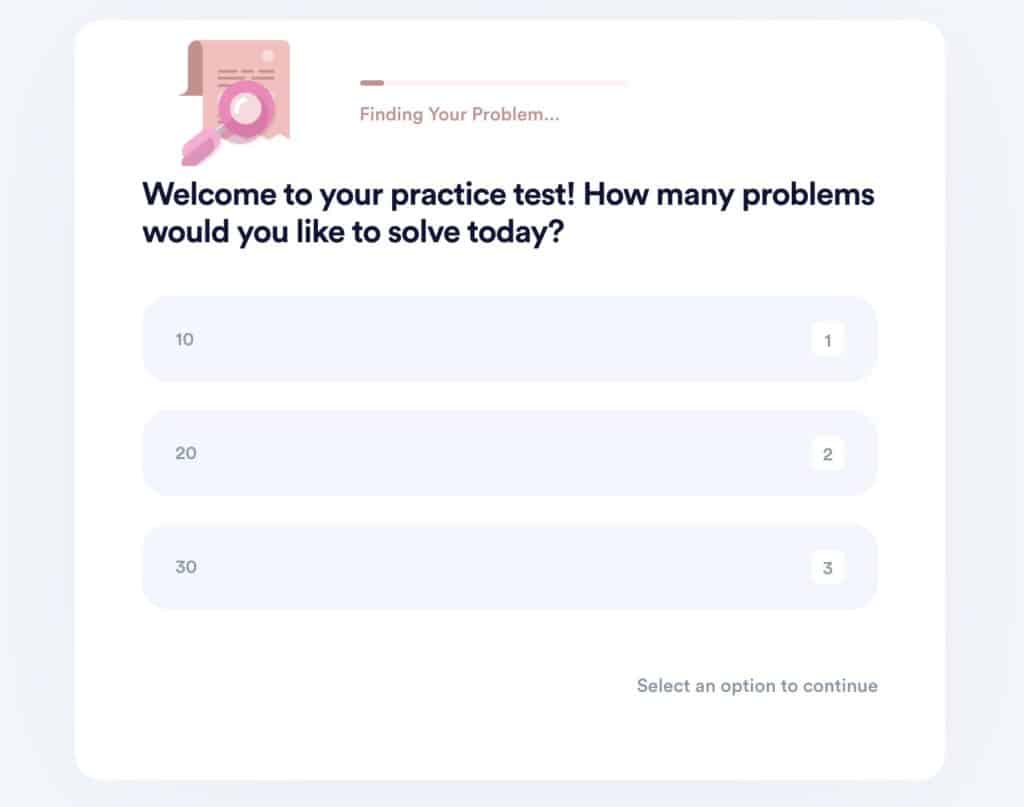 Pass Other Government Tests With DoNotPay
DoNotPay can help you ace any written driving test! If you would like to make the driving worth your while, you can use our practice tests to prepare for a Commercial Driver's License (CDL) test or a HazMat test. Acing these exams will open doors to better jobs and higher salaries!
Our Government Test Prep knowledge base can come in handy for other tests, including:
You can use our expertise to successfully make a driving test appointment and assemble your driving test checklist.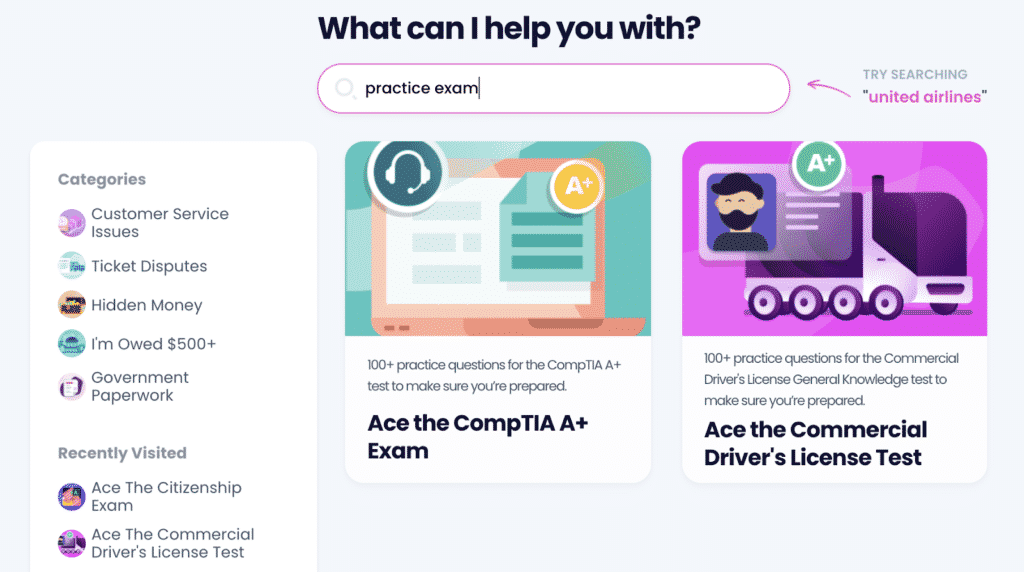 Forget About Bureaucracy With DoNotPay
There's no end to what our app can help you do. From drafting legal documents and asking for bill extensions and reducing property taxes to connecting with an inmate in a federal prison and contesting parking citations, DoNotPay can handle it all and cut through the red tape.
Need to pass a government test? Use our practice tests database to nail it. Looking to file an insurance claim? You've come to the right place. College applications drained your accounts? Request college fee waivers with our assistance.
The DoNotPay app is so versatile that it can easily locate any unclaimed funds under your name or any clinical trials that you're eligible to participate in. We can also schedule DMV appointments and take care of your small claims court documents.
Check Out What Else DoNotPay Has in Store
DoNotPay never stops upping the game. You can explore some of our latest features and see how you can access public records, receive free online fax, submit a warranty claim, or get compensation if you were a victim of a crime.
Alternatively, check out some of our most popular products that aim to reclaim your funds—from getting airline flight compensation and submitting refund and chargeback claims to canceling your unused subscriptions and getting class action cash from email, text, and robocall scammers.