A Detailed Guide to the Arkansas Driving Test
Preparing for a driving exam can be a stressful experience, especially for teenagers. If you're thinking about getting a learner's permit or driver's license in Arkansas, you should be familiar with the entire driving test process.
DoNotPay can help you prepare for your driving exam by offering an extensive database of DMV practice tests. Rely on us and learn how to pass your written driving test in no time!
Arkansas Driving Test Explained
The state of Arkansas has two licensing authorities:
Arkansas practices a multi-stage licensing system:
Learner's permit

Intermediate license

Full license
Check out the requirements and restrictions for each license type:
License Type
Age
The Future Drivers Should
Limitations

Learner's Permit

14

Pass a written driving exam and vision test

The prospective drivers need to drive with a licensed supervisor older than 21

Intermediate License

16

Have the learner's permit for at least six months

Be crash- and conviction-free

Intermediate license carriers can drive without supervision

The licensed supervisor is required:

From 11 p.m. to 4 a.m.

If more than one non-family passenger younger than 21 is in the car

Full License

18

Keep away from severe crashes for a year

Have a clean traffic violation record for at least one year
If you want to apply for the learner's permit or intermediate license, you'll need to provide the following documentation:
Birth certificate

Original Social Security card

Proof of enrollment in school

Confirmation that your average point grade is at least 2.0

Proof of graduation if you've graduated from high school before turning 18
Should I Prepare for the
Arkansas State Driving Test
?
Every prospective driver needs to obtain a learner's permit, which means that taking a written driving test is an obligatory step. If you want to pass the test on the first try, you should consider studying the traffic and driving rules.
Repeating the written driving exam can be not only costly but also stressful. Being well-prepared ensures you're less nervous about the test. Knowledge of traffic rules is also important for the road test. Drivers who know and respect the regulations get into fewer accidents on the road, which should also motivate you to be well-prepared.
Ways To Prepare for the
AR Driving Test
You'll find all the necessary information regarding the traffic rules and your driving test in the Arkansas DMV manual. Reading the handbook a few times should be your first step. Another option you have is to take practice tests to see what the real exam will look like. You can also sign up for an Arkansas driving education course if you think it could help you prepare.
Once you get your permit, you should prepare for the road exam. You can practice with a licensed individual who's at least 21. Your supervisor should always be in the passenger seat.
What Is an
Arkansas DMV Practice Test
and Where To Take It
Doing practice tests can be a good way of memorizing the rules. Most questions in the tests are collected from the previous exams. Using a question and answer method to study gives you an opportunity to see your mistakes right away and find the correct answer in the manual. It also allows you to get familiar with the exam process and be more confident in your knowledge.
You can take the official Arkansas driver license practice test online but also on other websites, including:
While most of the platforms dedicated to DMV practice tests can be useful, the complete question database is usually available to paid accounts only. Another drawback is that most websites aren't user-friendly or optimized for your smartphone, which means you'll need to use a PC.
DoNotPay Helps You Take an
Arkansas Driving Practice Test
the Easy Way
If you're looking for an easy-to-use platform with an extensive database for any government test preparation, DoNotPay is the best choice out there. We can help you practice for commercial and non-commercial driving tests in any state in the U.S., including Idaho, Arizona, and Nevada.
We will even assist you in preparing for other government exams, such as:
DoNotPay can also help you prepare for the Armed Service Vocational Aptitude Battery (ASVAB) test. Even though you can't pass or fail this exam, having a good ASVAB score will help you get a better military role.
If you'd like to prepare for the Arkansas driving exam or any other government test fast and stress-free, follow these steps:
Open DoNotPay in your

Type in the driving test keyword in the

Search

field

Pick the test you want to practice

Choose the desired test length—10, 20, or 30 questions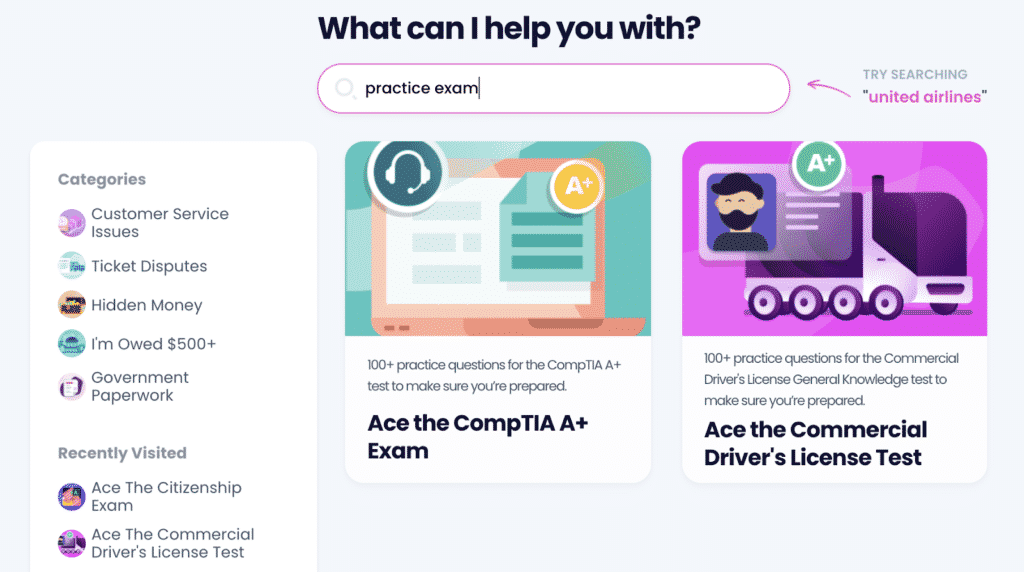 Our service allows you to repeat any incorrect question right away or decide to redo the entire test after seeing the score.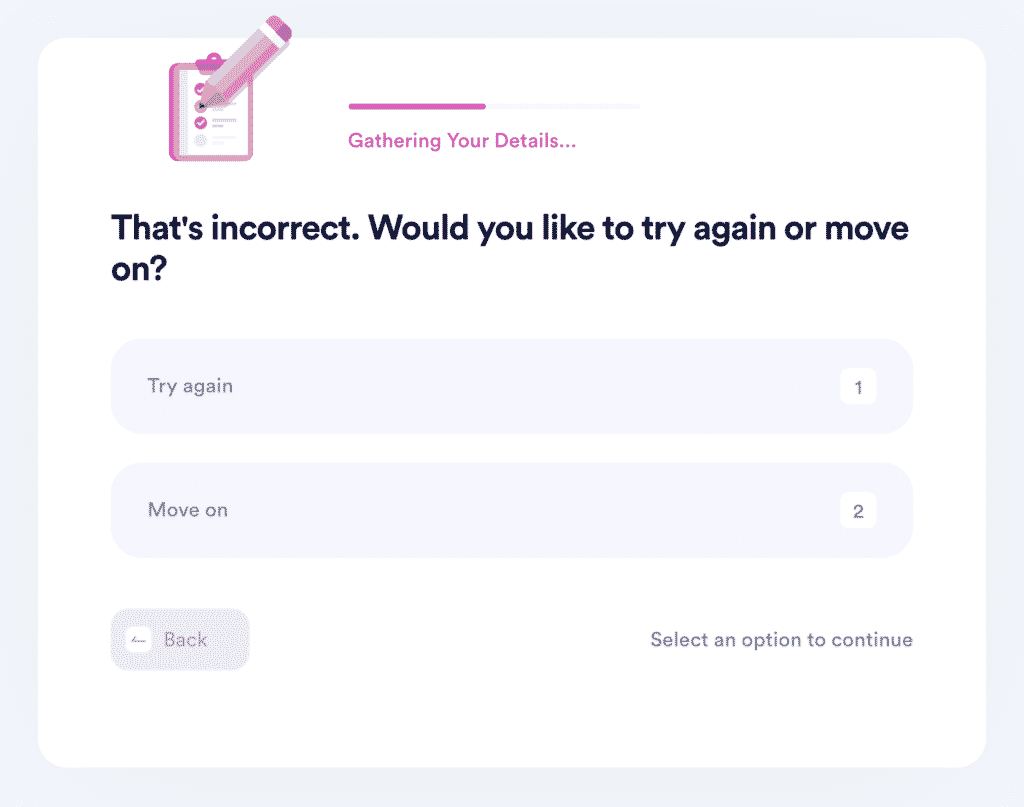 Ready To Ace Your Arkansas Driving Test? Here's How To Schedule It
If you feel ready to take the written driving exam, you should know how to schedule your DMV test appointment. The obvious solution is to head over to the nearest Arkansas State Police office and schedule the test in person. Unfortunately, setting up an appointment in person usually means waiting in long lines.
Arkansas State Police allows you to schedule the driving tests or any other type of service online.
Need a Quicker Solution? DoNotPay Can Help You Out!
If you want to get the process over with more quickly, you'll appreciate a simpler solution to scheduling a driving test online. DoNotPay's service is so easy to use that you'll make a DMV appointment in California, New York, or any other state in less than five minutes:
Log in to your DoNotPay account in a

Pick the DMV service you want to schedule:

Vehicle titles

Written or road test

License renewal and application

Address change

Driver's records request

Vehicle registration renewal

Select the time and date
DoNotPay Has Much More To Offer
Besides helping you prepare for government exams and make a DMV appointment in the blink of an eye, we can also help you solve other issues. We can assist you in filing a car warranty claim or canceling SaveAuto insurance.
To explore other services we offer, access your account from a , and we will help you:
Dispute traffic tickets

Appeal speeding tickets