Take an Indiana BMV Practice Test To Get Ready for the Real One
Do you live in Indiana and want to get a driver's license? Getting a driver's license is exciting, but the driving test is often far from it. The driving test involves a lot of studying and practice. To make sure you pass the test and get a license, you have to prepare thoroughly. 
Use DoNotPay to find the most reliable Indiana BMV practice tests and get a high score!
What Should You Know About the Indiana Driving Test?
If you want to get an Indiana driver's license, you have to pass the following tests:
Vision 

Written 

Driving skills
Before you get a full driver's license, you will have to hold a driver's permit first. If you are younger than 21, you will get the probationary driver's license before the full one. The holders of the probationary driver's license face certain limitations.
Here are the requirements for each type of Indiana driver's license:
Driver's Permit
Probationary Driver's License
Standard Driver's License

Be at least 15 years old

Attend the driver's education course

Have the behind-the-wheel training of at least 50 hours, ten of which should be at night

Be younger than 21

Be at least 16 and 90 days old and complete the driver's education program

Hold a driver's permit for at least 180 days

Be at least 16 years and 270 days old without completing the driver's education program

Be at least 21 years old

Pass all the tests
All About the Written Part of the Indiana BMV Test
The Indiana knowledge driving test consists of 50 multiple-choice questions. The questions are divided into two categories:
Road rules—34 questions

Road signs—16 questions
To pass the written driving test, you need to get at least 28 questions right on the road rules part and 14 on the road signs. 
What Can You Expect at the Indiana Driving Skills Test
You have to make a DMV appointment at least 48 hours before you want to take the driving skills test. Make sure you arrive at least 15 minutes before your appointment.
During the driving skills test, you will have to focus on the following:
Using your mirrors

Controlling your speed

Staying in the proper lane

Having good driving habits

Being able to perform parallel parking

Signaling properly when changing the lane

Driving at a safe distance from the vehicles around you
If you disobey a traffic signal, don't put on the seatbelt, exceed the speed limit, or drive too close to pedestrians, you will fail the test automatically.
How To Prepare for the Driving Test in Indiana
The best way to prepare for your Indiana BMV driving test is to study for the written part and practice driving with an experienced driver. You should also eat and sleep well before the exam because you will need to be fully focused on the tasks.
The official Indiana Driver's Manual is the most reliable source of information you will need to go over for your driving test. You should learn the traffic laws, road signs, and road rules so that you can ace your driving test.
Studying the manual isn't enough because the multiple-choice questions on the test might confuse you. You should do practice tests to see what your weak points are. 
DoNotPay offers a large database of Indiana BMV practice tests that can help you pass your driving test with flying colors!
Get Ready for the Indiana Driving Test With DoNotPay
DoNotPay is an AI-powered app with a bunch of Indiana driving practice tests! With our app, you can do as many practice tests as your heart desires. DoNotPay's Indiana driving practice tests cover all the topics that might appear on the real test.
To start your Indiana driving test preparation, follow these instructions:
Log in to DoNotPay in any

web browser

Enter the name of the test you want to get ready for

Choose the test you want to complete

Indicate how many questions you want to get

Start practicing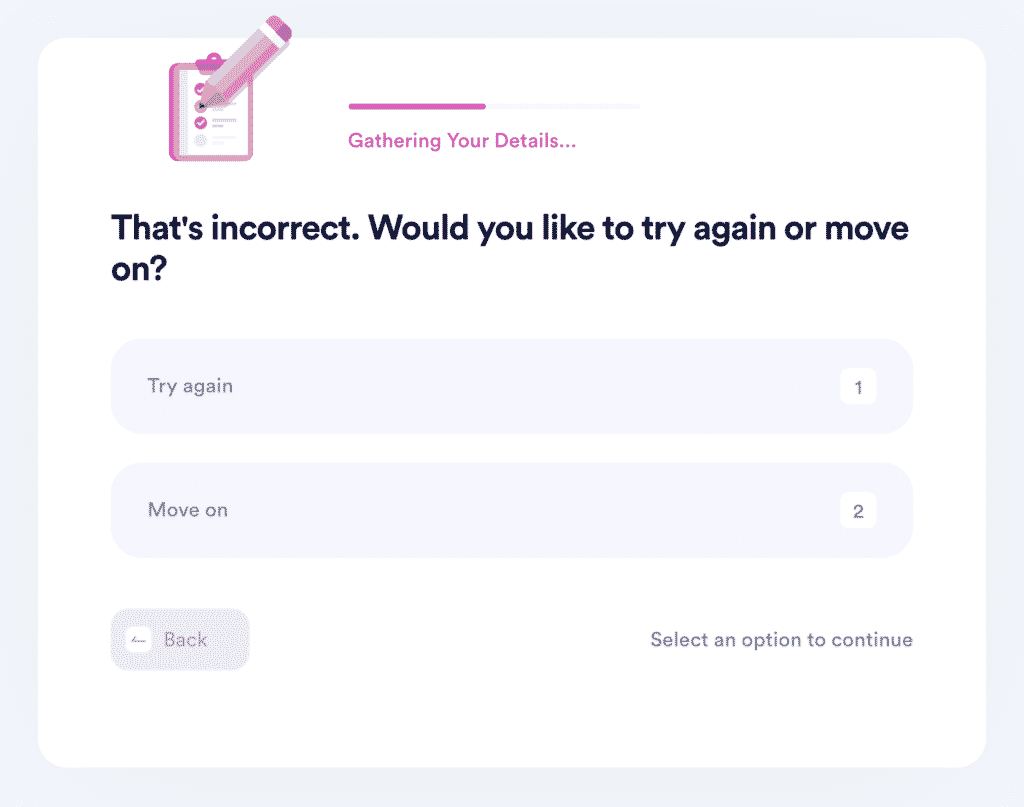 If you get some questions wrong, you can correct your mistakes right away. Another option is to finish the whole practice test and check your mistakes afterward. 
DoNotPay Has Other Practice Tests for You
Do you need to take some other government test? DoNotPay is here to help you prepare for the following ones: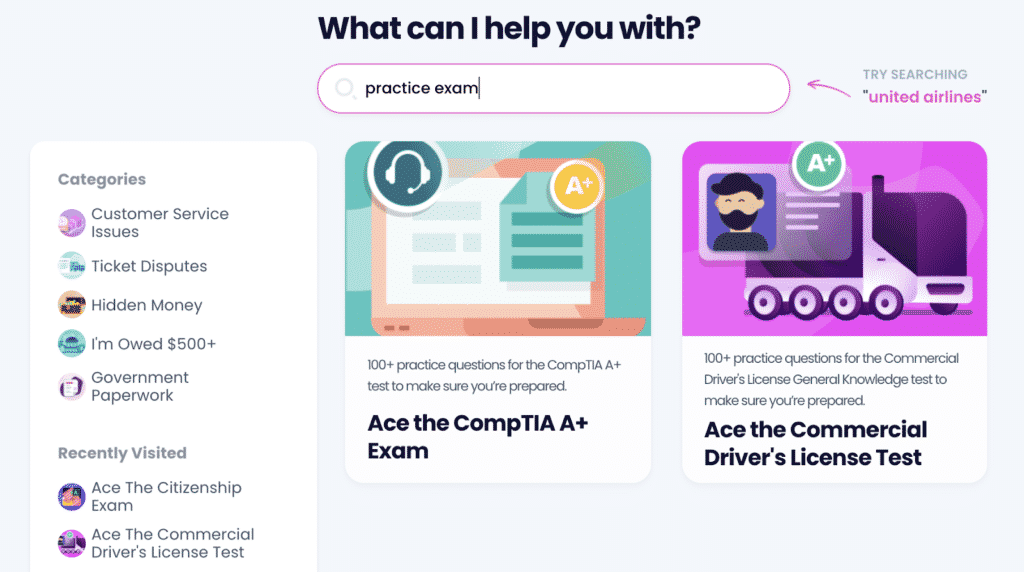 We can also provide you more information about the ASVAB test scores. Use any web browser to set up your DoNotPay account and get access to a plethora of government practice tests!
What Else Is Hot About DoNotPay?
DoNotPay does wonders in protecting your online privacy, but it can do so much more for you! 
With our assistance, you can claim compensation for canceled or delayed flights, request refunds and chargebacks for unsatisfactory purchases, file warranty claims for defective products, and even overturn unjust parking tickets!
Our app can locate unclaimed funds that exist under your name, the best clinical trials for your needs, and public records that you couldn't identify on your own.
Outsmart Scammers With DoNotPay
Are you troubled every time you think about subscribing to a service because you fear your personal information will leak and your privacy will become invaded?
There's no need to fret anymore as DoNotPay has come up with a way to shield you from hackers, scammers, and identity thieves alike. 
Check out how you can use DoNotPay and browse the internet care-free:
Open DoNotPay in your web browser

Locate our

Virtual Credit Card

generator

Use the made-up card number to sign up for any

free trial

Move forward to our

Burner Phone

product

Use the temporary phone number to verify any online account

Enjoy the trial without worrying about

canceling it

—the service will do it on its own
Signing up for services with DoNotPay's hacks frees you from ever falling victim to a serious crime, such as identity theft, and liberates you from the bothersome and never-ending spam calls, texts, and emails that you never explicitly agreed to receive.