Everything You Need To Know About the HazMat Test
—From A to Z
Commercial license drivers can take the Hazardous Materials (HazMat) test to land better-paid job opportunities. This test is not easy, and you will need to prepare properly to get the best results. With DoNotPay's practice HazMat test, you'll be able to pass with flying colors in any state!
What Is the
HazMat Test
?
Drivers with non-commercial licenses won't transport hazardous materials in their vehicles (hopefully), so they don't have to worry about taking the HazMat test. People with a CDL can, and should, consider having this useful endorsement in their pocket.
This test should be taken seriously since transporting hazardous materials puts other people at risk. Your capability of doing so could depend on your ability to pass the test.
The HazMat test consists of 30 questions, and you need to get 24 (80%) of them right to pass. There might be slight differences depending on the state you are taking the test in. To make our roads as safe as possible, acing the HazMat test is of crucial importance. These are the fields your knowledge will be tested in:
Bulk tank marking

Loading and unloading in a safe way

Reactions in emergency situations

Parking regulations

Driving regulations

Communications rules

Responsibilities you'll have as a HazMat driver
Steps You Need To Take To Get Your HazMat Endorsement
People who want to get the HazMat endorsement need to prove they are reliable individuals, which is why the process of getting one is not simple. This endorsement includes two types:
| | | |
| --- | --- | --- |
| Type of Endorsement | About It | How It Is Obtained |
| Class X | You need this type of endorsement if you are transporting hazardous materials in a tank | Through a written exam |
| Class H | It encapsulates your general knowledge of hazardous materials | By doing a written exam in addition to a Transportation Security Administration (TSA) threat assessment |
These are the steps you need to perform to get your HazMat endorsement:
Fill out the

Hazardous Materials Endorsement application

Get your Department of Transportation Medical Card by passing the medical screening

Schedule the HazMat test

Send in a TSA Background Security Clearance (once you pass the HazMat test)
For the last step, some states need you to register through the DMV before registering via the TSA website.
Who Can Take the HazMat Test?
You must meet certain criteria to be able to take the HazMat test. You need to be a:
U.S. citizen

Naturalized citizen

Lawful permanent resident

Lawful-status nonimmigrant alien, asylee, or refugee
You won't be able to take the HazMat test if you are a criminal offender or if you provide partial or false required documentation. 
Why Should You Prepare for the
CDL HazMat Test
?
The ultimate goal when taking any test is to pass. If you prepare well enough, you will be able to come to the HazMat test feeling confident you will ace it. People who show up to a test and hope for the best don't achieve good results and end up having to retake it.
You probably don't want to go through the same stressful situation more than once and pay for the test multiple times when you can be done with it after the first time. DoNotPay can help you with preparation!
What Is the Best Way To Prepare for the
HazMat CDL Test?
Humankind is yet to create a way of learning without actually having to study. Until then, the best way of preparing for the HazMat test is to cram. There are different ways of achieving this, and you will have to see what works best for you.
Some people may opt for study guides, and it is probably the best starting point. You will be able to get a general idea of what the HazMat test is all about. The downside is that you won't know what to focus on the most, and you can't memorize everything you read there.
Another option are flashcards, and they can be of use after you finish with the study guide. The best and safest way to ensure you pass the HazMat test is to use practice tests! These simulations will make you aware of what the actual test looks like, the types and forms of questions, and you'll know what the most important parts are. Practice tests are great for knowledge testing, and you will get the best results with DoNotPay!
How To Take the
HazMat Practice Test
With DoNotPay
If you want to check your knowledge and pass your HazMat test with ease, you should use DoNotPay. You may redo incorrect answers on the spot or retake the test when you see your results. It's the simplest procedure that involves four steps in total:
Access DoNotPay from your

web browser

Find and select the test you want to prepare for

Pick between the 10, 20, or 30 question tests

Begin completing your test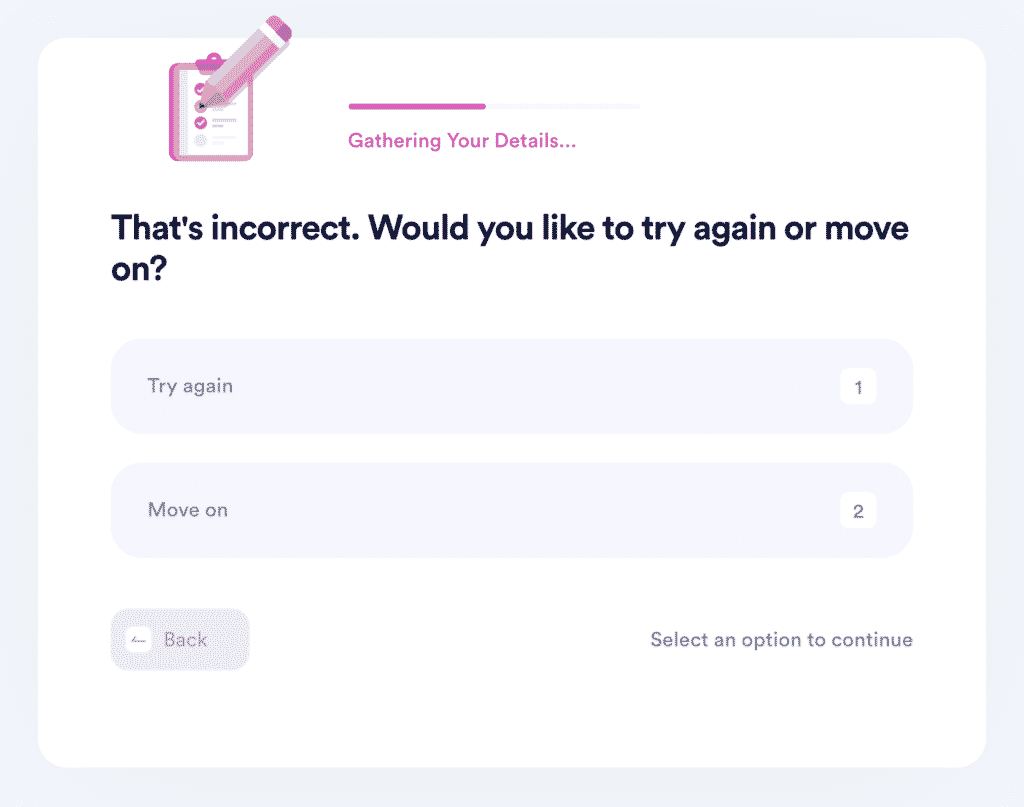 Other Government Tests DoNotPay Can Help You Practice For
DoNotPay offers a wide variety of government practice tests—HazMat included—that can help you get the license you want without trouble. Pick any from the list and get the best results:
If you want to see the ASVAB test scores, you can also do that with DoNotPay.
How Can You Schedule a CDL HazMat Test
The way you can schedule a HazMat test differs in states across the country. You will have to check the details with the responsible institutions, but usually, you can schedule HazMat tests online.
Some states offer the option of getting an appointment over the phone as well. If you have more than one option, you should choose the one that is your preferred way of communication. After you've practiced enough using DoNotPay's HazMat practice tests, you'll get to the appointment completely prepared.
DoNotPay Has the Solution to Your Administrative Problems
Pass your HazMat test no matter the state you live in. We have the questions that will help you if you take the test in Texas, Indiana, Georgia, Tennessee, or New Jersey.
DoNotPay has all the info on how to pass a written driving test and schedule DMV appointments.
Your virtual assistant can also help you save time and money with its comprehensive offer of useful features. Check them all out by opening DoNotPay in a web browser, and let us assist you with:
Disputing speeding tickets

Fighting traffic tickets