Dispute NYC parking tickets for free in just a few minutes
DoNotPay helps people beat parking tickets in seconds using artificial intelligence. The Guardian reports that DoNotPay's process for appealing parking tickets quickly has helped overturn over $4 million in fines.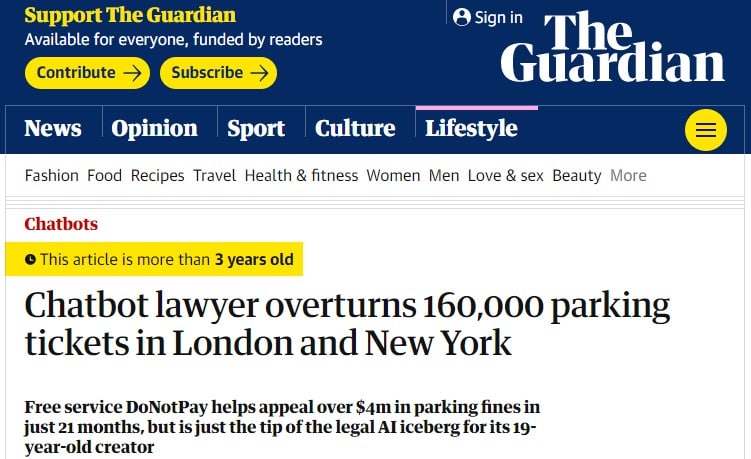 Here are some simple steps to help you appeal your parking ticket:
Use DoNotPay directly in your web browser

Answer a few questions about your ticket, including what type of citation you received and where you received it.

Snap a pic of your ticket and upload it to the app.

DoNotPay will generate the exact script you need for your hearing to dispute your ticket.
Watch how to dispute parking citations in any city
Is it really possible to not pay NYC parking tickets?

Yes! Disputing a parking infraction is worth two minutes of your time. Even if you're at fault, New York City will lower fines if you dispute your ticket.
A parking ticket becomes defective when one or more of the required elements are missing or poorly filled out. The citation can be disputed successfully if:
The ticket is illegible

The color of the car is stated incorrectly or not specified on the ticket

The plate number is incorrect

The plate type is not right

The type of vehicle is erroneous or not listed at all (for example, if you drive a sedan and your ticket says the car is a hatchback)

The car manufacturer is not correct or not listed at all

The model year of the vehicle is incorrect

The ticket does not specify where precisely you were parked (the devil is in the details here, pay attention to the language such as "in front of" or "opposite" a specific building)

The time and day of the infraction are incorrect

The county is wrong or not listed

The vehicle's registration status is not listed or is not correct

Someone else was driving

The parking signs were not visible, were blocked by something, or were illegible 

Conflicting regulations in the spot where you were parked
Even if none of these factors are applicable, many states will reduce the fine even if you are at fault if you dispute it. Access DoNotPay through any web browser.
Can DoNotPay help me not pay NYC parking tickets from private parking companies?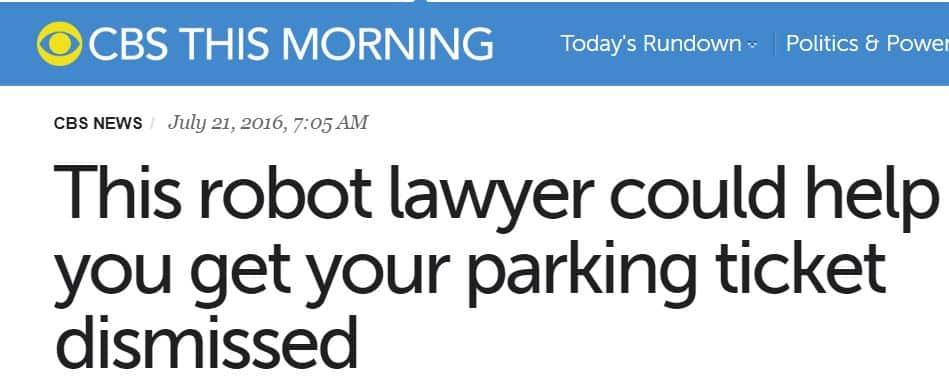 Yes, DoNotPay will not only help you fight parking tickets you receive from the government but also tickets from any private parking company, including:
SP+, aka Standard Parking 

SP+ is one of the three largest parking operators in the United States. 

Laz Parking

Known as one of the most aggressive parking companies.

Imperial Parking, aka Impark

This company operates both in the United States and Canada. 

Lanier Parking

Based in Atlanta, GA, but has over 400 locations nationwide. 

Towne Park

This valet company is extending out into parking management.

Ace Parking 

Based in San Diego, CA, but is pushing for more locations eastward.

Douglas Parking 

Based in Oakland, CA,

and has strategic growth that parallels the growth of their clients.

ABM Parking Services

Formerly Ampco parking, They were once a major player and have shrunk considerably the past 5–10 years, but still have a decent footprint across the US.
How much of my time can I save by using DoNotPay?

As a true New Yorker, you don't give up, and you fight those parking tickets until you get them all overturned. In New York City, you can request a hearing within 30 days of receiving your parking ticket.
DoNotPay generates the letter you need to dispute and win (or at least lower your fine), through one of three methods:
Online hearing

In-person hearing

Mail hearing
An online hearing is a fast and easy way to dispute a ticket without having to get out of the house and fight traffic. You may be asked to send in additional evidence. Sending all possible evidence that you can gather can help your case immensely. DoNotPay will let you know what you need.
In-person hearings are held live, and you can request one by going to the Department of Finance Business Center. Make sure to come early, as they hold hearings on a first-come, first-served basis. Don't forget to bring:
Your driver's license

Your vehicle registration

Your evidence
Requesting a mail hearing is another way of disputing a parking citation. Make sure to be quick and mail everything early so the Department of Finance will receive your hearing request in time. You need to gather your ticket, copies of any evidence you have, and your statement in which you will explain why you shouldn't have to pay off your citation. Put everything in the orange envelope in which the ticket came, and mail it to:
NYC Department of Finance Hearings By Mail Unit
P.O. Box 29021
Brooklyn, NY 11202-9021
You can expect a response in about ten days.
DoNotPay can help with all three types of dispute hearing. Access DoNotPay through any web browser.
What happens if I don't pay my infraction?

The good news is that there is no possibility of going to jail because of an unpaid parking ticket. In the city of New York, not paying the penalty for more than 90 days can add $60 to your infraction. After 100 days, you'll start accruing interest for every month you don't pay the parking ticket. 
Since the parking police have your license plate on file, your car can be towed or booted if you have unpaid tickets. The state of New York has towed vehicles with excess outstanding citations. An unpaid parking ticket could also result in your case going to a collection agency.
Access DoNotPay through any web browser. It takes seconds to download and use.
Do I need a lawyer to dispute a citation in NYC?

Americans are famous for lawyering up and fighting the man whenever possible. However, do you need a lawyer to fight your parking ticket in New York City? Let's explore the options.
Hiring a lawyer is not necessary to beat your parking ticket, and is a daunting task that can be needlessly expensive.
It's not necessary, but if you want to use a lawyer, here is what you need to do:
Do your research

Beware of scams

Check your lawyer's credentials

Consider your costs
Do your research
Finding the right lawyer for you can be a difficult task, but going with the first option you come across is a recipe for disaster. Take some time and do some proper research, both online or offline. While researching, pay attention to the lawyer's credentials, customer reviews on Google or Yelp, and try to find references to fighting parking tickets.
Beware of scams
Scammers and fraudsters are all around us, especially in big cities such as New York. Keep your eyes open and pay attention to any red flags, such as 100% guarantees that they will dismiss your parking ticket (no one can guarantee anything), or the lack of a physical address of the law firm.
Check your lawyer's resume
Hiring an inexperienced lawyer can do more harm than good, even though they are generally cheaper than experienced ones. Make sure to check your lawyer's resume and see signs of how successful they have been disputing parking tickets in the past. Check their success rate and client reviews.
Consider your costs
Finally, the big question is: how much will all this cost? If you're not well off enough to hire your own Denny Crane or Harvey Specter, you may have to settle for a Saul Goodman. Naturally, this all comes with a cost. A more expensive lawyer is more likely to get your ticket overturned, but cost you an arm and a leg in the process. A cheaper lawyer may not break the bank, but their success rate may be quite low. You get what you pay for when it comes to lawyers.
How much will the fee for a parking ticket lawyer in NYC be?

Most lawyers will charge around $500 per ticket case. A low-budget lawyer may ask for half of that amount, but an experienced lawyer with a high success rate can charge almost double for a single ticket case!
Can I get my parking infraction reduced?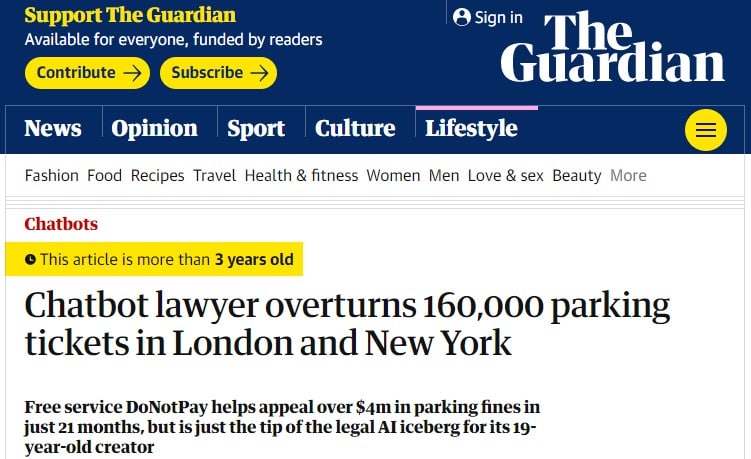 According to the New York Convention and Visitors Bureau, the Department of Finance in New York offers settlements to drivers who dispute their parking tickets in person, online, or by mail within 30 days of receiving the citation. To get this discount, you must challenge the ticket. 
However, price reduction depends on the severity of the situation. You will not get your ticket fine reduced if your car was blocking an intersection. Some vehicles, such as cars with commercial plates or tow trucks, may not qualify for a discount. If you accept the reduction, you waive the right to appeal your ticket in the future. 
If you can get your ticket reduced, a citation received in a No Parking zone can go from $65 to $43, and a parking ticket from an expired meter goes from $65 to $43. If you do not pay your parking ticket fee within 30 days of receiving the ticket, they will add a $10 penalty to the fine. Access DoNotPay through any web browser.
What if I got a citation, but it flew off my car, or someone took it?
The registered owner of the car will be mailed at least two notices before the due date of the parking ticket. If the address of the owner is not accurate, if the owner of the car moved without updating his or her registered address, the parking ticket will be turned over to a collection agency. If the collection agency cannot find the owner of the vehicle, they will make a report to major credit agencies, which will damage your credit and can prevent you from taking out a loan or signing a new lease.
You can find more advice about this issue here.
Do tickets leave a black mark on my driving record?
Parking tickets will not appear on your driving record. However, accumulated parking tickets and unpaid fines could be reported to the DMV, which can lead to severe consequences. For example, if you do not pay your parking tickets, the DMV can suspend your driver's license or reject the renewal of your car's registration. 
Can my vehicle insurance go up thanks to a parking violation?
Insurance companies like Geico cannot see if you have received any parking tickets, so there is no direct connection between parking tickets and car insurance rates. However, you still may incur repercussions. According to idrivesafely.com, some insurance companies may refuse the renewal of your license due to unpaid tickets.
Other consequences of not paying off your parking tickets include:
Suspension of vehicle registration and prevention of renewal, which can lead to more problems

Holding or suspension of your driver's license

Damage to credit rating, according to

QuoteWizard

Money that you owe for your tickets can be taken directly out of your next tax refund
Will I have to pay off the tickets I get in a rental car?
Yes. If you get a ticket in a rental car, the rental agency will charge the fine, plus a fee, to the credit card you used to make the booking. 
According to Hertz's rental agreement, you are responsible for paying the parking fines that you incur during the rental. Hertz will charge your credit card directly for the fine and an additional administrative fee, which is usually between $30 and $45. If the charges don't go through and you don't comply with Hertz's request for payment, they will charge you an additional administrative fee of up to $100.
Access DoNotPay through any web browser.
Do I really need to pay NYC parking tickets after I go home to another state?
The short answer is yes. You are liable for citations issued anywhere. If you receive a ticket while driving out of state, you will need to pay off the parking ticket fee using that state's website, or through other accepted channels. Luckily, you can dispute a NY parking ticket remotely with DoNotPay. DoNotPay removes any roadblocks that make appealing your parking ticket complicated or daunting within seconds. Access DoNotPay through any web browser.
Can I get out of a ticket if I was sitting behind the wheel of the car?
You can get a parking ticket whether you're sitting in or next to your car. Being in your vehicle isn't relevant to the legality of parking. Not many people get parking tickets while they're in their car. However, you should be conscious of where you stop your vehicle while answering a quick phone call or text on the way to your destination. Read more about this issue in this Quora conversation.
How much does NYC make from parking tickets?
The average parking ticket in New York City costs between $45 and $125. 
Though this may seem like an insignificant amount for a single parking ticket, the city of New York makes a lot cumulatively.
According to Matador Network, New York City makes more than $500 million from parking infractions.
How to pay an NYC parking ticket
Paying a parking fine is supposed to be simpler than disputing, but in New York, that isn't the case. The process is quite bothersome and involves many steps, so whenever possible, try to dispute your citation before paying it. If your parking ticket dispute doesn't succeed, there are three main methods of payment in New York City:
Online

By mail

In-person
Paying online
If you're not fond of standing in lines (and who is, really?), you can pay your parking ticket online! Here's a step-by-step guide:
Go to the

NYC311 website

Click on "Make a Payment" button

Scroll down and click Parking Ticket or Camera Violation Payment

Go to the

CityPay page

Search for a violation using the ticket, the NOL number, or your license plate number

Choose the payment method

Enter all required information (your billing address must match the address of your credit or debit card)

Review before submitting

Submit

Receive the confirmation email
Payment methods you can use are:
Debit cards

Credit cards

Prepaid cards

Gift cards

Electronic check
You will be charged a 2% service fee for using credit cards, but not for an electronic check. You will receive a confirmation email and a payment receipt that you can print and keep for your records. If the payment doesn't go through, you'll be notified.
All payments are processed at midnight, and the system may take 2 to 4 days to record the payment. If you pay online, you cannot cancel, change, or delay the payment.
Paying by mail
All parking tickets can also be paid for the old-fashioned way, via mail. You can pay by money order or check in US dollars. Cash and foreign currencies are not accepted! Make sure to mail your payment as soon as you can, as up to two weeks can pass before the payment is processed. Mail your parking ticket payments to:
NYC Department of Finance
Church Street Station
P.O. Box 3640
New York, NY 10008-3640
Here's the breakdown:
Write a money order or a check for the amount to the NYC Department of Finance

Write the NOL number, the state of vehicle registration, and the license plate number on the front of the check or money order

Mail the payment in the orange envelope in which you received the ticket
Pay in person
You can pay your parking ticket in person in the Department of Finance Business Center. It is open Monday through Friday from 8:30 AM to 4:30 PM. You don't need an appointment, but do come early, because everything is done on a first-come, first-served basis. Find the location nearest to you. You can pay in:
Cash

Check

Money order

Credit or debit card

Other payment options
Apart from the three major ones, you can also pay your ticket using alternative ways such as:
Visiting 7-Eleven or CVS

Using a mobile app

Via a payment plan

External payment systems
Pros and Cons
| | | |
| --- | --- | --- |
| Method | Pros | Cons |
| Online | Fast and easy | It can take a few days. Must have internet access |
| Mail | No need to wait inline | Must send early. Slow. |
| In-person | Resolved on the same day | Traffic, standing in line, parking and missed work |
DoNotPay helps users fight and beat tickets in any city
DoNotPay helps users fight parking tickets in every city in the US and UK. Here are a few cities we've helped users dispute the most tickets in:
DoNotPay Protects Your Privacy and Finances
Sharing your credit card details online comes with certain risks, and it's getting more difficult to tell good and bad websites apart. With DoNotPay's virtual credit card generator, you will be able to protect your identity and bank account from cyber scammers.
Whenever you run into a suspicious email or website, generate a virtual credit card and proceed without worries. Our virtual cards also work like a charm if you want to avoid automatic payments after free trials.
DoNotPay Can Help You Save Money
Have you ever subscribed to a service's free trial you forgot about after a few days? Many Americans have, which is why DoNotPay has a free trial feature that will help you avoid getting charged once the trial is over.
If you want us to scan all your active memberships and help you not pay for the ones you don't use, connect your email address or credit card to DoNotPay. Our cancel feature will ensure that you don't waste your money on subscriptions you don't even remember exist.
If a merchant charges you once the free trial is over, though, you can use our robot lawyer to request a refund and skip the phone queue when doing so.
In case a company refuses to grant you a refund, you can also use our app to sue them in small claims court.
Our Robot Lawyer Gets Rid of All Admin Tasks
What makes DoNotPay so unique is that it helps you get back what is rightfully yours in many different ways. You can appeal parking tickets, find unclaimed money, demand a refund for canceled or delayed flights, get help with bills you cannot pay, or get your college application fees waived with the help of our platform.
If you're sick and tired of annoying robocalls, spam emails, copyright violations, text message spam, or stalkers and harassers, DoNotPay can assist you in getting rid of them once and for all.
Using DoNotPay's free services can help you save money, time, and worry while fighting your legal battles. According to The Verge, DoNotPay "highlights a big problem with the justice system, which is that it doesn't matter how much protection the law gives you if you're not aware of it."
Access DoNotPay through any web browser.
To summarize:
| | |
| --- | --- |
| New York City parking tickets are easy to beat. | Using DoNotPay, you can save money by appealing parking tickets.  |
| You can beat your parking ticket in comfort using DoNotPay.  | DoNotPay's user-friendly app allows you to work the ins and outs of your parking ticket appeal quickly. |
| DoNotPay helps fight parking tickets from private parking companies.  | See the examples listed above, but DoNotPay works with any company. |
| There are consequences if you do not pay off your parking ticket.  | Not only will the cost of your ticket go up, but you can also lose your registration. |
| Your unpaid parking tickets won't affect your driving record.  | But they can be reported to the DMV with severe consequences that can prevent you from driving. |
| Fighting your parking ticket in court can be tedious without DoNotPay. | But you should acknowledge multiple aspects in your case and have evidence to prove them. |
| You do need to pay parking tickets, even if you received them in another state.  | Keep in mind that appealing an out-of-state parking ticket is harder than in your state of residence.  |
| There are ways to avoid getting a parking ticket in New York City.  | Remembering these ways will help face the chaos of parking in the city.  |
| You can get a ticket in a rental car.  | Rental companies will add an additional fee to your parking ticket as well. |
| New York makes a lot of money from parking tickets. | The city makes over half a billion dollars from them. |
| Disputing a parking ticket is worth the hassle.  | If you use DoNotPay, you'll learn how you can appeal your ticket. |
| You don't have to pay for your parking ticket in New York City. | If you use DoNotPay's free services, you can find out how to not pay for your parking ticket fees. But if you can't, it's easy to pay off your ticket. |
| You can get the fees of your parking ticket reduced.  | Tickets can be reduced by going to the Department of Finances in New York and disputing.  |
| If someone takes your parking ticket off your car, you still have to pay its fees. | They'll notify you of your ticket through the mail. |
| Your insurance will not go up if you receive a parking ticket. | However, your insurance company may refuse the renewal of your coverage.  |
| You can receive a parking ticket while sitting behind the wheel of your car.  | Remember that you should park legally while answering a phone call or text.  |
| DoNotPay has many other services you can use. | These services include automatically canceling a free trial and fighting corporations. |