Where To Find the Best
DMV Practice Test in VA
Taking the driving test may feel intimidating to new drivers, but it doesn't have to be. If you prepare adequately, you will go through the experience without any inconvenience.
DoNotPay will help you take a closer look at the exam and provide the most reliable DMV practice tests. 
What Does the
Virginia Driving Test
Consist Of?
If you want to obtain a driver's license in Virginia, you must pass a knowledge and skills test. You can take the two-part knowledge exam on a computer in a DMV customer service center or in a classroom of one of the private schools participating in the DMV's remote testing program. The list of districts and schools where you can take the written test is available on the Virginia Department of Motor Vehicles website. 
The knowledge test assesses your familiarity with traffic signs, motor vehicle laws, and driving techniques. The questions are based on the information from the Virginia Driver's Manual. 
The first part of the written exam focuses on the traffic signs and requires you to answer all ten questions correctly before moving on to the second part. Part two is a General Knowledge test, where you must score at least 80% to pass.  
The next step is to schedule a DMV appointment for the road test. The best way is to access the appointments page of the Virginia Department of Motor Vehicles, where you can find more information about the VA DMV appointment system.
The Virginia road test guide will provide you with all the maneuvers and driving skills you need to demonstrate behind the wheel. 
To apply for a driver's license in Virginia, you have to pay an application fee. The complete list of application fees and prices of other services is available on the Virginia DMV website.
What Happens if I Fail the
Virginia DMV Driving Test
?
Studying and practicing your skills behind the wheel should be enough to pass the DMV exam. If you fail the knowledge test, here is what you can expect depending on your age and status:
Underaged applicants must wait 15 days to retake the test 

Applicants that are 18 or older must pay a $2 re-application fee if they retake the test within 15 days 

Individuals who fail the test three times must go through the classroom portion of the Virginia-approved

Driver Training School program

and show the Driver Education Certificate at the customer service center
You can avoid unnecessary expenses and complications by following our preparation guide. Open our app in a web browser and get the most reliable practice material for any written driving test!
What Are
Virginia DMV Practice Tests
and How To Access Them?
Practice tests are a useful preparation method for a DMV test. While familiarizing yourself with the information from the Manual is crucial, skipping practice tests can cause you to fail the exam. They provide value by:
Enabling revision

Improving information retention

Copying the structure of the real exam

Providing different variations of the same question

Putting the information form the Manual into context
DMV practice tests are available from various sources. You can find an array of online practice exams by typing in the required keyword in your website's search engine. They may seem like the most accessible option, but online practice tests can be a risky choice. 
Check out the pros and cons of using online practice material in your preparation process:
Online Practice Tests
Pros
Cons

They are numerous

You can access them easily 

They offer false promises (such as the actual questions from the real test)

You can't discern which one is reliable

Websites often charge you to access the full practice material
If these options are giving you a headache, ditch them and go for DoNotPay! With our help, you will be ready to schedule a DMV appointment in no time!
Pass the
VA Driving Test
With DoNotPay
DoNotPay can help you ace various government tests, such as CDL, CCAT, Notary, HazMat, ASVAB, Postal, CompTIA A+, and the U.S. citizenship test. Accessing our practice tests is easy—all you have to do is:
Open DoNotPay in your

web browser

Type in

DMV Practice Test

Indicate the desired test length

Answer the questions
DoNotPay offers you the possibility to choose between 10, 20, or 30 questions. You can modify the length of the test according to your needs. Whether you prefer to correct the wrong answers straight away or retake the whole test after you finish, both options are available!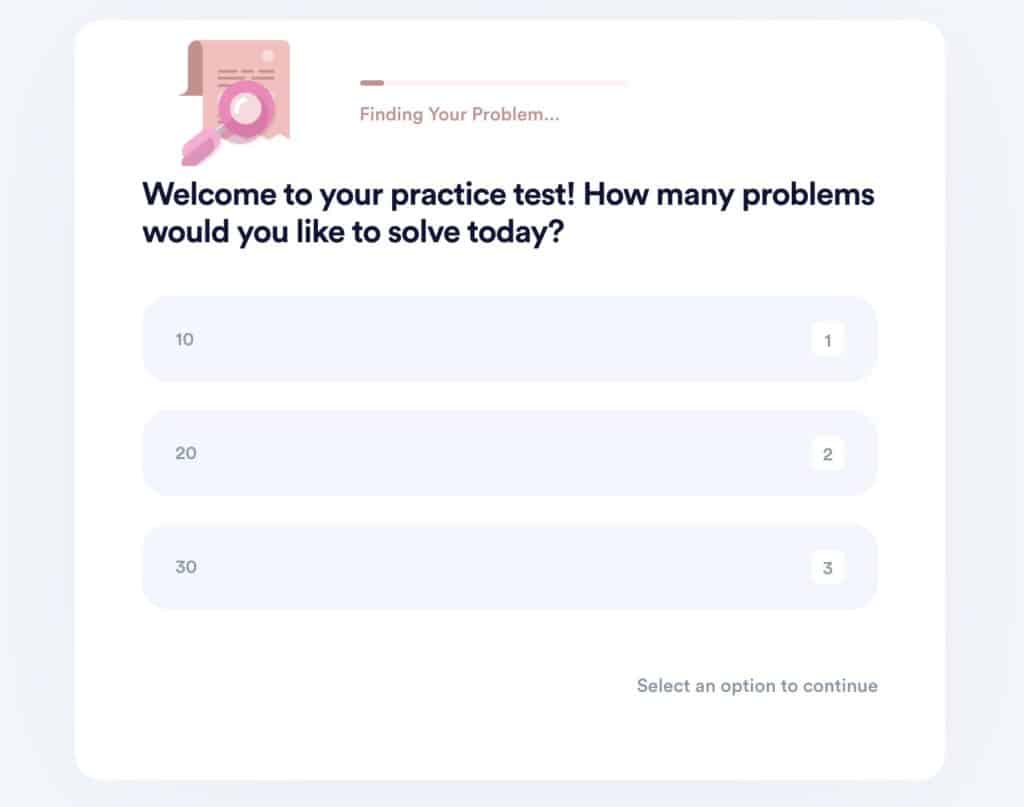 You can retake our test as many times as you need to feel comfortable with the material. 
Feel free to use our expertise to put together your driving test checklist or discover the meaning of ASVAB test scores and pass one of the most demanding government tests.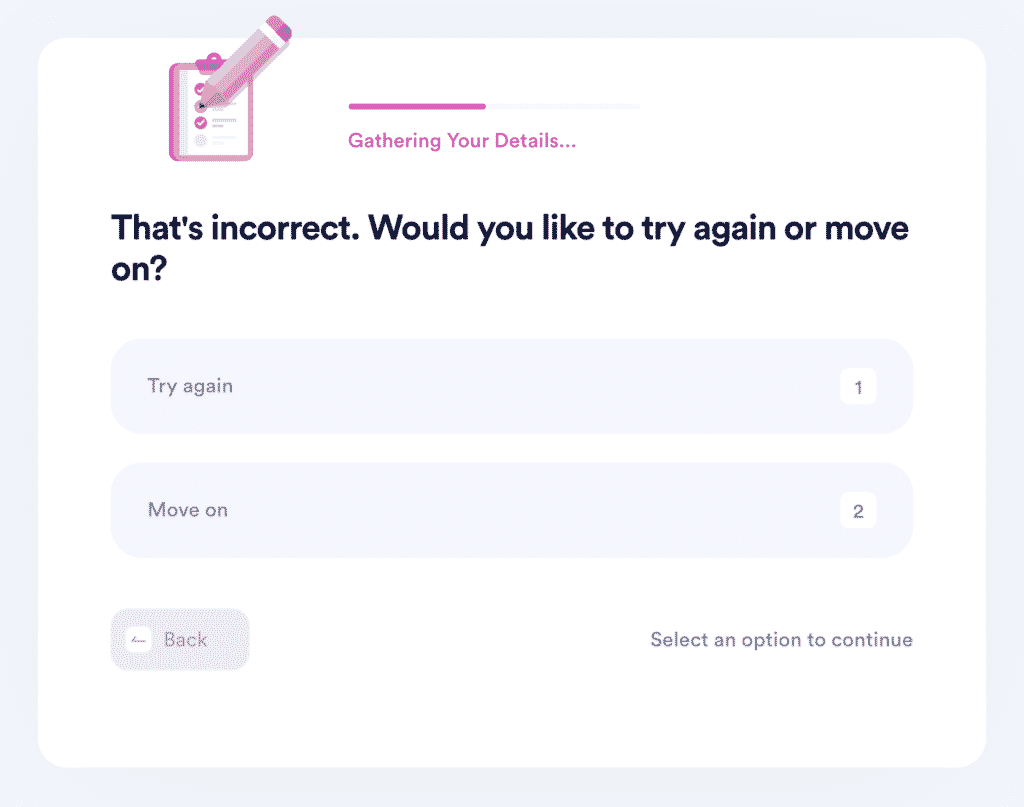 DoNotPay Leads the Way Against Spammers
Browsing the internet has never been more popular than today, but you must not forget to keep your private and financial information safe. You know you can cancel any streaming service or magazine subscription easily, but that won't stop them from using your personal details for marketing purposes.
DoNotPay has a solution for that! 
Is a company pestering you with incessant robocalls, spam emails and text messages? Use our Virtual Credit Card to catch them in the act and claim compensation for your troubles. 
To prevent that from happening ever again, use our card to sign up for free trials—not only will you not pay a dime for the service, but you will be automatically unsubscribed as soon as the trials are up! 
If you want to avoid revealing your personal phone number, we'll generate a temporary burner phone for you so the company won't have any way to reach you.
Already Been Scammed? DoNotPay Knows the Way!
If you've already made the mistake and divulged your personal info to the wrong party or experienced any other kind of crime or injustice, you don't have to sit tight and suffer the consequences. DoNotPay can assist you in taking anyone to small claims court!
We'll help you gather evidence—correspondence proving stalking or harassment took place, customer service call recordings, denied chargeback and refund claims, online fax transcripts, or proof of copyright violation. Then, we'll fill out the relevant legal documents for you and draft a court script that you can use in your hearing.