Prepare for the
NJ Driving Test
With DoNotPay and Pass Easily
If you are looking to become a driver in the Garden State, you'll need to prove you are capable of getting behind the wheel. The New Jersey driving test consists of a vision test, a written knowledge test, and a road test. DoNotPay can help you prepare for and ace the knowledge test!
What You Need To Know About the
New Jersey Driving Test
Anyone who wants to get a driver's license in New Jersey for the first time must obtain a restricted permit first. Individuals older than 17 don't have to go to driving school but still need to pass the written exam. 
This part of the driving test in New Jersey consists of 50 multiple-choice questions. You will have to answer 40 of them correctly to pass the exam. If all goes well, you can then move on to the road test and soon get your driver's license!
Why You Should Prepare for the
Driving Test in NJ
No one wants to prolong the process of getting a driver's license more than necessary. If you wish to start driving as soon as possible, you'll need to pass the tests on time and not take them more than once.
The preparation process is not effortless, and you'll need to study. More than 40% of people fail their written driving test when they take it the first time. It's easy to avoid that fate if you take the preparation process seriously!
How To Prepare for the
NJ Written Driving Test
It is important to organize your time well when preparing for the written driving test in New Jersey. You can't expect to pass if you try learning everything the day before.
After dealing with the time management part, you need to find the best study technique. These are your options:
Study Method
Why You Should Consider It

Practice Tests

The best method to check what you've learned

You can see the question forms and types

There is no limit to the number of times you can take the tests

Tutors

Someone explaining the material to you can help a lot

You can ask them for explanations of the parts you don't understand

They can tell you which parts are important to focus on

Study Guides

Everything you should know to become a driver is located in a study guide

You can get one for free and read it as many times as you like

You might remember the material better by taking some notes
Tutors and study guides come with some downsides. Tutors often have expensive rates, and they are not necessary since you can check your knowledge on your own by using practice tests. Study guides will provide you with the big picture, but that also means you won't know what to focus on. 
If you want to have the best chance of passing, you should go with practice tests. Make sure to choose the right one, though—DoNotPay!
DoNotPay's
NJ Practice Driving Test
Will Get You the Results You Want
Check what you've learned so far with DoNotPay's NJ written practice test. If you don't think you've grasped the knowledge well enough, you can retake the test as many times as you like. You can even correct your mistakes on the spot. In case you would like to see all your results first and then retake the test, this option is also available!
Follow these steps:
Open DoNotPay in your

web browser

Type in the name of the test

Select the test you want to prepare for

Choose between the 10, 20, or 30 question tests

Begin taking your test
DoNotPay can also tell you how to make a DMV driving test appointment, making sure you have everything on your driving test checklist.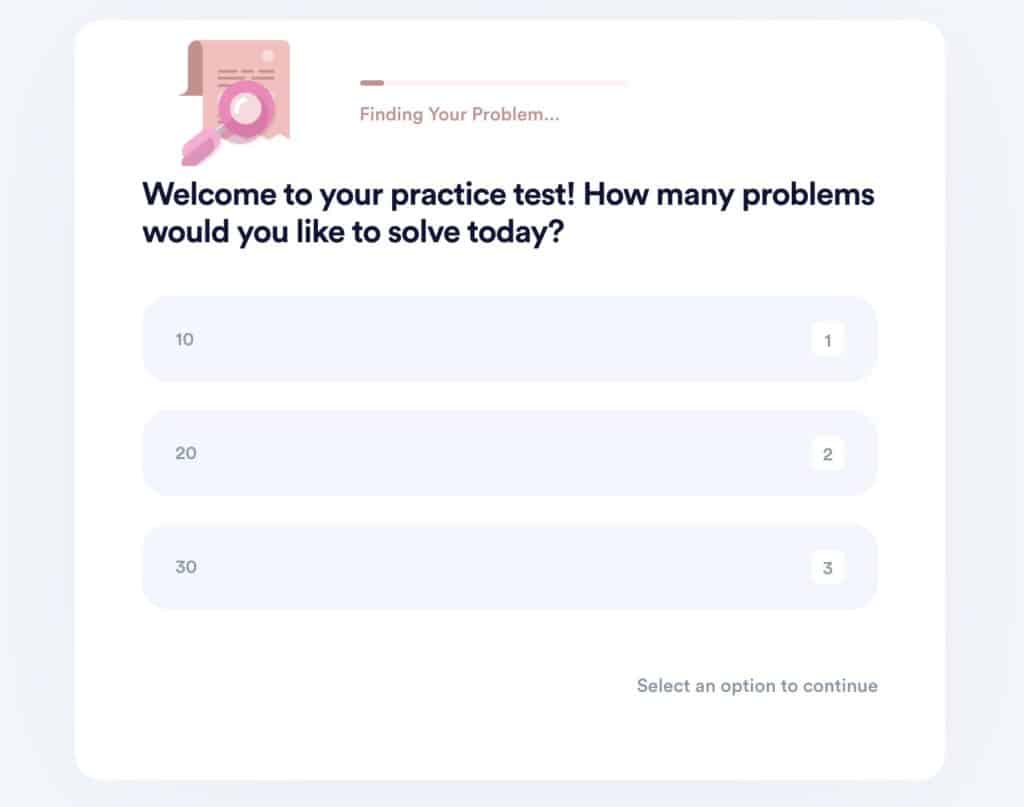 Other Government-Issued Practice Tests in DoNotPay's Offer
If you need to get ready for another test to obtain a license, open DoNotPay in a web browser and start practicing. 
We have practice tests for individuals looking to get a commercial driver's license and the HazMat test if they wish to add another feature to their resume.
You can practice for the Armed Service Vocational Aptitude Battery (ASVAB) test and check the scores with DoNotPay's help.
Here are other practice tests available on our app: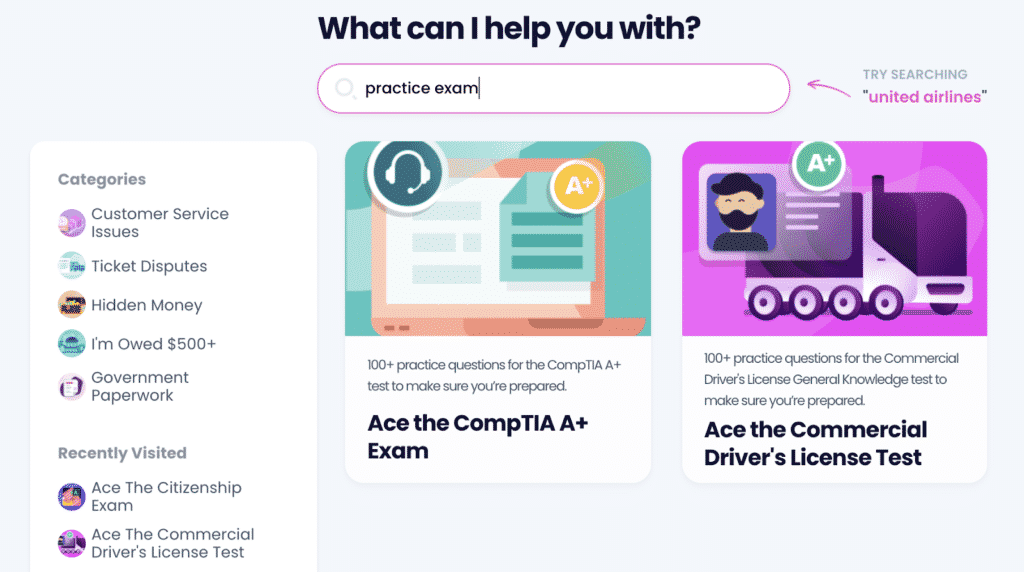 How To Schedule an
NJ Driving Knowledge Test
You can schedule a written knowledge test appointment in New Jersey online. This is what you need to do:
Access the

New Jersey Motor Vehicle Commission

website

Click on the

Make the Appointment

link

Click on

Begin

Type in your ZIP code, driver's license/ID number, and social security number

Log in and follow further instructions
When you see the available dates and times, select the one that fits your schedule. You will nail it because you prepared with DoNotPay's help!
Fend Off Scammers With DoNotPay's Help
Are you sick of having a cluttered inbox or getting robocalls? So are the majority of Americans. If you want to get rid of email spam, text message spam, or annoying robocalls, DoNotPay can help you put a stop to them once and for all.
Do you feel like serving justice to companies that wronged you or stalkers and harassers that won't give you a break? Use our AI-driven app to fight for your right!
Keep Your Money in Your Pocket and Save Time
With our assistance, you can also appeal parking tickets in any city, get help with bills, make an appointment with the DMV, protect your copyright, and avoid phone number verification!
If you feel like you were wronged either by a faulty product or a delayed or canceled flight, DoNotPay will also help you request a refund from any company or airline hassle-free.
Being on a tight budget isn't easy—knowing that, we've developed features that will get you free trials, unclaimed money, extended warranties, college application fee waivers, and so much more!