Get a DMV Appointment in New York Quickly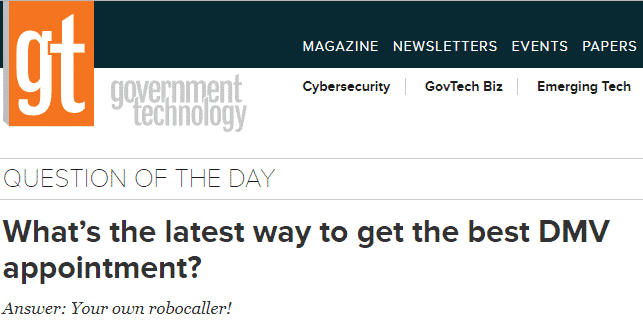 DMV appointments are an inevitable part of life in New York. The complicated process of booking an appointment can have you waiting in person, on your phone, or at your computer for hours.
One of the services our app provides is getting you an appointment with your local DMV office. DoNotPay makes the process hassle-free as you only need to access the app in your web browser.
Currently, the average wait time when you visit the DMV in person to book is about 35 minutes before talking with an agent to book your appointment.
Scheduling New York DMV appointments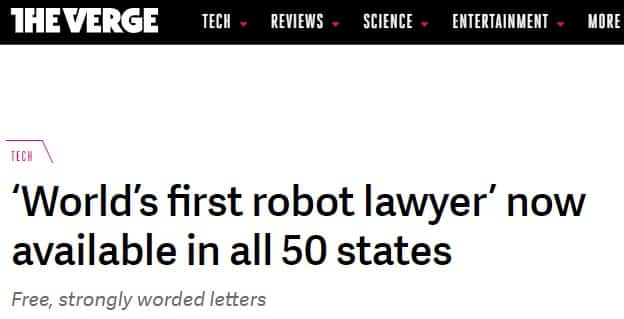 Booking your DMV appointments in New York can be done in different ways. You have the option of booking online, by phone, or by making an appearance in person on a first-come, first-serve basis. 
While it is more convenient to book online, you can usually get an appointment sooner if you book by phone or over the counter. If you can't come down the office yourself, booking by telephone may be your only choice.
Over the counter
Ladies at the dmv telling me I don't have the right paperwork after I sat there waiting for 5 hours pic.twitter.com/6VYzax6vCx

— boo boo the fool? (@holden_a_fork) September 20, 2018
We mentioned earlier that waiting for a chance to book in person at the DMV can take 35 minutes, at least. This doesn't count the waiting time it may take if they transfer you to a different window. However, if you do decide to go to the DMV in person, you can find your closest DMV branch office in New York here. 
Online booking
The New York DMV encourages its stakeholders to book online to avoid waiting in line. The following list is the step by step process for making a reservation.
Go to https://dmv.ny.gov in your web browser.

A banner of announcements will greet you, followed by other alerts. There will be four icons beneath the warnings. One says, "

Don't wait in line, make a reservation and save time

." Click that icon.

The page then asks you to prepare the documents before making the reservation and gives you three buttons to choose from.

License, Permit or Non-driver ID

Registration or Title

Suspension or Revocation

When you click any of the choices, more links will lead you to the specific service you may need.

In each section, there are thorough instructions along with a list of required documents through the "Find your proofs" button

. Each of the three choices further divides their processes into those that require an appearance from you at the DMV office, and those that you can do online.

When you have completed the steps needed before making a reservation, click "Make a Reservation."

Choose the branch you want to make an appointment by first choosing the county. Click the "Make a Reservation in *your county*." A list of the different branches will pop up divided by county. 

They will transfer you to the site of the county in which you reside. The page will then ask if you are making a new reservation or changing an old one. Click the first option.

The page will then ask at which branch you would like to make an appointment, the service you require, and the date and time of your reservation. Click Next.

You will need to fill in your details, name, email address, and contact number before you can make the appointment. Click reserve.

If you choose to select "Find your proofs," the New York DMV will present you with a guide on preparing your documents.

If no slots were available on the date of your choosing, you could always go to the office itself. They may accept walk-in appointments.
Booking over the phone
You can try reserving an appointment by phone. You can use DoNotPay to schedule your DMV appointments. Access it through your web browser.
Contact Numbers of the New York DMV

You can call the DMV from 8:00 in the morning until 4:30 in the afternoon. The following are their main phone numbers. If you need specific services, try looking through this page to contact the appropriate office. 
General Telephone Assistance: +1 518-486-9786

Telecommunications Device for the Deaf (TTD): +1 800-662-1220
Booking your DMV appointment in New York through DoNotPay

If you are having trouble with legal or bureaucratic processes, DoNotPay offers various services to make your life easier. These services include setting an appointment with your DMV. The DoNotPay app will make sure you avoid any hassles. Listed below are the steps in booking your DMV appointment through the app.
Open DoNotPay on your web browser. 

Choose the reason for your appointment from the list. 

Application for or renewal of a license 

Appointment for a written or physical test

Vehicle registration renewal 

Change of details in your license, i.e., address or married name

Request for a certificate of title for a vehicle

Request for driver's records

Give your time of availability
DoNotPay can prepare any documents you think you might need in advance. If there are specific forms you need, the app will help you fill them out.
New York DMV services 

The New York DMV offers various services that are available online. Other services require booking an appointment. Some services, like the issuance of identification cards, are not even related to motor vehicle use. The services that require a reservation are listed below. 
Get a learner's permit (Take the written test)

Get a non-driver ID card

Exchange your license from another state

Change your name or fix errors

Get a Federal ID, or enhanced driver's license, Enhanced learner's permit or non-driver ID

Register a vehicle or trailer in New York

Register a trailer

Register a snowmobile, boat, moped or ATV

Return or surrender plates

Answering a suspension or revocation

Driver responsibility assessment and payment

All online options are also available over the counter
Try using DoNotPay to book your DMV appointment. If you require other services, like help suing a company in small claims court or disputing traffic tickets, the app will make it easy for you. Access DoNotPay through your browser. 
Preparing for your New York DMV appointment
You should not go to the DMV unless you are prepared. Every service requires you to show some proof of your identity to process your request. If you plan to take a domestic flight from October 2020 onwards, you need to present a DMV-issued REAL ID. Your current standard driver's license, state I.D., or learner's permit won't cut it. 
The New York State DMV encourages the use of their Document Guide to learn what forms you need to prepare. We also have noted the documents you need for the following services below.
REAL ID or enhanced driver's license, permit or non-driver ID card application

License renewal

Driver's license or ID card renewal

Application or renewal for vehicle registration

Driving test

The license plate or sticker replacement
REAL ID or enhanced ID requirements
You can apply for a REAL ID or an enhanced driver's license, permit, or non-driver ID card. Only the enhanced non-driver ID card will be valid when traveling back to the United States after a trip from Canada, Mexico, or the Caribbean. Otherwise, you will need to present your passport. The following documents should be prepared.
Document proving your Social Security Number or an ineligibility letter with your name from the Social Security Administration within 30 days before your DMV visit

Two documents among the following proving your New York residence

If under 21, an MV-45 form is enough if accompanied by a parent

New York State driver's license, permit or non-driver ID with current address

U.S. bank statement

U.S. utility bill

U.S. high school ID card with a report card

U.S. computer-printed pay stub

DMV Certification of Residence (MV-44NYR)

U.S. College photo ID card with an official transcript

Postmarked mail dated within 90 days of your office visit

Federal or New York State Income Tax W-2 issued within one year

DMV Statement of Identity or Residence (MV-45A)

N.Y. State Certificate of Title

NY State Professional License

U.S. life insurance policy or current statement

NY State or NY city pistol permit

The U.S. canceled check

Medical Examiner's Certificate (for CDL medical exam requirement)

Credit card statement

Residential lease

Supplemental security income award statement

Annual Social Security Statement (SSA-1099) for the current year

Current proof of homeowners or renters insurance (policy, proof of claim)

Proof of Current Mortgage

Property or school tax bills or receipts for the current year

Voter registration notification card

Federal or N.Y. State Income Tax or Earning Statement (SSA-1099, SSA-1098) for the current year

Property deed

Military orders that are still in effect

Welfare benefit statement

Retirement statement

Selective service card

Unemployment benefit statement

Jury duty notice

Assisted living or nursing home statement

Health insurance card or prescription card with your address pre-printed

A parent or spouse ID in the same name with proof of relationship

Document to prove your name and date of birth 

U.S. passport or passport card

U.S. birth certificate issued by state or local government

Certificate of naturalization or citizenship (N-550. N-560, N-561, N-570)

Permanent resident card I-551

Valid foreign passport

Valid U.S. employment authorization card with a valid foreign passport with current or expired U.S. visa, I-94, or I-551 stamp

Original or certified copy of Consular Report of Birth Abroad (FS-240, DS-1350, F545)
All the proofs presented should show the same name. Otherwise, documents of the name change are required, as well. At least one record should show if you have a middle name or suffix. Also, let customer service know if you are applying for a REAL ID only or an enhanced driver's license, permit, or non-driver's ID card.
Renewal of driver's license steps
You don't need to appear at the office for your driver's license renewal. You can submit it online. The following are the steps to follow and the documents you need to provide.
Pass a vision test from one of the 2,300 DMV-approved testers, or send a completed Vision Test Report (MV-619)

Go to the website and have your license renewed online by completing the online steps and paying the fees

Print the PDF of the temporary license to use until the new license arrives. It should come within ten business days by mail
Requirements for an application for an ID card or a driver's license
Some of the papers are similar to those that you need for the REAL ID or enhanced driver's license, permit, or non-ID Card. Here are the documents you need to submit:
Application for Permit, Driver's License or Non-Driver ID Card (MV-44)

One proof of date of birth (similar to the documents mentioned above)

U.S. Social Security card or ineligibility letter

Two documents to prove residency in New York State (same as the documents listed above)

Two additional forms of identification (all mentioned above)

MV-45 if under 21

Photo driver license, learner's permit, or non-driver ID card issued by another U.S. state or jurisdiction, or Canadian province or territory

U.S. Cash Card (ATM)

New York State benefit or Medicaid Card

U.S. health insurance card or prescription card

U.S. marriage or divorce record or court issued name change decree

Valid major U.S. credit card

U.S. Military Photo ID Card

U.S. high school diploma or GED

U.S. employee ID card

U.S. supermarket check-cashing card

U.S. Military dependent ID card

Veterans Universal Access Photo ID Card

U.S. union card

Reentry permit (I-327)

Refugee travel document (I-571)
Requirements for renewal and registration
You can renew or replace a registration over the New York State DMV website. You will only need:
Your registration (plate) number

Registration class

Last name of the person on the registration

Credit or pinless debit card for payment

To go to the website to complete the online renewal
If you want to register a vehicle for the first time, you will first need to get it insured. Then submit the following documents:
Original title or proof of ownership

Current New York State insurance ID card

Bill of sale and proof of sales tax payment or sales tax form

New York State driver's license, driver's permit, non-driver ID, or other proof of identity.

Payment for fees and taxes or

proof of an exemption

Completed Vehicle Registration Application (MV-82)
After the submission of documents, you need to receive the following documents and have an inspection of your vehicle.
One or two plates for your automobile

Registration window sticker

Registration document

10-day inspection extension sticker

New title certificate if applicable
Driving test requirements
When you apply for a learner's permit, you automatically apply for a written test. The requirements you need for a written test are those that you need to bring when you register and pay for your permit.
Application for Permit, Driver's License or Non-Driver ID Card (MV-44)

One proof of date of birth (similar to earlier documents)

Social security card

Two proofs of New York residency (same as above)

Additional proof of identification (same as above)

The fee
You can schedule a road test online. The following requirements for this test are:
Valid New York State learner's permit

Original, unexpired Pre-Licensing Course Certificate (MV-278) or a Student Certificate of Completion (MV-285)

At least one unused test

ZIP code for the test site
Best time to visit the New York DMV  
Waiting at the DMV might take some time, especially if you arrive during their rush hours. Try going during slow hours, which are first thing in the morning or two o'clock to three o'clock in the afternoon. Also, try visiting the offices during the middle of the week, Tuesday, Wednesday, or Thursday. 
Waiting time for a reservation at the New York DMV
When you make a reservation online, the next available slots will be at least a week later. New York prides itself in its rather fast waiting time if you book in person. There are about 36 offices that offer online reservations for appointments. If the nearest DMV branch does not offer online booking, a personal appearance may be the only way of reaching the office. Otherwise, you can travel a bit farther to a different branch.
Access DoNotPay through your browser. Make a booking without the hassle of being put on hold.
Ways to skip long wait times with the New York DMV
The best way to skip wait times is to use the DMV's online services. You will not need to appear at the DMV office. DMV's online services include the following: 
Get your driving record abstract

Change your address

Renew your license or non-driver ID card

Replace your license, permit, or non-driver ID

Replace a NY title

Renew a registration

Replace a registration

Pay a driver responsibility assessment
If the services above still do not offer the help you need from the DMV, you will need to make an appointment. Access DoNotPay by visiting the web app and enjoy our variety of services, including booking a DMV appointment. 
New York DMV locations
Look for the DMV office nearest you here. However, you can visit these main DMV branches.
Brooklyn
Address:
Brooklyn - Atlantic Center
625 Atlantic Avenue, 2nd Floor
Brooklyn, NY, 11217
Phone: +1 212-645-5550
Open times
| | |
| --- | --- |
| Monday | 8:30 AM - 4:00 PM |
| Tuesday | 8:30 AM - 4:00 PM |
| Wednesday | 8:30 AM - 4:00 PM |
| Thursday | 8:30 AM - 4:00 PM |
| Friday | 8:30 AM - 4:00 PM |
| Saturday | Closed |
| Sunday | Closed |
Manhattan
Address:
Lower Manhattan - Greenwich Street 
11 Greenwich Street
New York, NY 10004
Phone: +1 212-645-5550
Open times
| | |
| --- | --- |
| Monday | 8:30 AM - 4:00 PM |
| Tuesday | 8:30 AM - 4:00 PM |
| Wednesday | 8:30 AM - 4:00 PM |
| Thursday | 8:30 AM - 4:00 PM |
| Friday | 8:30 AM - 4:00 PM |
| Saturday | Closed |
| Sunday | Closed |
Queens
Address:
College Point
30-56 Whitestone Expressway
Flushing, NY, 11354
(Cross Streets - Linden Place and 30th Avenue)
Phone: +1 212-645-5550
Open times
| | |
| --- | --- |
| Monday |   8:30 AM - 4:00 PM |
| Tuesday |   8:30 AM - 4:00 PM |
| Wednesday |   8:30 AM - 4:00 PM |
| Thursday | 10:00 AM - 6:00 PM |
| Friday |   8:30 AM - 4:00 PM |
| Saturday | Closed |
| Sunday | Closed |
Book your next DMV appointment with DoNotPay. Access it in your web browser.
DoNotPay also helps you ACE your written exam
DoNotPay can also help you study for your written exam with a free practice test. Drivers that do well on our practice tests are guaranteed to do well on the written exam. If you have an upcoming practice test, make sure you pass by using our free DMV practice test.
DoNotPay Protects Your Privacy and Finances
Sharing your credit card details online comes with certain risks, and it's getting more difficult to tell good and bad websites apart. With DoNotPay's virtual credit card generator, you will be able to protect your identity and bank account from cyber scammers.
Whenever you run into a suspicious email or website, generate a virtual credit card and proceed without worries. Our virtual cards also work like a charm if you want to avoid automatic payments after free trials.
Other services DoNotPay has to offer
Access DoNotPay in your web browser. You will find a multitude of services and features that might fit your needs. These include:
Appeal speeding tickets

Dispute traffic tickets

Help you get compensation for delayed and canceled flights