Ace the Marine ASVAB Test With DoNotPay!
Getting good ASVAB test scores is essential if you want to be considered for the Marines. The ASVAB test also determines if you're suitable for specialty vocations and enlistment bonuses. The best way to prepare yourself is with quality practice tests. 
Let DoNotPay help you get the best possible scores so that you can enlist with the Marines. DoNotPay's platform will assist you in acing any government test. We can even help you prepare for your driving test and pass it hassle-free.
What Is the ASVAB Test for Marines?
ASVAB is an acronym for Armed Services Vocational Aptitude Battery. It's a timed multiple-choice test covering different subjects. The test is about three hours long. While you can't pass or fail the test, your scores indicate your individual abilities. You can take the ASVAB during the entire year at over 14,000 schools in the country. 
The test consists of:
Auto and shop

Mechanical comprehension
To schedule your assessment date, you can contact your guidance counselor at school or log in to the Military website. 
The Importance of Practicing for the ASVAB Test for Marines
The Marines' ASVAB is a challenging test. It's possible to retake the test if you're unhappy with your results, but the Armed Forces don't encourage retesting. Practicing for this test is important as it will determine your future with the U.S. Military. 
How Can You Prepare for the ASVAB Test for Marines?
The knowledge you have built up through your high school career will not be enough to get a score good enough for the Marine Corps. Since the test covers different subjects, you'll need to have an understanding of each of them. The Armed Forces suggest that you start preparing for the test at least two months before the date. 
There are a few things you can do to make sure that you're ready for the test:
Access the study material that best suits your needs

Make notes while you're studying

Focus on your weaknesses. If math isn't your strong point, spend more time practicing math

Work out a schedule for studies

Take a few practice tests

Make time to revise the topics that you were focusing on during the week

Ensure that you balance your studies with family, fun, and exercise

Sleep is important. Enough sleep will help you retain more information
What Is the ASVAB Practice Test?
The practice tests are variations of the actual evaluations and have benefits like:
Testing yourself to ascertain if your knowledge is sufficient

Preparing for the test scores you want

Seeing what to expect from the test on the day
Since there isn't an official ASVAB manual, practice tests collect questions from previous exams. By taking a few practice tests, you'll get familiar with the exam structure and feel more comfortable on the day of the test.
Each ASVAB subtest has a time limit. You can practice your velocity by timing your practice tests.
Where Can You Find Study Material for the Best ASVAB Test Scores for Marines?
You can access online study material and practice tests to prepare thoroughly for the assessment:
Preparation Material
Includes
Benefits/Drawbacks

Short video lessons covering all the topics

Lesson transcripts

Flashcards

Practice tests

Study Guide

Flashcards

Practice tests

Ads pop up while you're studying/taking the test

You have to take the entire test before you can see the correct answers. The test is timed, and you can't pause

You can't click on the answers you choose. It's not a complete or timed test

Short and full practice tests

You have to open an account to access the tests
DoNotPay Can Help You Get the Best Possible Marine ASVAB Test Scores
DoNotPay is the best place to get practice tests for ASVAB and many other official tests in the U.S. Our extensive database collects sample questions that examine your knowledge in various areas to ensure you have the best possible source to study.
Access the ASVAB practice test by following these steps:
Open the

DoNotPay

app

Search for the ASVAB test

Choose whether you want a 10-, 20-, or 30-question test
You can either retake the test when you're done to correct your answers or correct them while writing.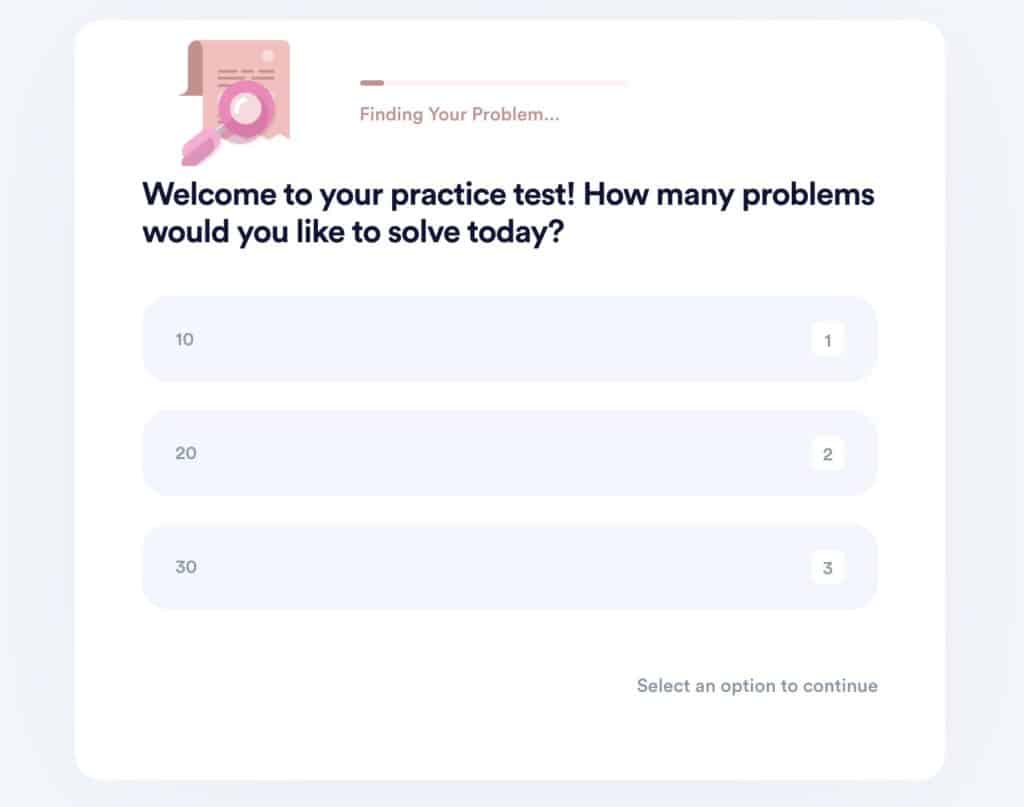 Besides helping you prepare for the Marine ASVAB test, we can also assist you in practicing for:
DoNotPay even offers a feature that can help you schedule your driving test appointment in under two minutes.
Clear Your Schedule With the Help of DoNotPay
DoNotPay is renowned for making our users' lives infinitely easier. Not only can we root out unwanted subscriptions for you—you don't need to do it manually one by one any longer—but we can unsubscribe you from unwanted email and snail mail lists.
Fire up our app and let it navigate the phone tree instead of you or use it to make a DMV appointment at your earliest convenience. Forget about googling clinical trials near you—DoNotPay can sort them out according to your needs and their individual eligibility criteria. 
We can fill out the paperwork that you need to file at your local small claims court to initiate a dispute. You can work around the U.S. penal system and have DoNotPay locate an imprisoned loved one instead of you trying to reach individual prisons attempting to do it yourself.
You don't need to go to great lengths to get in touch with a counselor to sign your college fee waiver either—DoNotPay does it for you and then forwards the necessary documents on your behalf. 
DoNotPay Never Ceases To Amaze
Where there's one useful feature, there are nifty features galore!
Use our Virtual Credit Card to sign up for free trials and stop robocalls and spam text messages from reaching your phone. If you feel a free trial unrightfully turned into an expensive paid membership, we can help you request a refund or chargeback for the inconvenience.
We can further assist you in exercising your consumer rights by making a warranty claim in your place and verifying your online accounts with temporary phone numbers.
We can also break down the Freedom of Information Act for you and introduce you to online fax options and property tax reductions.