Learn How To Pass the Georgia Driving Test With Flying Colors
If you plan on taking your driving test in Georgia, you'll have to prove you are capable of becoming a traffic participant by passing the driving test. DoNotPay can help you prepare for this knowledge test and get the results you want!
About the
GA Driving Test
People who wish to obtain a driver's license in Georgia have to pass the vision exam, knowledge exam, and road skills test. There is no way to get around these requirements. The only test that you don't need to prepare for is the vision one—for the other two, you'll need to practice.
What Does the Written Knowledge Test in Georgia Consist Of?
States have different requirements for passing the written driving test. The one in Georgia consists of two parts:
Road rules test
Road signs test
Check out what you can expect from these tests:
Knowledge Test Part
Questions About
How Many Questions
Languages It's Available In

Road Rules Test

Driver responsibility

Knowledge of laws

Safe driving practices

20

French

Vietnamese

Hindi

Chinese

Japanese

Korean

Spanish

Turkish

Russian

Arabic

German

Road Signs Test

Meaning of standard highway signs

Identifying certain signs

Recognizing signals and markers

20

English only
You will have to answer 15 questions from each part to pass the written test in Georgia. If you fail the first time you take the test, you will have to wait one day to retake it. If you fail again, you'll have to wait seven days to take the test again.
What's the Best Way To Prepare for the
Georgia Written Driving Test
?
The first item you'll need when you embark on the test preparation journey is the Georgia Driver Manual. It's crucial to get the correct one for the proper state because there are differences between them.
This Driver Manual contains everything you need to know about the rules and regulations of the Peach State roads. The best way to memorize it is by reading it as many times as possible and highlighting the parts that seem important.
You can also get someone who already has a driver's license to help you study. This is a free technique but not the best one because no one can guarantee that the person helping you remembers everything about the test.
If you don't want to risk failing the test, you should use practice tests to check your knowledge. It's a straightforward study method that acts as a real test simulator. You'll find the best practice tests if you open DoNotPay in your !
Why Is It Important To Prepare for the Georgia Driving Test?
If you want to pass the test on your first try and become a driver as soon as possible, you'll have to come to the test completely prepared. You shouldn't waste your time and nerves by repeating the process more than once. The test is not easy, and you should take it seriously.
Getting ready for the test will also ensure calm nerves, which can further lead to getting the best scores! Good knowledge and no anxiety is the winning combo you need.
DoNotPay Has the Best
Georgia Permit Practice Test
You won't go wrong if you choose to practice for your Georgia written test with DoNotPay. We have numerous updated questions similar to those you can expect to see on the real test. If you wish to take our practice test, these are the directions you'll need to follow:
Access DoNotPay from any

Enter the test name

Choose the test you wish to prepare for

Tell us if you want to take a 10-, 20-, or 30-question test

Start taking the test
You can count on DoNotPay to tell you how to make a DMV driving test appointment.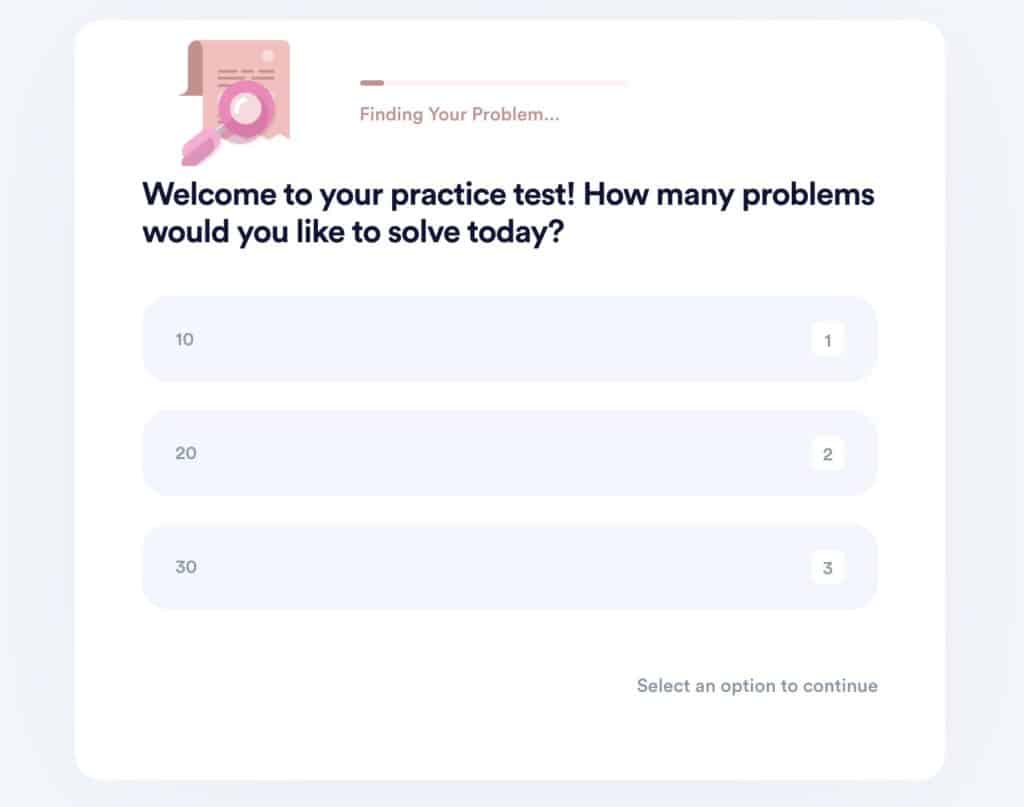 Are There Any Other Tests DoNotPay Can Help You Prepare For?
DoNotPay offers numerous other practice tests to its users.
Perhaps your employer requires you to take the Criteria Cognitive Aptitude Test (CCAT)? We can help you get ready for it.
Maybe you want to apply for a position at the U.S. Postal Service? Our app can aid you in preparing for the Postal Service Exam. We even have the practice test for the Armed Service Vocational Aptitude Battery (ASVAB) test and know the best way to check your scores.
These are the rest of the practice tests available in DoNotPay's offer:
How Can You Make a Georgia Permit Test Appointment?
You can make a written driving test appointment in Georgia online. These are the directions you need to follow:
Visit the

Georgia Department of Driver Services

website

Click on the

Start Now

button

Complete the form with all the required information

Select the

Make an Appointment

button

Submit your form
If you want to change or update your appointment, go to DDS Appointment Scheduling.
Fend Off Scammers With DoNotPay's Help
Are you sick of having a cluttered inbox or getting robocalls? So are the majority of Americans. If you want to get rid of email spam, text message spam, or annoying robocalls, DoNotPay can help you put a stop to them once and for all.
Do you feel like serving justice to companies that wronged you or stalkers and harassers that won't give you a break? Use our AI-driven app to fight for your right!
Keep Your Money in Your Pocket and Save Time
With our assistance, you can also appeal parking tickets in any city, get help with bills, make an appointment with the DMV, protect your copyright, and avoid phone number verification!
If you feel like you were wronged either by a faulty product or a delayed or canceled flight, DoNotPay will also help you request a refund from any company or airline hassle-free.
Being on a tight budget isn't easy—knowing that, we've developed features that will get you free trials, unclaimed money, extended warranties, college application fee waivers, and so much more!