Boost Your Results With Our SC CDL Practice Test
If you're preparing to take the CDL test in South Carolina, taking practice tests is a crucial ingredient to your success. We'll help you understand the CDL testing format and provide reliable SC CDL practice tests. Getting CDL-licensed can get you high-paying jobs and open up new opportunities if you add an endorsement like HazMat to your license. Roll up your sleeves, practice with DoNotPay, and get your CDL license with ease!
Who Can Get a CDL License in SC?
To obtain a CDL in South Carolina, you need to meet the following requirements:
Be 18 years old

Be 21 years old to drive outside of South Carolina

Take the required knowledge tests for the CDL or commercial learner's permit (CLP) for the vehicle you'll drive

Have a commercial learner's permit (CLP)

Pass the skills test

Pass a medical test if applicable

Complete a vision test

Pay the fees—$2 for each knowledge test, $15 for the application, and $12 for the license
A Breakdown of the SC CDL Test
The CDL test in South Carolina tests your knowledge based on the CDL manual. The test consists of:
The written knowledge test

The skills or road test
Here's an overview of what kind of test you can expect depending on the type of vehicle you'll operate:
Knowledge Test
Skills Test

General knowledge test—required for all CDL applicants

Combination vehicles

—

Class A

combination vehicles

Air brakes

—in case your vehicle has air brakes

Passenger transport

—for CDL drivers who will carry at least 16 passengers

Hazardous materials (HazMat)—if you need to haul hazardous materials

School bus

—for transporting pre-primary, primary, or secondary school students

Tanker—for hauling liquids or gas

Doubles/triples—if you have to pull double or triple trailers

All CDL applicants must take the skills test in the following order:

Vehicle inspection test

Pre-trip inspection of your vehicle

Presentation of what you're inspecting and why

Basic vehicle control skills test—performance of backing exercises

On-road driving test—driving in various traffic situations including:

Curves

Highways

Intersections

Left and right turns

Railway crossings

Single and multi-lane roads
Use DoNotPay To Take SC CDL Practice Tests
You can find numerous CDL practice tests online, but they may be unreliable, expensive, and out of date. With DoNotPay, you can be sure the practice tests are based on the most recent South Carolina CDL manual and guidelines.
Using our app to prep lets you see one question at a time, redo a question when you make a mistake, and retake the entire test as many times as you want.
Here's how to access DoNotPay's CDL practice tests:
Open our app in a

Type in

CDL Test

in the search field

Decide on the number of questions—10, 20, or 30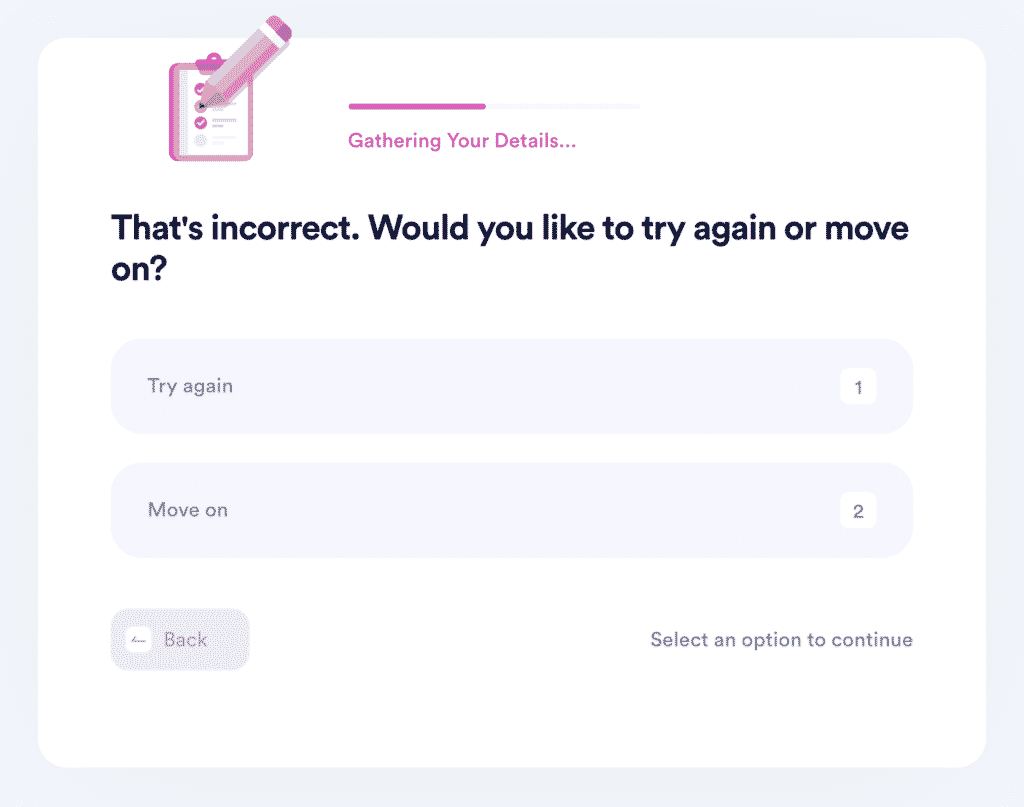 DoNotPay Helps You Prepare for Various Government Tests
is well-versed in assisting you with different government tests.
Turn to DoNotPay if you need to take the notary test, postal exam, CCAT, CompTIA A+ test, or the U.S. citizenship test. If you need to take the ASVAB test, we can also break down the ASVAB test scores.
Dealing with any DMV tests can be tough, which is why our learning center also provides insight and tips to help you:
What To Expect From the South Carolina CDL Test?
Knowing what to expect from the real CDL test in South Carolina will help alleviate your concerns and nervousness about passing it.
The CDL Written Test in South Carolina
The written knowledge test consists of 50 questions, and you need to answer at least 40 correctly to pass it. You can only take the written test at certain times at the SCDMV:
Not after 4 p.m. if you want to take the general knowledge test or no more than two endorsement tests

Not after 3 p.m. if you're taking three knowledge tests (the general knowledge test and up to two endorsement tests)
On Saturdays, there are no written CDL tests available.
The CDL Skills Test in South Carolina
When it comes to the CDL skills or road test, you need to wait 14 days to take it once you obtain your commercial learner's permit (CLP). You need to take the skills test in the type of vehicle you'll be operating. During the test, only you and the examiner are allowed around and in your vehicle.
Make sure to arrive at least 30 minutes before your test starts. In case you are ten minutes late, the examiner could cancel your test.
Whether you're taking a written or skills test, you are not allowed to bring the manual or any other testing aid with you, including your cell phone. Bringing cameras and talking is also forbidden.
Use Our Robot Lawyer To Eliminate Pesky Tasks
Administrative tasks are often time-consuming, which is why many people give up on them before even trying to tackle them. Requesting refunds, canceling services, signing up for clinical trials, reporting stalkers and robocalls, and trying to find unclaimed money are all processes that would usually take a long time to resolve.
With the help of DoNotPay, though, all of these admin hurdles become a piece of cake. In just a few minutes, our app can assist you in appealing parking tickets, getting in touch with your imprisoned loved one, getting an extended warranty, reporting copyright infringement, and so much more!
Don't Break the Bank—Sign Up for DoNotPay!
Our app can save you lots of money by helping you get a refund from any airline, sign up for a free trial without your credit card info, earn off persistent and illegal spam emails, and get an application fee waiver for a college you apply to.
With DoNotPay, you can even schedule a DMV appointment or jump the phone queue when getting in touch with a customer service representative without breaking a sweat!