The Best Way To Prepare for the Kansas Driving Test
If you are in Kansas but don't have the ruby slippers to move around, it may be time to consider getting a driver's license.
Thorough preparation and organization can make driving tests a piece of cake. If you fail to prepare for the DMV test, it can cause you to fail over and over again. A woman from South Korea took the driving test 960 times before she passed it!
If you want to avoid taking the DMV test more times than necessary, you should consider taking the practice driving test first.
Everything You Need To Know About the Kansas State Driving Test
To operate a motor vehicle, motorcycle, or motor-driven cycle on public roadways in Kansas, you must have a driver's license or driving permit. You can obtain a driving license or permit by passing the following tests:
Vision test

Knowledge exam

Road test
The number of questions on the written exam depends on the state. To get a driving license in Kansas, you have to pass the test that includes 25 questions from the Kansas Driver's Manual. From those 25 questions, you have to answer 20 correctly (80%).
Kansas Driver's License Requirements
To be eligible for a driver's license in Kansas, you have to meet the following requirements:
Being at least 16 years old

Having parental or guardian consent if younger than 18

Being lawfully present in the United States

Passing required driver's license tests

Completing an approved driver education course if younger than 18

Being able to submit proof of age, name, and address

Turning in any driver's licenses or identification cards previously held

Not having your license previously suspended, revoked, denied, or canceled

Having no unpaid fines for moving traffic violations

Passing medical requirements for the type of driver's license you are applying for

Not being found by a court as mentally incompetent, having a substance or alcohol abuse problem, or being a habitual user of illegal drugs 
How To Prepare for the Kansas Written Driving Test
There may not be an official Kansas driving test study guide, but with our assistance, you will learn how to pass a written driving test with flying colors. Check the following table to see some of the most effective methods of studying for the KS driving test:
Method
Upsides

Studying from the Kansas Driver's Manual

The manual is available online for download

It is an official handbook, containing extensive information and possible questions

Hiring a tutor

A tutor will make you a personalized studying plan

They will provide you with expert

Kansas driving test tips

They will help you create a

driving test checklist

Taking Kansas DMV practice tests online

They are the best way to test your knowledge and are often free

You need an internet connection and a laptop

Some practice tests contain the actual questions from knowledge exams

You can take them any time you want
Take the Kansas Driving Practice Test With DoNotPay
If you need practice tests with the questions from the Kansas Driver's Manual, you can rely on DoNotPay. We created a feature that offers a multitude of practice tests for numerous government-issued exams, including the ones for driver's licenses.
How Does the Government Test Prep Feature Work?
With our easy-to-use service, you won't be needing the Kansas driving test cheat sheet to get a license. Here is everything you need to do:
Access our app from a

web browser

Type the name of the test in the search box

Select the desired test

Specify if you want to answer 10, 20, or 30 questions

Start testing your knowledge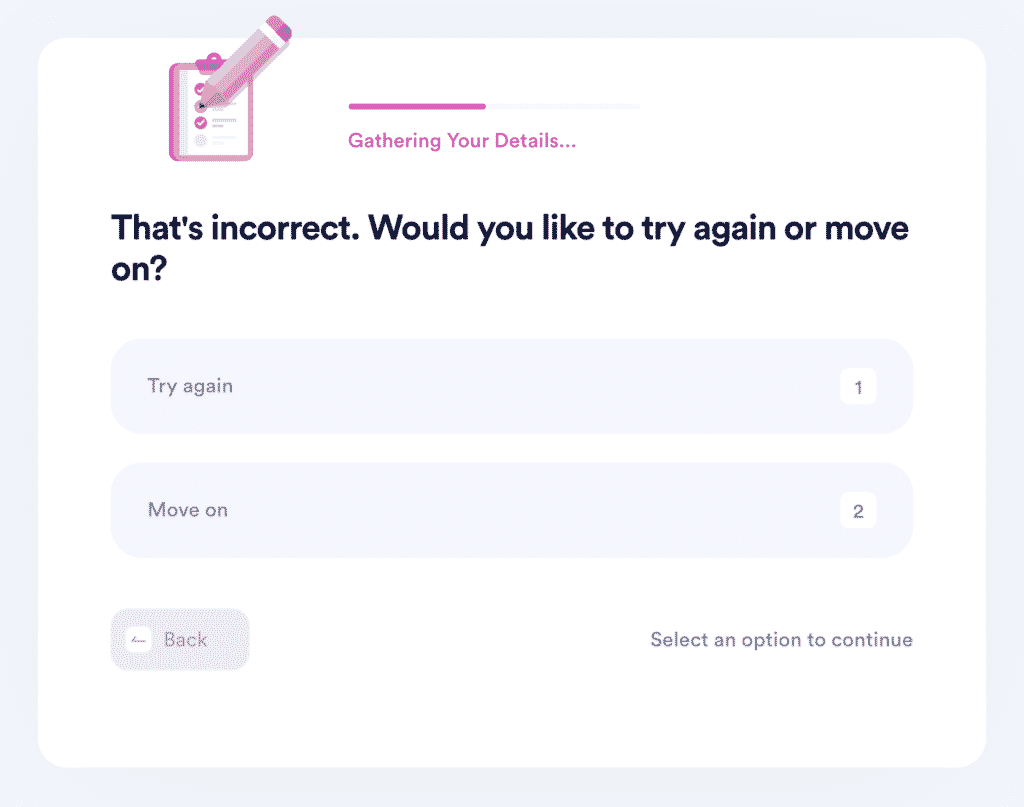 Our handy feature enables you to:
Retake the incorrect answers right away

Check the wrong answers once you complete the test

Take the test as many times as you need
Are you moving to another state? The Government Test Prep tool works everywhere in America, and you can use it to practice your knowledge for Arizona, Illinois, Nevada, Colorado, Oklahoma, or West Virginia driving tests.
You can take advantage of our fantastic feature and practice the HazMat test or Commercial Driver's License (CDL) general knowledge exam.
What Other Government Tests Can I Practice With DoNotPay?
You can use DoNotPay to get the best scores on the Armed Service Vocational Aptitude Battery (ASVAB) test or other government-issued exams, including:
How To Schedule Driving Test in Kansas
Once you go through the Kansas driving manual and test your knowledge with our practice tests, be sure to schedule your DMV appointment.
You can either go to the nearest location and stand in line or make an appointment online. The latter option is often recommended, as you get the specific time slot and don't have to wait.
Here's how to schedule your Kansas DMV driving test online:
Go to the

Kansas Department of Revenue

website

Click on the

DMV Scheduler & Line System

tab

Select the type of appointment you need

Opt for the closest location

Choose the suitable date and time

Provide your contact information

Click the

Confirm

button to make an appointment
Make sure to arrive at the location at least 15 minutes before the start of your test.
DoNotPay Is an Ultimate Money-Saving Assistant
Our app can help you manage bills that are too high to pay, but there are plenty of other money-saving possibilities out there we can help you with.
Want to challenge a parking ticket? DoNotPay can dispute parking citations in any city! Is someone getting revenue from your creative work? Cut the thieves off with DoNotPay!
 We can also help you get your college application fees waived, file any insurance or warranty claims, locate unclaimed funds in your name, or earn some extra cash from paid clinical trials in your area.
No More Risky Free Trials With DoNotPay
Do you love free trials but tend to forget to cancel your subscription before the trial ends? If this is the case, check out DoNotPay's virtual credit card for a risk-free experience.
With our virtual credit card, you can sign up for any service without worrying about unwanted charges. DoNotPay will even provide you with a random email address, which will help keep your inbox clean from spammy emails from the company.
Our app can also get in touch with the company's customer service, request a refund from them, or even escalate your issue to small claims court if the company is challenging to communicate with.