Learn How To Ace the Iowa DOT Practice Test
The Iowa Department of Transportation (Iowa DOT) is a government organization that deals with:
Everything related to the primary highway system

Drivers getting their licenses
To get a driver's license, you need to take the appropriate test. If you want to do well on your test, you should practice. The best way to get prepared is DoNotPay!
What Is the Iowa DOT Driving Test?
If you want to become a driver in Iowa, you have to take the knowledge test and then the actual driving test. This is a common practice in any state. Once you can prove you know the rules in theory, you may move on behind the wheel.
Teens and grownups who have never had a license need to do the written knowledge test before they can get their license. The written test shouldn't be taken lightly—two out of ten people fail the test the first time they do it. You need to have 80% of the questions correct to pass the Iowa driver's license test. If you pass, you won't have to take it again for a year unless your license expires.
Why Is It a Good Idea To Prepare for the Iowa Driver's Permit Test?
"Practice makes perfect" is the main idea when preparing for any test. Written permit tests are no different. If you want to pass the test, you should not show up and hope for the best.
Until someone finds a way for people to gain knowledge by merely wishing it, we will, unfortunately, have to study. 
Don't get discouraged—passing a driving knowledge test should not be as difficult as getting into med school, but if you don't practice at all, you might end up in the 40% who fail. If you don't do well, you will need to pay to retake the test.
Another reason to practice for the test is to have more confidence. When you take the test knowing you did your best, you will be calm. This further leads to you performing better on the real exam. 
How To Get Ready for the Iowa Driving Permit Test
You should mix a few techniques when preparing for the Iowa written knowledge test. The first step is to grab a handbook made specifically for Iowa. Read through it a few times from beginning to the end. You won't be able to remember everything you read, but you will get a general idea of how traffic rules work.
It would be a good idea to write down some notes as you read—those parts that seem most difficult to understand.
You could potentially get a tutor to help you out, but this may not be the best idea. If you want someone with proper knowledge, you'll need to pay, adding another unnecessary expense.
The better option of checking your knowledge is by doing practice tests. This is the most efficient way of forming a clear image of what the test will look like. These simulations will also let you know what you should focus on and point out your weak points.
The best way to check your knowledge is with DoNotPay!
How To Take the Iowa Driver's Practice Test With DoNotPay
You can check your knowledge easily with DoNotPay's help. These are the steps you need to follow:
Open DoNotPay in your

web browser

Type in the name of the test

Pick the test you wish to prepare for

Choose between the 10, 20, or 30 question tests

Start doing your test
There is an option to retake incorrect questions as you do them, or you can opt to check what you did wrong once you finish the test. We can also ensure you have everything on your driving test checklist.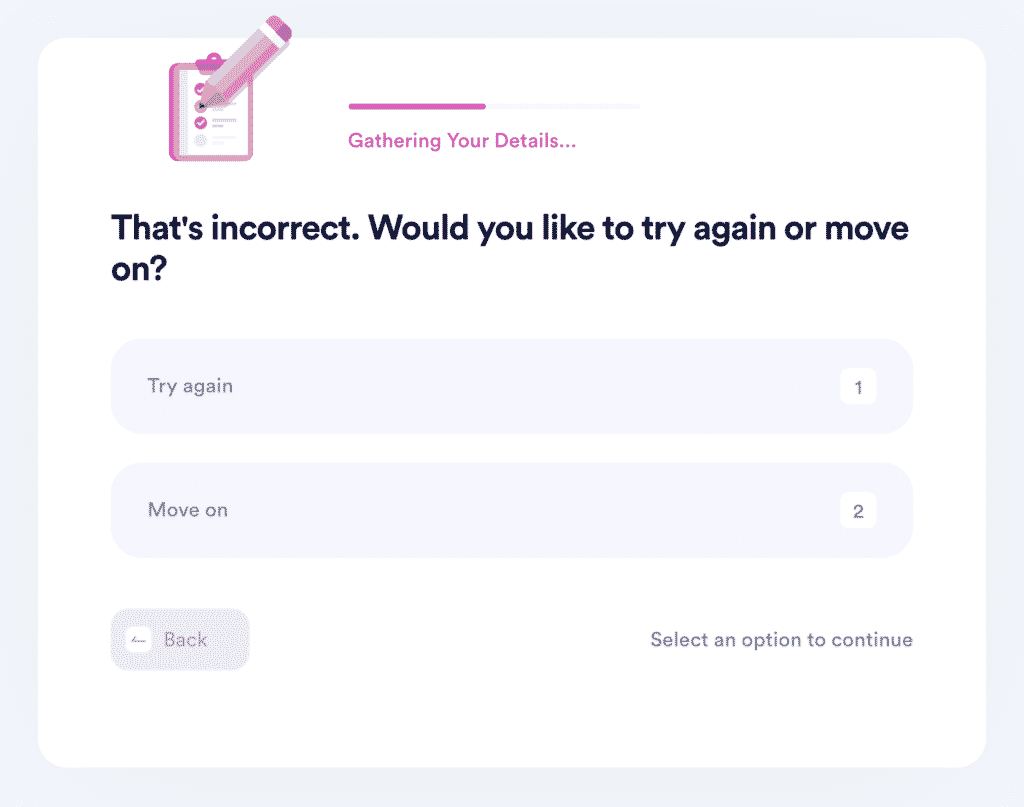 Other Practice Tests DoNotPay Can Help You With
DoNotPay is the best place to perfect your knowledge needed to pass the written driving test. Our app offers numerous other practice government tests that can help you pass and get the license you want. This is a brief overview:
We can also help you practice for the Armed Service Vocational Aptitude Battery (ASVAB) and check your scores.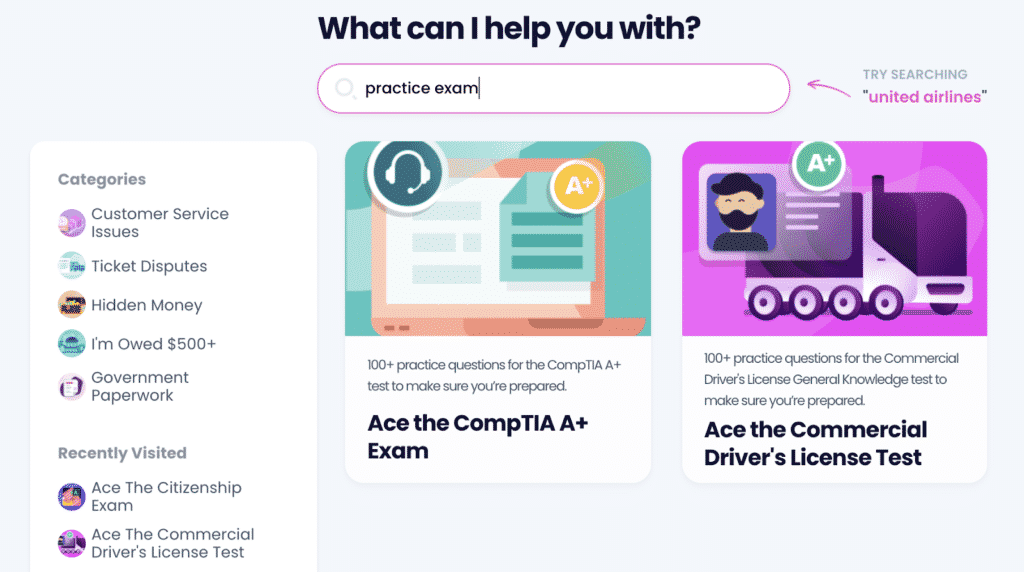 Where Else Can You Take the Iowa Practice Driver's License Test?
You can take the Iowa driver's license on the Iowa Department of Transportation official website. Their practice test consists of 25 questions. You can do the test as many times as you want, but you probably won't have many different variations to practice from.
DoNotPay is a better choice for practice because we have an unlimited number of combinations. If you do the test on DOT's website, you will only be able to see your results and score once you've completed the test. With DoNotPay, you may check and correct your answers on the spot.
How To Schedule the Real Iowa DOT Driving Test
You cannot do the exam in Iowa whenever you wish. In this state, you will have to schedule the appointment for your knowledge exam online. These are the instructions you'll need to follow:
Visit the

Iowa DOT

website

Open the

Schedule an Appointment

tab

Choose the type of service you need help with

Pick

Knowledge Test

as the type of test you need

Select

Next

Pick

Non Commercial (CDL) – Knowledge exam

and select

Next

Choose the

Branch

from the list that is closest to you

Select the

Service

Pick the

Date and Time

that suits you

Enter all the information they ask for in the appropriate text boxes

Click on

Create Appointment
You will need to provide them with an I-94 document, proof of citizenship, lawful permanent residency, and employment authorization document (EAD).
DoNotPay Is the Way To Fight Administrative Issues
In case you want to search for abandoned funds, DoNotPay can help you find your unclaimed money in Iowa. We can also assist you with canceling subscriptions to Iowa-based companies such as Entertainment Weekly or Top Shape Gym.
Your virtual assistant can also offer free DMV permit practice tests for numerous states, such as Florida, Arizona, Michigan, New York, or North Carolina.
Our app is also a helpful tool to renew your driver's license across the country in states like Texas, Nevada, or California.
We have many more useful features. Open DoNotPay in a web browser, and let us help you with:
Disputing speeding tickets

Fighting traffic tickets