Ace Your Driving Exam With the DMV Practice Test for CT
The Connecticut DMV test is a mandatory step any resident of this state needs to take to operate a non-commercial motor vehicle. 
The encouraging statistics say that the driving test failure rate in Connecticut is only 30%, which means that a great number of citizens manage to pass it at the first attempt. Acing your DMV test isn't a difficult task if you have a good studying technique and all accessible learning resources.
This mini-guide will answer all your questions about the Connecticut DMV test. It will teach you how to schedule the driving test appointment and prepare for the written exam by doing practice tests on DoNotPay. Our app can also help you prepare for other government-issued tests with ease, including:
Details and Requirements of the Connecticut Driving Test
The driving test in Connecticut consists of three stages:
Getting a learner's permit by passing the vision and knowledge test

Holding the learner's permit for four to six months, depending on the training program

Taking the road skills test
The table below contains the details about all stages of the driving test and their requirements:
Criteria
Details

Age 

Fees

New license—

$84

Exam fee for each of three required tests—

$40

Documents

Two forms of identification

—U.S. passport, birth certificate, veteran health ID, marriage certificate, etc.

Social Security number

—Social Security Card, W-2 form or 1099 form not older than five years, etc.

Proof of Connecticut residency

—two pieces of mail that show your home address, such as utility bills, bank statements, medical benefit statement, valid vehicle insurance card, etc.

Proof of legal status

—documents the non-US born people need to submit, such as I-94, I-551, permanent resident cards, refugee travel documents, etc.

Name change proof

—if necessary

Knowledge test

Knowledge test score remains valid for two years

Applicants need to have 20 correct answers out of 25 to pass the written test

If an applicant fails the knowledge test, it's possible to retake it in seven days

The test checks the candidates' understanding of driving theory, including safe driving, state road rules, and traffic signs and signals

Vision test 

Minimal vision requirements are 20/40 for acuity and 140 degrees for peripheral visual field

Road skills test 

Applicants supply the vehicles for the road skill test

The vehicle needs to comply with all mechanical safety requirements

The car needs to have a valid registration certificate and proof of insurance

If an applicant fails the road skills test, it's possible to retake it in two weeks

The test checks the candidates' way of complying with driving safety, state road rules, essential driving skills, and traffic signs and signals
How To Schedule the Connecticut Driving Test
Connecticut DMV has a specific online appointment system that helps you arrange the date for your written or road skill test. 
How To Schedule the Written Knowledge Test Online
To arrange a knowledge test appointment, follow the instructions below:
Go to the

DMV knowledge test scheduling page

Select

Learner Permit Knowledge Test

under the

Schedule New Knowledge Test Appointment

section

Enter your name, contact details, Social Security number, and other required information

Proceed to

Schedule Time,

and choose the date of your written knowledge exam
How To Schedule the Road Skill Test Online
Here's what the road skills test scheduling procedure looks like:
Go to the

DMV road test scheduling page

Choose

Schedule New Appointment

under the

Schedule New Road Test Appointment

section

Enter your learner's permit number and the rest of the required details

Click on

Continue

Follow the rest of the instructions to choose the date for your road test

Submit your request
Ways To Prepare for Connecticut DMV Driving Test
There are various ways in which you can boost your knowledge and prepare well for the upcoming written exam, including:
Where To Find DMV Connecticut Practice Tests
The Connecticut Department of Motor Vehicles has developed an app for iOS and Android—CT DMV Mobile—where you can find updated driving test examples. The app is free, but you can't correct your mistakes right away—you need to wait for the test to end to see the overview. 
You can also find some test examples on platforms such as:
Most practice tests you can find on the internet can be useful, but the number of attempts may be limited, or there are only a few updated versions. If you prefer to be on the safe side and get the best examples for practicing in no time, DoNotPay is the perfect match for you.
Access the Best Connecticut Permit Practice Tests With DoNotPay
You can avoid searching for practice tests on numerous websites by using DoNotPay. We have gathered all relevant test examples in one place, which means you can access them in only a few clicks! We offer multiple-choice practice tests you can redo anytime and prepare thoroughly for your written driving exam hassle-free.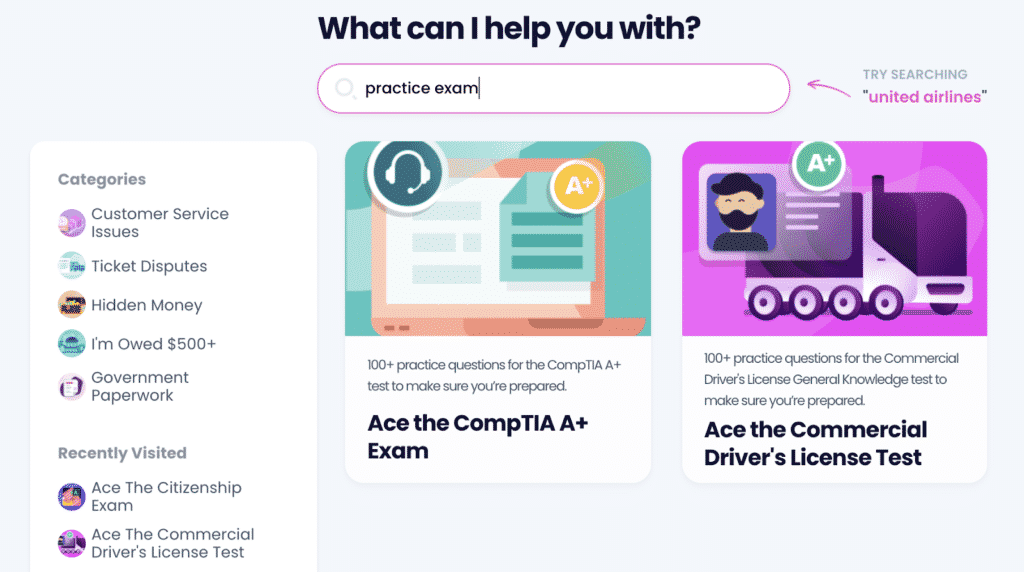 Here are the steps you need to follow to use this service:
Visit DoNotPay in any

web browser

Enter

Connecticut driving test

in the search box, and select the practice test you want to take

Set the number of questions

Start doing the test question by question
Our system lets you correct the wrong answers right away or after you finish the whole quiz. Thanks to more than a hundred examples, you can practice daily and get the best results on the real test.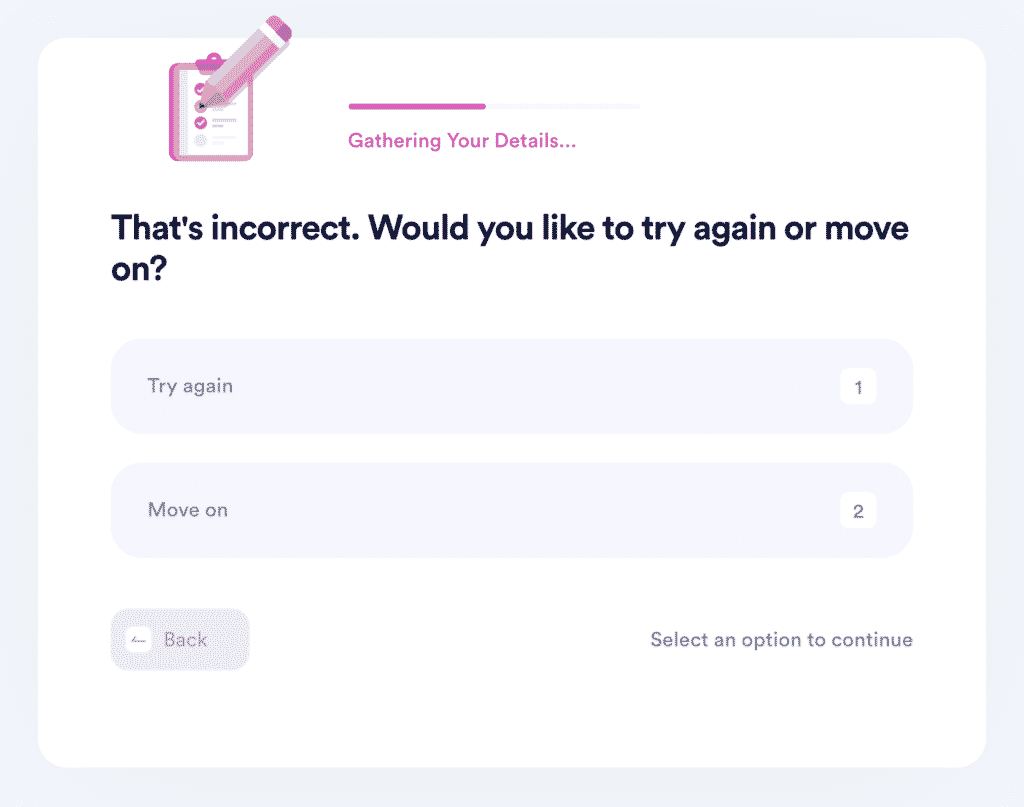 Dealing With Other Bureaucratic Tasks Is Easier With DoNotPay
Our app offers numerous tips for passing your Idaho, Kansas, Nevada, Florida, Missouri, Oklahoma, or Colorado driving test with ease. There's no better way to find out more about marine or air force ASVAB tests and understand their scores than exploring our extensive learning base. 
To get familiar with all the other services we offer, visit our platform in your preferred web browser and learn more about: