Learn Everything You Need To Know About the Postal Exam
If you want to become a part of the postal service in the U.S., you'll have to pass the postal exam first. Preparing for any test can be challenging, but not if you follow the right instructions and have proper resources. DoNotPay can help you chase your goals and catch them a bit faster and without trouble.
What Do You Need To Know About the Postal Exam 473?
Postal exam 473 is a test all individuals who want to work for the United States Postal Service (USPS) have to pass. This is a test for entry-level jobs. The focus is on checking the skills potential employees have.
This is important because USPS delivers billions of letters and packages to households across the country, so there is no room for mistakes. Not everyone can quickly check addresses and sort and deliver mail.
If you want to become a postal carrier, mail handler, sorter machine operator, or mail processor, you'll need to show excellent skills in these fields:
Postal Service Test 473—Sections and Questions Explained
There are four sections of the test (one section is split into two parts). You have to complete all parts during a predetermined amount of time. Take a look at the table below for a brief overview:
| | | |
| --- | --- | --- |
| Test Section | How Many Questions? | Minutes It Lasts |
| Address Checking | 60 | 11 |
| Form Completion | 30 | 15 |
| Coding | 36 | 6 |
| Memory | 36 | 7 |
| Personal Characteristics and Experience Inventory | 236 | 90 |
You'll take the last section of the exam on your computer. For every other part of the test, you will have to go to a specific testing facility.
Why You Should Prepare for the U.S. Postal Service Exam
You should get ready for the postal exam if you want to pass the test on the first try and not waste any more of your time than needed. If you take the test lightly, you might end up failing. In case this happens, you will have to wait 120 days to retake the exam.
When you know you've worked hard, you will feel more confident and take the test without anxiety. Preparation for any test is key, but proper study techniques are even more important.
How To Study for a Postal Exam?
One of the most important parts of getting ready for any exam is organization. You will have seven days to take the exam after getting an email from USPS, but that doesn't mean one week is sufficient to get ready properly.
You should go through the Postal Exam Orientation Guide as many times as you can and take notes simultaneously. 
The next step would be to check your knowledge with practice tests. This study method is especially efficient because it simulates the real test and lets you see the type of questions you can expect.
You can find various versions of the postal exam online, but that doesn't mean all of them are reliable. Free options are usually not updated, and you might end up learning from old examples. If you are looking for a proper practice test, you should use DoNotPay!
Use DoNotPay's Postal Exam Practice Test and Ace the Real Deal
If you wish to take the U.S. Postal Exam without worries and pass easily, you should prepare for it with DoNotPay. Our app updates the test questions regularly, and you can take the test as many times as you like. The entire procedure is straightforward. Follow these simple directions:
Open DoNotPay in your

web browser

Enter the name of the test

Choose the test you wish to get ready for

Select the number of questions you want per test—10, 20, or 30

Start completing your test
DoNotPay leaves you with a choice of redoing the questions on the spot or waiting for the final scores to retake the test.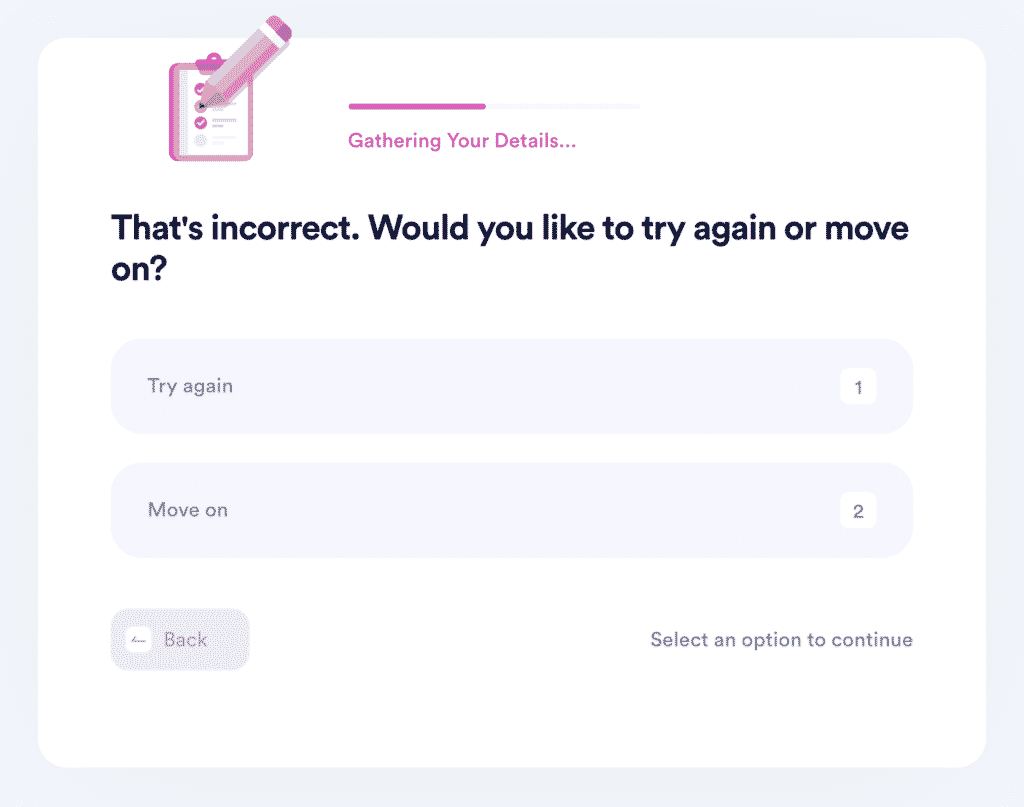 Test Away With DoNotPay! Other Practice Tests in Our Offer
DoNotPay can help you get numerous government-issued licenses if you choose to prepare with our practice tests. We can help you pass:
You may also check your ASVAB scores with our assistance. 
For drivers and ones looking to enter the driving world, DoNotPay offers help with:
We can also help you schedule driving test appointments and even offer you useful tips and tricks on how to pass the written test with flying colors.
How To Schedule the Postal Exam 473 on Your Own
You may schedule a postal exam 473 in two ways during the opening period:
How To Schedule the Postal Exam 473 Online
To schedule the postal exam online, follow these instructions:
Visit the USPS website

Go to the

Employment

page

Provide the required info

Set the time and date that suit you
How To Schedule the Postal Exam 473 Over the Phone
If you wish, you can also make your postal exam test appointment over the phone.
Call the toll-free telephone number provided

Explain why you are calling

Provide all the necessary info

Make an appointment for your test
USPS will send you an email of confirmation one week before you are supposed to take the exam. They will also attach some sample questions and applicant instructions.
DoNotPay Is Your Pocket-Sized Treasurer 
To pay or to DoNotPay—that is the question! Our nifty app finds money where you didn't even know you had it.
With our app, you can avoid college application fees, cancel unused subscriptions, explore free trials, and get out of paying for unfair parking tickets. 
We can also help you with high bills by composing due date extension letters or reducing property taxes, just as we can locate missing money that you can reclaim in any state you've ever lived. 
To top it all, we'll even assist you in requesting compensation from any airline—whether it is for poor in-flight Wi-Fi, a delayed, or a canceled flight.
Can't Find Your Head in All the Paperwork? DoNotPay Sorts It Out for You!
You no longer have to cash out on pricy legal advisors to do simple paperwork for you—our app can draft legal documents for you in a matter of minutes! 
We can write small claims court scripts, dispute letters for chargebacks and refunds, personalized letters to connect with inmates, DMCA takedown notices for copyright protection, and cease and desist letters for stalking and harassment protection. 
If you need to get a DMV appointment before taking a driving exam or any other government test, we're there to schedule it in your stead!