Ace Your Illinois Driving Test With the Help of DoNotPay
Getting your driver's license is an exciting experience, but it comes with great responsibility. To sit behind the wheel confidently and pass your driving test, you must demonstrate theoretical and practical knowledge of Illinois road and traffic laws and rules. It may seem nerve-wracking, but there are ways of making sure that you pass your driver's test with flying colors on the first try. 
DoNotPay will provide an insight into the Illinois driving test requirements and the best DMV practice tests to help you prepare.
What Does Taking the Illinois Driving License Test Entail?
The Illinois driving test consists of the written exam and the road test. The written exam has 35 questions, 15 of which focus on traffic signs, while the remaining 20 are multiple-choice or true-false questions. You can find all information regarding the content of the test in the Illinois Driver's Manual. To pass the exam, you have to answer at least 28 questions correctly. Applicants who fail the written exam can retake it the next day and are allowed to take the test three times in one year. 
After you pass the knowledge exam, you become eligible to take the road test. During your driving exam, you must demonstrate your skills in:
Parking uphill

Starting uphill

Parking downhill

Starting downhill

Making turnabouts

Controlling your vehicle

Starting/backing the vehicle

Using proper speed and lane
If you fail your road test, you have to wait seven days before retaking it. Applicants who fail the test more than three times during one year must extend their Illinois Learner's Permit.
If you want to avoid additional expenses and repeated trips to the DMV, stick with DoNotPay and find out how to pass any written driving test.
What Are Illinois DMV Practice Tests, and Why Are They Valuable?
Most applicants fail the written exam due to unfamiliarity with the form and structure of the real exam. Questions on DMV tests are designed to confuse the applicant by offering similar answers. Not knowing what the test looks like can cause you to feel insecure, panic, and fail.
Practice tests are a helpful method of preparing for the real DMV test. They mimic the real exam and provide context for the information from the Manual. You can take them many times, which allows you to revise the material and retain the knowledge longer. They also help you pinpoint the parts of the Manual that you haven't mastered so that you can shift your focus to them. 
Are Online Illinois Practice Permit Tests Reliable?
Practice tests are available online. You can choose from a myriad of different tests, all promising success. The number and accessibility of the tests may seem comforting, but you shouldn't neglect the risks. The table below provides information on how to recognize sketchy websites:
| | |
| --- | --- |
| Online Practice Tests Red Flags | Why You Shouldn't Trust Them |
| Questions from the real exam | Practice tests offer similar but never the same questions. Memorizing them would be a waste of time. |
| Encouragement to skip the Manual | Any website that advises you not to study is sketchy at best. While practice tests are valuable, the Manual provides information that no other source has. |
| Reviews that are overly positive | People commenting on how you don't need to study for the test is always a red flag. |
| Appearance that reveals amateur work | Any website that looks like an amateur made it is probably not the most reliable source of information. |
Even with all the precautionary measures, there are no guarantees that any online practice test is trustworthy. You can eliminate all risks by turning to DoNotPay! 
Take DoNotPay's Illinois Driver's License Practice Tests
You can relax, for DoNotPay is here to provide practice tests that you can trust. Our practice test questions mimic those on the real exam and cover the content of the Manual to a tee. 
Our app not only has the most complete and reliable practice material but also offers some additional perks. DoNotPay allows you to choose the number of questions depending on your knowledge and availability. You can pick between 10, 20, or 30 questions.
Here's how to find our practice tests:
Access DoNotPay from any

web browser

Type in

DMV Test

Select the desired test length

Start the test
Our app will display every question separately. If you make a mistake, you can either correct it on the spot or retake the whole test after you finish. 
Take the test as many times as you need to feel comfortable with your knowledge. We guarantee you will be scheduling your driving test appointment in a flash!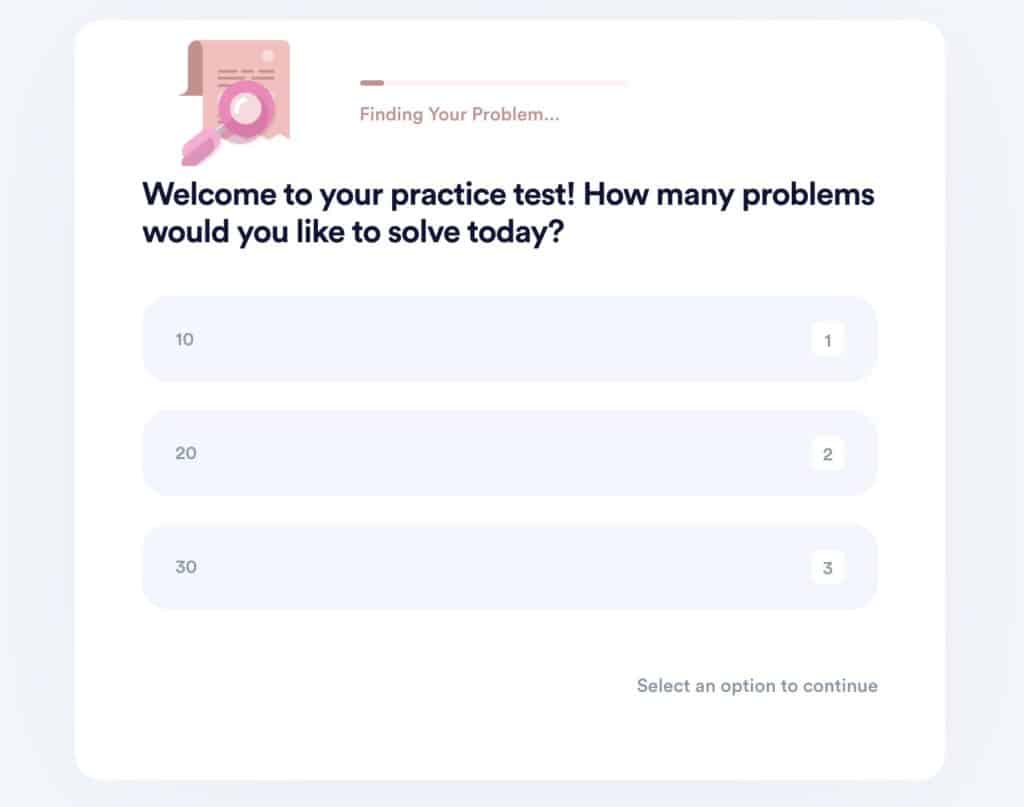 DoNotPay Can Help You Nail More Government Tests
When you feel like you are ready to upgrade your driving abilities, you can try practicing for:
Both tests can provide more job prospects and a salary increase. Open DoNotPay in your web browser and use our practice tests and inside information to ace both exams!
If you are interested in other government tests, we offer preparation material for:
Use or knowledge base to learn about the meaning of ASVAB test scores.
DoNotPay Keeps Your Privacy Intact
DoNotPay can help you surf the web safely and securely. No need to provide your personal information to every company whose service you'd like to take for a test drive. Our Virtual Credit Card and Burner Phone products shield your data from prying eyes and dishonest merchants.
Feel like subscribing for a free trial? Make it truly free and avoid automatic membership renewals with our card. It can also help identify spammers and potential scammers who send bothersome robocalls and robo texts your way. As soon as they act on the virtual card number, DoNotPay will unmask them and demand compensation!
DoNotPay Can Help You Bring Any Business to Justice
Should a company refuse to grant you a refund or compensation, our app will help you take them to small claims court! 
We'll help you cancel the service in question to avoid any future charges, and we'll call their customer service so you can get info on your denied request. We'll draft the relevant court documents for your jurisdiction and give you instructions on filing them.
More Nifty Features That'll Make Your Day
You may not have breach of privacy issues or reasons to bring someone to court, but you surely have ample motivation to save or earn a few dollars here and there—especially if we catch you unawares!
DoNotPay can show you how to reclaim funds that you didn't know were under your name or make a denied warranty appeal to any company. We streamlined the processes of requesting refunds, college fee waivers, airline flight compensation, parking infraction dismissals, as well as applying to clinical trials that pay!