Don't Stress About It—Prepare for Your WV Driving Test With DoNotPay
Getting a driver's license and driving a car can be exhilarating for most people, but it requires a lot of studying and practicing.
The internet is packed with information about driving exams, and as much as that can be helpful, it can also be overwhelming. Fortunately, DoNotPay has all the important information you need about the West Virginia driving test. What's even better, we can help you pass the written driving test by testing your knowledge with the best DMV practice tests.
What Does the West Virginia Driving Test Consist Of?
Driving any motor vehicle bears a great responsibility, and it's in your best interest to learn all the laws and regulations so you can do it perfectly. You have to know the traffic laws, essentials of safe driving, and road regulations by heart. Driving tests are designed to test all that.
The West Virginia driving test consists of three stages:
Vision screening

—The doctor examines your overall sight, depth perception, color recognition, and peripheral vision. Your vision level must be at least 20/40 to pass

Knowledge exam

—The West Virginia written test has 25 questions regarding basic knowledge, traffic signs, rules, regulations, and road markings. All questions are from the official WV driver's licensing

handbook

. To pass the knowledge exam, you have to answer at least 19 questions correctly

Road test

—The examiner will test your ability to operate a vehicle while following all the rules and regulations
You have to pass a vision screening and knowledge exam to be able to take the road test. Once you leave those parts of the test behind, you have to schedule a DMV driving test appointment.
Before taking the road test, your vehicle has to go through a detailed evaluation. To pass the check, your vehicle must have fully functional features, including:
Horn

Tires

Tail lights

Headlights

Foot brake

Brake lights

Hazard lights

Back-up lights

Exhaust system

Windshield wipers

Turn/directional signals

Parking/emergency brake

Registration/license plate light

Safety glass, windshield, and windows
What Are the WV Driving Test Requirements?
To take a driving test in West Virginia, you have to meet certain requirements. You can check the following table to see if you meet the WV driving test criteria:
WV Driving Test Criteria
Details

Minimum age

15 for graduated driver's license (GDL) level one

16 for GDL level two and motorcycle instruction permit

17 for GDL level three

18 for an instruction permit, class E, class D, and class F driver's licenses

Documentation

Proof of identity

Proof of Social Security number

Two proofs of West Virginia residency with name and physical address

School Eligibility Certificate (for applicants under 18)

Test fee

Vehicle requirements

Valid license plate and registration

Proof of valid insurance

Valid vehicle state inspection sticker

Legal equipment
How To Prepare for a West Virginia Driving Test
Once you collect the important information, the next step is to take a knowledge exam. Studies have shown that around 44% of people fail the written part on a driving test. If you want to be among the other 56%, you should prepare for the written exam the best you can. Some of the most productive ways of studying for the WV driver's permit test include:
Studying from the WV driver's handbook

Hiring a tutor

Taking practice tests
Where To Take a WV Learners Practice Test
West Virginia driver's permit practice tests are easy to find online. Like with anything else on the internet, not every DMV practice test will be reliable and of good quality. Here are some platforms where you can take practice tests:
Take the Best West Virginia DMV Practice Test With DoNotPay
Preparing for the DMV exam can be a tiring process. Tracking the valuable information, reading the official WV handbook, collecting required documents, making a driver's test checklist, and on top of that, searching for practice tests may cause you to lose your cool. Worry no more! DoNotPay has a fantastic feature created to help you pass your driving test with flying colors!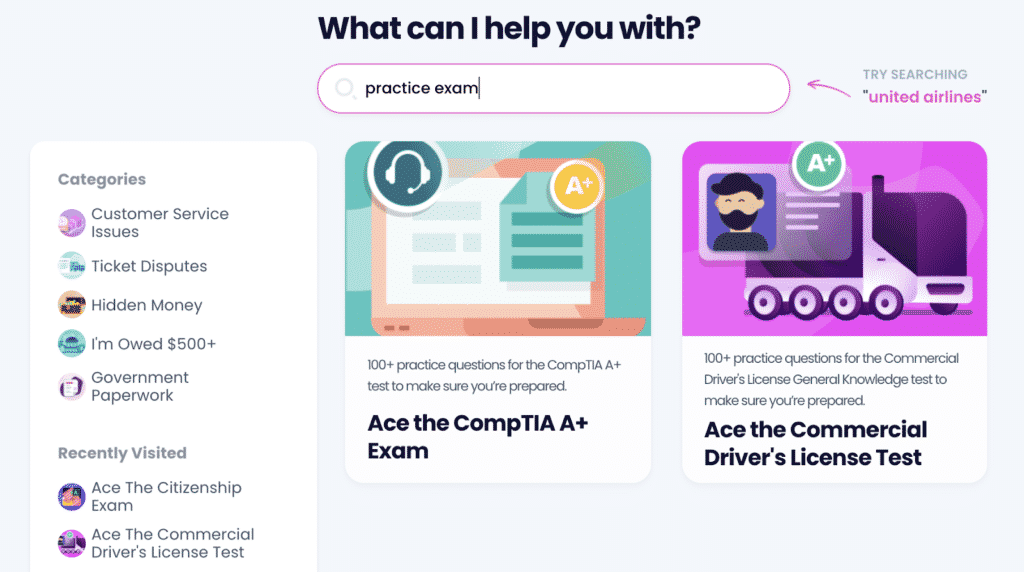 The process is so easy you could do it with your eyes shut! After accessing DoNotPay from any web browser, you have to follow these steps:
Search for the type of test you wish to practice

Choose the number of questions—10, 20, or 30

Start the practice test
With DoNotPay, you can retake the test as many times as you want. It's up to you to choose between correcting the wrong answers right away or once you see the results. Our fantastic service also lets you take practice tests for written portions of driver's exams in Arizona, Kansas, Illinois, Kentucky, South Carolina, and anywhere else in the States.
What Other Government-Issued Tests Can DoNotPay Help You With?
Aside from DMV practice tests, we can help you ace other types of government exams, including:
If you take the ASVAB test, we will assist you in understanding your scores.
Your Online Safety Is Our Priority
The benefits of the internet are numerous, but so are the opportunities for scams of all kinds. DoNotPay can help you fight scammers left and right with easy-to-use features, highly customizable to match your needs. 
Our app can provide invaluable resources for fighting:
If you're an avid online shopper, we have your back. In case something goes wrong, we will help you contact customer service without holding, request a refund, or even sue the company in small claims court.
Diversity Is Our Middle Name
DoNotPay doesn't stop at online safety. Do you need to set up an appointment at the local DMV, but keep procrastinating because you know how awful the lines are? Are you a prospective college student trying to save on application fees? Have you lost track of all unnecessary subscriptions and memberships that keep draining your bank account?
If the answer is yes, DoNotPay is the right platform for you. Whether you're preparing for government-issued tests or looking for ways to lower your bills, our app will be of assistance.