Fixin' To Take the
Texas Driving Test
? Consult DoNotPay!
Taking a driving test is always stressful. With all the knowledge and driving skills you need to demonstrate, there is the ever-present fear of failing. The best way to reduce test-related anxiety and ace the exam is to prepare adequately. 
DoNotPay knows that practice makes perfect, so we are set to break down the Texas driving test and show you the most reliable methods of getting ready for it. Start creating your own driving test checklist with our help!
What Can You Expect on Your
Texas DPS Driving Test
?
To obtain a driver's license in Texas, you must pass the written exam and a road test, in addition to a vision screening. If you fail the written part, you lose your right to take the skills test. 
Being familiar with the process can help you achieve great results. 
Texas Written Driving Test
The written Texas DMV test is the first step toward obtaining your driver's license. It consists of 30 questions based on the material from the Texas Driver's Manual. To pass the exam, you must answer at least 24 questions correctly. 
Topics that appear on the test include:
Road rules

Road signs

Traffic laws

Safe driving practices
Texas Driving Road Test
The most important factor during the road test is to stay calm and show off your skills as confidently as possible.
Here is what you can expect on your Texas driving test:
Driving Test Step
What You Awre Expected To Do

Vehicle Inspection

Bring your own vehicle

Wait for the

Department of Public Safety

Customer Service Representative (CSR) to look over the vehicle and make sure it is legal and safe

Road Test

Use the clutch

Maintain the right of way

Keep the correct posture

Know how to stop quickly

Demonstrate parallel parking

Obey traffic signs and signals

Drive properly in an intersection

Show how to back up the vehicle

Turn smoothly while in the right lane

Follow, pass, and maintain the proper lane
How To Schedule a Driving Test in Texas
You can schedule your driving test via the Texas Department of Public Safety website. By accessing the website, you can familiarize yourself with the entire procedure, including:
Documents you must present, such as your ID or Social Security number

Application forms you need to fill out

Application fees you need to pay

Road test requirements you need to meet, like current registration sticker or two license plates
To schedule a driving test appointment, you have to:
Access the

website

Click on the

Schedule a Driver License Appointment

button at the bottom of the page 

Select the language

Fill out the form with personal information

Click on

Log on

Select

New Appointment

Follow further instructions
How To Prepare for Your
DPS Texas Driving Test
Before you schedule your DMV appointment, you need to make sure that you covered all the preparation steps. Both the written and the road skill segments of the Texas driving test deserve equal attention. Here is what the preparation process entails:
Test Part
Method of Preparation

Road test

Complete a Driver Education Program

Get extra practice behind the wheel

Written test

Study the Texas Driver's Manual

Take practice tests
Why Are
Texas Driving Practice Tests
Important?
While the Texas Driver's Manual is an invaluable source of information, practice tests introduce you to the format of the real exam. People who take practice tests have a higher chance of passing the real deal. 
Here is how practice tests ensure success:
They help you retain information longer

They offer questions similar to the real exam

You can take them many times in many different variations

They allow you to follow your progress and focus on the parts that you need to study further
DoNotPay knows what it takes to pass any written driving test. Stick with us and discover the most reliable DMV practice tests out there!
Use DoNotPay To Prepare for Your Texas Written Driving Test
DoNotPay can help you pass a number of government tests, such as CDL, CCAT, ASVAB, Notary, Postal, HazMat, CompTIA A+, and the U.S. citizenship test. An insight into what ASVAB test scores mean will ensure a passing grade in one of the most difficult government tests.
You can retake our tests as many times as necessary to feel comfortable with the material. We even let you select the number of questions! You can start with ten questions and increase the number up to 30 as you become more confident in your knowledge.
You only have to:
Open DoNotPay in your

web browser

Access the practice test by entering the words

DMV Test

in the search box

Indicate the number of questions 

Start practicing
Our app allows you to correct the mistakes as you go or wait until you finish the test. Getting familiar with as many question variations as possible is a sure way to pass the real exam with ease.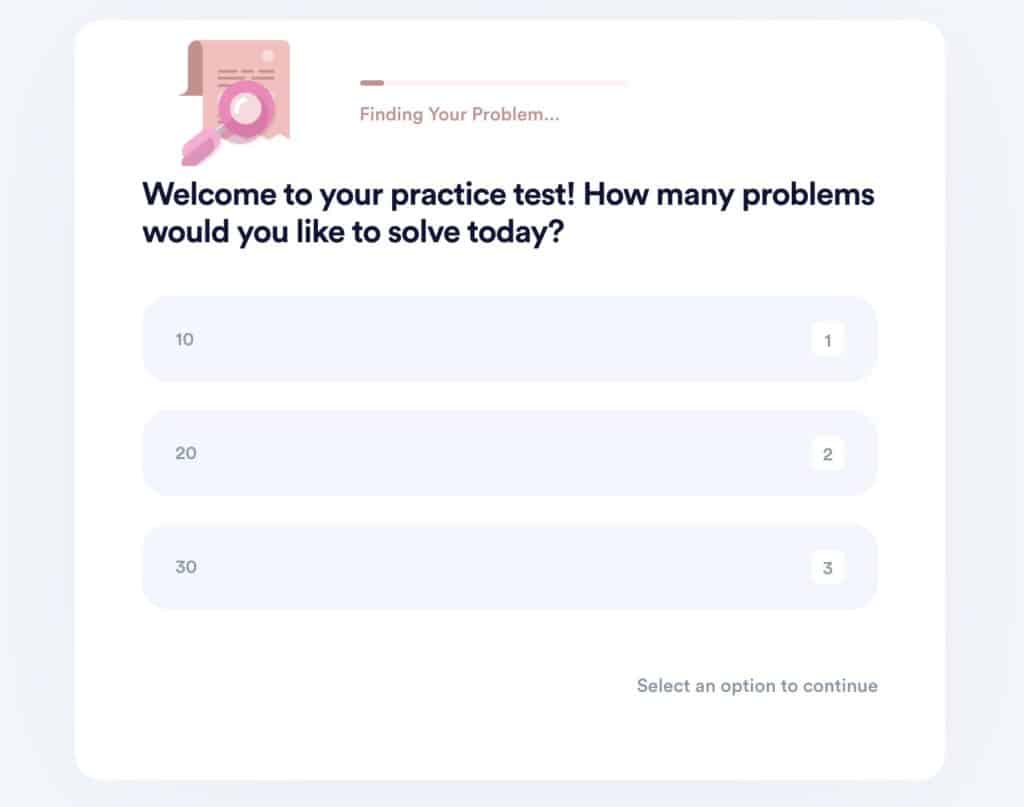 DoNotPay Keeps Your Privacy Intact
DoNotPay can help you surf the web safely and securely. No need to provide your personal information to every company whose service you'd like to take for a test drive. Our Virtual Credit Card and Burner Phone products shield your data from prying eyes and dishonest merchants.
Feel like subscribing for a free trial? Make it truly free and avoid automatic membership renewals with our card. It can also help identify spammers and potential scammers who send bothersome robocalls and robo texts your way. As soon as they act on the virtual card number, DoNotPay will unmask them and demand compensation!
DoNotPay Can Help You Bring Any Business to Justice
Should a company refuse to grant you a refund or compensation, our app will help you take them to small claims court! 
We'll help you cancel the service in question to avoid any future charges, and we'll have a chat with their customer service to get info on the denied compensation request. We'll draft the relevant court documents for your jurisdiction and give you instructions on filing them.
More Nifty Features That'll Make Your Day
You may not have breach of privacy issues or reasons to bring someone to court, but you surely have ample motivation to save or earn a few dollars here and there—especially if we catch you unawares!
DoNotPay can show you how to reclaim funds that you didn't know were under your name or make a denied warranty appeal to any company. We streamlined the processes of requesting refunds, college fee waivers, airline flight compensation, parking infraction dismissals, as well as applying to clinical trials that pay!