How To Ace Your Tennessee Driving Test
If you want to drive a car, van, or a small truck in Tennessee, you need to get a Class D driver's license. You will need to pass several tests to obtain it.
The key to getting a license the first time you take the Tennessee driving test is good preparation. DoNotPay is here to help you learn about the driving test requirements. You can use our practice tests to make sure you ace your Tennessee driving test.
What Does the TN Driving Test Involve?
To get a Tennessee driver's license, you need to pass the vision screening, knowledge, and driving skills test. Before obtaining the full driver's license, you need to get a driver's permit first.
Learner's Permit (Class PD License)
Full Driver's License (Class D License)

Be at least 15 years old

Pass the written knowledge test

Have proof of school attendance

Pass the vision screening

Have a certificate that proves you had at least 50 hours of behind-the-wheel driving experience

Pass the road skills test

Have a valid Class PD license for at least 180 days if you are under 18
What Can You Expect at the Written TN Driving Test?
The written knowledge test for the Tennessee driver's license has 30 questions. You need to get 80% of the questions right to pass the exam. The questions are related to the following topics:
Safe driving practices

Intoxicating substances

Road signs and signals

Tennessee traffic laws
All About the Driving Skills Test in Tennessee
During the driving skills test, you should demonstrate that you can drive safely. The examiner will ask you to perform different maneuvers, including passing, signaling, turning, backing up, stopping quickly, and reverse two-point parking.
When you go to the driving skills test in TN, you should be accompanied by a licensed driver who is 21 or older. You also need to make sure your vehicle meets the following requirements:
At least half full tank

Properly inflated tires

No cracks on the windshield

Valid insurance and registration

Working lights, horn, and rearview mirror

Well-functioning driver and passenger doors
You need to make a DMV driving test appointment—you can't just show up without scheduling an appointment first.
How To Prepare for the Driving Test in TN
When getting ready for the Tennessee driving test, you should practice driving with an experienced driver because you will need to perform different tasks on your skills test.
Before you come to the driving skills test, you will need to pass the written one. To get a high score on the knowledge test, you need to familiarize yourself with road rules and signs.
The Tennessee Comprehensive Driver License Manual contains all the topics and details you will need to learn for your written test. Highlighting or underlining the important information as you go over the manual will help you memorize the info better.
You can check how much you learned by taking practice tests. You can find a lot of Tennessee driving practice tests scattered online. Searching for the practice tests can take a lot of your precious time. If you don't want to waste it and want to get the best practice tests all in one place, use DoNotPay!
DoNotPay Offers the Best TN Driver's License Practice Tests
DoNotPay is an AI-powered app that can assist you in your preparation for the Tennessee driving test! We have a bunch of reliable practice tests for you to take. You can complete as many tests as you want until you feel ready for the real deal.
To find Tennessee driving practice tests, do the following:
Log in to DoNotPay in any

Search for the test you want to study for

Select the test you want to complete

State the number of questions you want to have

Start practicing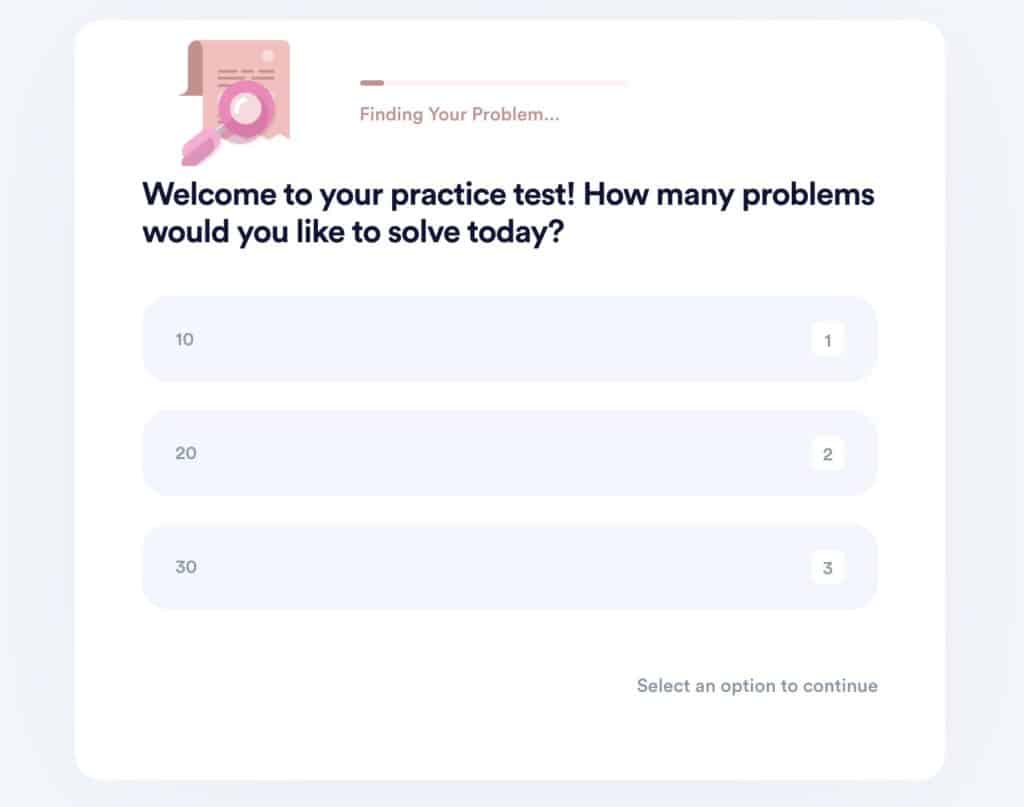 We allow you to choose whether you want to get 10, 20, or 30 questions on the practice test. If you don't get some questions right, you can correct them immediately or after you finish the whole test.
Government Practice Tests Are a Few Clicks Away
DoNotPay can also help you if you are preparing for a Commercial Driver's Licence (CDL) test. We have a great number of Tennessee CDL practice tests that can help you pass with flying colors! If you also need to take the HazMat endorsement test, we are here to offer you help with preparation.
DoNotPay can also assist you in getting ready for other government tests, including:
U.S. Citizenship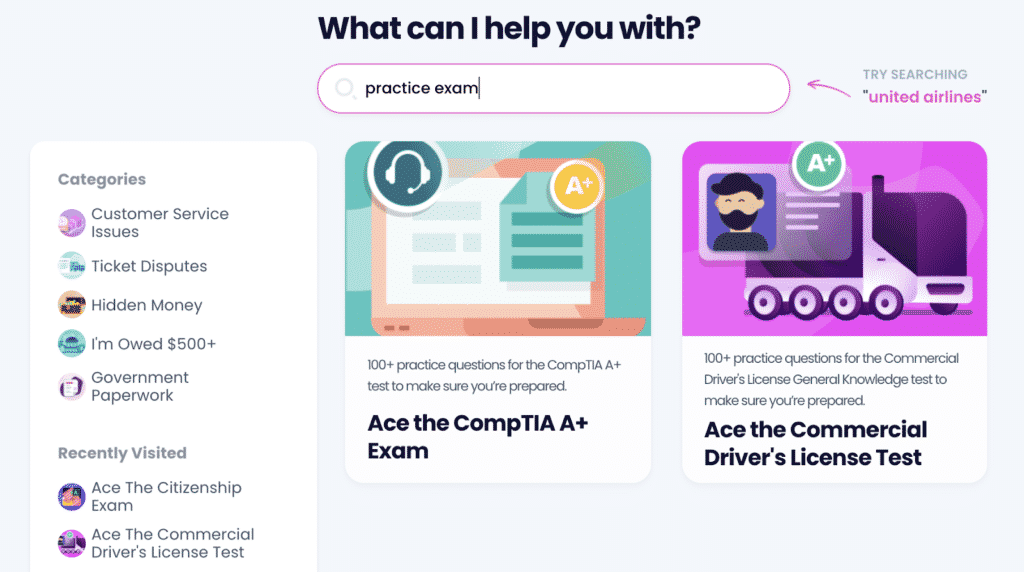 You can also use our app to get more info about ASVAB test scores. Use any to set up your DoNotPay account and find the practice tests you need.
What Else Is Hot About DoNotPay?
DoNotPay does wonders in protecting your online privacy, but it can do so much more for you!
With our assistance, you can claim compensation for canceled or delayed flights, request refunds and chargebacks for unsatisfactory purchases, file warranty claims for defective products, and even overturn unjust parking tickets!
Our app can locate unclaimed funds that exist under your name, the best clinical trials for your needs, and public records that you couldn't identify on your own.
Outsmart Scammers With DoNotPay
Are you troubled every time you think about subscribing to a service because you fear your personal information will leak and your privacy will become invaded?
There's no need to fret anymore as DoNotPay has come up with a way to shield you from hackers, scammers, and identity thieves alike.
Check out how you can use DoNotPay and browse the internet care-free:
Open DoNotPay in your web browser

Locate our

Virtual Credit Card

generator

Use the made-up card number to sign up for any

free trial

Move forward to our

Burner Phone

product

Use the temporary phone number to verify any online account

Enjoy the trial without worrying about

canceling it

—the service will do it on its own
Signing up for services with DoNotPay's hacks frees you from ever falling victim to a serious crime, such as identity theft, and liberates you from the bothersome and never-ending spam calls, texts, and emails that you never explicitly agreed to receive.