How To Ace the Minnesota Driving Test
Do you want to take a driving test in Minnesota? You'd better prepare well if you want to pass it the first time you try!
Before setting up an appointment, you should learn everything about getting a driver's permit or license in Minnesota. Use DoNotPay to find the most comprehensive practice tests, and pass your Minnesota driving test with flying colors.
What Does the
MN Driving Test
Involve?
If you want to get a driver's license in Minnesota, you must pass the:
Vision test

Class D knowledge test

Driving skills test
Minnesota has a Graduated Driver's Licensing System (GDL), which is designed to help inexperienced drivers adjust to the traffic. The system comprises the following:
License Type
Instruction Permit
Provisional License
Full License

Requirements

Be at least 15 years old

Complete a part of classroom instruction

Be enrolled in behind-the-wheel instruction

Pass the vision test

Pass the Class D Knowledge Test

Have your parent or guardian's signature on your application

Be at least 16 years old

Complete both the classroom and behind-the wheel-instruction

Own an Instruction Permit for at least six months

Drive under supervision

Have no alcohol or substance violations

Pass the skills test

Have your parent or guardian's approval for application

Be at least 18 years old

Own a provisional license for at least 12 consecutive months

Commit no alcohol or substance violations
If you are 19 or older, you need to own the instruction permit for at least three months to be able to take the skills test.
The provisional license lasts two years. Holders of this kind of license face nighttime, passenger, and other limitations.
Where Can You Take the
Driving Test in MN
?
You can take the knowledge test at Driver and Vehicle Services (DVS) centers or online. You should schedule an appointment before going to the center. DVS allows you to make an appointment online.
You must bring your identification to the test. If you are younger than 18, your parent, court-appointed guardian, county-appointed foster parent, or the director of the transitional living program should sign your application form.
You can make your driving test checklist to make sure you prepare everything before the exam.
All You Need To Know About the Minnesota Driving Skills Test
When you get to the point of taking the road test in Minnesota, don't fret. Keeping calm will help you focus on the tasks better. Here are some of the tasks you might need to do during the skills test:
Backing

Parallel parking

Highway driving

Railroad crossing

Left and right turns

Stopping at a line and intersections

Turn the radio off or on while driving
You should also have a vehicle that meets the DVS requirements, such as having insurance, a working speedometer, or no cracks on the windshield.
What Is the Minnesota Driving License Knowledge Test?
To get any of the driving licenses in Minnesota, you need to pass the written test. The test checks your knowledge of traffic laws and road signs. You can find 40 multiple-choice and true/false questions on the test. You need to have at least 32 correct answers to pass.
Why Should You Prepare for the Minnesota Driving Test?
If you don't want to risk failing the MN driving test, you need to take some time for preparation. Find the information about the test in the Minnesota Driver's Manual.
You should study the handbook thoroughly—underline the important details and revise. The most important part of your preparation for the Minnesota driving test should be practice tests. You can find a number of practice tests online, but with DoNotPay, you can find all the practice tests you need all in one place.
DoNotPay Gives You the Best Practice for the Minnesota Driving Test
The written test for the Minnesota driver's license is demanding, so make sure you go over as many questions as you can before taking the exam. DoNotPay offers you access to a bunch of practice tests that can help you get a high score on your driving test.
To find the Minnesota driver practice tests, do the following:
Log in to DoNotPay in any

Enter the name of the test you want to take

Choose the test you want to get ready for

Indicate how many questions you want to answer

Start your preparation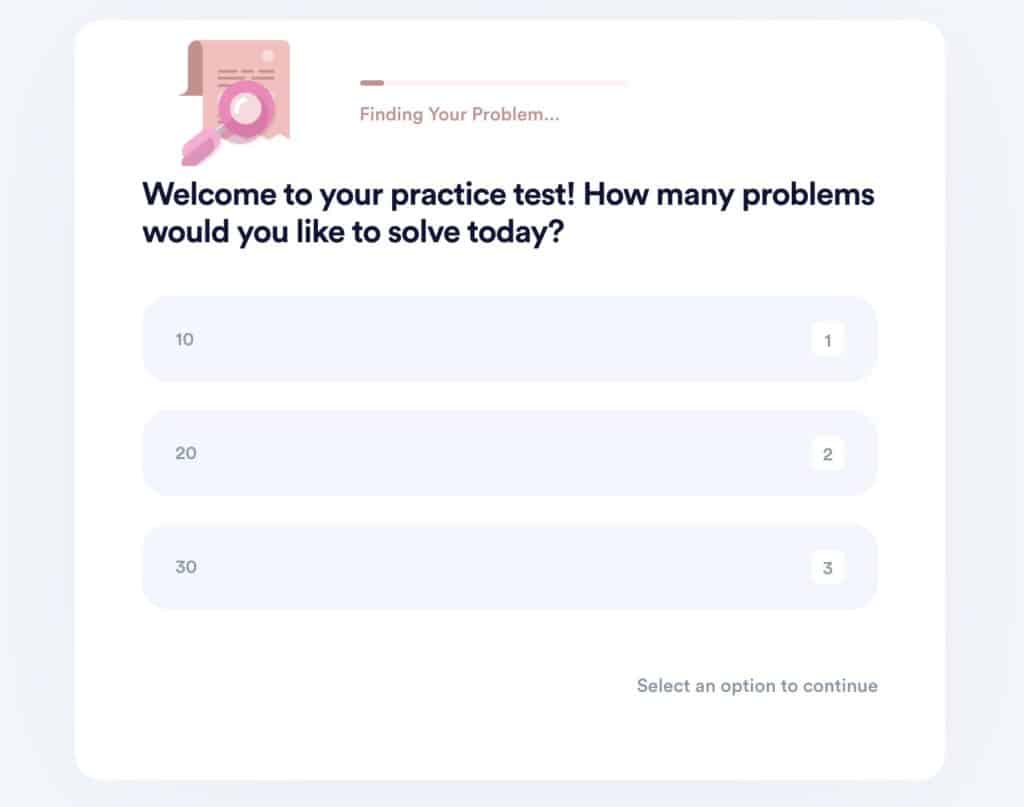 What's best about DoNotPay is that you can do the practice tests as much as you want—there is no limit! You can also choose to correct your answers right after making a mistake. If you want to, you can also do the whole test and check your score in the end.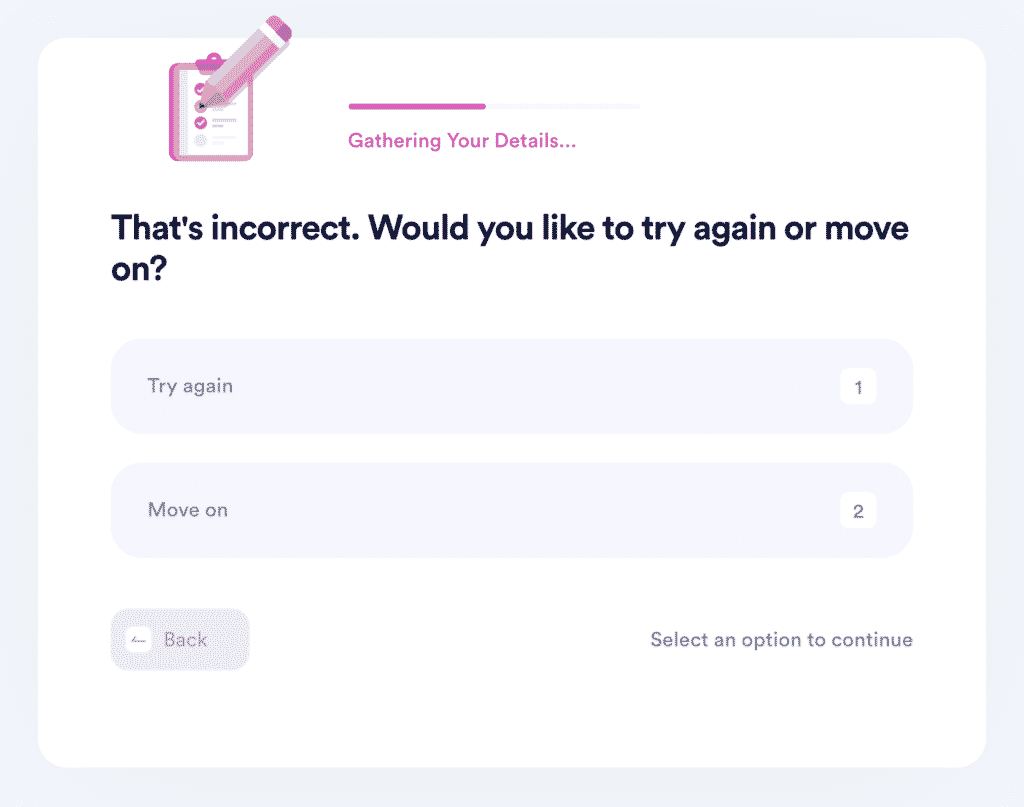 Besides driving tests, you can use DoNotPay to practice for other government tests, including:
U.S. Citizenship Test
You can also use DoNotPay to learn more about the ASVAB test scores.
Set up your DoNotPay account in any and ace your tests!
DoNotPay Helps You Scam Scammers
DoNotPay helps you stay safe from scammers and fraudsters!
We have developed a Virtual Credit Card product that helps you sign up for free trials without revealing your real banking information to any suspicious company. We've joined our most popular feature with a Burner Phone functionality that allows you to verify online accounts with a temporary phone number.
That way, you'll be free to enjoy services while they're free of charge, eliminate the possibility of robocalls, robo texts, and spam emails from the shady companies, and forget about canceling the subscriptions altogether—our product does it for you!
DoNot Pay can even shield you from cyberstalking and online harassment and get you compensation for the crime you've suffered. We'll even help you take individuals or businesses to small claims court by drafting the relevant paperwork for you, accessing any public records that might bolster your case, and supplying you with a court script that you can read to the judge on the day of the hearing.
DoNotPay Is Helping You Out Left and Right
Not only can DoNotPay handle bureaucratic nuisances on your behalf, but we can make your daily life easier too!
No more waiting in endless phone queues to make a warranty claim for a faulty product or wasting the day away in mile-long DMV lines—our app will do the hard work for you! We'll call the reps of any company—even major airlines—and schedule appointments on your behalf in a matter of minutes!