Dispute Los Angeles Parking Tickets From Your Mobile Phone
Money reports that the DoNotPay AI-powered chatbot has already beaten hundreds of thousands of citations for free with an impressively high success rate. 

To fight your citation, here are the steps to follow. 
Users can access the app directly from any

web browser

.

The chatbot will then ask for specific information from you, such as where you received your citation and the kind of infraction. Answer the questions honestly so that the app can generate a script for your situation. 

The chatbot will then ask you to upload a snapshot of your ticket. 

Once it has processed the information you have given, DoNotPay will provide you with a script with the exact language to use for the successful contestation of your fine. 
Watch how to dispute parking tickets in any city:
Is disputing a ticket in the city of Los Angeles
worth the hassle
? 

Yes. Disputing your ticket instead of paying for it is always worth the trouble. And with DoNotPay, you can do it in just two minutes!
As per California vehicle code sections 40215 and 40230, contesting of a Los Angeles parking ticket is a three-step process. 
The first step is to request an initial review. You must do this within 21 calendar days from the date of the issuance of the citation or within 14 days of the first delinquency reminder. You must state in writing the reasons why you feel you were unfairly issued an infraction, and this will be used as the foundation of your appeal. A decision will be rendered at the end of the inquiry, and the result will be sent to you via email. 
If the citation is invalid, then it will be dismissed, and you will have to pay no fines. If it is ascertained to be valid, then you may request an administrative hearing, which you can do anytime within 21 calendar days of the receipt of the initial review email. You are not allowed to request the trial anytime beyond the 21-day allotment. If you are not satisfied with the outcome of this hearing, then you may also appeal to the superior court. 
It sure sounds like a hassle, but do not worry. With the assistance of DoNotPay, it becomes simple. DoNotPay will give you a script to use in your request for the initial review. 
Based on the information in the letter that you gave to the L.A. Department of Transportation (LADOT), they will determine if there is sufficient proof that: 
The violation did not occur.

The registered owner was not the perpetrator.

There are extenuating or fortuitous events in play.
Contesting the infraction is always worth it, especially when there are ways you can beat it, such as with DoNotPay. Use it in your web browser to contest your parking tickets in no time!
How much time can DoNotPay save? I'm swamped.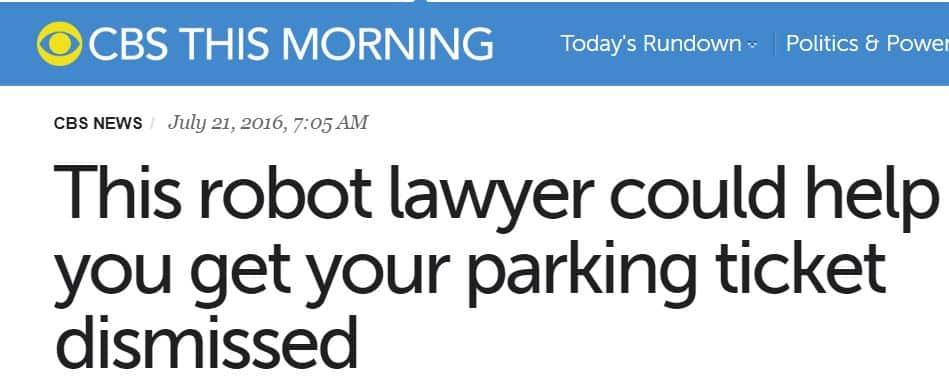 If you would like to take care of everything yourself, contesting your ticket will take a significant amount of time. Collecting documents, drafting a letter, and sending it to the authorities is not exactly a walk in the park. 
DoNotPay will help you fight your citations in the span of only a few minutes, saving you your valuable time. The less-time consuming option is always the more attractive one, and for contesting parking tickets and a range of other services, that option is DoNotPay. Use it in your web browser to contest your parking tickets in no time!
Will DoNotPay help me dispute a parking ticket issued by a private company?
DoNotPay will also help on citations from any private company, including: 
Towne Park

Ace Parking

Laz Parking

Lanier Parking

Douglas Parking

Standard Parking

ABM Parking Services 
Use it in your web browser to contest your parking tickets issued by private companies too!
Do you need a lawyer to dispute L.A. city parking tickets? 

Hiring legal counsel is costly, but fortunately, the city does not require a lawyer to contest a ticket. 
The best option is the DoNotPay app. DoNotPay is the world's first robot lawyer, a chatbot that will help you beat that parking fine. It will provide the script to use in your letter to heighten your chances of getting your infraction dismissed. 
If you want to hire a lawyer, though, then keep an eye out for: 
Experience. Experience is the best teacher, and experienced lawyers generally make fewer costly mistakes because they have learned how to avoid them. 

Expertise. A lawyer in a limited practice has the chance to hone skills that general practice lawyers will be hard-pressed to sharpen. 

Reputation. A lawyer with a reputation for excellence is generally a better candidate. How did he or she get that stellar reputation if he or she were not a stellar lawyer?

Rapport. The client and the lawyer must build a healthy relationship with each other so that they can communicate effectively. 

Compassion. Good lawyers do not see the job only as a money-making scheme. They see it as a clear opportunity to help and care about their clients. 
Use it in your web browser to contest your parking tickets in no time!
I want to pay my fine and get it over with. How can I pay L.A. parking tickets?

Before rushing to pay, try disputing your tickets first. If there is no alternative left but to pay your fine, then here are the different payment methods that Los Angeles makes available. 
Online: you can pay with the LADOT online parking citation payments system through

this link

. Note that there is a $2.00 processing fee per transaction. Visa and Mastercard are accepted.

Through the PayTix app: payments can also be made via the PayTix app. Download it through

this link

.

By Phone: select the credit card option on L.A.'s 24-hour automated voice response system and follow the instructions dictated. Note that it also has a $2.00 convenience fee. 

By mail: pay a ticket through the mail. The Parking Violations Bureau will accept mail payments by check, cashier's check, or money order. Include your citation number on the checks or money orders. Never send cash or credit card payments through the mail. 

In-person: There are four locations in L.A. where you can pay your fines. You can pay with cash, checks, cashier's checks, money orders, debit or credit cards. 
What if I don't pay my LA parking citation?

In the state of California, parking citations are not criminal offenses, meaning you will not be arrested or jailed for failure to pay. 
However, you may incur other repercussions. There are additional fines for late payments. Until the dues are paid, you may not be able to register your vehicle. Accumulating five or more tickets can lead to your car being booted or towed. Your income tax refund could also be withheld, and it can be applied to the payment of your fines. LADOT can even forward your cases to a collection agency, which may affect your credit rating.
Do not let it come to this. Appeal your ticket as soon as possible. Use DoNotPay to appeal quickly and easily. Use it in your web browser to contest your parking tickets issued by private companies too!
Dispute or Pay? 
| | | |
| --- | --- | --- |
| | Dispute  | Pay |
| Ease | Very easy and convenient with DoNotPay | Somewhat convenient when making online payments only, other methods are more tedious |
| Time Consumed | Little to no time, help comes in 120 seconds | Filling out the form online and paying takes a relatively short time. All other methods can take longer |
| Cost | App is free | The amount of the ticket, plus additional fines |
| Effects | There is a huge chance the ticket will be dismissed, and you won't have to spend any money at all. | Your wallet will feel lighter. |
Can my LA fine be reduced?

Appealing your ticket can reduce or completely dismiss the fines you have to pay, even if you were at fault.
If you cannot afford to pay the ticket fines, you can request an Installment Payment Plan (IPP). An IPP is available for those citizens who live, according to the guidelines set forth by the Department of Housing and Urban Development, in a very low-income household. When approved, it allows you to pay in installments over three months (40% for the first, 30% for the second and third installments).
LADOT does not allow for the extension of payments, so pay on time, or you'll face additional fees for overdue payments. 
However, those who request an administrative hearing are required by state law to pay all fines on the citation first. If the hearing officer rules in your favor, then a refund will be granted to you within a month. If you meet the "very-low" income criteria, then you may request a pre-payment waiver.
You can either ask for an appeal by telephone or deliver a form requesting one by mail. 

The prepayment waiver will not cancel your fine 

You will be asked to provide additional detailed income information from all sources and forms of income as part of your pre-payment waiver request. 

If it is approved, hearing without an initial payment will be allowed. You will be notified by mail if the waiver is granted.

If it is denied, the parking fines must be paid. If not paid in due time, then your right to be granted an administrative hearing will be revoked.
Those who would like to pay at the County of Los Angeles offices in person can check out this link.
Don't pay your fines before disputing the ticket first! Use it in your web browser to contest your parking tickets in no time!
Will my driving record be affected by an infraction?
Fortunately, receiving a parking ticket will not affect your driving record. But it can end up on the financial history of the car's registered owner. If citations are not paid at the right time, then there might be severe consequences, as stated above. 
Do I need to pay for a ticket from the city of Los Angeles, even if I'm not from there? 
As a driver, you are expected to follow traffic regulations, no matter where you drive in the United States. Los Angeles parking cops won't accept ignorance of traffic rules just because you hail from a different state as an excuse. 
According to this thread, you should pay the tickets, as state lines do not matter when it comes to credit scores. 
DoNotPay is ideal for disputing parking tickets remotely no matter how far you live from L.A. Use it in your web browser to contest your parking tickets in no time!
I received a citation, but someone or something removed it from my car. What to do? 
The city will send a notification to the address at which the vehicle is registered. It does not matter if you saw a ticket on the windshield or not. There may be various factors at play, such as the wind, acts of God, or foul play. 
Contact LADOT to clarify any misunderstanding. Take care of any ticket as soon as possible so that you don't incur additional fees and extra penalties. 
According to this thread, officials will take into consideration any unusual circumstances and send you a copy of your infraction in any case. As soon as you receive it, deal with the ticket. 
Before deciding to pay, fight the ticket. DoNotPay will help you in your dispute. If you have no options left, then your last resort is to pay the fines through the numerous channels enumerated above. Use it in your web browser to contest your parking tickets in no time!
Will my car insurance go up upon the receipt of a citation? 
Automotive insurance companies, such as Allstate, will not increase their premium rates just because you received a parking ticket. But even if you do, don't be complacent. There are a whole host of other things an unpaid infraction may bring. 
To avoid them, you will need to be diligent in paying your fines or at least disputing them. Once you receive the notice of violation, challenge it if you think you can beat it. If you have no other alternative, then pay the fines through any of the previously outlined methods. 
Use it in your web browser to contest your parking tickets in no time!
Can I still be ticketed even when I'm behind the wheel? 
Being in the car does not matter when it comes to the legality of your parking. Even if you are sitting inside the vehicle, the officer can issue you a ticket. You should always be mindful of signs and regulations and be careful where you park. 
I was driving a rental car in LA. Do I still have to pay off the ticket I receive?
Car rental companies, such as Midway Car Rental, will pay off the infraction and then charge the card you used to book the car. So, yes, you still have to pay off the ticket. You are responsible for the citations you receive, even if you are driving a rental. 
How much does Los Angeles make from parking fines? 
Numbers circulating the internet outline that Los Angeles receives hundreds of millions of dollars from parking fines annually. These fines are an essential form of income for the city and are used to fund some traffic-related services and administrative overhead.
DoNotPay helps users fight and beat tickets in any city
DoNotPay helps users fight parking tickets in every city in the US and UK. Here are a few cities we've helped users dispute the most tickets in:
DoNotPay Keeps Your Info Safe From Scammers!
There are many drawbacks to sharing your private information online, especially when you are not sure whether the website that asks you to do so is a reliable one. To bypass all the risks and play it safe, you can use DoNotPay's virtual credit card generator. Our product helps you protect your identity and bank account from cyber criminals.
The next time suspicious websites ask you to provide your banking information, fire up DoNotPay's generator and feed them the bogus credit card number. Our virtual credit cards are made up of randomly selected numbers, tied to a dedicated temporary email address, and linked to a fake name! They also contain no funds, so you won't have to pay for any service unless you choose to.
The best part is that companies will have no way of telling our card from a legit one, so you're sure to pass their check-ups and avoid being charged for unwanted subscriptions!
What else can DoNotPay do? 
Aside from successfully beating parking infractions, there are other services DoNotPay can help with. DoNotPay app can:
Dispute speed tickets

Contest traffic tickets

Help you get compensation for delayed and canceled flights
Summary of important information
| | |
| --- | --- |
| DoNoPay is a quick, easy, and free alternative to paying parking tickets | After giving accurate information to the chatbot, it will generate a script, which you can use in your disputes in under 120 seconds and free of charge. |
| DoNotPay can help with tickets both from the government and from private companies. | DoNotPay works with any private parking company in the USA. |
| Los Angeles allows installment payments | But only for those who fall under the "very-low" income brackets as set forth by the Department of Housing and Urban Development |
| You are responsible for the fines.  | It doesn't matter whether you were still inside the car, if the slip blew away in the wind, if you do not reside in LA, or you drive a rental. When you receive a ticket, dispute or pay it.  |
| Your car insurance premiums will not rise as a result of a parking ticket.  | But there can be other adverse effects, such as a dent on your credit record.  |
| DoNotPay does not only fight parking penalties | It can help with a whole host of other things, as stated above.  |