All the Details About Notary Tests and How To Ace Them
To become a notary, you will need to follow certain steps, which include taking the notary exam. This test is not mandatory everywhere, but some states require it.
DoNotPay has the information you are looking for regarding the notary test and can help you prepare for it the easiest way!
What Is a Notary Test and Who Can Take It?
People take the notary exam to prove their knowledge of the state-specific notary law. This test will check your knowledge of the guidelines and procedures that were covered in the notary training. Anyone who is looking to become a notary and meets the requirements set by the state will want to practice before taking the exam.
What States Require You To Take a Notary Exam?
Not all states need future notaries to take the exam. If you are interested in this profession, you should know which states fall into this category:
Utah

Oregon

Nebraska

Montana

Maine

Hawaii

Connecticut

Colorado
Why Should You Prepare for the Notary Test?
As is the case with any test, if you want to pass and get good results, you will prepare for it. Bear in mind that these tests are not easy. In the State of New York, 60% of people fail the first time they take the test.
If you don't want to take your chances and fall into the majority, you should get ready for the test properly.
When you know you've covered all your bases, you will be calmer—and calm nerves bring better results.
How Can You Prepare for the Notary Exam?
The most important step in acing the notary exam is to have a good study plan. If you plan your activities on time, you will be adequately prepared and pass the test with flying colors. You can do a few things to boost your chances of passing the notary exam.
The first useful tip is to find and use a law glossary that can help you understand complex and confusing legal terms that you can come across in the exam. This tactic will ensure that you understand what you are studying, which makes it easier to memorize the material.
Read through the Notary Public Exam Handbook for your state as many times as you can. This handbook covers:
All aspects of becoming a public notary

The laws that must be followed

The duties of a public notary
Take notes, highlight the problematic parts, and write down difficult terms.
Once you're done with this part, you should check your knowledge. The best way to do so is with practice tests. You can find numerous such tests online, but if you want to ensure the best results, choose DoNotPay.
DoNotPay Can Help You Practice for a Notary Exam
DoNotPay can help you ace a notary exam no matter what state you live in. With our practice tests, you will cover all the key information and go to the test fully prepared. This procedure is as simple as it gets, and you will only have to take these steps:
Access DoNotPay from your

Type in the name of the test

Select the test you wish to get ready for

Choose the number of questions you want per test—10, 20, or 30

Begin completing your test
You can redo incorrect questions immediately or wait until you see your score and retake it.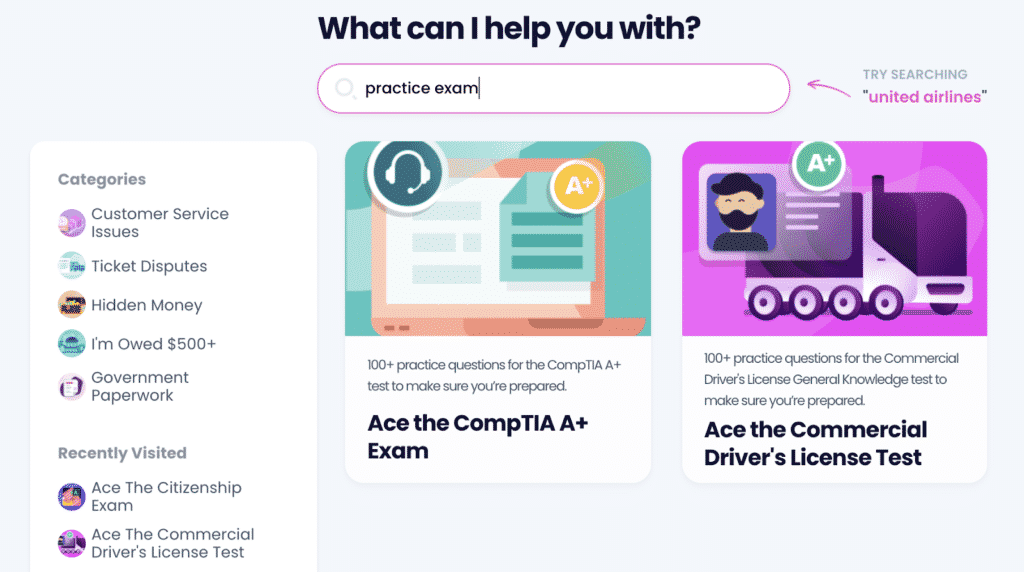 You will be completely prepared for the notary exam since our practice tests contain all the relevant questions you need to know the answers to.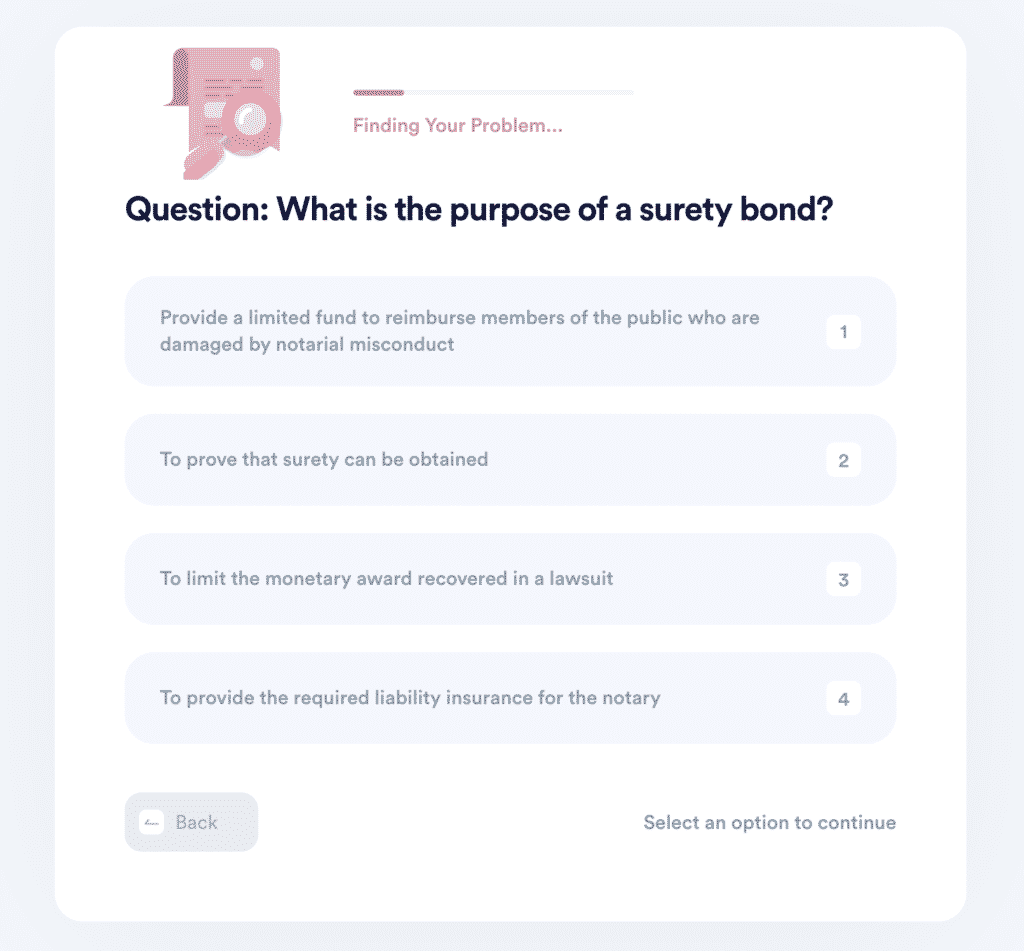 Other Government Tests DoNotPay Can Help You Pass
Notary exam might be your priority, but in case you're considering getting an additional certificate or acquiring your driver's license, DoNotPay has got you covered.
Your virtual assistant can help you with a number of other government-issued tests. If you use our app to practice for any of the listed tests, you won't have to worry when taking the real exam.
DoNotPay can even tell you how to check your ASVAB test scores.
In case you want to become a driver, you can also use our app to practice for:
We also know everything about passing the written driving test and making an appointment with the DMV.
Where Else Can You Take the Notary Public Practice Exam?
You can find several platforms to take practice tests for the notary exam on the internet. Here are some of your options:
Even though these websites offer free tests, they all have a poor choice of exam variations. You will only be able to go through a few simulations, which will not provide you with enough knowledge. If you want to have numerous practice tests and get ready properly, you should use DoNotPay!
How To Schedule Your Notary Exam
The most common methods of scheduling notary exams are online and via email. Most states go with one of these two paths. You will see the examples for two states below:
Online (California)
Email (New York)

Check out the

Exam Schedule

timeline

Click on

Register for Notary Examination

Log in

to your account or create a new one

Follow other instructions

Write

Schedule Notary Public Exam

as a subject line

Include your full name, address, and phone number

Enter the exam site and date that suits you

Send the email to

exams@dos.ny.gov
What Else Can DoNotPay Do To Help You With Everyday Tasks?
DoNotPay is also known as the world's first robot lawyer and was recognized by the American Bar Association's Louis M. Brown Award for Legal Access. You can count on our assistance with various legal tasks. Perhaps you want to know if you can sue someone for harassment or how to fight legal harassment by an ex-spouse? We can answer that and numerous other similar questions.
Let us tell you what constitutes a harassment charge and use our advice on filing a restraining order.
In case you are having trouble dealing with a company, you might need to take things a step further and sue them in small claims court. We will be there for you every step of the way.
If you want to see all the other neat features in DoNotPay's offer, open our app in any . Let us help you with:
Fighting speeding tickets

Fighting traffic tickets