How To Pass the Written Driving Test Without a Headache
Taking the written driving test is challenging because you don't know what to expect.
Don't fear, as DoNotPay shows you how to pass the written driving test. You will feel confident on the day of the test if you take our DMV practice test.
Before you apply, you should review a driving test checklist. Our app helps you ace various government exams from the U.S. Citizenship, Postal, Notary to CompTIA, CDL, HAZMAT, ASVAB, or CCAT. You can also check out the ASVAB test scores with DoNotPay.
Preparation for the Driving License Test
The written driving test, also known as the driving (learner's) permit test, is based on the driver handbook of your state of residency. As the manual will be the basis of your study, you need to get your hands on it as soon as possible.
In most cases, you can download it from the Department of Motor Vehicles (DMV) website. If it isn't available online, contact the DMV and ask if you can collect it or get it by mail or email. 
The handbook contains the rules and street signs you must get familiar with to pass the test and drive a car safely one day. 
The driving license exam is a multiple-choice test. As some questions and answers may be worded differently from the handbook, you shouldn't only memorize the rules but also understand them. 
Can You Take the Written Driving Test Online?
In some states, such as Florida, you can take the driving permit test online. If you are under 18, a parent usually needs to be with you during the test.
Most U.S. states require you to visit a DMV center to take a written driving test. To take the test at a DMV office, you need to:
Schedule an appointment

online

Provide the required documents

Present the payment receipt or money for the test fee 
You can find the list of the necessary documentation on the website of your state's DMV. 
How Much Does the Written Driving Test Cost?
The cost of the Driving permit test depends on the state. While Alabama charges $5 and D.C. $10, other states can have higher fees. To find out how much the fee is in your state, check your local DMV's website.
Driving Permit Test Questions and Answers
The questions on the written driving test are taken from your state's driver handbook. These might include:
Traffic rules

Road signs

Driving laws

Special driving situations 
Some specific situations may be connected to severe weather conditions or driving through special (e.g., school) zones. 
The purpose of the driving license written test is to confirm you've acquired enough knowledge to sit behind the wheel without endangering yourself or anyone else on the road. 
You should get familiar with the driving test specifics of your state. DoNotPay provides information on the written driving test in Florida, California, New Jersey, Georgia, North Carolina, Kentucky, Nebraska, and many more.
How Many Questions Are on the Driving Test?
The number of questions on the driving test varies from state to state. Some U.S. states' tests have 20 multiple-choice questions, the others 30, 40, or more. You typically need to score 80% to pass. 
The time you get to complete the test is from 20 minutes to an hour or longer. You should check the rules your state applies to know what to expect.
To get a better picture, here's a list for some U.S. states:
| | | |
| --- | --- | --- |
| State | Number of Questions | Passing Score |
| Arizona | 30 | 80% |
| California | 46 | 83% |
| District of Columbia | 25 | 75% |
| Florida | 50 | 80% |
| Illinois | 35 | 80% |
| Massachusetts | 25 | 72% |
| New Jersey | 50 | 80% |
| New York | 20 | 70% |
| Washington | 40 | 80% |
Is the Written Driving Test Hard?
Even though you can find all the answers in the handbook, there's a lot of information to cover. You'll need to go through the handbook a few times, and while studying, you should practice as much as possible.  
The test differs from state to state. A study conducted by Siegfried & Jensen found Washington as the state with the most demanding driving test. 
As we understand how daunting it can be to digest all those unfamiliar rules, DoNotPay has designed state-based practice tests you can use in the learning process. We offer you an efficient way to check how much knowledge you've acquired. 
Should you encounter difficulty in some areas, check the driver handbook and revise. 
Take DoNotPay's Practice Test To Pass the Written Driving Test With Flying Colors
DoNotPay is your reliable source for much-needed practice tests. Don't cram—try to find some logic in all the traffic and safety rules.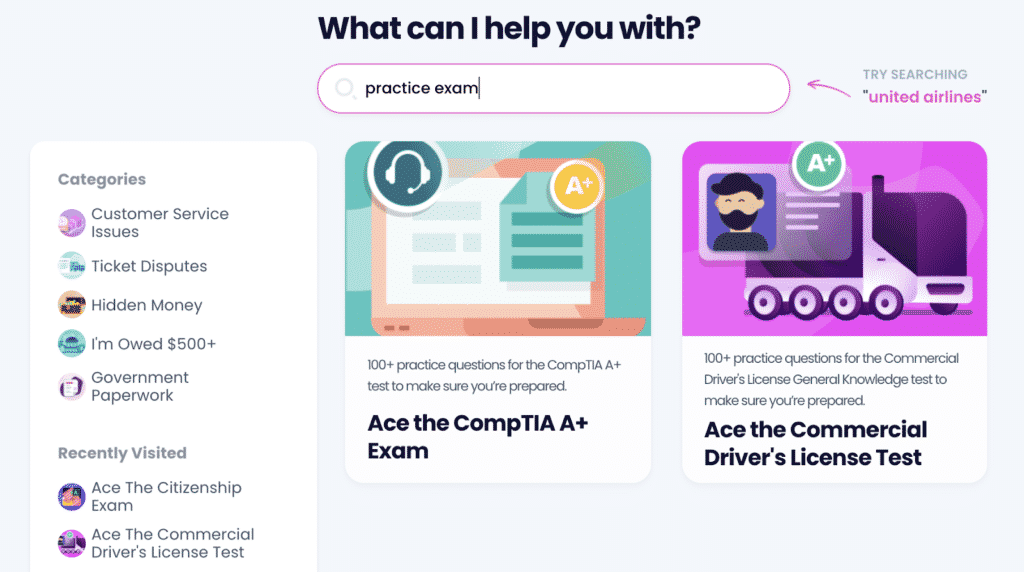 You can check how much you've actually learned by following these steps:
Open DoNotPay in your

web browser

Pick the practice test by typing in

Driving Test

Choose your state's practice test

Indicate the length of the test you'd like to do—10, 20, or 30 questions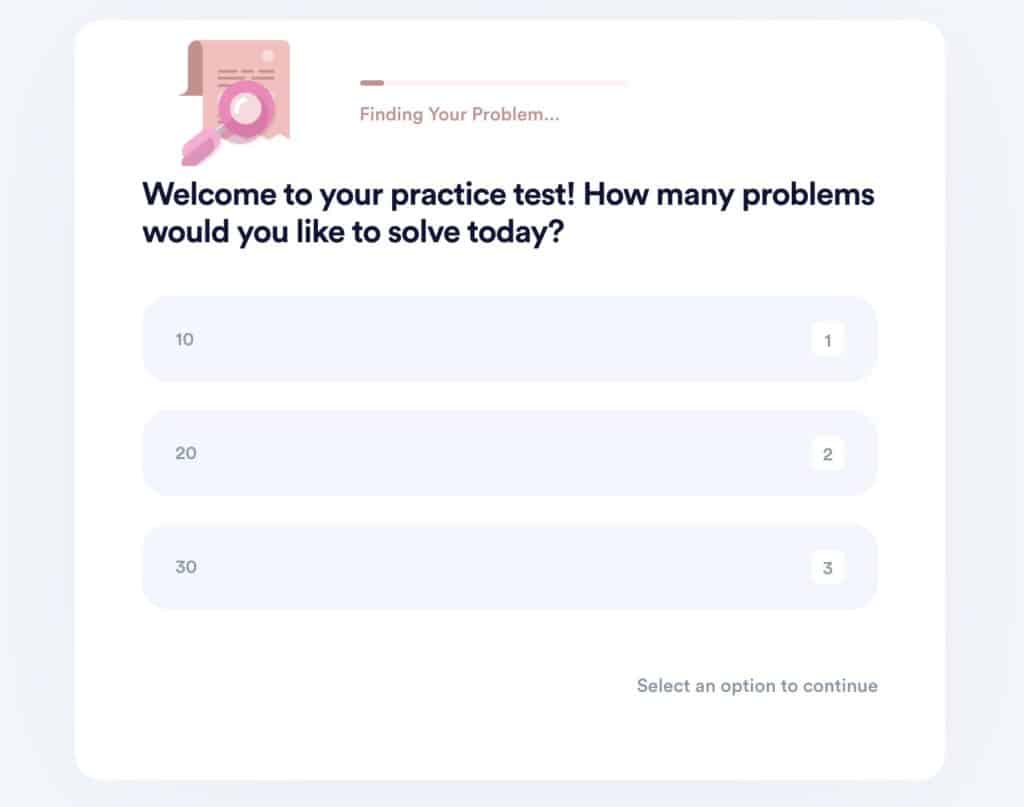 Don't forget to keep the driving handbook close by in case you need to refresh your memory. You can go through each question or the whole test as many times as you have to. Use our practice tests to learn from your mistakes and ace your written driving test!
How Else Can DoNotPay Help You Find and Save Cash
Our Missing Money feature helps you find any unclaimed assets in your name in any state. An additional perk is that you can claim your money right in the app—no need for further research!
We can also make sure you don't pay for any unfair parking citations and get the rightful compensation from airlines for any canceled or delayed flight. 
Don't let big companies scare you into not claiming your warranties or insurance. DoNotPay helps you file these claims and appeal any rejections in minutes, which brings you closer to getting your money.
We can also delay your bill payments, get your college fees waived, or sign you up for paid clinical trials to earn some extra cash!
DoNotPay Keeps the Spammers Away
Whether you're dealing with email spam, text scammers, robocalls, or severe harassment, DoNotPay can help. 
Use our virtual credit card or the Burner Phone feature to sign up for free trials safely—without revealing your real info. DoNotPay will make sure that no company can reach you when you use our tools. 
We provide a fake email address, credit card info, and phone number that are in no way connected to your real data. 
We can also help you cancel services or request a refund without you having to contact the company directly.