Prepare for Your Exam With the Nebraska CDL Practice Test
If you are a Nebraska citizen who wants to get a commercial vehicle driver's license, the Nebraska CDL practice test is your golden ticket to achieving that goal! There are steps to take to make sure you'll successfully pass your Nebraska CDL test, and we'll break down each of them in this article.
Understanding and Preparing for the Nebraska CDL Test
To find the best preparation methods for your Nebraska CDL test, you will first have to understand what a CDL test is and what it entails.
The written knowledge test for Nebraska consists of multiple-choice questions that come from the

Nebraska Driver's Manual

You'll need to answer 40 out of 50 questions correctly to pass

Passing the written test is mandatory if you are applying for a permit and have not completed an approved driver safety course

Questions on the written test cover everything from road signs to speed limits and seatbelt laws
To prepare for your Nebraska CDL test, make sure to hit the books and use any information and study guide you can find online! You can also find a tutor to help you study if doing it yourself is causing unnecessary stress.
Remember that practice tests are the best option to prepare for any exam! Find them online, or take advantage of DoNotPay's numerous features to take practice tests with ease!
Prepare for Your Exam With DoNotPay's Nebraska CDL Practice Test
DoNotPay provides you with the CDL practice test to show you what the real exam will look like! Take as many practice tests as must until you feel confident and prepared for your Nebraska CDL test.
Access DoNotPay from your and follow the next three steps:
Search for the test you want to practice

Pick how many questions you want (10, 20, or 30)

Start practicing!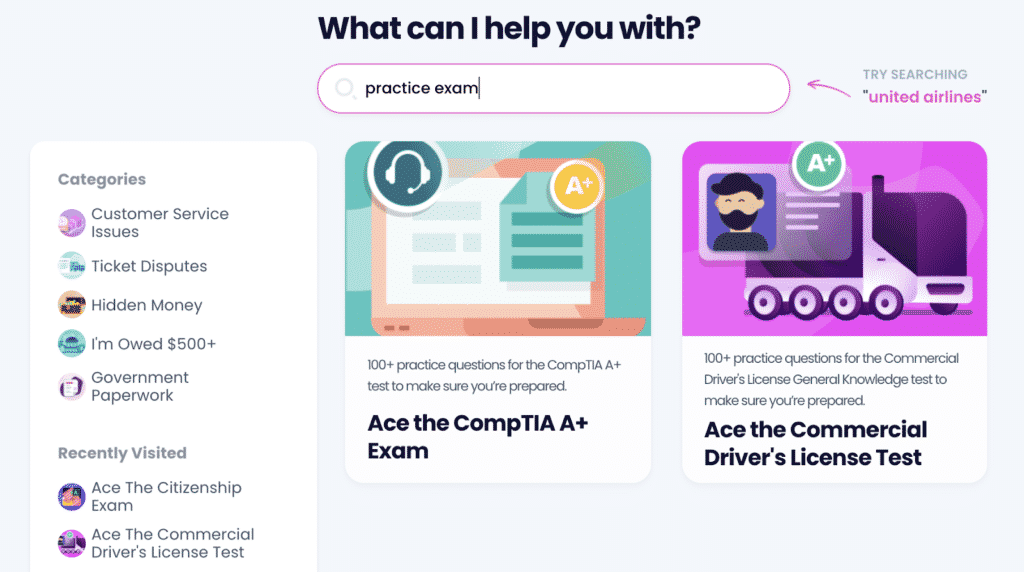 Commercial Driver's License (CDL) General Knowledge Test is not the only one we can prepare you for! DoNotPay offers the following:
We are happy to help you prepare for the North Carolina, Alabama, Minnesota, Indiana, Montana, Wisconsin, Kansas, Iowa, and Utah CDL tests as well!
Passing your written driving test, making a DMV test appointment, and checking your ASVAB test scores or the driving test checklist has never been easier!
General Information About CDL and CLP Permits
If you are applying for Commercial Learner's Permits (CLPs) and Commercial Driver's Licenses (CDLs), you must enclose proof of U.S. citizenship or lawful status.
When applying for a CLP or CDL, you will be required to certify to the DMV what type of operation you engage in. If you are certifying as Category A: Interstate–Non-Excepted, you must provide the Department of Motor Vehicles (DMV) with a copy of your medical examiner's certificate and keep it up to date with the DMV.
To take skills tests for a CDL, you will need to have a CLP and hold it for two weeks before taking your CDL exam.
In case your CLP expires, and you fail any of the three segments (pre-trip vehicle inspection, basic controls skills, and road test) of the skills test, none of the skill tests that you already passed will be valid, and you will need to take all of the tests again.
CDLs have a class, endorsements, and restrictions. As a condition of issuing you a CLP, you will first have to pass all the applicable written tests.
The age requirement for obtaining a CDL Class A, B, or C are:
21 years old (interstate)

18 years old (intrastate)
The Nebraska CDL Test Fees
The Nebraska CDL test comes with a fee, as all other government tests do. To know precisely how much money you are going to need for your application, check out the table below. It contains all the fees you can encounter when applying for your Nebraska CDL.
| | |
| --- | --- |
| Document | Fee |
| Valid for five years | $59.50 |
| Valid for more than three years but less than four years | $48.50 |
| Valid for more than two years but less than three years | $37.50 |
| Valid for more than one year but less than two years | $26.50 |
| Valid for one year or less | $15.50 |
If you are interested in the fees for bioptic or telescopic lens restriction, you can find all the info in this table:
| | |
| --- | --- |
| Bioptic or telescopic lens restriction | Fee |
| Valid for more than one year but less than two years | $26.50 |
| Valid for one year or less | $15.50 |
| Replacement | $15.50 |
| Change of class, endorsement, or restriction | $14.50 |
Can't Afford a Lawyer? DoNotPay Will Jump In!
Did you know that you don't have to waste money on expensive legal help just to get rid of some minor bureaucratic issues? DoNotPay is here to save you hundreds of dollars with ready-to-use solutions that require mere minutes.
Our AI-powered bots gather the most important information via short questionnaires, draft required legal documents, and provide you with online fax services. If you need specific public records to support your case, we'll point you in the right direction.
With our virtual lawyer's help, you will be able to:
Spend Your Time on More Enjoyable Activities
With DoNotPay's help, you're bound to have more free time. If you're considering a new streaming platform subscription, make use of its free trial without worrying about unwanted charges. Need to get rid of other subscriptions? Use DoNotPay to cancel them without contacting customer support centers.
Don't worry about phone number identification at the signup. With our Burner Phone feature, spam text messages won't be bothering you ever again!