A Detailed Guide to Taking an MVA Practice Test
The Motor Vehicle Administration (MVA) exam is a written test required for every citizen of Maryland who wants to get a driver's license. It's a basic theory check for drivers that includes questions on:
Safety measures

Road and traffic rules

Traffic and roadside sign knowledge
If you are planning to take this test, this article will show you how to improve your knowledge and prepare for the exam hassle-free with a bunch of DMV practice tests.
Why Should You Prepare for a Maryland MVA Driving Test?
Getting ready for your MVA test is of utmost importance if you want to get your driver's license as soon as possible. The more you study, the better your chances of passing the exam at the first attempt.
Questions can be tricky, especially for people who don't pay enough attention to details. Learning materials help you understand the difficult parts and avoid making unnecessary mistakes.
Another reason for studying more is that you will feel more confident when the exam date comes. Knowing that you did your best to prepare for the test will bring you peace of mind.
How To Prepare for an MVA Driving Test
There are several ways you can prepare for your MVA test—you can check them out in the table below:
| | |
| --- | --- |
| Method | Explanation |
| Learning from Maryland's official driving manual | This document includes all road rules, essential theory lessons, and requirements for getting a license |
| Studying from a handbook | MVA can provide you with a handbook you can use for studying. If you read it and extract the most important parts, you will make your learning process much easier |
| Making notes | You can gather crucial information from all resources and write your notes. By using this method, it's possible to rephrase the complicated parts and learn them more easily |
| Getting a tutor | A high-rated professional can help you get familiar with exam forms and clarify the parts you don't understand. The disadvantage of this method is the price, as tutors usually charge a lot |
| Taking practice tests | Many websites have prep test bases you can use to exercise for your upcoming exam. You can search based on desired test type, difficulty level, or number of questions |
Where Can You Take MVA Practice Tests?
The internet is full of platforms where you can find various MVA prep tests. Some of them are:
Despite their accessibility, not all of the listed websites let you practice for free. Certain platforms require users to get premium memberships before downloading and doing the tests. Websites that offer free examples usually have only a couple of available exam simulations, which isn't enough for checking your knowledge.
If you're looking for the most extensive test base, you can use DoNotPay and get access to numerous test examples.
How To Take a Maryland MVA Practice Test With DoNotPay
DoNotPay has launched a great exam prep base that helps you prepare for the real MVA driver test. You don't need to search for tests on the internet—all of them are accessible from our app!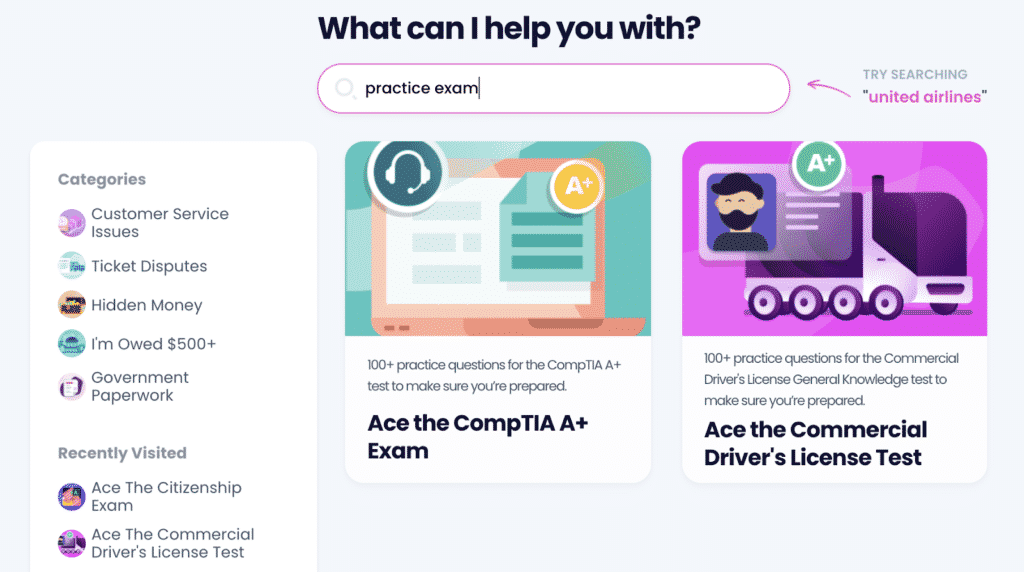 To practice for your MVA test on our platform, follow these instructions:
Log in to DoNotPay using your

Type

U.S. Driving Test

in the search box and pick the prep test you want to take

Set the number of questions—10, 20, or 30

Start the test
Our system enables you to retake the test as many times as you wish. You can choose to correct the wrong answers right away or when you get your score.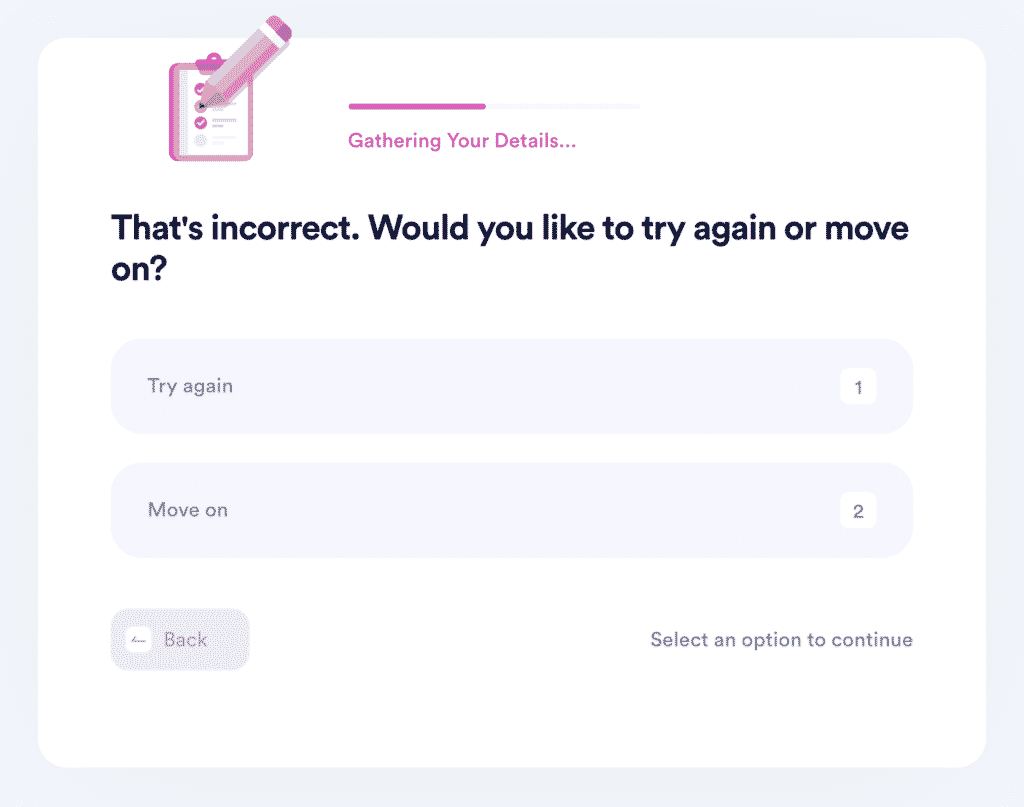 DoNotPay covers commercial and non-commercial driver's license prep tests. Our app helps you exercise for many other tests, such as:
We also share tips for passing your written driving test with flying colors and getting the best scores on your ASVAB test.
How To Schedule a Real MVA Driving Test
The Maryland Motor Vehicle Administration proposes two ways of scheduling an MVA test. You can do it via:
Phone

The official MVA website
Scheduling an MVA Driving Test via Phone
You can set your MVA appointment by contacting the organization's customer service. Here's how you should proceed:
Call

(410) 768-7000

Wait to hear the prompt to press #7

Press #2 to get in touch with the representative

Let them know you wish to arrange your MVA test appointment
Scheduling an MVA Driving Test via the Official Website
Another method you can use is arranging your driver's test online. To schedule an appointment on the official MVA website, proceed as follows:
Go to the

MVA Central Scheduling System page

Choose

Driver's Skill Test

Read the instructions and check the box to confirm you have understood them

Complete the form with the required details and submit it
Whichever option you choose, you will receive a validation code. You need to enter it in the required field on the Manage Scheduled Appointments tab to confirm your appointment. Once you complete this step, all you need to do is wait for the exam date to come.
What To Expect During the Real MVA Test
What does a real MVA test look like? There's a set of exam rules and requirements you need to comply with. Here are the most important ones:
Taking the test is free of charge

You need an 88% score to pass the exam

The time limit for completing the test is 20 minutes

All passing scores you achieve will remain valid for six months

If you fail the exam, you can retake it the next business day. In case your second attempt fails too, you need to wait for a week to take the test again

Using your mobile phone or any other electronic device during the exam is strictly prohibited. If you fail to meet this requirement, you may get disqualified
What Else Can DoNotPay Do?
DoNotPay can help you tick off all items from your driving test checklist, including a DMV driving test appointment.
Do you need a driving license renewal? Open our learning base in any and read our guides for the renewal procedures in Texas, Nevada, Arizona, Michigan, California, or any other U.S. state.
New drivers are prone to receiving parking fines more often than experienced ones. Check out our guides for disputing parking fines in Baltimore and other cities in Maryland in no time! If there are any problems with your vehicle, get some valuable advice on claiming car warranties hassle-free.
We have much more in store—check out our useful tips and tricks for:
Appealing traffic tickets

Fighting speeding tickets