South Carolina Driving Test From A to Z
Be it a commercial driver's license or a beginner one, obtaining such a document brings a huge responsibility. The learning process and exam may seem easy, but many people fail because they don't take the preparation seriously.
If you are a citizen of South Carolina and thinking about taking a DMV test, this guide will teach you all about it. Besides explaining the general regulations, we will also reveal a secret to finding the best practice tests and preparing for your exam with zero stress.
What Does the South Carolina Driving Test Consist Of?
Every applicant who wants to obtain a driver's license in South Carolina needs to go through three stages:
Knowledge test

—a written exam that checks traffic laws knowledge in the state and the essentials of driving theory. It consists of 30 questions, and you need to answer 24—or 80%—of them correctly to pass

Vision test

—an exam that serves for detecting potential vision problems that may bring your ability to drive into question

Road test

—a practical part of the driving test that demonstrates the ability to operate a vehicle properly according to all rules
The candidates for Beginner Driver's License need to submit their birth certificate, Social Security number, and proof of South Carolina residency.
In case you're applying for a regular driver's license, you may also need insurance information. Your vehicle needs to go through a detailed assessment, which includes checking up on:
Doors

Lighting

Dashboard

Windshield condition

Speedometer condition

Key safety requirements

Registration status/sticker
Once the examiners confirm that your car meets all South Carolina vehicle standards, you can start preparing for the next phase.
How To Schedule Your SC Driving Permit Test
Candidates need to set an appointment with the South Carolina Department of Motor Vehicles (SCDMV) to determine the test date. There are two ways to schedule a road test or written driving test in South Carolina:
In person

Online
Scheduling a Driving Test in Person
To set a driving test appointment in person, proceed as follows:
Navigate to the

official SCDMV website

Click on the

Driver Services

and select

Driving Tests

from the drop-down menu

Pick

Find an SCDMV Branch

Find the nearest office, visit it, and tell the staff you want to set an appointment

Provide them with all the required documents and your contact details
Scheduling a Driving Test Online
Online scheduling is less time-consuming than waiting in lines at SCDMV branches. If you want to use this method, follow these instructions:
Go to the official SCDMV website

Click on the

Driver Services

and select

Driving Tests

from the drop-down menu

Pick

Schedule Road Test

or

Schedule Knowledge Test

Select the desired SCDMV branch where you want your appointment to take place

Pick the appointment date and time

Follow the rest of the steps to finalize the process
South Carolina DMV Test Rules and Regulations
When the exam date comes, there are certain rules and restrictions you need to have in mind. The SC DMV doesn't allow you to:
Talk to other candidates during the knowledge test

Use manuals or solved practice tests during the exam

Be late—the administrators keep the right to reschedule your appointment in such cases
Bring cell phones, hand-held devices, or any other type of aid you could use during the test
Note that breaking any of these rules can automatically disqualify and ban you from taking the driving test for a certain period.
In case you fail the knowledge test, you can retake it after two weeks, but if this attempt fails too, you need to wait for 60 days to try again. Failing a road test means letting the examiner decide when they will allow you to retake the exam.
Ways To Prepare for Your SC DMV Driving Test
Below is the table that shows the most effective ways of studying for the South Carolina driving test and their perks:
Method
Benefits

Learning from the official SCDMV driver's manual

Verified document

Available online for downloading

Comprehensive guide for learning driving essentials

Doing practice tests

Accessible on many platforms

Similar form as the real driving test

Numerous question combinations

Working with tutor

Expert help

Personalized studying plan

Practical advice on passing the driving test more easily
How To Find Practice Tests for South Carolina Driving Test on Your Own
You can find examples of South Carolina driving exams on various online platforms. Besides the official SC DMV website, they are also available on the following portals:
Combining the driver's manual and relevant practice tests is the right match for most candidates. In case you prefer to have all your test examples in one place, DoNotPay is the right app for you.
Find the Best Practice Test Collection on DoNotPay
Forget about never-ending scrolling and browsing—DoNotPay is here to spare you the trouble. Our app features the best practice test compilation for DMV exams in all U.S. states. You can access countless test prep examples in only a few clicks, without searching for hours.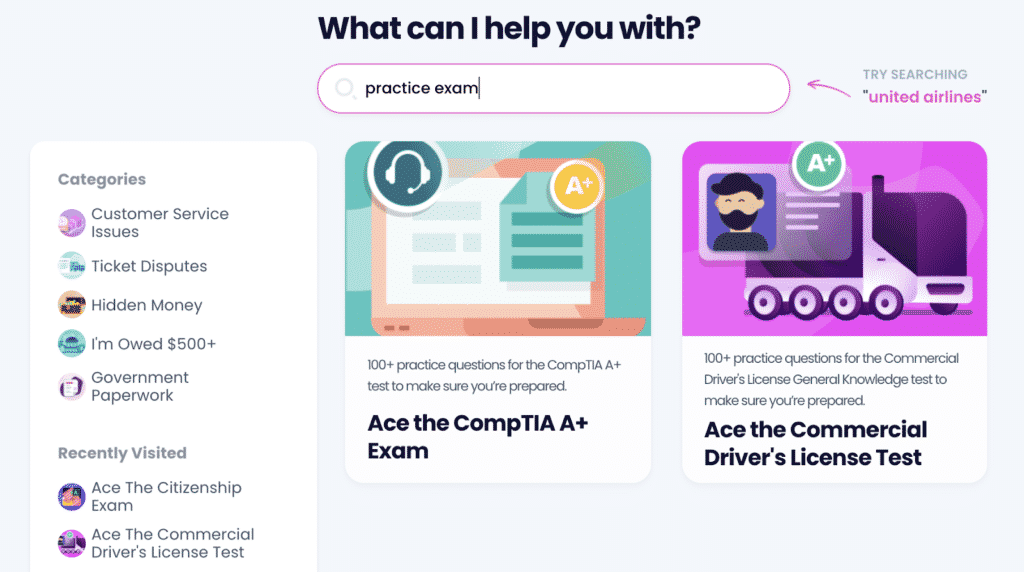 All you need to do is visit DoNotPay in your and:
Enter the desired test type—in this case,

South Carolina DMV test

Set the preferred number of questions per test

Start answering the questions
Depending on your preferences, you can correct the wrong answers on the spot or wait for the test to end. The more combinations you run through, the better—and you can retake any of our tests as many times as you want!
We also have a bunch of handy test examples for other certification exams, such as:
The U.S. Citizenship Test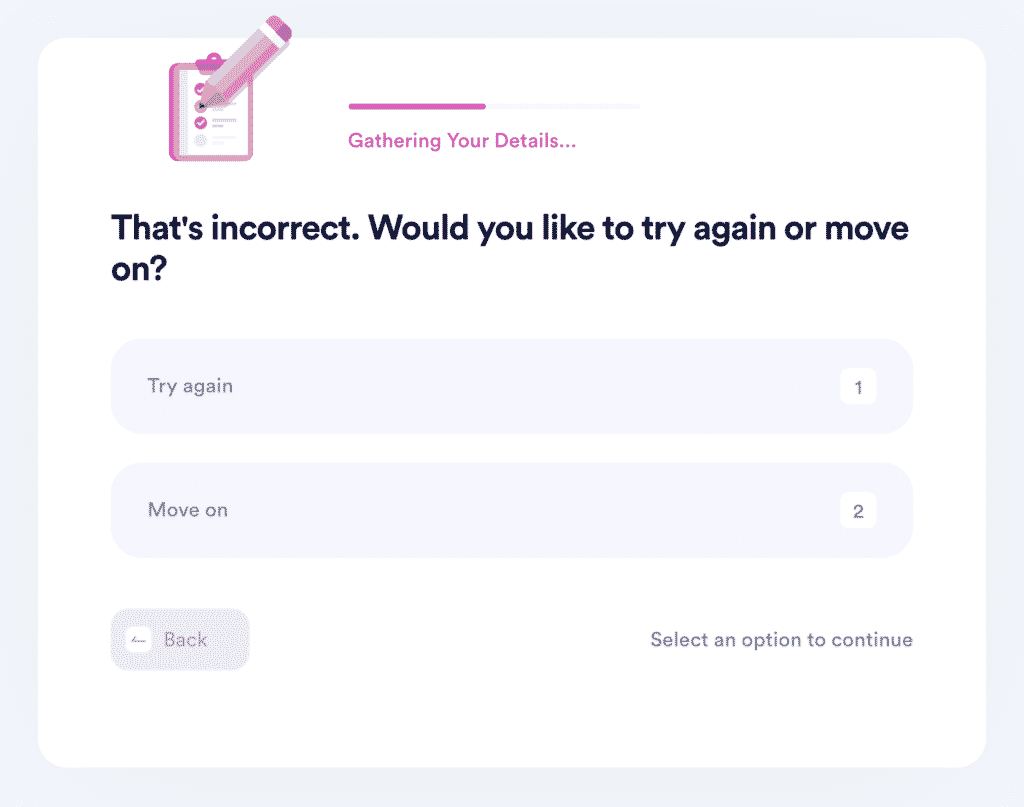 What Other Services Does DoNotPay Offer?
Besides assisting you in passing South Carolina driving tests, we can also help you ace DMV tests in Idaho, Arizona, Oklahoma, Arkansas, Nebraska, or California!
Get some great advice on scheduling a DMV test appointment, sweeping through your written driving test, and rocking all other items on your driving test checklist! Learning about ASVAB scores and the best ways to pass the ASVAB test has never been easier, thanks to our knowledge base.
We have many more interesting features for you. Access our platform from your for more non-driving related tips, including the ones for:
Contesting speeding citations in no time

Overturning traffic tickets