Taking a CompTIA A+ Practice Test Helps You Nail the Real One
If you're planning on working in the IT industry, getting CompTIA A+ certified is the perfect stepping stone. The key to passing the CompTIA A+ tests and obtaining the certification is being prepared. DoNotPay will help you on your prep journey by answering all your CompTIA A+ questions and providing the best practice tests.
What Is a CompTIA A+ Certification?
By passing CompTIA A+ tests, you'll be able to jump-start your career as a help desk tech, technical support specialist, associate network engineer, etc.
A CompTIA+ certification is proof of your knowledge and skillset in the following areas:
Security

Hardware

Networking

Mobile devices

Operating systems

Operational procedures

Software troubleshooting

Virtualization & cloud computing

Hardware & network troubleshooting
What Does the CompTIA A+ Exam Consist Of?
The CompTIA A+ certification exam includes two tests—Core 1 (220-1001) and Core 2 (220-1002). You have to pass both tests to earn the CompTIA A+ certification. It will set you back $226 per test.
Each test has up to 90 questions and lasts 90 minutes. You can expect multiple-choice, drag and drop, and performance-based questions.
CompTIA A+ Core 1 (220-1001) Test
To pass the Core 1 (220-1001) test, you should score 675 on a scale of 100 to 900.
The test includes questions about:
Hardware

Virtualization

Mobile devices

Cloud computing

Networking technology

Network troubleshooting
CompTIA A+ Core 2 (220-1002) Test
You need to have 700 points on a scale of 100 to 900 to pass the Core 2 test. You can expect the following topics to be on the test:
Expanded security

Operational procedures

Software troubleshooting

Installing and configuring operating systems
How Can I Prepare for the CompTIA A+ Tests?
Preparing for the CompTIA A+ tests depends on your previous knowledge and experience. CompTIA suggests 9 to 12 months of experience in the lab or field before taking the tests, but it's not mandatory.
Here are a few ways you can get ready for your CompTIA A+ exams:
Method
Key Details

An overview of all IT areas that the exam covers

You can download the

exam objectives

Practice tests

Sample questions to test your knowledge before the actual exam

DoNotPay practice tests

Books to facilitate your exam prep

Print and digital form available

Browser-based virtual labs

Scenarios based on real workplace tasks and problems

Courses
Take CompTIA A+ Certification Practice Tests Using DoNotPay
The DoNotPay app is the most convenient way of getting familiar with the CompTIA A+ subject matter through practice tests. Our Government Test Prep feature lets you choose the preferred test length—10, 20, or 30 questions—so that you can practice at your own pace.
Here's how to find our practice tests:
Access DoNotPay from a

web browser

Type in

CompTIA A+

Choose the practice test length

Start practicing
Feel free to take the test as many times as you want. You may retry answering a question right away or retake the test once you finish it and get the score.
DoNotPay's Government Test Prep database can come in handy for other tests, including: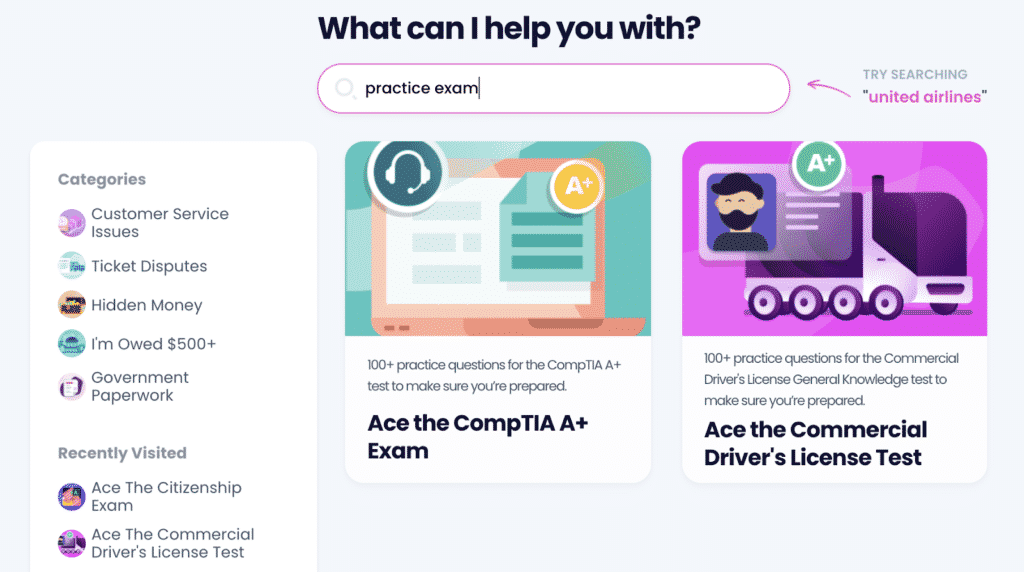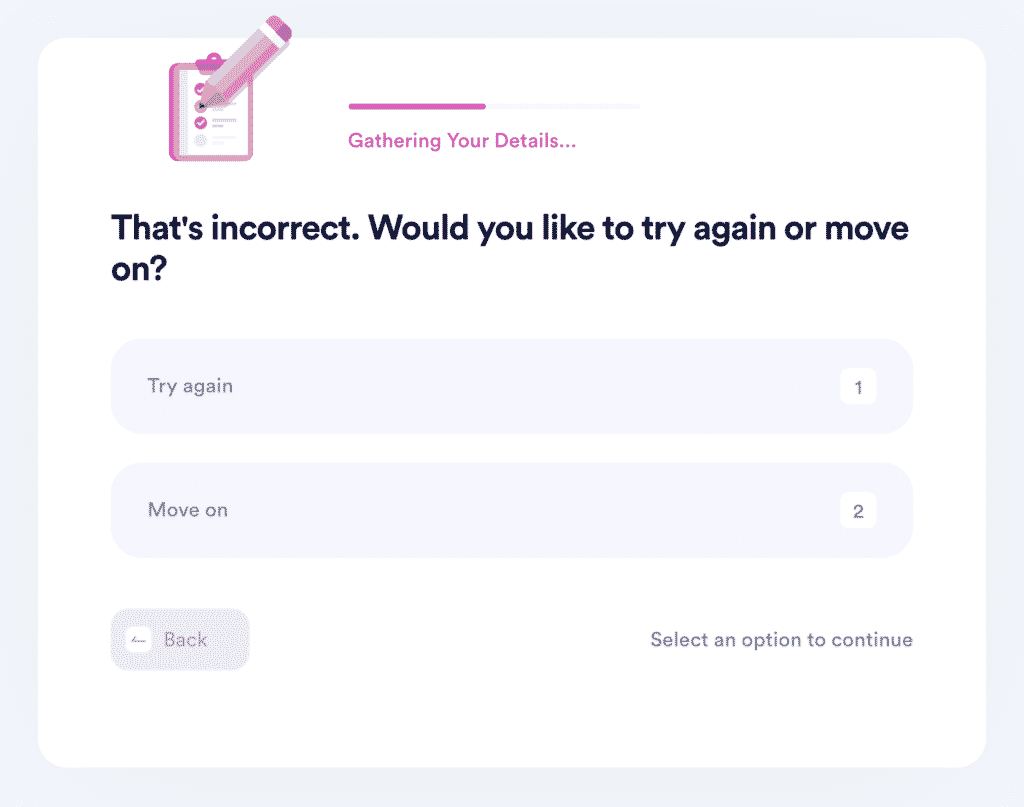 How Can I Take the CompTIA A+ Tests?
You can take CompTIA A+ tests online or in person. Compare both options in the table below so that you can decide which one suits you better:
Testing Option
Key Features

Online

Choice of location

Flexibility to schedule the test at your convenience

Tech support available if you run into any issues

You need to have a reliable device with a webcam

You must have a stable internet connection with a minimum speed of 1 Mbps down/up

In Person

Pearson VUE

provides CompTIA

testing centers

You don't have to worry about having distractions at home

A device and internet connection is taken care of
What You Should Do Before Scheduling a CompTIA A+ Test
Before taking the test, you will need to read and sign CompTIA testing policies, including:
Once you get familiar with all the rules and regulations, you can purchase an exam voucher, which is essentially a code that you'll use to register and schedule a test. A voucher is non-refundable, and it's valid for one test. You have 12 months to take a test before the voucher expires.
Scheduling a CompTIA A+ Test
Ways of booking a test depend on how you choose to take it—online or in person. Follow our instructions based on your chosen method.
How To Schedule an Online CompTIA A+ Test
Follow these steps if you want to book an online CompTIA A+ test:
Review and agree to the CompTIA Candidate Agreement and policies

Perform a

systems check

on your computer and network (this takes five to ten minutes)

Create or sign in to your

Pearson VUE testing account

Scroll down and click on

Manage Exam Appointment
How To Schedule an In-Person CompTIA A+ Test
Do the following to make an appointment for your in-person CompTIA A+ test:
Sign up or log in to your

Pearson VUE testing account

Find a

testing center

in your area

Click on

Test Center Information

to view the exact location, phone number, and additional guidelines

Go to the Pearson VUE home page

Tap on

Manage Exam Appointment

Review testing policies and procedures and accept the Agreement

Check into the test center before taking the test
Problem-Solving Is Easy With DoNotPay as Your Assistant
Prepping for numerous government tests with DoNotPay gives you the confidence and training you need to boost your test results.
This is not all we can assist you with! Our app is a resourceful tool for many predicaments. We'll help you land a McAfee, Sony Vegas, Windows 10, and AutoCAD free trial. Using DoNotPay is also the best way to get rid of Google spam emails, cancel MyCleanPC, and request a Norton refund, all in a few clicks.
If you want to declutter your life from red-tape issues, fast-track tedious tasks, and find all kinds of tips and tricks, DoNotPay is the way to go!
Open our app in your preferred web browser, and reap the benefits! With DoNotPay, you'll be able to:
Appeal your traffic tickets

Contest your speeding tickets