Put Your Best Foot Forward on Your Ohio Driving Test
Taking a driving test can be stressful, especially if you feel like you haven't prepared enough. While studying is a crucial part of the preparation process, you need to pay attention to other learning methods. Putting your knowledge into practice will reduce anxiety on the real test and help you get a passing grade straight away.
DoNotPay will help you familiarize yourself with all aspects of the Ohio DMV test and provide the most reliable practice material. You will be ready to schedule a DMV appointment in no time!
What Does the
Ohio BMV Driving Test
Look Like?
Before you apply for the road test in Ohio, you have to acquire a Temporary Instruction Permit Identification Card (TIPIC) at the Ohio Bureau of Motor Vehicles (BMV). To obtain a TIPIC, you need to pass a written knowledge test and a vision test.
The written exam consists of 40 questions based on the material from the Ohio BMV Handbook. You will have to prove your knowledge of traffic laws, signs, and motor vehicle regulations. If you fail the written test, you can retake it after 24 hours.
The road test assesses your driving and maneuverability skills. If you fail the road test, you can retake it in seven days. Applicants who fail more than four times must wait six months before trying again.
Ohio Driving Test Maneuverability
Assessment
In this part of the road test, the examiner will assess your ability to drive the vehicle backward and forward through markers. You will have to:
Back up past the center marker

Steer to the left or right of the center marker

Back up until your back bumper is aligned with the center marker

Drive forward through a box of four 9' by 20' markers

Back up into the box of four markers

Remove the vehicle from the test area without running over the markers or performing any other disqualifying action
Ohio Driving Road Test
During the driving part of the road test, you will have to demonstrate the following eight skills:
Starting and stopping

Accelerating

Backing up

Turning around

Performing turns

Using turn signals

Driving in the corresponding lane

Maintaining a safe following distance
A Step-by-Step Guide to Obtaining an Ohio Driver's License
Check out the table below to understand what each part of the Ohio driving test entails:
Steps To Acquire an Ohio Driver's License
Requirements

Apply for a TIPIC

Visiting the nearest BMV location (no scheduling required) for the knowledge and vision tests

Providing:

Full name

Date of birth

Social Security number

Obtain a TIPIC

Passing the knowledge test with a minimum 75% score

Passing the visual test

Collecting your TIPIC at the local deputy registrar license agency

Pass the road test

Presenting a TIPIC

Owning a vehicle in a fine operating condition

Having a passing grade on both maneuvering and driving skills test

Collect the driver's license

Heading to the deputy registrar to return the TIPIC and acquire a driver's license
How To Practice for the
Ohio Driving Permit Test
Passing the knowledge test is a prerequisite for the rest of the exam, so you must take the preparation process seriously. While studying from the Ohio Handbook is essential, taking practice tests will help you retain your knowledge and prepare you for the real deal. Take a look at how DMV practice tests can benefit you and help you pass on the first try:
Practice tests help you put your knowledge into context and revise it

They help you pinpoint the Handbook topics that you need to study more

Practice tests allow you to familiarize yourself with the exam question form

They provide multiple variations of the same questions, which reduces the element of surprise at the real test
With the help of practice tests, you will feel confident enough to take other exams, such as the CDL exam or the HazMat test. By accessing DoNotPay from your , you will get the best practice material and pass any written driving test!
How DoNotPay Can Help You Access the Best
Ohio Permit Practice Test
DoNotPay makes the preparation process effortless. You can choose the number of questions according to your preference and increase it as you become more confident in your knowledge.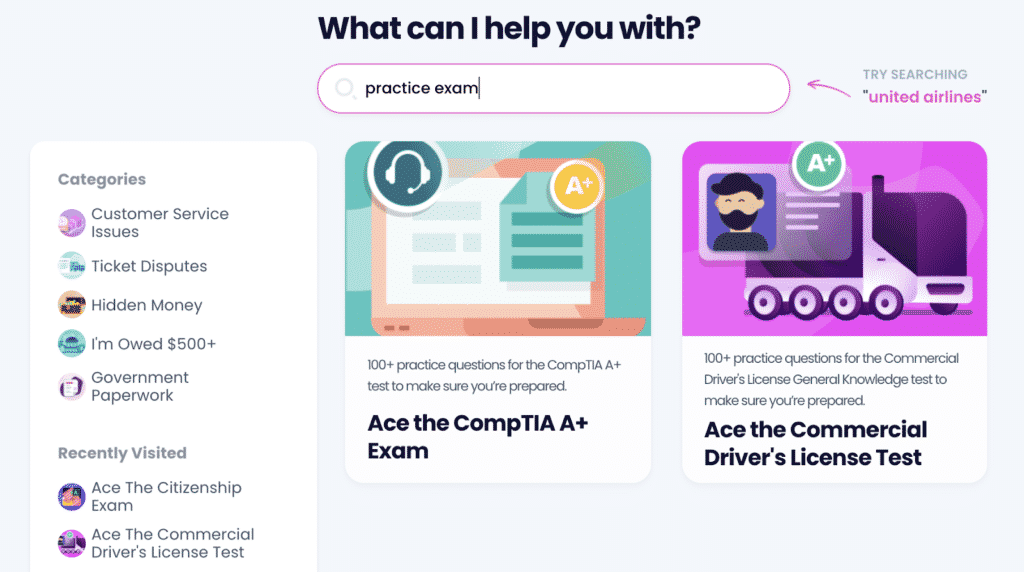 The steps you need to take are easy:
Open DoNotPay in a

Enter

DMV Test

Select the practice test length

—10, 20, or 30 questions

Take the practice test
Our app allows you to correct your mistakes on the spot or retake the whole test after you finish. We guarantee you will be ready for your real DMV test in no time!
DoNotPay can help you pass other demanding government tests, such as CCAT, Notary, ASVAB, Postal, CompTIA A+, and the U.S. citizenship test. You can rely on us if you need to find out what ASVAB test scores mean.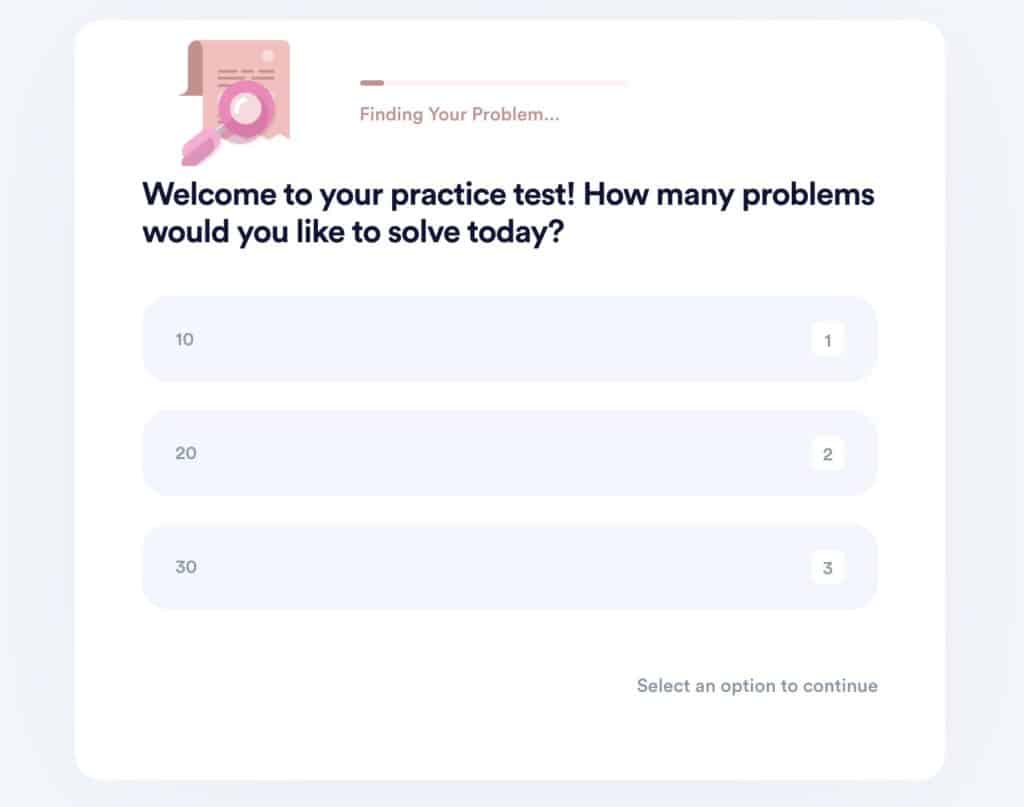 Forget About Bureaucracy With DoNotPay
There's no end to what our robot lawyer can help you do. From asking for bill extensions and reducing property taxes to connecting with an inmate in federal prison and contesting parking citations, DoNotPay can handle it all and cut through the red tape.
Need to pass a government test? Use our practice tests database to nail it. Looking to file an insurance claim? You've come to the right place. College applications drained your accounts? Request college fee waivers with our assistance.
The DoNotPay app is so versatile that it can easily locate any unclaimed funds under your name or any clinical trials that you're eligible to participate in. We can also schedule DMV appointments and take care of your small claims court documents.
Check Out What Else DoNotPay Has in Store
DoNotPay never stops upping the game. You can explore some of our latest features and see how you can access public records, receive free online fax, submit a warranty claim, or get compensation if you were a victim of a crime.
Alternatively, check out some of our most popular products that aim to reclaim your funds—from getting airline flight compensation and submitting refund and chargeback claims to canceling your unused subscriptions and getting class action cash from email, text, and robocall scammers.