Walmart Fish Return Policy Deciphered
Shopping is all fun and games until you come home and realize something is off with the product you bought. What can you do in such a situation? You should get your money back, and companies allow you to do so by returning the item.
is here to explain the Walmart fish return policy!
What Is Walmart's Return Policy When It Comes to Perishable Items?
Walmart has a Fresh Produce Guarantee policy that ensures that customers can exchange the items they purchased if they're unhappy with them.
If you are not satisfied with the taste, quality, or freshness of fresh produce and meat, Walmart will let you return the item within 90 days with a receipt.
Food Items Under the Fresh Produce Guarantee Policy
Due to hygiene purposes, Walmart won't ask you to bring back unopened perishable goods, but you should be able to get a refund or exchange. These items include:
Fresh fruits and vegetables
Bakery goods
Meat
Fish
Can You Return Frozen Fish to Walmart?
Walmart allows its customers to return frozen items as long as the store has a frozen food section. You also need to be sure that the item has not been opened or used.
How Can You Return Items to Walmart?
Even though you probably won't have to return the product under the Fresh Produce Guarantee policy, you will need to start a return process. Take a look at the table below to see your options:
| Can You Initiate a Return Request Via | Yes/No |
| --- | --- |
| Website | Yes |
| App | Yes |
| Phone | No |
| Letter | No |
How To Start a Return Request on the Company's Website
If you want to start the return request online, follow these steps:
Visit the company's website
Open the Returns page
Choose the items you want to return
Name the reason for returning them
Select Return to Store option (you'll get a return barcode)
Review the return refund summary
Submit your return
You should bring the email confirmation with you along with the item (if requested). You will need to go to the store to return the product. Perishable items cannot be returned by mail.
How To Start a Return Request on the Walmart's App
You can also initiate the return process through the Walmart App. These are the steps you need to follow:
Open the Walmart App
Select the item you want to return
Select the reason for returning it
Scan the store receipt code
Submit your return
Return Unsatisfactory Items With DoNotPay's Help
While you can't send fish or other perishable items via mail, you might need to do so if you wish to return other items to Walmart. Instead of wasting time filling out online forms, you should rely on DoNotPay as we can deal with everything in a matter of minutes. Here are the only steps you need to take:
Choose the Return My Purchase product
Answer our chatbot's questions regarding your purchase
DoNotPay will draft a return request letter and make sure to add a return deadline for the company. You will also get a free shipping label.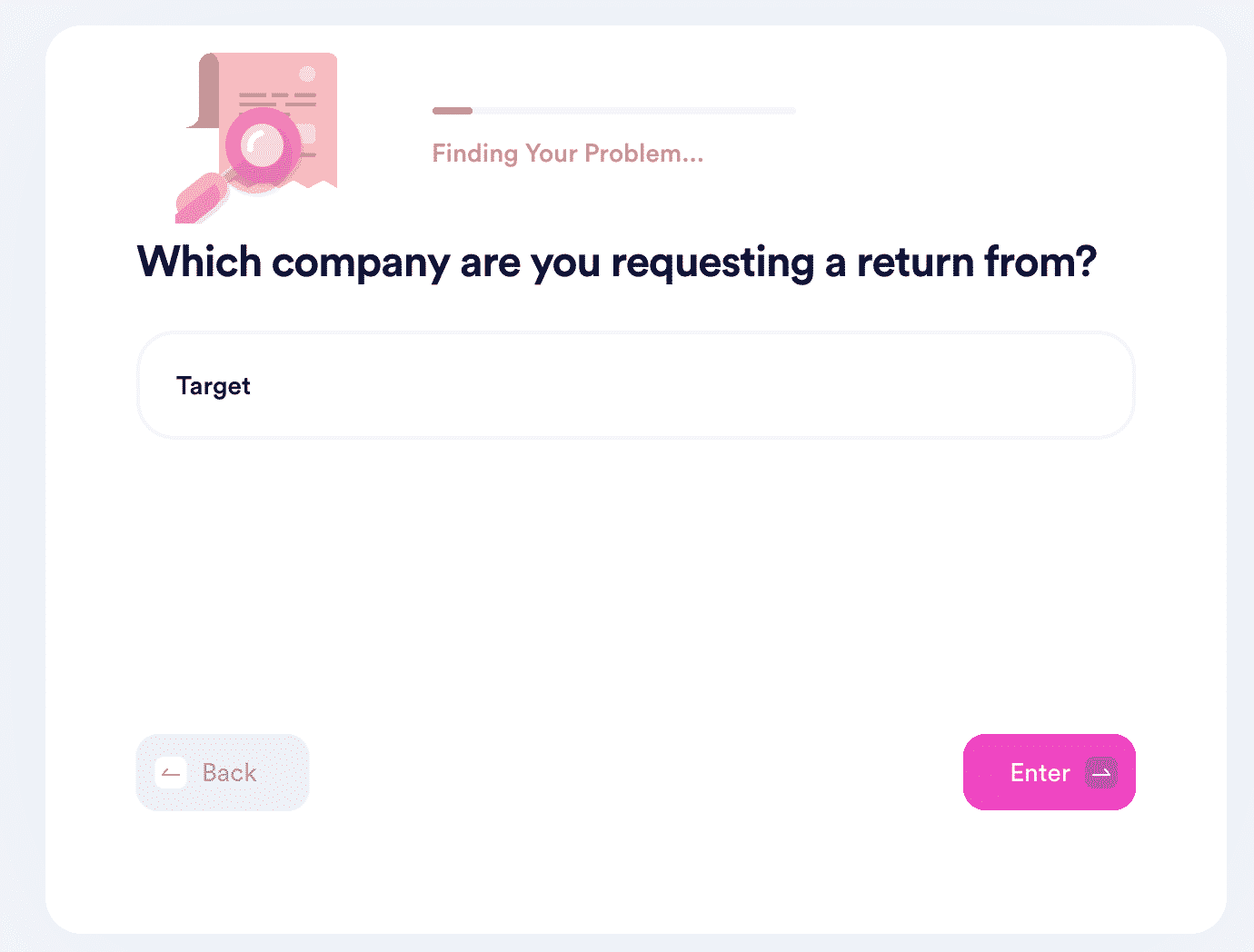 DoNotPay has more information regarding Walmart's return policy rules. We can tell you more about:
Marketplace return policy
Return Items to Any Company With DoNotPay's Help
Starting a return process with any company is straightforward if you use DoNotPay. Take a look at the table below for some of the popular brands we can help you with:
No More Faulty Items—DoNotPay Can Send Them Back, Get You a Refund, and Resolve Any Other Issue
DoNotPay is an expert at requesting refunds from various companies and airlines! Once you return your poor-quality purchase successfully, check out how our app can:
Tired of Companies Treating You Unjustly?
With our AI-powered robot lawyer app by your side, you no longer have to tolerate corporate attitudes.
Have you ever signed up for a free trial only for it to turn into a paid subscription automatically? No more—DoNotPay will cancel it on time once you get your hands on our virtual credit card! Is the company you're dealing with refusing to give you a refund for their unjust action? We'll take it to small claims court.
If you need a standardized legal document but don't want to pay hefty lawyer fees, we'll create one for you in a flash. Then, you can get it notarized remotely and send it to the court with the help of our online fax tool.