The Walmart Christmas Return Policy—Explained
Is Christmas shopping stressing you out? The last thing you need during the holiday season is to be stuck with an unwanted gift. This is why you should get familiar with the Walmart Christmas return policy.
We've created this simplified guide to help you understand how to return Walmart items during the holidays so that you can get back to spending time with your friends and family.
If you want to fast-track the return process, using DoNotPay can make a world of difference!
All About the Walmart Christmas Return Policy
Walmart's Christmas return policy is quite similar to its standard process for returns and exchanges.
Walmart allows you to return most unwanted items by mail or to the store within 90 days. For products purchased online, the return timeframe starts when your order arrives, whereas, for in-store purchases, it begins on the date of purchase.
Depending on the type of item you want to return, there are a few exceptions that you need to familiarize yourself with. The following table displays some of them depending on the product type:
Product Type
Return Deadline

Tablets
Printers
Laptops
Computers
Video games
Wireless prepaid phones

14 days

Contract post-paid phones

15 days

Pools
Televisions
DVD players
Headphones
Air conditioners
Portable audio systems

30 days

Outdoor fuel-powered equipment
Hazardous materials containing chemicals, compressed gas, or liquids

90 days—only returns by mail
One year
Are There Walmart Products That Are Ineligible for Returns?
There are several products that you cannot return to Walmart due to safety reasons. These items include:
Sex toys
Firearms
Snow tires
Crossbows
Pepper sprays
Home diagnosing testing kits
Gas-powered recreational vehicles
Prescription devices and medications
Items bought from dealers or resellers
Products containing ephedrine, pseudoephedrine, and phenylpropanolamine
How Is the Walmart Christmas Return Policy Different From the Year-Round Terms?
The main difference between Walmart's regular-season return policy and its Christmas procedure is the change of timelines.
This change goes into effect for any items purchased between December 1 and December 25.
Depending on the return deadline for your item during the regular season, here is a table depicting when you can begin returning your items during the Christmas season:
| Regular Season Return Window | Christmas Return Dates |
| --- | --- |
| 14 days | January 9 |
| 15 days | January 10 |
| 30 days | January 25 |
There are no changes for products with a 90 day return period.
Walmart Christmas Return Policy—How To Return Eligible Items
There are two methods for sending unwanted items back to Walmart:
Making a return in person
Sending your product by mail
How To Return Walmart Items to the Store
One of the fastest ways to get your money back from Walmart is to return the products to the store. Before starting the return process, you have to submit a return request through the Walmart app by scanning your store receipt. You can also initiate a request online by following these steps:
Select the Account tab
Choose the order that contains the item you want to return
Select Manage Order
Click Return Items located in the Order Information box
Select the items that you want to return
Scroll to the bottom of the page and select Continue
Select In-store as your method of return
Tap on Finish and hit Print Barcode
Once you have your return receipt, pack up the item you want to return and visit a Walmart store near you. Make sure you bring the item's original receipt or the invoice if you bought the product online.
If you want to replace your item rather than receive a refund, you won't be able to do so in a store. You will have to return your products via mail to receive an exchange.
How To Return Walmart Products via Mail
The first step to returning unwanted products to Walmart by mail is to also submit an online return request. After signing in to your Walmart account and selecting your unwanted product, make sure to select Return by Mail as your desired return method.
Print out the return shipping label that Walmart will send you via email and stick it on the box you will send your return in. You can ship your parcel with either FedEx or USPS. The return process will take 2–3 weeks to complete from the day Walmart receives your package.
What if You Don't Have a Receipt?
If you misplaced your original receipt, Walmart still allows you to return your item.
You will need to provide other information to Walmart staff that will help them find your purchase. You can find your purchase through your debit or credit card transactions or using your phone number or email address.
Return Your Walmart Items During the Christmas Season With DoNotPay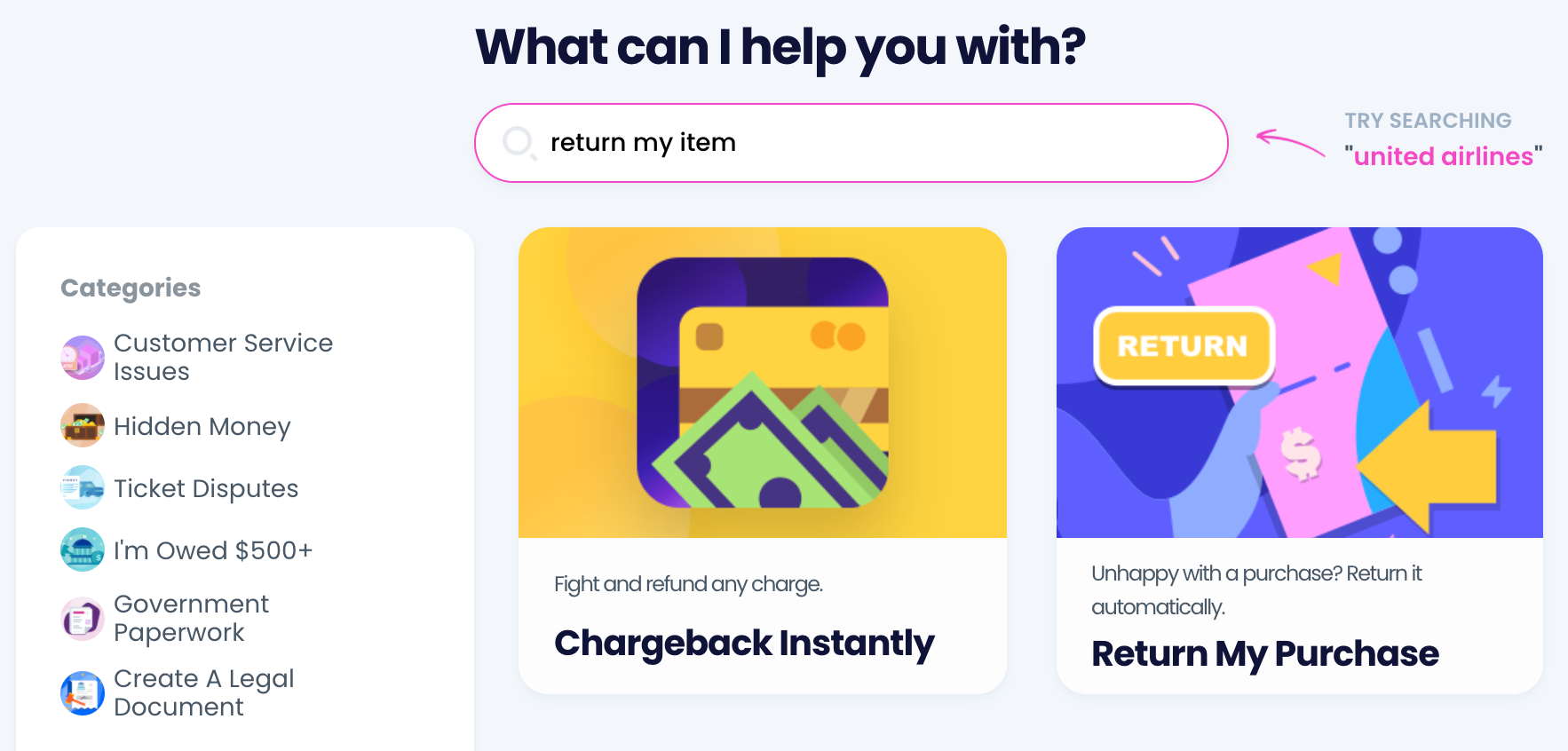 If the thought of dealing with the Walmart return process during the Christmas season seems like an absolute nightmare, choose to leave the stress behind! DoNotPay can handle the entire process for you with our Return My Purchase tool!
We can help you draft a return request letter and get a response from Walmart in record time. Follow these easy steps to initiate a return with DoNotPay:
Search for the Return My Purchase tool
Answer a few questions on the item you want to return
Click Submit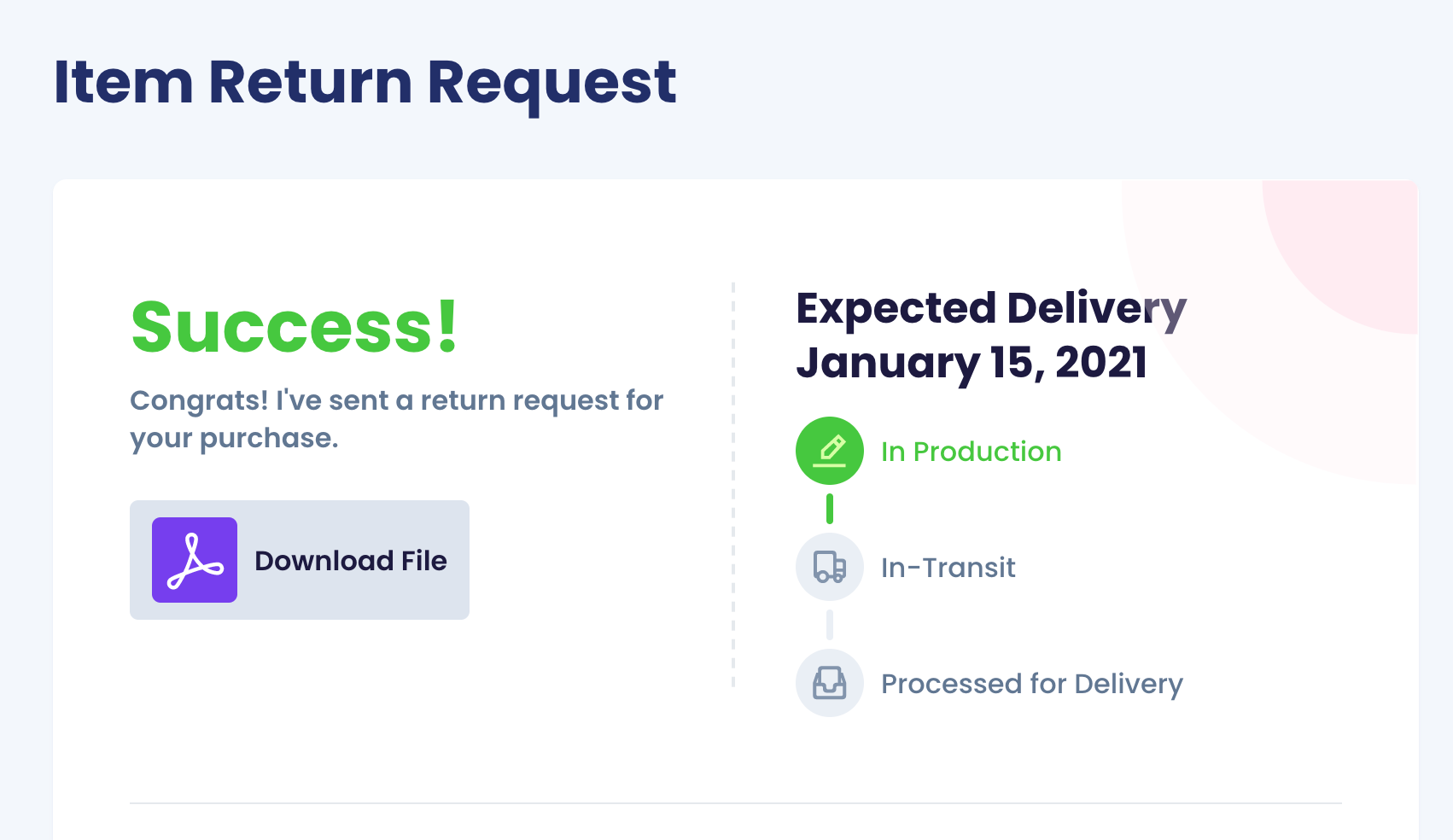 In a few clicks, your personalized return request letter will be forwarded directly to Walmart along with a deadline to make sure you get your money back in no time.
Need Help With Another Return? DoNotPay Has the Solution
DoNotPay can break down return policies of many of your favorite brands. Here are some of the guides that you can find in our learning center:
DoNotPay Offers More Than Swift Returns
Our AI-driven app has a plethora of products that can help you save time and money. Once you sign up for DoNotPay, you will be able to:
Check Out Our Full Product Range
There's so much more to DoNotPay than filing return requests. With our app, you can cancel any membership, sign up for a free trial risk-free, get a virtual credit card, sign up for a clinical trial, map sex offenders in your area, and demand a refund from any airline.
If you want to reduce your property taxes, get help paying your bills, enter raffles and sweepstakes, find your unclaimed funds, or prepare for a government test, DoNotPay is the only solution you need!
Sign up today to access all of our products!