Answers to All Your Questions About Amazon's Return Policy
The era of online shopping has gone through the roof. Americans are turning to Amazon for purchases they would otherwise make in person.
Your Amazon shopping spree can have some downsides—late deliveries, lost packages, and even damaged packages.
Not sure how to return an unwanted product to Amazon? DoNotPay is here to clarify all important details regarding Amazon's return policy and reduce your refund waiting period.
Sign up, and our app can also help you navigate the return policy of the other major U.S.-based e-commerce corporation—eBay.
What Is Amazon's Return Policy?
The Amazon return policy requires your items to be undamaged and unpacked to be eligible for a full refund.
The return process for products bought online can be initiated via the company website or in store. For articles you got in one of the stores, the only return option is in person.
Your return request can be rejected when it comes to perishable items, used service, and hardware or software products, such as:
Health and personal care products
Groceries
Live plants and insects
Downloadable software
Online subscriptions you have already used
Prepaid game cards (e.g., World of Warcraft, Xbox 360 Live, Wii Points, and others)
The same applies to Amazon products purchased from a third party.
Amazon's 30-Day Return Policy Explained
Amazon's 30-day return policy applies to the majority of items. This goes for products bought both online and in Amazon stores.
Some exceptions to the 30-day policy are:
Products bought from third-party sellers—depending on the seller, the return period can be between seven and 30 days
Faulty items might be accepted after the 30 days have passed
Baby gear is accepted within 90 days of receipt of shipment
Mattresses can be returned within 100 days of receipt
Wedding Gift Registry items have a 180-day return period, while gifts purchased from the Baby Registry can be returned within 365 days
Prime Return Policy—Are All Prime Items Free Returns?
If you're a Prime member, you might be confused about the return policy when it comes to free returns.
According to the subscription service, all items weighing under 50 lbs should be covered by the free return benefit. To make sure this applies to your item, check for the Free Returns label next to its price.
In some cases, if the costs of shipping the item back exceed the refund amount, you'll be allowed to keep the product.
If these perks are not enough for you to keep your Amazon Prime membership, you can easily cancel it and get a refund with our help.
How Can You Return a Product Purchased on Amazon?
Here is a quick overview of the ways to start the return process for any damaged, wrong, or unsatisfactory items:
| | |
| --- | --- |
| Can You Initiate a Return Via | Yes/No |
| DoNotPay | Yes |
| Email | No |
| Phone | Yes |
| Letter | No |
| Website | Yes |
| In person | Yes |
Starting the Return Process for Your Amazon Order Online
You can initiate your item return process in Amazon's Online Return Center. Here are the steps:
Go to Your Orders
Choose the order that contains the item you wish to return
Select Return or Replace Items
Mark the item you want to return
Select an option from the Reason for return list
Choose how to process your return
Choose between a refund or replacement
Mark the return method you want to proceed with (in-store drop-off or via-mail shipping)
Print out your return label and return authorization
Add the label to the packaged item
If your item is sold by an Amazon seller, you'll see the Submit return request option. It takes around two business days to process your request.
In-Store Product Returns for Amazon Items
To return products you got from an Amazon store, follow these steps:
Put the product in the original packaging
Bring your receipt (email or paper) that contains your order number
Take the product to one of the stores
Calling Amazon To Start the Return Process
You can also try reaching Amazon's customer support center at 1-888-280-4331 (toll-free) or 001-206-922-0880 (international).
Amazon is a huge corporation, and it can take a while to get an agent on the line. DoNotPay can help you reach them in a flash.
How Long Is the Return Request Review Period According to Amazon's Return Policy?
Amazon states that you should receive your refund between a week and two weeks from filing a request. These estimations can often be off, and you may have to wait for a month or longer to get your money back. The boost that online shopping has had recently only added days to this waiting period.
No worries—you can always rely on DoNotPay to send out a return request with a deadline by which Amazon needs to process it. You'll save a lot of time and nerves.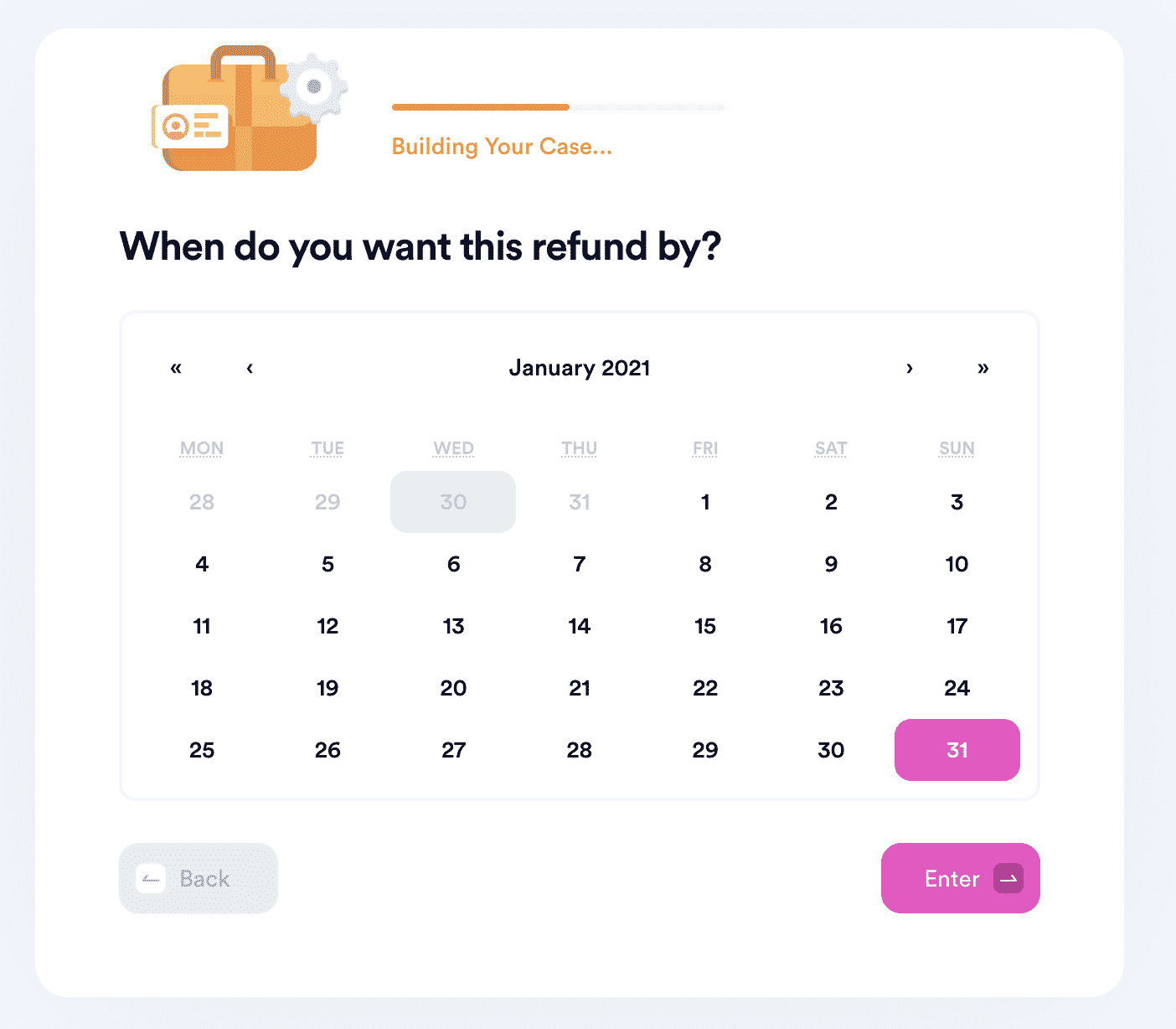 Looking for an Effortless Way To File a Product Return Claim? Use DoNotPay!
Companies have their lengthy and tedious return claim processes for a reason—it discourages customers from getting a refund or a product replacement.
With DoNotPay as your assistant, you can send out these requests in a jiffy. All you need to do is:
Log in to your DoNotPay account using any web browser
Go to Item Return Request
Respond to some questions about the product in question
Click Submit to send the request
Using the info you have provided, DoNotPay will create a return request letter and mail it to Amazon.
The company will receive all relevant info about the product to set the return process in motion. It's up to you to choose the compensation you wish to receive—a refund or replacement.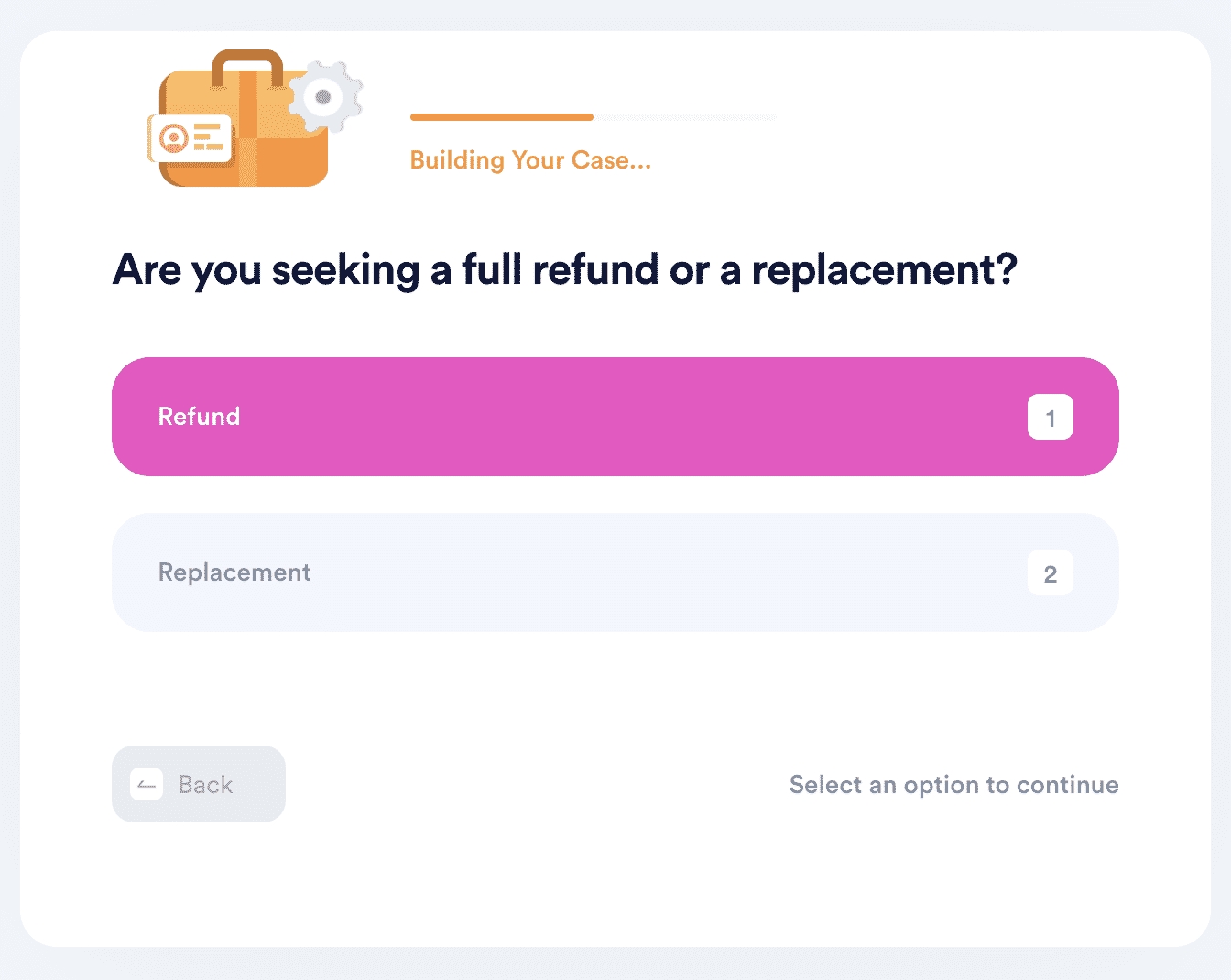 Don't worry if your package doesn't comply with the requirements for a free return as stated in Amazon's return policy. DoNotPay generates a return label so you can ship your item free of charge.
We can also help you with filing return requests to other corporations, such as:
Get Your Money Back in an Instant
If you want to both return your item and get a refund for it, you can count on your personal AI-powered assistant. These two products aren't the only tricks DoNotPay has up its sleeve, though!
With our app, you can also claim insurance, get an extended warranty, find your missing assets, request refunds from airlines, reduce your property taxes, lower your utility bills, sign up for free trials without getting charged, get free raffle tickets, and a lot more.
If you want to avoid wasting your money, DoNotPay can cancel any subscription or membership in your stead and provide you with a virtual credit card that will prevent auto-renewal charges once your free trials expire!
With DoNotPay, You Can Also Say Goodbye to Waiting in Lines
Are you sick of waiting in lines? So are most of our app's users! You can say no to endless lines at the DMV if you sign up for a DoNotPay account. Our app can also help you jump the phone queue when you need to get in touch with a customer service representative.
If any company refuses to cooperate with you, our app will prepare all of the necessary legal paperwork and help you sue it in small claims court. Need to have any of your documents notarized? No worries—DoNotPay will employ an online notary and help you schedule your appointment. You can also e-sign and send the document to anyone using our Online Fax product.