How To Use the Walmart Return Policy Without Receipt the Smart Way
Is Walmart giving you a hard time because you lost your receipt, and now the company won't accept your return? Follow our comprehensive Walmart return policy without receipt guide, and you'll finally have the upper hand!
Walmart Return Policy Without Receipt Explained
All the restrictions presented in Walmart's return policy during COVID-19 have been lifted as of March 2021. Walmart's standard return policy is now in effect, allowing customers to return items within 90 days of purchase. The Walmart return policy without receipt doesn't differ much as you can make returns even without proof of purchase within 90 days. Note that all returns without a receipt are subject to a refund verification process.
The refund verification used to be at the discretion of customer service or store management, but Walmart introduced an automated verification system that may decline your request to make a return without a receipt. According to former Walmart store managers and employees, you can only process three no-receipt returns in six months. Don't try to fool the system by going to a different Walmart store—the refund verification systems are interlinked, and you won't be able to process your return.
To return item(s) to Walmart without a receipt, you'll have to:
Present a valid photo ID
Pass the refund verification process
If the verification system accepts the return, you can:
Make an exchange
Get a cash refund if the value of the returned items is less than $10
Earn a Walmart shopping card or gift card credit if the value of the returned items is over $10
Since the only way to complete a return without proof of purchase is by showing your ID, you'll have to visit a Walmart store instead of mailing in your return.
Alternatively, the store staff may be able to look up your purchase and approve your return if you lose your proof of purchase. To do so, you'll have to provide them with one of the following:
The credit or debit card you paid with when making your purchase in a store
The email address or phone number you used for the online purchase
Can I Return All Items to Walmart Without a Receipt?
No, you can't. We have listed the product that can be returned only with a receipt in the table below, as well as their return deadlines.
Product Type
Return Policy and Return Window
Prepaid wireless cellular phones

May be returned in undamaged condition to any store
Have a 14-day return window

Opened or used unlocked wireless phones

May be exchanged for another item of equal or greater value
Have a 14-day return window

Postpaid cell phones

May be returned to the original store of purchase undamaged
Have a 14-day return window

Most electronic devices (Verizon contract cell phones, drones, digital music players, tablets, laptops, portable video players, electric scooters, digital cameras, etc.)
Have a 30-day return window
Walmart Protection Plans and AppleCare+
Can be returned or canceled within 30 days of purchase
Prescription glasses and contacts
Have a 60-day return window
Hearing aids
Have a 60-day return window
Produce, fresh flowers, meat, bakery, deli, dairy, and frozen items

Are subject to the Freshness guarantee
Can be returned in 90 days since the purchase date

Perennials, trees, and shrubs
Can be returned within one year
Tires
Can be returned within 90 days only to stores with an Auto Care Center and need to be new
Photo prints, personalized items, and photo products

Cannot be returned by mail but only to a Walmart store
Have a 90-day return window

Funeral products

Can only be exchanged if damaged or defective upon delivery and unused
Are non-refundable
Have a 90-day return window
Are There Any Non-Returnable Items?
Walmart doesn't accept returns even with a receipt for the following products:
Firearms and ammunition
Airsoft, air, and BB guns
Pepper spray
Gas-powered vehicles
Prescription medications and devices
Sex toys
Pregnancy and ovulation tests or other types of home diagnostic testing kits
Hygienic medical equipment
Used or installed tires and snow tires
Trading cards
Used or open RV sewer lines
Gift cards
Walmart express bill pay
Reloadable credit/debit cards
Check/card cashing fees
Branded gift cards
Lottery
Prepaid cell phone cards
SIM cards
Video game download cards
Prepaid gaming cards
Videos on demand
Initiating a Return to a Store if You Misplaced the Receipt
You have two options when it comes to initiating the process for no-receipt returns. You can:
Do it manually by following a set of instructions
Sit back and relax and
How To Request a No-Receipt Return on Your Own
You will need a Store Returns Receipt to initiate the process. To get this receipt, you have to:
Log in to your Walmart account
Click on your profile widget or initials in the upper-right corner
Select Account
Locate the item(s) you want to return and select Start a Return, or click on See Details and Return or Replace and select the item(s) you wish to return
Choose the reason for the return from the dropdown menu
Press Return and Continue
Select Return to Store and Continue
Click on Submit
After you're done, you can print the Store Returns Receipt. Take the items you're returning to a Walmart store, and make sure to bring all the original packing materials and accessories.
No Receipt? No Problem! DoNotPay Can Help Either Way

Returns are tricky to handle, and if you don't have proof of purchase, you may think there's no way of getting a refund or an exchange. Think twice! DoNotPay has developed a groundbreaking approach to returning items without a receipt, and we can help you out. All you need to do is:
Locate our Item Return Request feature
Answer the chatbot's purchase-related questions (attach photos if needed)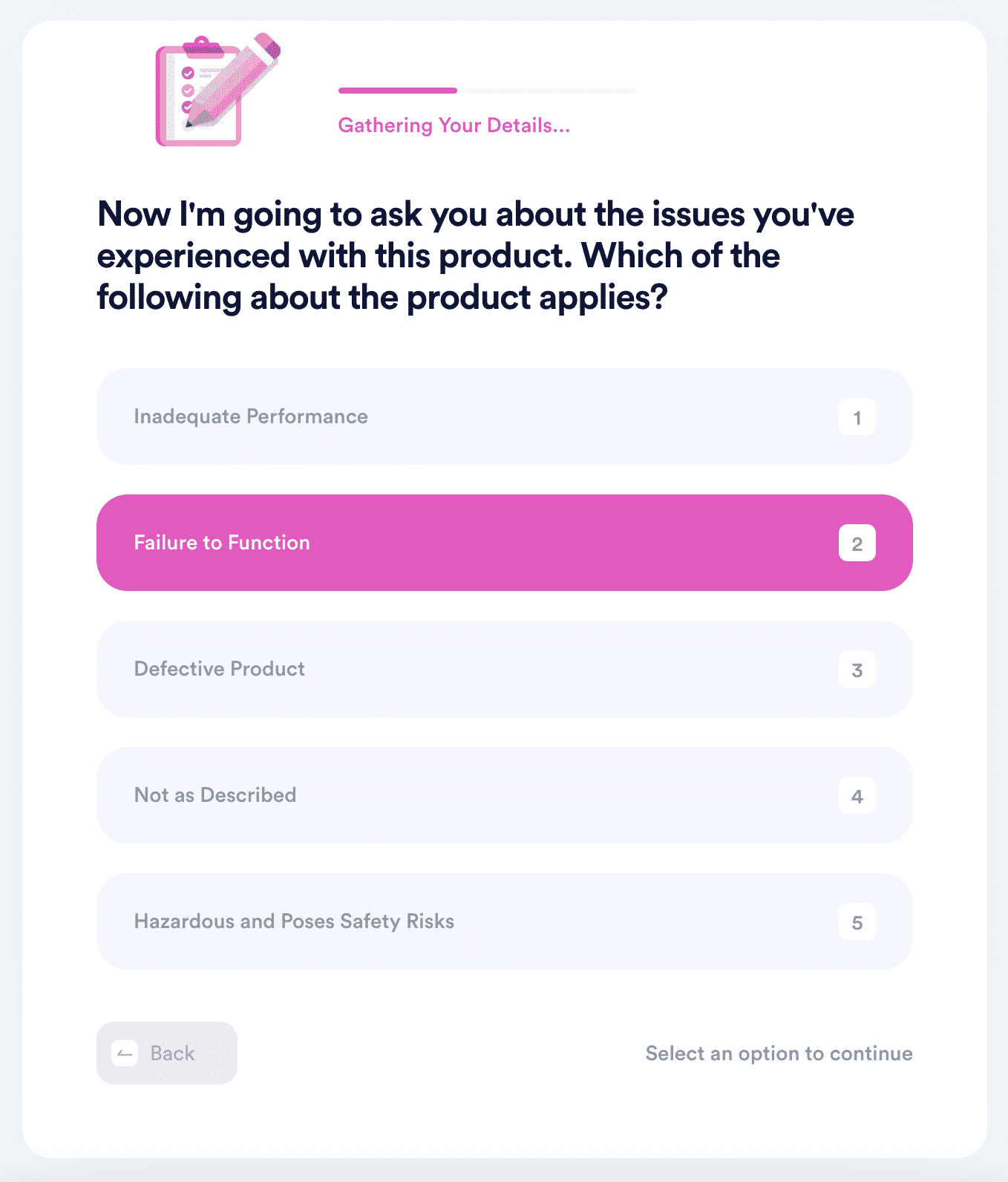 Once you submit your request, we will send out a custom letter to Walmart explaining that you wish to make a return. We will also include a deadline so that the company acts upon your request promptly.
If you'd like to know how to make effortless returns to other popular companies, check out the table below:
Don't Tolerate Corporate Attitudes—Request What's Rightfully Yours
DoNotPay is known for being the champion of customer advocacy because we help our users claim what's rightfully theirs, and we don't tolerate big corporations taking people's hard-earned money.
No matter if you want to request a refund, insurance, extended warranty, or compensation from airlines, our AI-powered lawyer will fight for your right.
If you feel like you're overpaying certain subscription services, we can help you cancel them. Also, if you want to test a subscription before you start paying money for it, don't connect your credit card to the free trial page! You can sign up for free trials using our virtual credit card. That way, companies won't be able to charge you auto-renewal fees because the card has no funds.
Wait! DoNotPay Can Help You in Many Other Ways
DoNotPay has many different areas of expertise—helping you return your faulty items is only one of them.
Check out how our app can assist you in: