The Ins and Outs of the Walmart Vision Center Return Policy
Buying a pair of glasses or contact lenses is a lengthy process. Sometimes, after hours of deliberating and choosing, we find a pair we like—only to come home and regret it. Can you return prescription glasses or lenses? This comprehensive guide will walk you through everything you need to know about the Walmart Vision Center return policy.
If you aren't sure about how to initiate a return request on your own, you can use DoNotPay and leave it to us!
What Is Walmart Vision Center's Return Policy?
Walmart prides itself on giving its customers up to 365 days to return a product for any reason.
In reality, you can return ripped or defective contact lenses to Walmart within the 365-day period, but for eyeglasses and contact lenses that are not defective, you have 60 days from the original date of purchase to make a return for a full refund. If your prescription changes within 60 days of your eye exam, Walmart's optical return policy will allow you to get a replacement for your current purchase.
The Walmart contact lens policy does not extend to the following brands, which have their own policies:
Johnson & Johnson VisionCare Inc.
Bausch+Lomb
Alcon
How To Make a Return to Walmart Vision Center
You can return items to Walmart in one of two ways:
In store
By mail
Returning an Item to Walmart Vision Center in Person
To return a pair of glasses or contact lenses, go to a Walmart Vision Center near you, present your receipt, and request a return. Returns are also possible at Walmart locations that do not have Vision Centers. This is subject to their in-store policies, so it's safest to head over to a Walmart that has a Vision Center section.
Returning an Item by Mail
The first step to returning a product to the Walmart Vision Center is to contact their customer service and initiate a return request. You can reach out to them in the following ways:
Call the toll-free number 1-800-741-5367
Shoot them an email at service@walmartcontacts.com
Send them a letter to their Columbus mailing address
Once you have reached out to the customer service team, they will send you a return label via email. The label will contain a return merchandise authorization number (RMA), without which your return will not be processed. Pack your items, attach the label, and mail it to 2250 International Street, Columbus, OH 43228-3834. Make sure to label the package as a return and write down your RMA below the address on the package.
Returning Johnson & Johnson, Bausch+Lomb, and Alcon Lenses
Contact lenses from one of these brands must be returned directly to them. The following table contains numbers you can call to file a complaint or request a refund with them:
| Brand | Contact |
| --- | --- |
| Johnson & Johnson VisionCare Inc | 1-800-843-2020 |
| Bausch+Lomb | 1-800-553-5340 |
| Alcon | 1-800-757-9780 |
Simplify the Return Process by Using DoNotPay
Returning an item requires a lot of time and effort. Instead of spending time trying to contact Walmart Vision Center and the other brands separately, use DoNotPay! We have the perfect tool designed to make returns simpler!
To start the return process:
Log in to DoNotPay and locate the Return My Purchase product
Have a quick chat with our bot and provide some information about the product you want to return
Click Submit
We will generate a return request on your behalf and send it to the retailer. The letter will outline the reason why you want to make a return and specify a deadline to make sure your request is processed quickly. We will also provide you with a free shipping label so that you don't have to pay extra!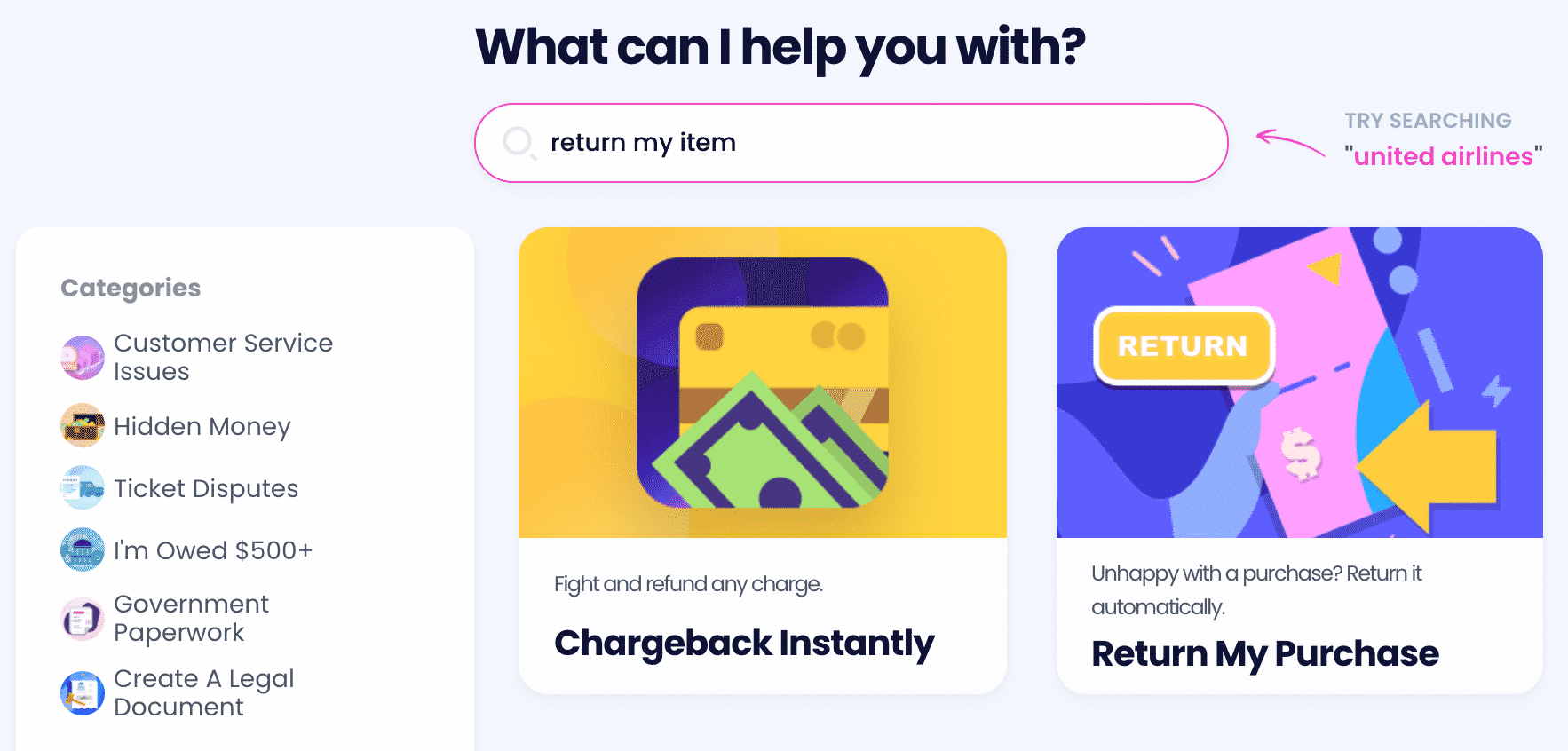 It's Not Just Walmart! We Can Help Make Quick Returns to Hundreds of Retailers!
Worried about having to return multiple items? We can help you return products to several sellers, including:
Is the Situation With the Merchant Getting Messy? Take Them to Small Claims Court!
If you feel like the merchant has wronged you, our AI-driven app recognized by the ABA Brown Award will help you sue them in small claims court! You don't need to worry about filling out lengthy court forms or collecting evidence for your case—we'll step in and do it for you!
You can use DoNotPay to generate any legal document you may need for the lawsuit, add legal weight to it through online notarization, and fax it to the court—all in a matter of mere minutes.
Facing any other legal issues? Check out how our app can assist you in:
We Can Help in Many Other Ways!
No matter what kind of assistance you need DoNotPay to provide, you can rely on it to solve any admin or legal issues you may have.
You can use our app to jump the phone queue when contacting any support team, skip the line at the DMV, get cash back on gift cards, create a valid passport photo, appeal any banned account, file an insurance or warranty claim, and get in touch with a loved one in prison in a snap.