Simplifying the Glasses USA Return Policy—Everything You Need To Know
There's no guarantee that the pair of glasses you ordered will look the way you expect them to when they arrive, so you may have to send them back. It's often easier said than done because the return rules tend to be unnecessarily complicated. Are you struggling to understand the Glasses USA return policy? Use this practical guide to figure it out, or .
How Does the GlassesUSA.com Return Policy Work?
GlassesUSA.com offers a no-questions-asked, free returns policy. You can return any item you purchased as long as you initiate the process within the specified time frame:
Glasses—14 days
Contact lenses—30 days
When you make a return within the required window, you may qualify for a refund, exchange, or store credit. The result depends on the circumstances of the original purchase:
| Original Purchase | Return For |
| --- | --- |
| First item returned | 100% refund |
| Bought with store credit | Exchange or store credit |
| Exchange | Exchange or store credit |
Return Methods for GlassesUSA.com Products
GlassesUSA.com doesn't give you many options when it comes to starting the return process. You can initiate a return in the following ways:
| Return Initiation Method | Yes/No |
| --- | --- |
| DoNotPay | Yes |
| Website | Yes |
| Email | No |
| Phone | No |
| Letter | No |
| In-Person | No |
How To Return Products to GlassesUSA.com
The GlassesUSA.com return policy stipulates that the only way to ship your item back is via USPS. Follow these steps to return your products:
Visit the returns form page
Input your order ID and email address
Print the prepaid return shipping label
Attach the label to the package containing the products
Mail the package at your local USPS drop box
Once you have shipped the items back to GlassesUSA.com, you need to wait for the delivery confirmation. As long as you meet the conditions detailed above, you can select one of the following three options:
Full refund
Store credit
Exchange for another product
Where Does GlassesUSA.com Receive Returns?
The address to which you must ship your return depends on your location. After you initiate the return process with GlassesUSA.com, they will send you a shipping label with an address specific to your region.
Can You Return Multiple Products in One Order?
Yes, GlassesUSA.com allows returns of multiple items at once. You can ship all glasses and/or contact lenses you are returning in the same package.
How To Check the Return Status
If you've already sent your items back to GlassesUSA.com and haven't heard from the customer service team yet, you can verify the status of your return with USPS. Input your tracking number on their website to confirm whether your return is still in transit or has been delivered.
If you lose your tracking number, don't worry—you can email the company directly to get a copy.
Are Any GlassesUSA.com Products Non-Returnable?
While you can return glasses and unused contact lenses within specified timeframes, you cannot return used contact lenses. Any contact lenses you wish to send back to GlassesUSA.com must be in their original, sealed packaging.
How Long Does It Take To Process Refunds?
The refund process lasts 10–14 days. That timeframe may change depending on the method of payment on the original order. If you paid by credit card, the refund may appear on the following month's statement.
If the refund does not come through in that period, you can get in touch with GlassesUSA.com support by:
Phone—1-844-244-1186
How Long Does It Take To Receive Store Credit?
You will receive store credit up to 30 days from the return approval. Store credit will be emailed to you and may take an additional seven days to show up in your inbox.
Understanding the GlassesUSA.com Warranty
The company's 365-day manufacturer's warranty protects all their products. This policy covers potential defects or damage attributed to the manufacturer. The warranty does not cover damage resulting from the following:
Normal wear and tear
Accidents
Improper use
Make Returns Stress-Free With DoNotPay
Following each and every step in the GlassesUSA.com return policy is hard work. The good news is that you don't have to go through it alone—you can use DoNotPay instead.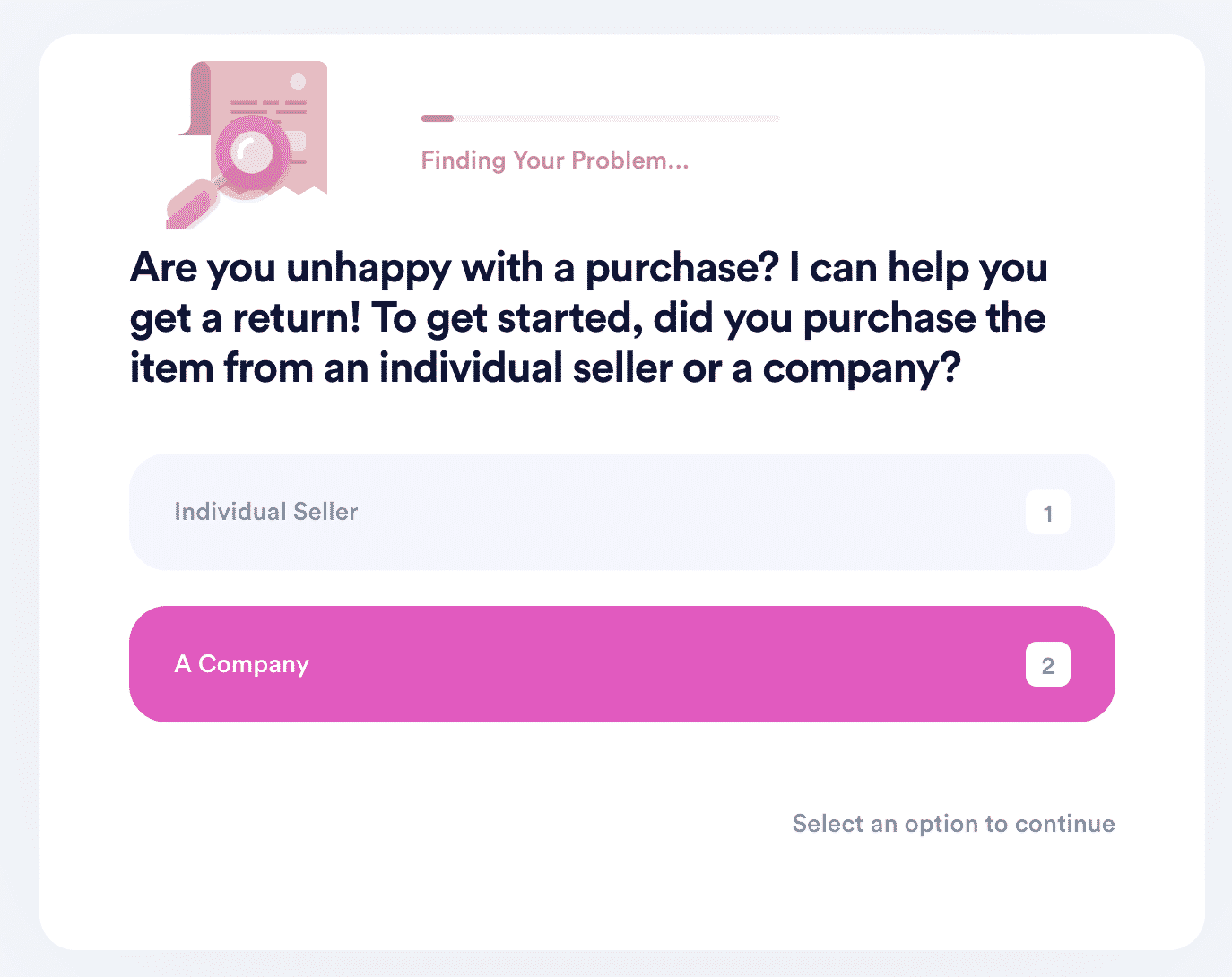 Our robot lawyer is designed to manage tedious chores for you. We even set a response deadline to ensure you'll get timely updates from GlassesUSA.com on the status of your return.
Here's how to get started:
Select the Return My Purchase tool
Provide the requested info and upload a photo if necessary
Submit your request
We'll take it from there, managing the process on your behalf to ensure it's as efficient as possible.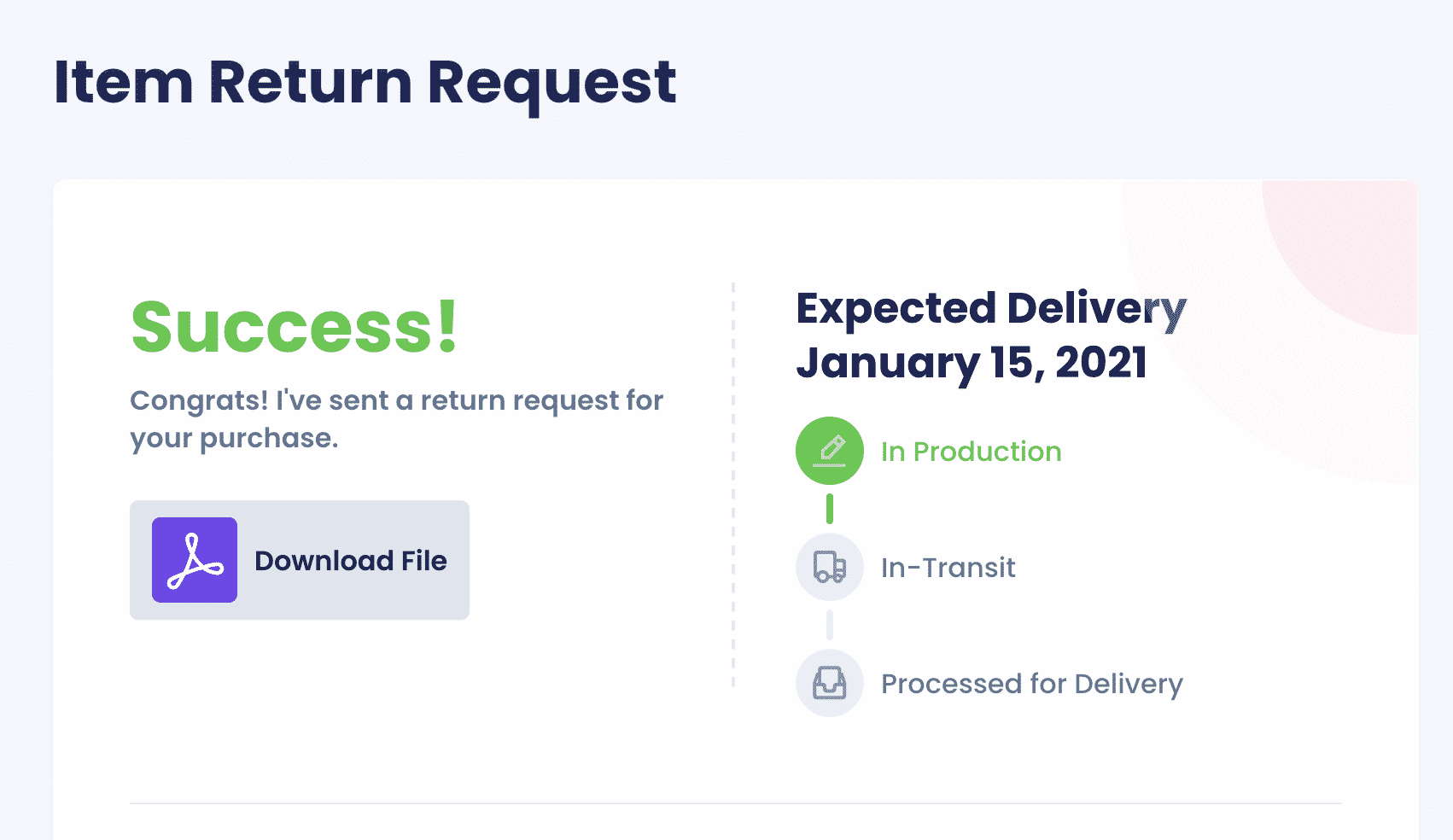 Need help with other big-name retailers' return policies? Check out these easy-to-understand guides to save yourself some time and money:
Item Returns and Other Annoying Tasks Take but a Minute With DoNotPay
Looking into resolving other tedious bureaucratic tasks with the help of our app? Check out a fraction of our product range that can assist you with:
Drawing up power of attorney documents
Don't Stop There—See How We Can Help You Even Further
You can count on our app's assistance if you need to cancel any subscription, demand a refund from a company or airline, get help with utility bills, reduce your property taxes, get a tourist visa, appeal banned accounts, contact embassies, or get cash back on gift cards.
Think you have some missing money? Claim it before the government does it in your stead! Need help preparing for a government test? Skim through our guides! Want to schedule a DMV appointment in a snap? We'll do it for you! Have any other obstacles? We'll get rid of them in the blink of an eye.