The Breakdown of the Walmart Ammo Return Policy
How much do you know about the Walmart return policy? The company is straightforward about its rules when it comes to returning unwanted products—including ammunition.
What are the specifics of the Walmart ammo return policy? Find the answer in our guide and discover how to send a return request with DoNotPay without any complications!
Walmart Ammo Return Policy—What You Need To Know
Did you purchase ammunition at Walmart but discovered you couldn't use it for the intended purpose? You should know that Walmart's return policy, like that of other retailers across America, excludes ammunition.
Walmart allows free returns and exchanges of various items, but ammunition isn't one of them. It falls under a list of products not eligible for a return, including:
Pepper sprays
Gas-powered vehicles
Prescription medication
Diabetic supplies
Used breast pumps
Airsoft and air guns
Trading cars
Used tires
Hygienic equipment
Used RV sewer lines
You may be out of luck with the above items, but if you need help returning an eligible item to Walmart, we can help. to simplify and streamline the return process with our app!
Why Doesn't Walmart Let You Return Ammo?
There are currently no federal laws prohibiting you from returning the ammunition to any retail store, but Walmart stands firm on its policy. It has been speculated on online forums that such a protocol is established to prevent customers from returning ammo that has been tampered with.
Altered firearm ammunition is dangerous and could cause a chemical reaction, fire, or explosion. Walmart avoids taking risks to protect customers from injury and themselves from potential lawsuits.
Walmart refuses to make exceptions even when the ammunition is in its original packaging and hasn't been opened.
Walmart's Plant Return Policy—Including Other Eligible Items
If you are returning another item, for example a house plant, you can do it by following the standard Walmart return policy. It allows shoppers to return unwanted items within 90 days with a receipt. You can complete the process in one of the ways presented in the table below:
| Can You Initiate a Walmart Return Via: | Yes/No |
| --- | --- |
| DoNotPay | Yes |
| In-store | Yes |
| Mail | Yes |
| Phone | No |
| Online | No |
In-Store Returns
If you want to return a plant or another eligible item in person, you have to request a Store Returns Receipt. Follow these steps to get one:
Log into your Walmart account (or enter your email address and order number on the Start Return page)
Click on your initials (displayed in the upper right corner)
Select Account
Press Start a Return
Choose the reason for returning the item from the dropdown menu
Pick Return to Store
Select Continue
Choose Finish
Click on Print Barcode
Take the printed Store Returns Receipt to Walmart customer service desk
Items being returned must be in mint condition and original packaging. Bring your original sales receipt if you have one.
Your in-person return request will be processed within moments. You can typically choose between:
If you want to replace the purchased item, you must return it by mail.
Returns via Mail
If you want to return the item via mail, you need to follow the same initial steps as for in-store returns. Make sure to choose the Return by Mail instead of the Return to Store option and indicate whether you want a refund or exchange.
The company will send you a Walmart return shipping label. You need to:
Print it out
Stick it on the box containing the unwanted items
Ship it with FedEx or USPS
Use DoNotPay for All Eligible Walmart Returns—Including Your Plant!
Rather than engaging in the tedious back and forth with Walmart, why not try DoNotPay? Our app provides a way to a seamless return procedure—all you need to do is click a few times to initiate the process!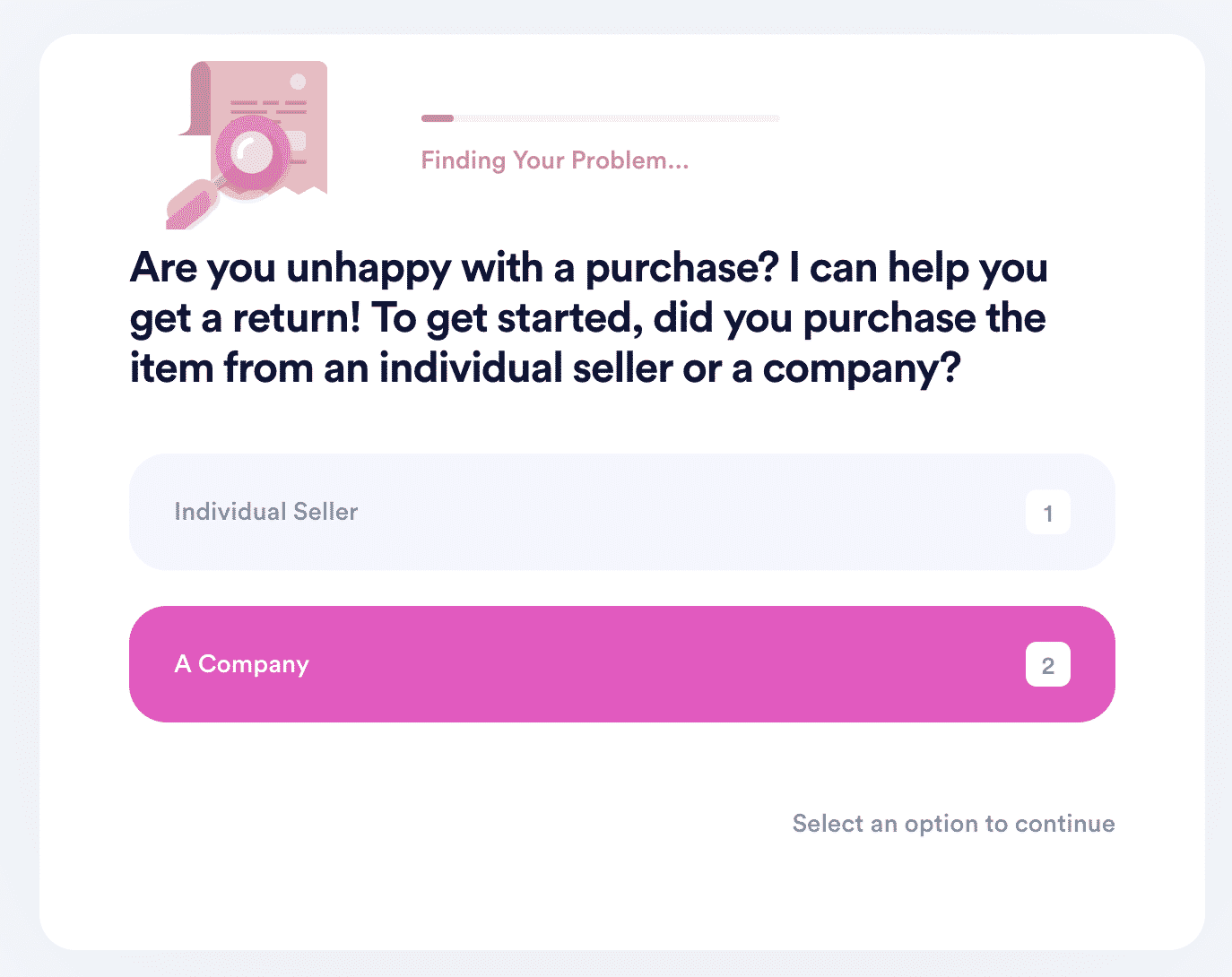 If you want DoNotPay's help with returning an eligible item to Walmart, follow these instructions:
Find Return My Purchase
Answer questions about the product you wish to return
Our app will create a customized return request letter, including a deadline for your request to be processed, and send it to the company. You can expect a timely response!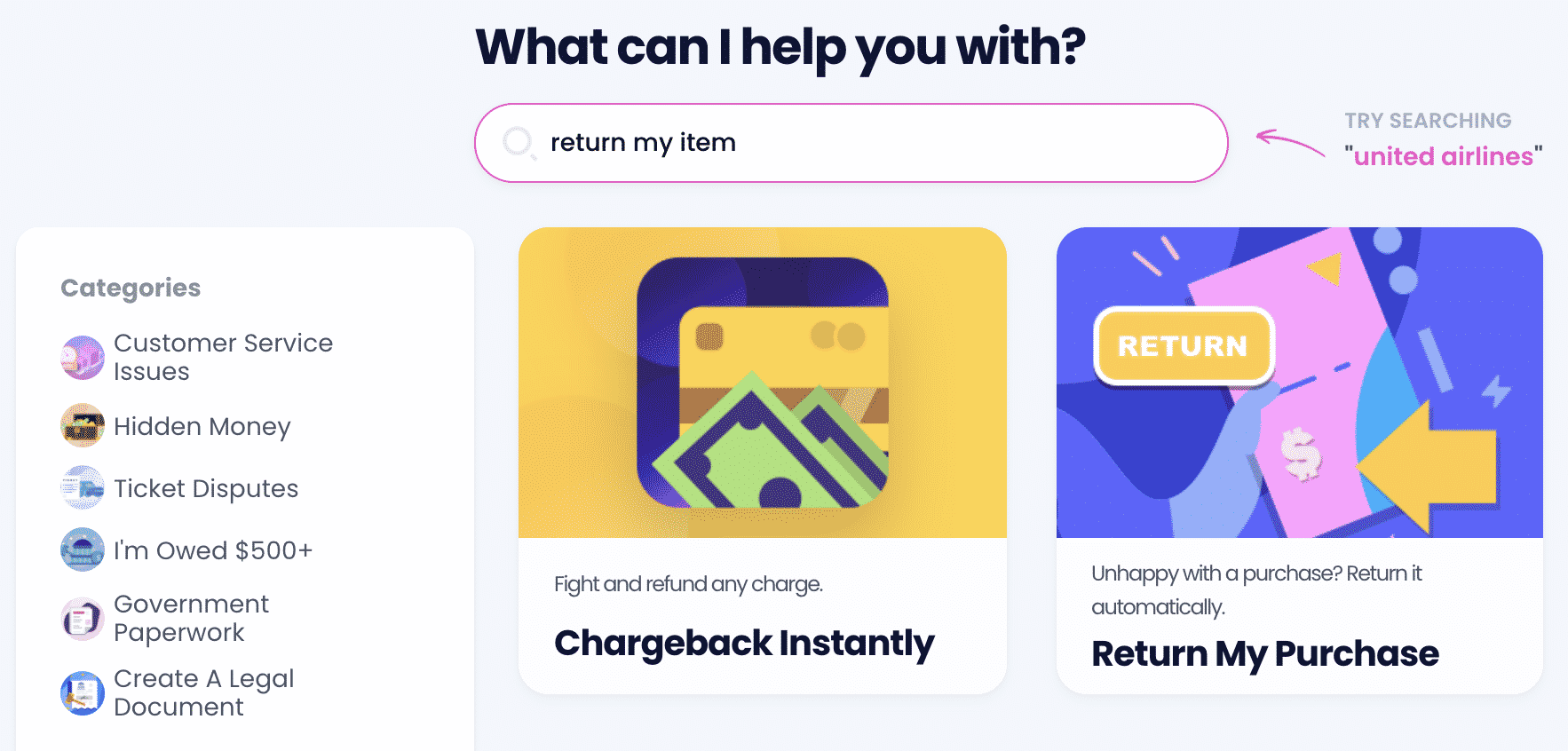 Do you have other items to return to other stores? DoNotPay helps you return products to various other vendors and retailers, including:
Do You Feel Wronged by Walmart? DoNotPay Can Help With Small Claims Court Suits
Do you feel you're being treated unfairly by Walmart? Our app can help with that too! DoNotPay has your back when filing a lawsuit in small claims court.
You don't have to stress about preparation for court or the complex legal jargon— we'll do the heavy lifting in your stead! After signing up for DoNotPay, our app can help you by:
Completing legal forms
Gathering the required paperwork
Filing your complaint
Drafting a script with arguments to help you make your case in court
Wasted Your Money on a Non-Returnable Purchase? There Are Other Methods To Earn It!
Don't feel down if the item you got isn't returnable—DoNotPay has many more tricks up its sleeve that will help you earn some money!
From helping you enter sweepstakes, decrease your property taxes, and lower your utility bills to assisting you in earning off email or text spammers and robocalls, waiving your college application fees, submitting a college financial aid appeal letter, and getting a refund from any company or airline, we can do it all!
DoNotPay Is Always at Your Disposal
Our app's mission is to take everyday admin and legal tasks off your plate so you don't have to waste any of your precious time. If you want to appeal your parking tickets, draw up a legal document, get any agreement notarized, get a tourist visa, keep a sex offender at bay, mail anything without waiting in line, or get in touch with a loved one in prison, DoNotPay will resolve any of these with ease.
Too busy to track your memberships? You don't need to worry about canceling your free trial on time before it turns into a paid subscription if you use our virtual credit card.
With DoNotPay, you can tackle any otherwise annoying chore stress-free.