Walmart's Return Policy—COVID-19 Changes
As a huge retail corporation, Walmart has been largely affected by the COVID-19 pandemic, alongside many other stores such as Costco, Michaels, and Dollar General.
This article will answer your questions about the Walmart return policy, including the COVID-19 changes, and bring you the latest updates. It'll be easier to make a return request when you get informed, especially if you use DoNotPay to do it!
Walmart's Return Policy During COVID-19
In 2020, many stores, including Walmart, had restrictive measures regarding returns. Luckily, some of these measures have been lifted as of March 6, 2021. The updated Walmart COVID-19 policy that is currently in effect is the standard return policy.
There are exceptions in locations where certain restrictions are still ongoing. Due to the COVID-19 measures, some items cannot be returned, including:
Paper products
Food
Health products
Laundry soap
Beauty products
Apparel
Walmart Standard Return Policy
According to the Walmart return policy, you:
Have 90 days to return or exchange an item, unless an exception applies
Can return items for free by mail, in store, or by scheduled pickup from your home
Need to provide the receipt, order number, or other evidence of purchase
Can't return items bought from Walmart dealers or resellers
May send or take back any wrong, damaged, or defective item for a replacement or a refund
Can return items without a receipt if you present a valid ID and pass the refund verification process. It helps if you still have a credit or debit card you used to make the purchase, or you can provide an email address or phone number used for an online purchase
May choose between item exchange, cash refund, or Walmart gift cards when returning a product
Will get a refund through the original payment method if your item return is approved
Refunds from Walmart take between five and seven business days to appear on your debit card or seven to ten days to appear on a credit card.
How To Return a Product to Walmart
Take a glance at the table below to see the available methods for initiating the Walmart returns process:
| | |
| --- | --- |
| Are Return Requests Available Via | Yes/No |
| Email | No |
| Phone | No |
| Website | Yes |
| In Person | Yes |
| DoNotPay | Yes |
How To Return Walmart Items via Mail
When you buy an item online, you can either return it by mail or to the store for a refund or replacement. Here is how to initiate a mail-in Walmart return using the company website:
Log in to your Walmart account
Click on Order History
Find the items you want to return and click on Return or Replace for every item
Choose the Return by Mail option to print out a return label
Pack the items with the original accessories and packaging, add the shipping label, and drop the package off at a local FedEx or USPS office. Walmart will set up a pickup for you in case you're returning a large item.
Wait for Walmart to process the return, and you'll receive a refund or replacement.
If you don't have a Walmart account, you can use the Online Order Tracking tool to start a return request by mail.
How To Return Walmart Items in Person
If you buy items in a Walmart store, you can only return them to that or another store. Here is how to do an in-store return:
Visit your local Walmart
Bring the items you want to return or exchange, all their original packaging and accessories, and the proof of purchase
Talk to the customer service representative at the store, and they'll help you with your request
There's also an Easy Returns Process page for those who wish to start their in-store return online. Follow the instructions on the page, find the confirmation email, and print it as evidence when you bring the item you wish to return to the store.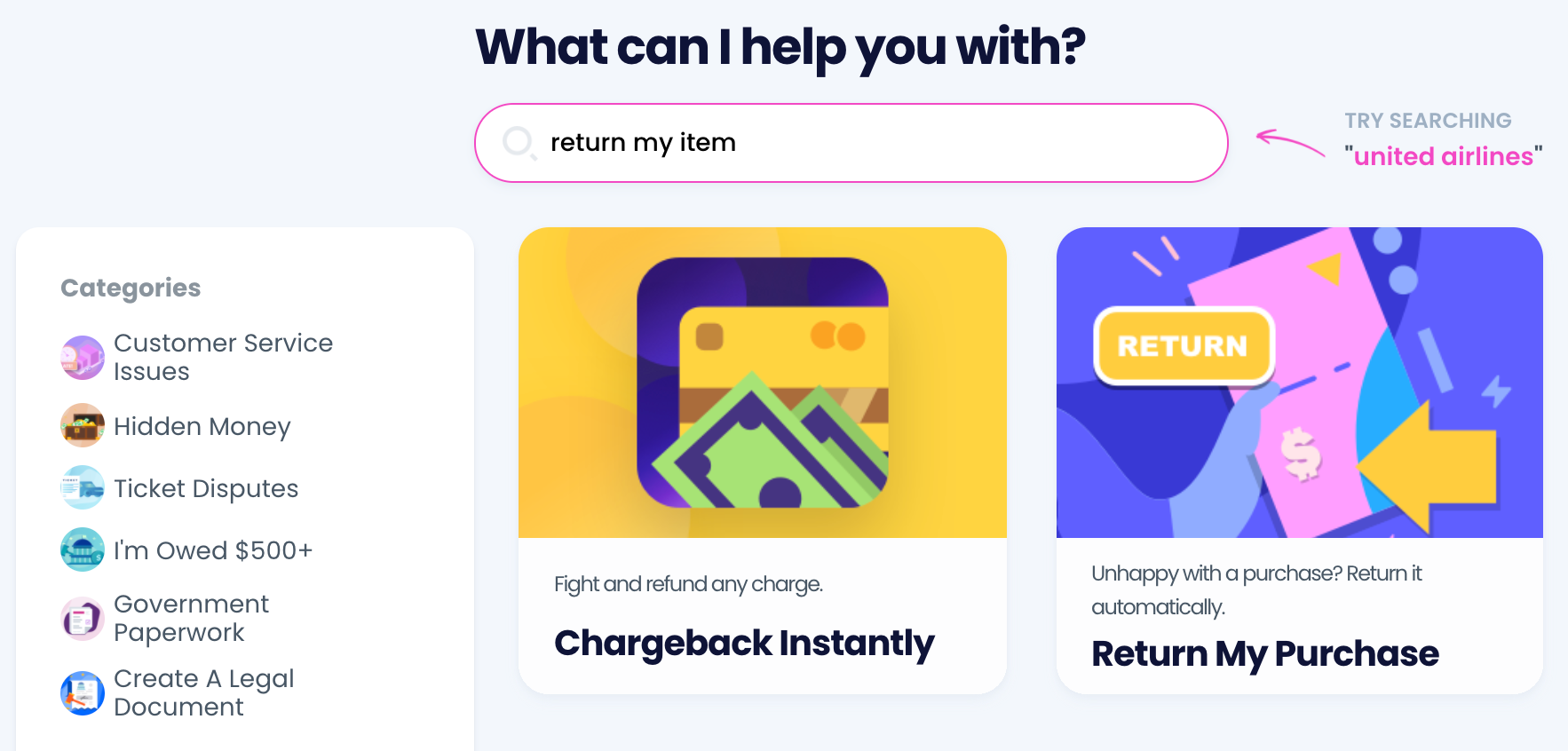 Return a Faulty Walmart Product Fast With DoNotPay!
Returning products is a frustrating process, and it often takes too long. If you need help, you can let us handle the returns for you.
DoNotPay can generate a custom return request letter and mail it to any vendor. This letter includes a deadline for the merchant, which suggests that your return request is urgent. Here's how to return a product using our app:
Select the Item Return Request feature
Describe the product you're returning in detail
Submit the request
DoNotPay will provide you with a return label that will let you ship the package for free.
We can also teach you about the return policies of many other companies and make return requests for you. Check the table below to see some of the companies we can help you with: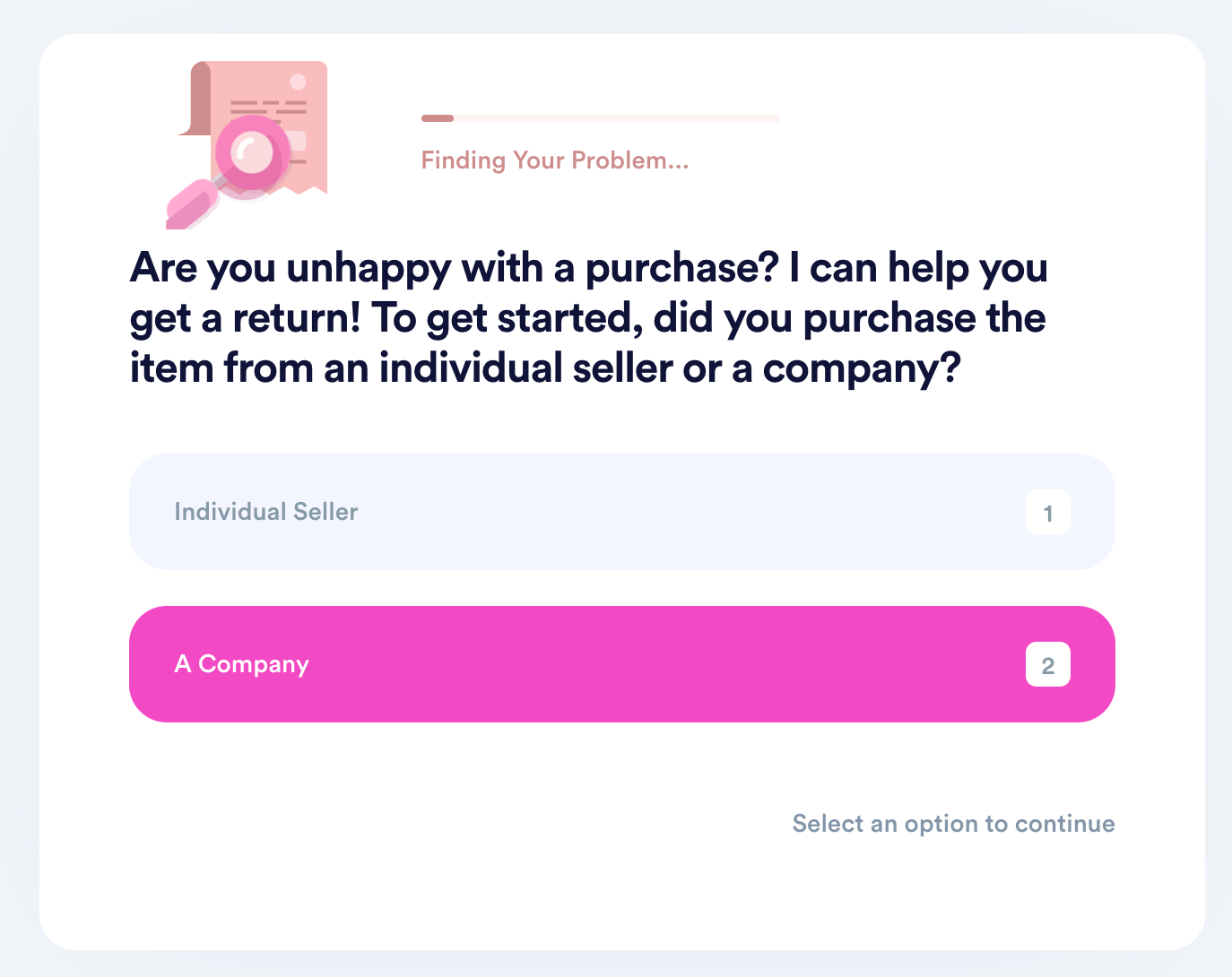 Want Your Money Back? Rely on DoNotPay!
The world's first robot lawyer can help you get your hard-earned money back in several ways. Are you dissatisfied with a product or service you paid for and want to request a refund? Do you want to request a late delivery refund? No problem—DoNotPay will do that in your stead! Do you think that you may have missing money and want to claim it? We can assist you in finding it!
No matter the issue, DoNotPay is your shortcut through bureaucratic hurdles. Our AI-driven app can help you dispute your parking tickets, get refunds and compensation from airlines, cancel any subscription service in a flash, and so much more!
What Else Is DoNotPay Capable Of?
Being your personal AI-powered assistant, DoNotPay can help you get rid of:
Are you sick and tired of big companies not taking their customers seriously? Our app will lend you a helping hand in the process of suing them in small claims court.
Do you want to skip waiting in lines at the DMV, jump the phone queue when reaching customer service, get help with paying your bills, or get copyright protection for your work? Sign up for DoNotPay to complete these tasks and so much more!