Is the Zales Return Policy Taking the Shine Off Your Smile?
Did you buy a sparkling Zales ring online, but the product delivered to you looked more like a cheap knockoff? Ouch! Jewelry can either make or break your day—more so if the bling in question is an engagement ring. If you have invested a hefty sum in an underwhelming Zales product, we can help you use the Zales return policy to your benefit.
While the Zales return policy states transparent terms, customers often feel ignored or harassed by Zales's unprofessional customer service and untrustworthy refund processing.
DoNotPay's robot lawyer can help you without having to go through annoying customer service or unsystematic processing!
A Rundown of the Zales Return Policy
The Zales return policy cites different deadlines for the return or exchange of jewelry and watches.
This table can help you understand the framework of their standard return policy:
Item
Return Guidelines
Jewelry

You can return jewelry within 30 days of purchase or shipment
You can request to exchange the jewelry within 60 days of purchase or shipment
You must return the jewelry in good condition with all original accessories and certificates that came with it
You cannot return engraved jewelry or class rings

Watches

You can exchange or return watches only within 30 days of purchase or shipment
The watch must be returned in unworn and unaltered condition along with all packaging and documentation
Special order watches are disqualified for returns and exchanges
Zales Return Policy on Engagement Rings
Engagement rings come under jewelry and have the same return guidelines as other jewelry items. Since the chances of choosing the wrong engagement ring for your significant other are high, and you may end up needing to return or exchange it, Zales offers some general pointers to help buyers avoid any unwelcome scenario:
Zales advises you to ask a store associate about the item-specific return and exchange policy before purchase
If your partner isn't too keen on the engagement ring, Zales can modify or alter the ring to their liking
You can return the ring as long as it fulfills the return criteria
Zales may refuse the return or exchange of custom-designed rings
Zales Return Policy—How To Return Eligible Items
We get that nobody likes to hold on to an unappealing piece of jewelry. Depending on whether you bought the item online or at a store, you can return it by two methods:
In-store returns
Returns by mail
The In-Store Returns Process Explained
You can return both in-store and online purchases to any Zales or Zales Outlet store. Follow these steps to initiate store return:
Bring your item to the store with the original receipt, online purchase receipt, original packing slip, or a copy of the shipping confirmation email, whatever applies to you
Reach out to a store associate with your issue
Upon approval, the store associate will process your exchange or credit your refund to the original payment source. You will not get a refund of the shipping and handling cost for your online purchase unless you received a defective item.
Returns by Mail—Not Always Applicable
You can access returns by mail strictly for online purchases. These are the steps that you need to follow to complete your return:
Visit the website to use their online returns portal
Fill the form to generate a return request
Read return instructions on the original packing slip
Pack item as per instructions—preferably in the original box—with the original packing slip
Ship to the address of the distribution center: SJIX-Processing, 375 Ghent Road, Akron, OH 44333
Use the Return Tracking Number to ensure your item is delivered safely
What if I Don't Have the Original Receipt?
You can always find a way to validate your online purchase, but in-store purchases can only be validated by an original or gift receipt.
You can return or exchange an item by producing the gift receipt. If you seek a refund, the store associate can only convert your credit to a gift card.
If you don't have any kind of receipt, you can still return or exchange your item—but only at the current price. The store will issue you a gift card of equivalent value if you ask for a refund.
Strike Gold With DoNotPay's Smooth Item Return Feature
Despite having a solid structure, the Zales return policy can be all glitter and no gold. The company's in-store returns rely on the judgment of the store staff, while the return by mail option is both demanding and tiring. Don't let your hard-earned money sink because of a bad Zales purchase when DoNotPay's dependable item return feature can bail you out!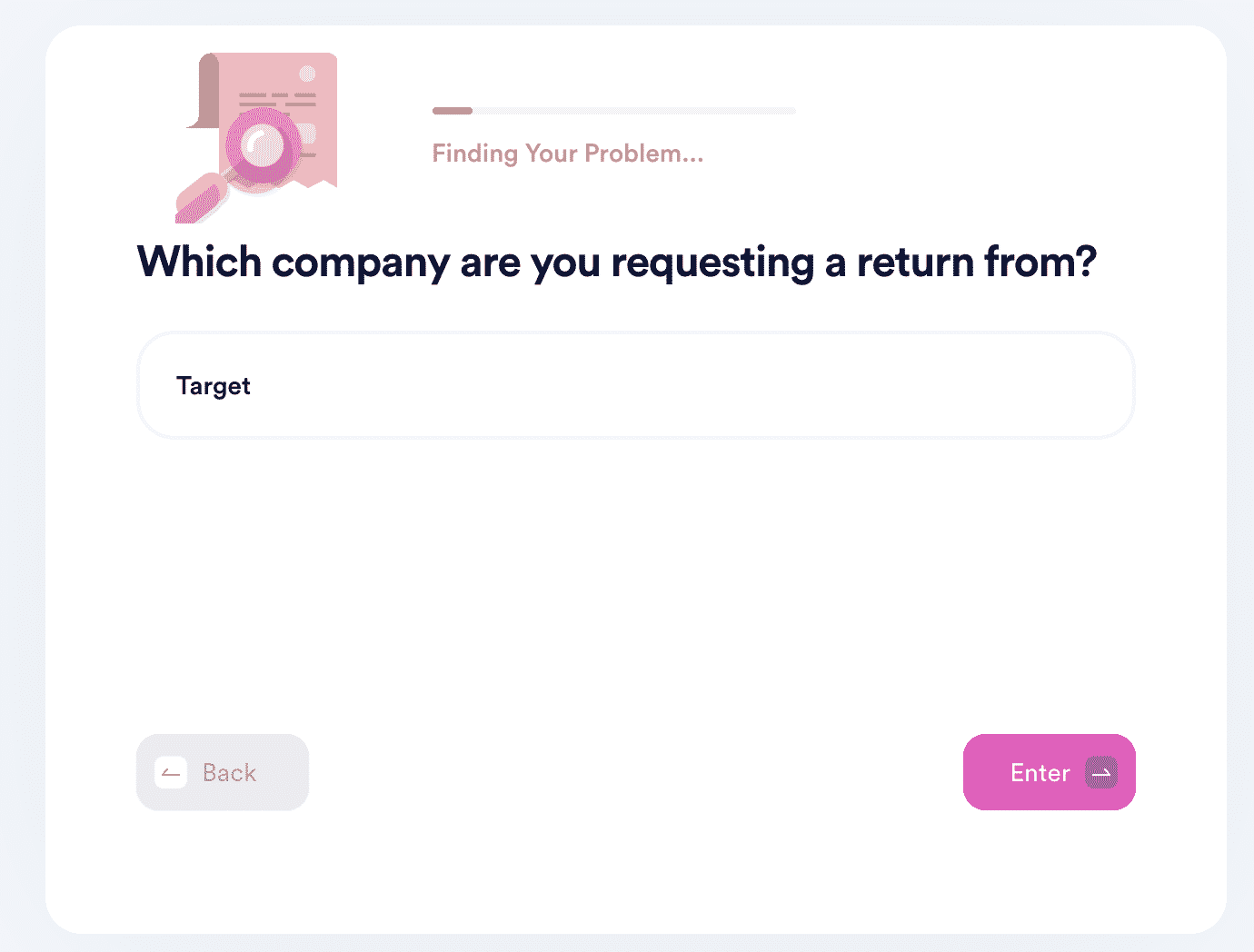 DoNotPay's no-nonsense approach can lower the unpredictability factor from a knotty Zales return. Our app can place your item return request in four easy-peasy steps:
Click on Item Return Request
Answer our chatbot's order-related questions
Submit the request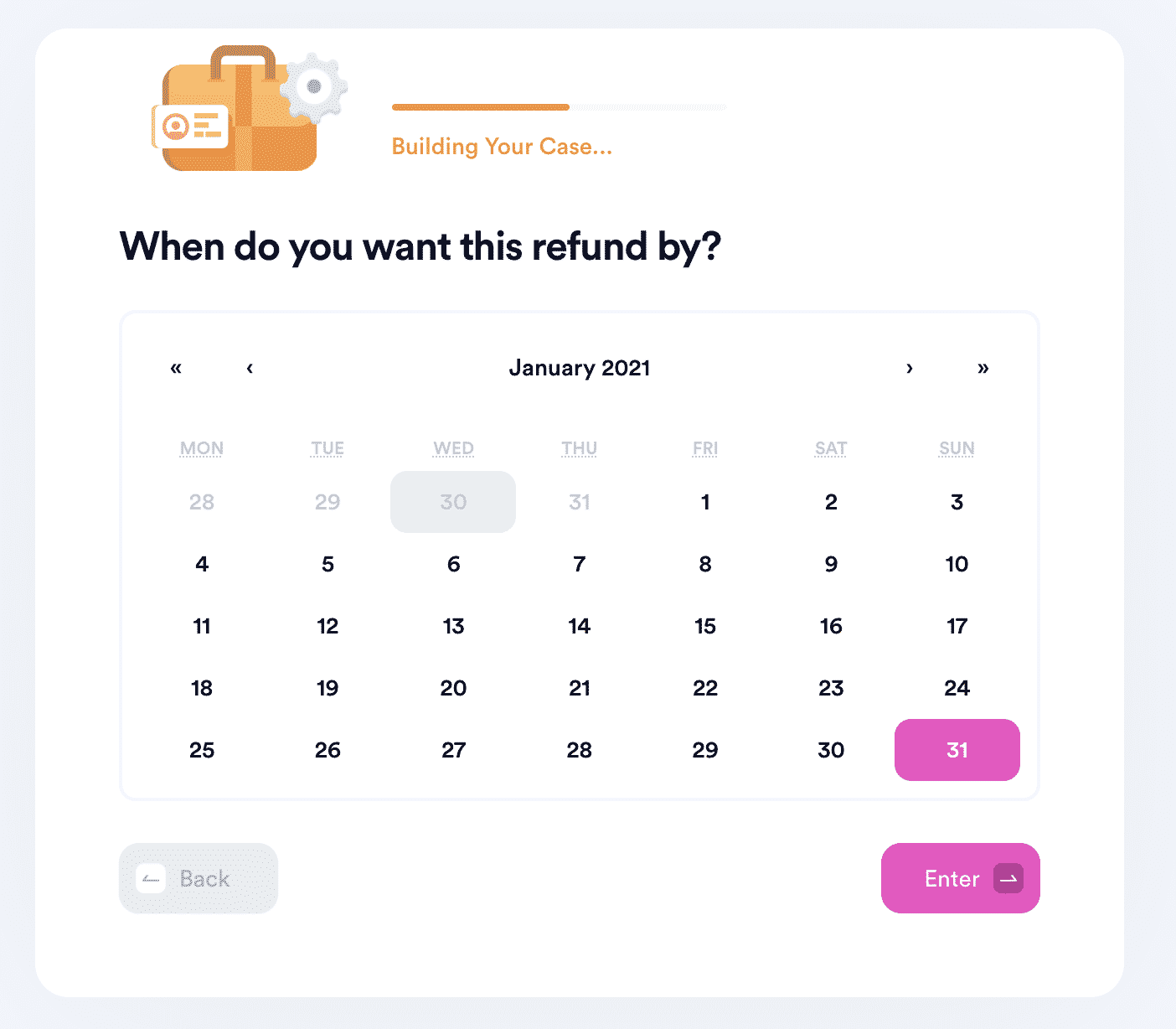 DoNotPay will use the order details to generate a return request letter and forward it to Zales. The letter will include a deadline set by you to push the Zales management to hasten your refund. We can also get you a free shipping label to ship off your undesired item once and for all!
How Will DoNotPay Help Me Get My Refund?
DoNotPay will keep tabs on Zales until it refunds your money. Zales claims that it can take about 30 days for the refund to show up in your account. DoNotPay will not only try to speed up the refund but will also help you place a claim if Zales misses the deadline—all without expensive lawyers!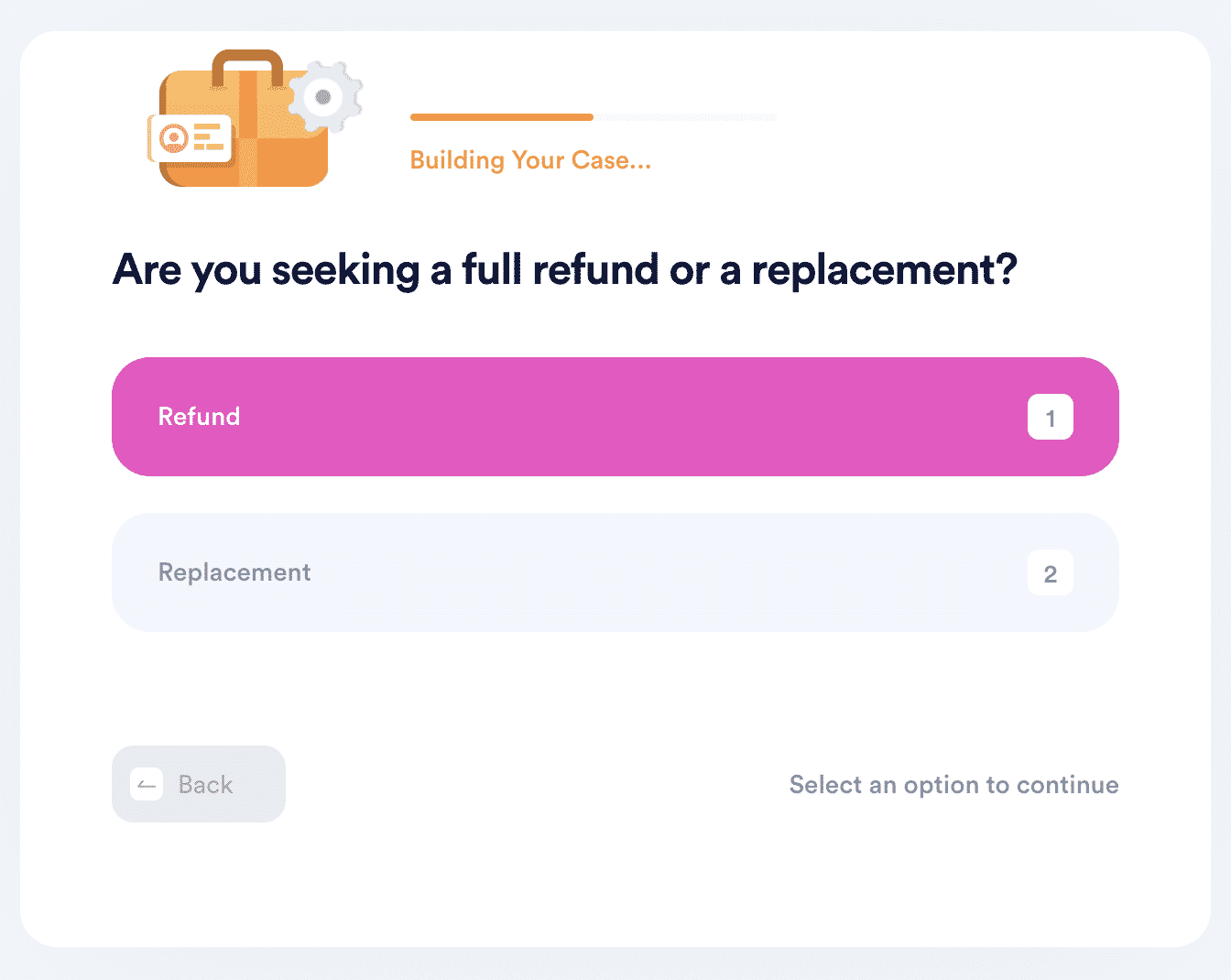 If Zales refuses to process your return or disputes your claim, we can back you up with our multifaceted services. No matter what the return or refund trouble, DoNotPay will be your knight in shining armor!
Pot of Gold—DoNotPay's Multiple Return Policy Manuals
We can assist you in cracking the ins and outs of the return policies of other famous brands. Check out this table to browse our various return policy guides:
Want Your Money Back? Rely on DoNotPay!
The world's first robot lawyer can help you get your hard-earned money back in several ways. Are you dissatisfied with a product or service you paid for and want to request a refund? Do you want to request a late delivery refund? No problem—DoNotPay will do that in your stead! Do you think that you may have missing money and want to claim it? We can assist you in finding it!
No matter the issue, DoNotPay is your shortcut through bureaucratic hurdles. Our AI-driven app can help you dispute your parking tickets, get refunds and compensation from airlines, cancel any subscription service in a flash, and so much more!
What Else Is DoNotPay Capable Of?
Being your personal AI-powered assistant, DoNotPay can help you get rid of:
Are you sick and tired of big companies not taking their customers seriously? Our app will lend you a helping hand in the process of suing them in small claims court.
Do you want to skip waiting in lines at the DMV, jump the phone queue when reaching customer service, get help with paying your bills, or get copyright protection for your work? Sign up for DoNotPay to complete these tasks and so much more!