Sick Employees in the Workplace—Taking Time Off
Many employers force their staff members to work even if they are sick because there is no federal law mandating paid sick leave. With the pandemic going on, all employees should take time off if they feel sick at work to prevent infecting others.
What can sick employees in the workplace do when they want to request sick leave? DoNotPay has the answer.
If you need help submitting a leave request due to illness, and avoid having an awkward conversation with your boss!
When Should You Consider Taking Sick Leave?
If your mental or physical health is affecting your productivity, you should consider requesting sick leave from work. You may take time off if you have:
Why Do Some Employees Have To Work Even if They Are Sick?
Even though some states offer paid sick leave, approximately 33.6 million employees have to keep working while they are sick because they:
Are afraid of losing their job or compensation if they take time off
Feel worried about meeting their project deadlines
Do not know how the sick leave policy at their office works
Cannot find a colleague they can delegate their tasks to while they are off
Are There Any Federal or State Sick Leave Laws?
You can apply for an unpaid sick leave of up to 12 weeks if you qualify under the Family and Medical Leave Act (FMLA) law. To be eligible, you should:
Work for your current employer for at least a year
Have worked for a minimum of 1,250 hours in the last 12 months
Be employed at a workplace with at least 50 employees from the 75-mile radius
In case you have been infected with COVID-19, your employer is required to give you emergency sick leave under the Emergency Paid Sick Leave Act (EPSLA).
As far as state laws are concerned, check out the table below for more information on state-specific sick leave legislation:
How To Request Sick Leave From Your Employer
Since paid sick leave is not mandated by federal law, it is up to a company to accept or reject a sick leave request. You can request time off from your employer by following these instructions:
Inform your team supervisor via phone, email, or in person
Request to work from home if you can't take a sick day off
Assign your work to other qualified team members
Submit a Sick Leave Request Without a Hassle Using DoNotPay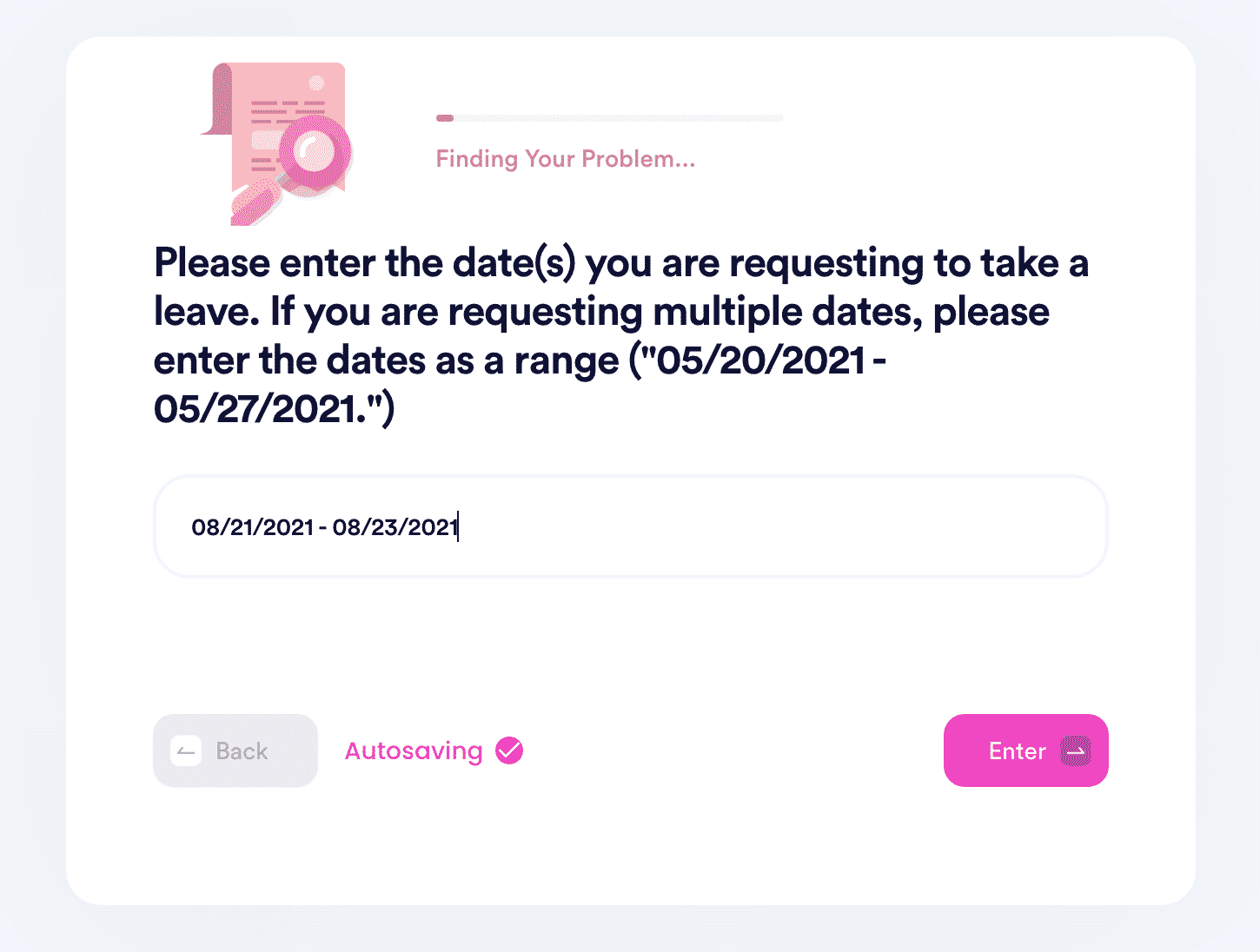 If you're unsure how to write your email to request sick leave, use DoNotPay's Request Sick Leave product and get a formal leave request letter within minutes.
All you need to do is follow these steps:
and go to the Request Sick Leave tool
Enter a few details about yourself, your company, and your state
Let us know the dates you would like off from work
Sign the letter electronically and click on Submit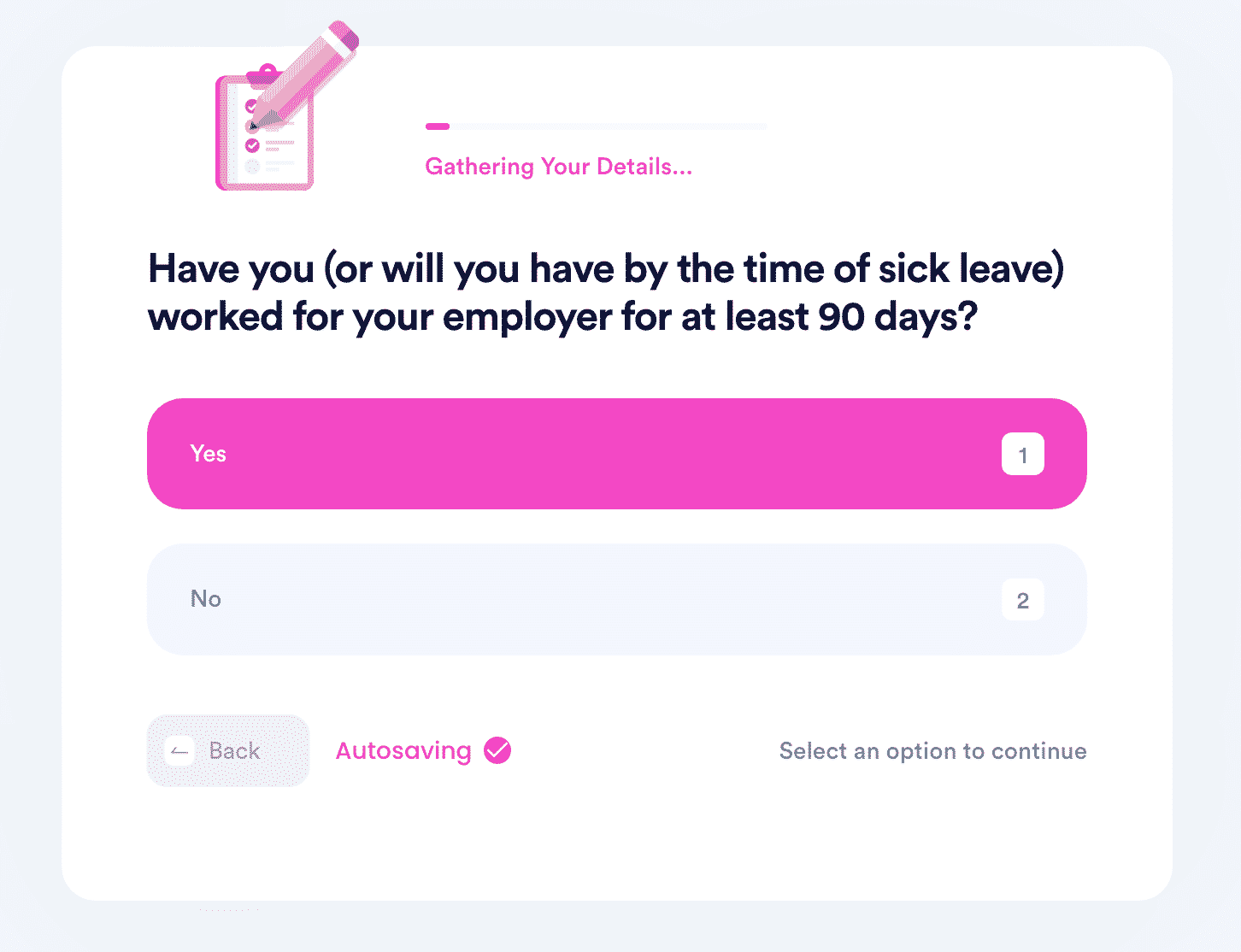 Once you have completed the steps, we will automatically generate a valid letter and send it directly to your employer in your stead. You can also download the letter and send or submit it yourself.
In case your employer denies you your rights, you can use our Small Claims Court feature to help you file a lawsuit against them. With our assistance, you can:
Fill and submit the required court paperwork
Write a demand letter
File your complaint with the court
Create a script to use in court
Turn to DoNotPay and Remove Bureaucratic Issues in a Snap
Does paperwork bring you to the edge of a nervous breakdown? With our help, you will skip all administrative impediments and get ready-made legal documents before you know it! No failed drafts or huge legal fees!
DoNotPay can generate:
Once you create the desired document, you can fax it online without a faxing machine or have it notarized with zero complications in the same app!
Your Info Is Safe With Our App
You don't need to leave your credit card info or personal details if you want to start free trials that won't turn into paid subscriptions without notice. DoNotPay will create a virtual credit card with a fake name and generic credit card number for you in just a few clicks. This way, greedy companies won't take a single penny from your account without your authorization!
Our app can also help you file anonymous HR complaints or create burner phone numbers to avoid disclosing your real info when signing up for apps and platforms.