Ohio Sick Leave Law—Who Is Covered?
Paid sick leave is not a mandatory benefit for all employees—about 33 million Americans don't have access to it. Federal law has no permanent law about paid sick days, and employees depend on individual state laws and company policies.
In this article, we'll show you how Ohio sick leave law works and also explain:
How to get paid days off if you have COVID-19
What laws there are aside from Ohio sick day law
How to call in sick hassle-free if you register for DoNotPay
How Does Ohio Paid Sick Leave Law Work?
Ohio sick leave law (Chapter 123:1-32) covers only employees in the public sector—if you work in the private sector, you can't call upon this law. Public sector employees include:
State college employees
University employees
All public workers
Employees covered by the law get 4.6 hours of leave for every 80 hours worked. While there is no limit to how much paid sick leave hours you can accrue, the law puts limits to how much you get paid, as shown in the following table:
| Hours of Paid Sick Leave Used in 12 Months | Compensation |
| --- | --- |
| 40 hours | 100% of the employee's base rate of pay |
| 40–80 hours | 70% of the employee's base rate of pay |
| Over 80 hours | 100% of the employee's base rate of pay |
Reasons for which one can get paid sick leave are as follows:
Illness or injury
Pregnancy
Contagious disease
Medical examination and diagnosis
Death in the immediate family
Caring for injured, pregnant, or ill immediate family member
Caring for an immediate family member in need of examination
Donation of leave to a colleague
Sick Leave Carry-Forward
If you don't use up all of your sick days, you can choose to carry them over to the following year, receive compensation, or mix it up—get paid for some, carry forward the rest.
In case you leave the public sector and then return, your unused sick days will still be there, provided you don't make a gap longer than ten years.
Ohio Paid Sick Days for Coronavirus
To avoid employees being forced to work when sick with COVID-19, the federal government has introduced a temporary paid sick leave bill—the Emergency Paid Sick Leave Act (EPSLA).
With the EPSLA, you can get ten workdays of paid leave if you need to quarantine or have any symptoms—exact or similar—of Coronavirus. You can also get up to ten weeks of paid leave to care for an infected family member.
Can You Get Sick Leave if These Laws Don't Apply to You?
If you're not a public worker, you should check out your contract to see if your employer provides paid sick leave as a benefit. If not, you can turn to the Family and Medical Leave Act (FMLA), but note that you won't get paid leave.
With the FMLA, you can receive up to 12 weeks of unpaid leave within a 12-month period. Bear in mind that certain conditions have to be met if you want to be subject to the FMLA—you must:
Have worked for at least 12 months in the company
Work for a company of at least 50 employees
Have accumulated at least 1,250 working hours in the previous 12 months
How Can DoNotPay Help You Obtain Sick Days in Ohio?
If you want to avoid going sick to work, you'll need to request sick leave formally. DoNotPay can help you draft a perfect email request in no time. We'll generate the request letter on your behalf using the information you provide.
You only need to sign up for DoNotPay and:
Choose the Request SIck Leave tool
Insert the state the company is in (we'll show you what laws apply)
Provide details about the company
Enter the dates on which you'll be absent from work
Choose to download the letter or have DoNotPay send it to your employer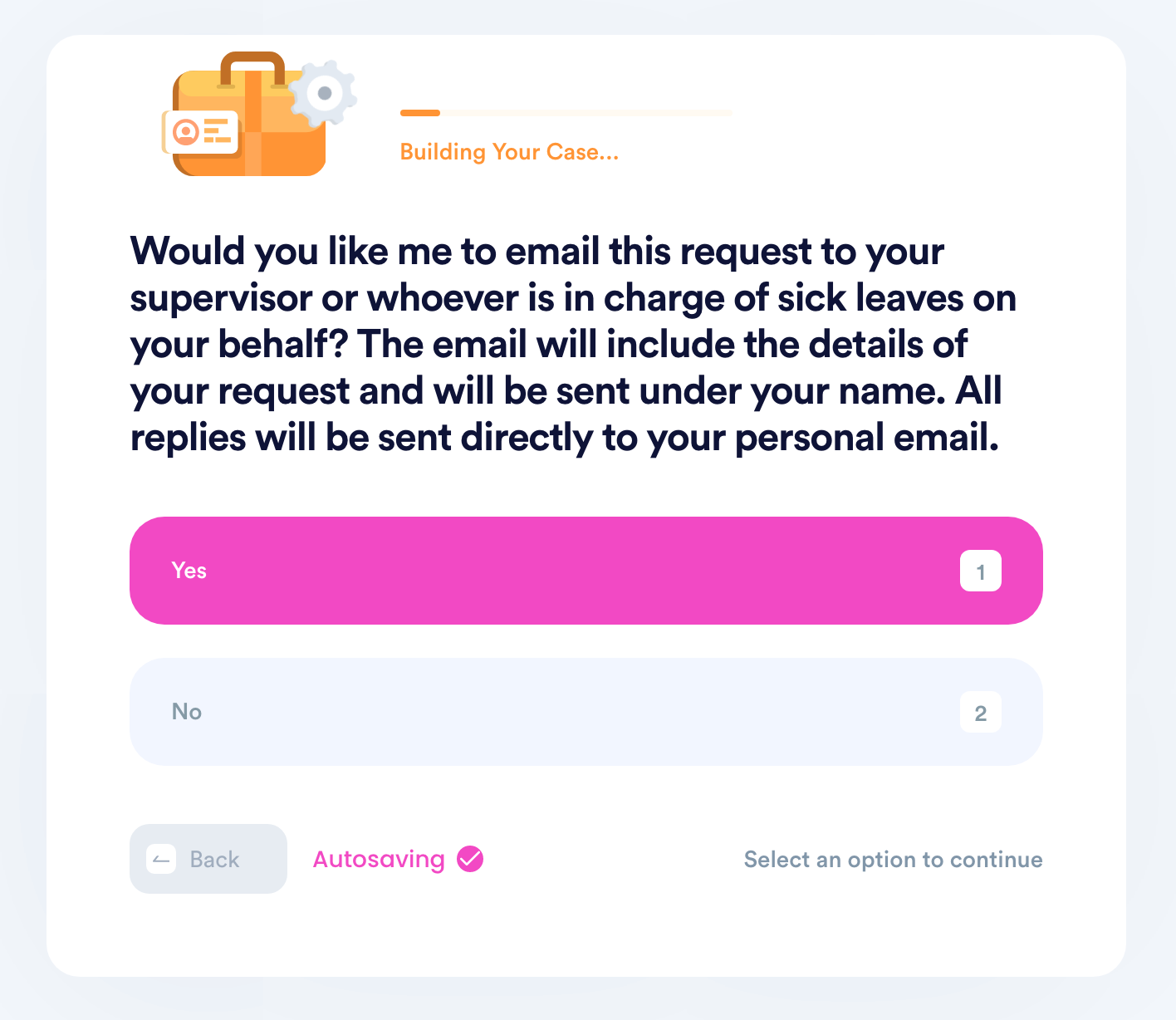 If your employer denies your request despite the law protecting you, you can sue them easily with our Small Claims Court tool.
We Have Even More To Offer!
Find more information about the perks we offer in the table below:
Stay Safe by Relying on DoNotPay
One of the primary purposes of our app is to improve your safety. We help you stay secure and avoid incidents or privacy issues by:
Blocking:
Fighting against:
DoNotPay will also help you avoid unwanted personal info disclosure with single-use burner phone numbers. Our app can create a virtual credit card with a fake name and card details and prevent you from getting charged once your free trials expire!