Connecticut Sick Leave Law—How To Get Paid Time Off
Since there is no permanent federal law regarding paid sick leave, employees throughout the U.S. have to rely on local and state laws to avoid being forced to work sick.
Only a handful of states have sick leave laws in place, and Connecticut was the first to enact one.
In this article, we'll go over the Connecticut sick leave law and also show you:
How to get paid time off for Coronavirus
What to do if Connecticut paid sick leave rules don't apply to you
How to to call in sick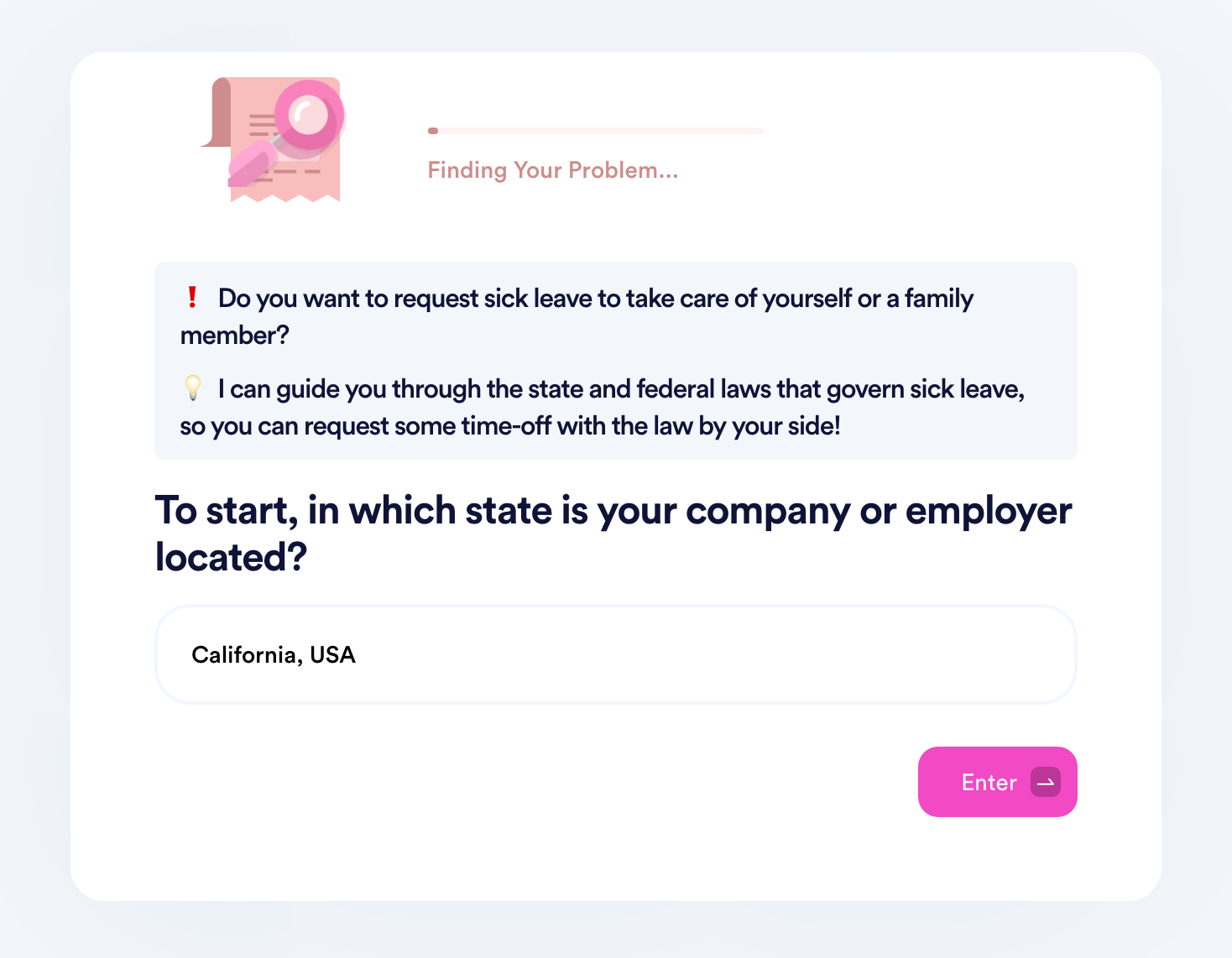 How Connecticut Sick Leave Law Works
The Constitution State requires employers to offer paid sick leave to all part- and full-time employees, but the law applies only to service workers. The law defines 68 occupations as service workers, including:
Food service managers
Social workers
Medical and health service managers
Librarians
Nurses and therapists
Janitors
Receptionists
According to Connecticut paid sick leave law, there is a list of reasons for which you can request paid leave, as well as a list of companies exempt from the law, as shown in the table below:
Valid Reasons for Paid Sick Leave
Companies Exempt From the Law

Injury, illness, or health condition
Medical diagnosis, treatment, or care
Preventive medical care
Care for a child or spouse
Recovery, court proceedings, and obtaining victim service for family violence or sexual assault

Manufacturers
Child care and education nonprofit organizations
Companies with 49 employees or less
CT Labor Laws—Sick Time Accrual
Employees accrue one hour of paid leave for every 40 hours worked. The maximum allowed within a year is 40 paid sick leave hours. Employees can carry over the unused days, but the cap remains the same.
Paid Time Off for Coronavirus
The federal government has introduced the Emergency Paid Sick Leave Act (EPSLA)—a temporary paid sick leave act in force during the COVID-19 pandemic.
The EPSLA provides you with ten workdays of paid sick leave if you:
Have to go to quarantine
Feel the symptoms of Coronavirus
Feel symptoms similar to Coronavirus
What if the Law Doesn't Apply to You?
If you're not a service worker and don't have Coronavirus, you can only get paid sick leave if your employer offers it as a benefit. If not, you have only the Family and Medical Leave Act (FMLA) to turn to.
The FMLA is a federal-level act that offers unpaid sick leave of 12 weeks within 12 months to employees who work in a company of at least 50 staff members. Many employees face the choice between a lighter paycheck and being sick at work.
Get Paid Sick Leave the Easy Way—Use DoNotPay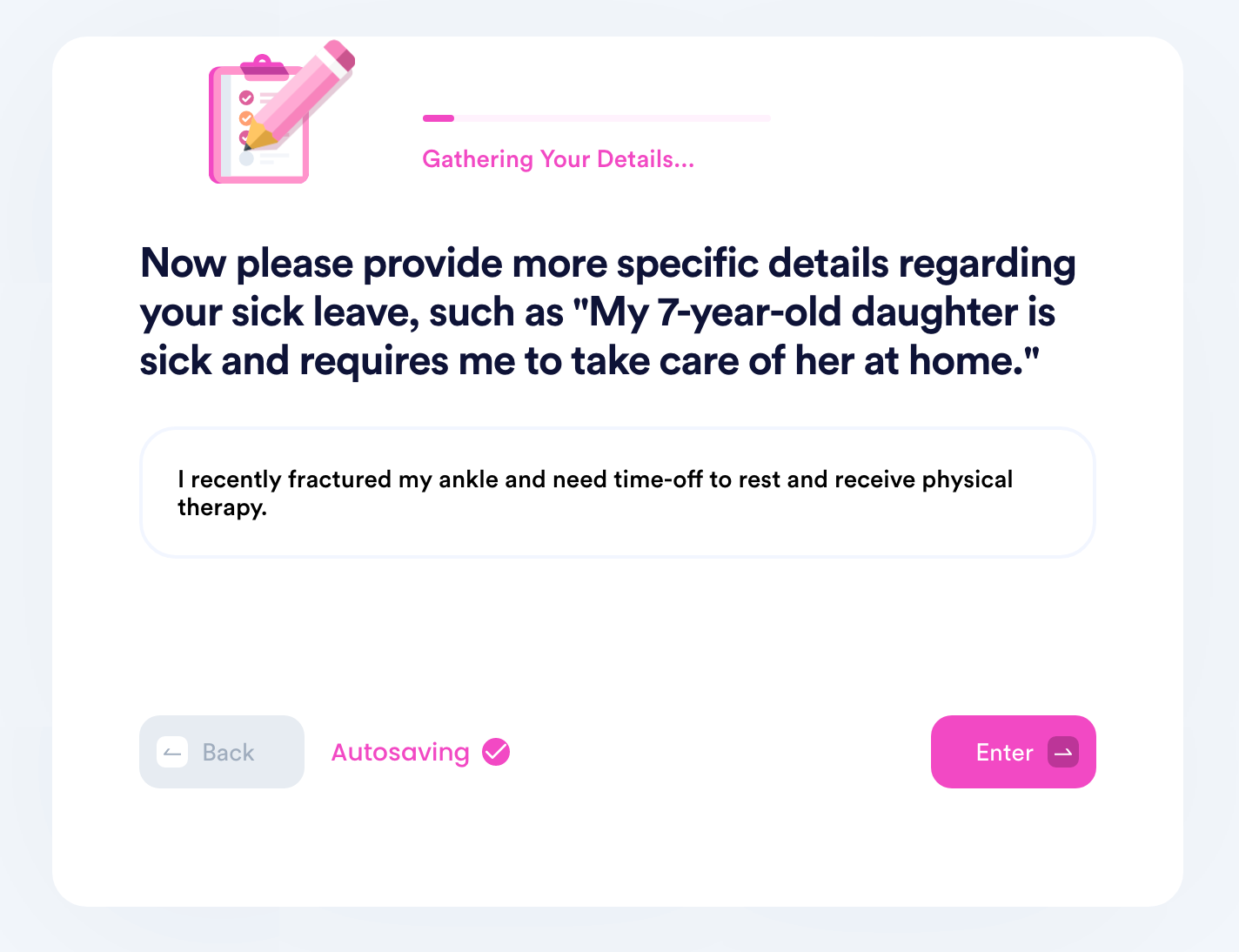 Regardless of which law you base your sick leave on, you'll have to request it, either in writing or verbally. If you're not sure how to go about making a request, you can rely on DoNotPay's help.
Our Request Sick Leave feature will look into the laws available to you and draft a rock-solid request letter based on the information you provide. All you need to do is and:
Open the Request Sick Leave product
Enter the state the company is in
Answer a few questions about the company
Insert the dates on which you'll be absent from work
Choose whether you want us to:

Send the request to your employer directly
Share it with you so you can email it on your own
The employer may still deny your request, regardless of the law that they have to follow. If this occurs, you can protect your rights and sue them with the help of our Small Claims Court product.
Expect More Help From DoNotPay
Do you want to know what else DoNotPay can do for you? Have a look at the following lists and discover some of our most prominent services:
| Type | Particular Services |
| --- | --- |
| Getting more cash or saving the existing funds | |
| Fighting various issues | |
| Other helpful services | |
Let Our App Fight Grabby Merchants in Your Name
Have you received a damaged item? DoNotPay helps you file a return request and get a replacement for the faulty product. We can reach out to companies and demand refunds or chargebacks in your stead or request late delivery refunds. This way, you avoid paying for the goods that didn't meet your expectations and standards.
Our app can also send refund requests to airlines and help you get compensated for postponed or canceled flights. You won't need to contact the particular company yourself—DoNotPay does the grunt work and lets you enjoy the results!